Easter Dinner For Two Menu
Not cooking a huge Easter this year? Here is your ultimate guide to Easter Dinner For Two! Menu includes recipes for two and small batch recipes of your favorite Easter dishes.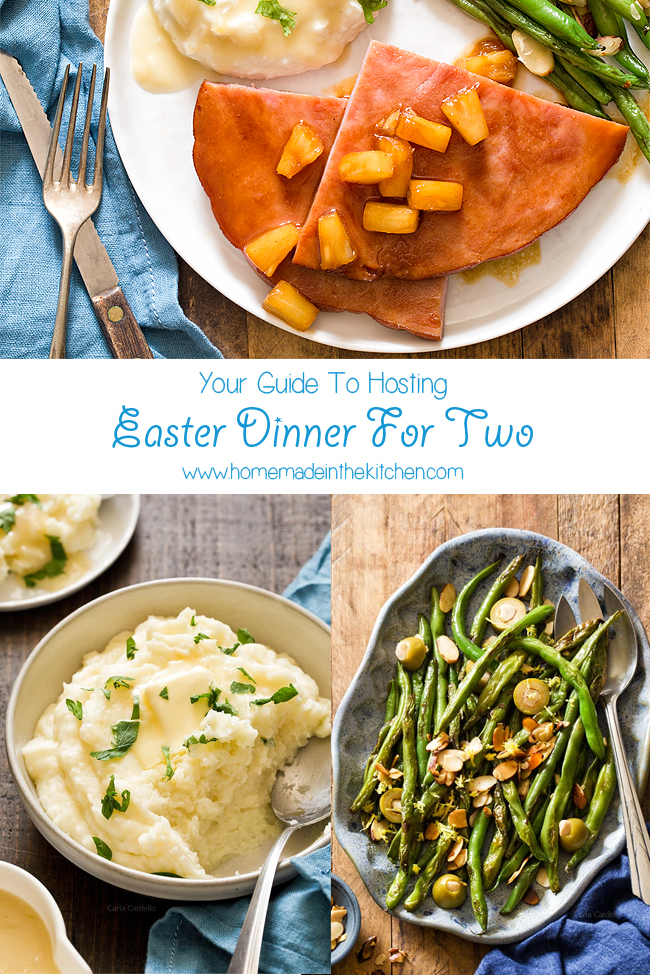 I see you.
For the past few months, you've been beaten over the head with vibrant images of giant whole hams and rack of lamb.
You read article after article about how to host a big Easter dinner, how to roast a giant 20 pound ham, how to survive the holidays with your drunk Cousin John.
But the truth is, this year you're only cooking Easter Dinner For Two. Maybe it's only you and your significant other. Maybe it's only you and your roommate. Or maybe you simply don't have a huge family to invite.
Where do you even begin prepping all of this food? It's not fair for you to skip Easter because you can't eat a whole ham.
Everyone deserves a plate of ham, scalloped potatoes, green beans, and gravy for the holidays.
I got you. I've been scaling down recipes for years. And it's about time I put it all together as a comprehensive Easter menu for two.
This isn't meant to be a full menu; rather, I'm giving you choices to pick and choose. It's like one of those build your own adventures books but with food!
The list of Easter Dinner Ideas For Two recipes is at the bottom, but here is a breakdown of what you can expect: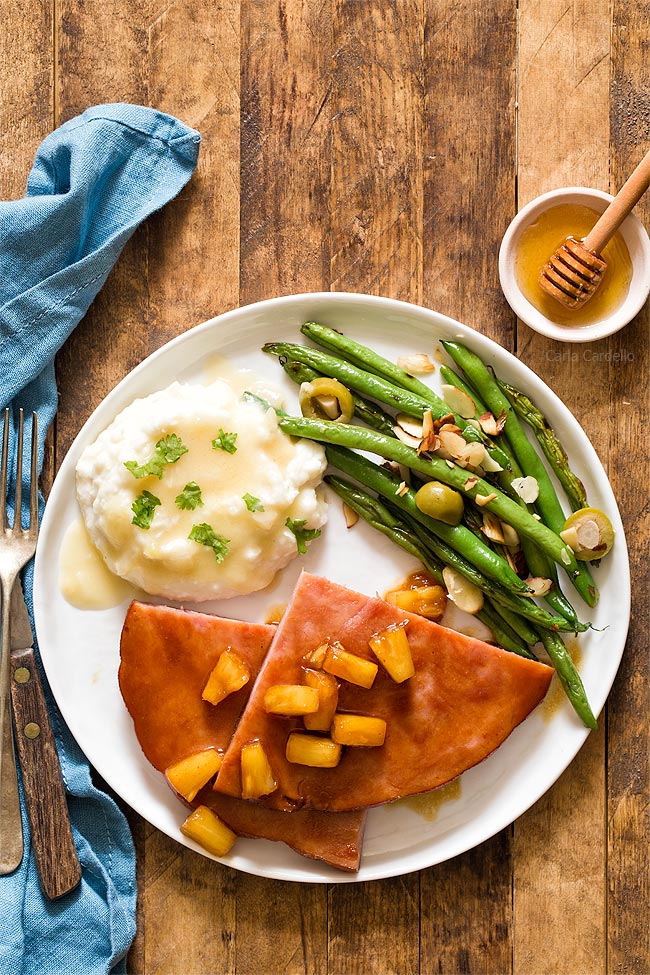 Easter Dinner For Two
Easter dinner is practically synonymous with ham, but when it's only two of you, roasting a whole ham is way too much food; the smallest whole ham is about 10 pounds if you're lucky.
However you can still have your ham and eat it too by serving honey glazed ham steak dinner.
More pork ideas are Pork Roast For Two made in the oven, Instant Pot Pork Roast for two, or Pork Chops with Mushroom Gravy.
Want to make lamb for Easter? Make this Lamb Chop Dinner for two complete with a pan sauce on top.
Need a vegetarian main course? Both Artichoke Quiche and Quiche Florentine make a filling and delicious dinner! It can also be made ahead of time then reheated right before serving.
Stuffed Peppers For Two also make a great vegetarian dinner as well.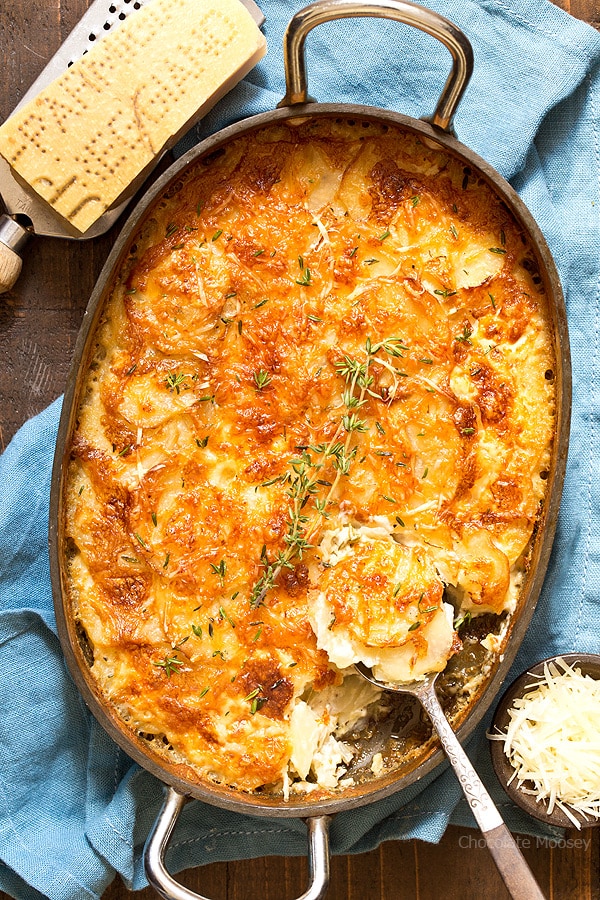 Side Dishes For Two
Personally I think Easter side dishes are the best part! As much as it pains me to say this, the best way to keep leftovers to a minimum for two people is limit the side dishes. I know, I know. Blasphemy you say!
The good news is most of these side dish recipes make roughly 4 servings (2 helpings each), so if there are any you don't make during your Easter dinner for two, make them throughout the weekend.
I always have some form of potato for Easter, whether it's my mashed potatoes for two, au gratin potatoes for two, or stove top scalloped potatoes.
Don't forget the gravy! You can make homemade gravy without drippings, pan gravy with drippings, or vegan mushroom gravy.
Love bread? Nothing beats freshly baked small batch dinner rolls or small batch hot cross buns.
Dessert For Two
Of course no Easter dinner for 2 is complete without dessert! If you love dessert but there's only two of you, you don't have to give it up.
This 6 inch Small Carrot Cake recipe and small batch Carrot Cake Cupcakes with pineapple are perfect for Easter dessert for two.
Don't want carrot cake? Check out my small lemon cake recipe and small coconut cake recipe.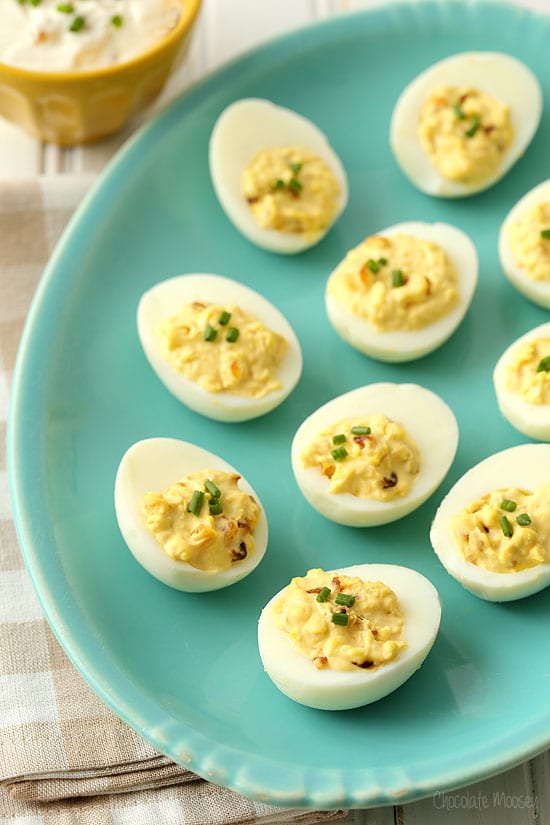 Leftover Easter Eggs
Did you dye Easter eggs this year and now have leftover hard boiled eggs?
You're now one step closer to making deviled eggs, Amish macaroni salad, and Amish potato salad!
Leftover Easter Ham
If you still find yourself with leftover ham, use it up in Ham and Cheese Soup or Baked Eggs with Ham and Cheese.
Easter Dinner For Two
Not hosting a huge Easter this year? Here is your ultimate guide to Easter Dinner For Two! Menu includes recipes for two and small batch recipes of your favorite Easter dishes.

Originally published March 28, 2019
This post may contain affiliate links. As an Amazon Associate and member of other affiliate programs, I earn from qualifying purchase.