Get ready for Easter and Christmas with this Honey Glazed Ham Steak dinner with pineapple. Fry it on the stovetop or bake it in the oven.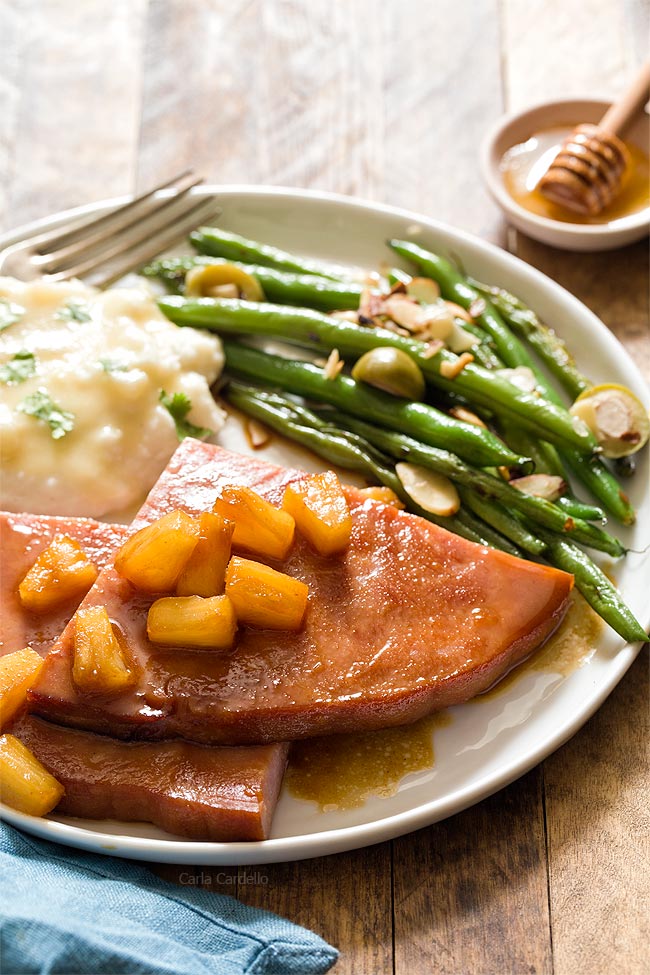 Holiday dinners.
You always see extravagant meals advertised with whole hams and every side dish imaginable with large families gathered around the kitchen table.
However, not every family is like this. Certainly not mine.
When you're cooking dinner for one or two, holiday meals can be daunting. All of that food! So many leftovers!
Luckily I'm here to help you with scaling down meals. Just because you don't have a large family doesn't mean you have to skip your favorite holiday dishes.
Fortunately for us, ham steak exists. That means instead of buying a whole ham, you buy a slice of ham from a ham roast.
Since honey baked ham is popular, I chose to make a Honey Glazed Ham Steak Dinner with pineapple. That way you can have the flavors of honey ham without throwing away leftovers.
Usually you serve ham for Easter and Christmas dinners. However, I know some families serve up ham for Thanksgiving too. I prefer poultry for that, but you do you.
The best part about cooking a ham slice dinner is it doesn't take long to cook at all. You can have this ham steak recipe ready in 15 minutes.
And if that didn't convince you enough, you fry ham steak on the stovetop, which frees up oven space for your side dishes.
If you're here planning your holiday recipes, check out my Easter For Two, Christmas Dinner For Two, and Thanksgiving Dinner For Two menus.
There you'll find side dishes and dessert to serve with your ham steak recipe.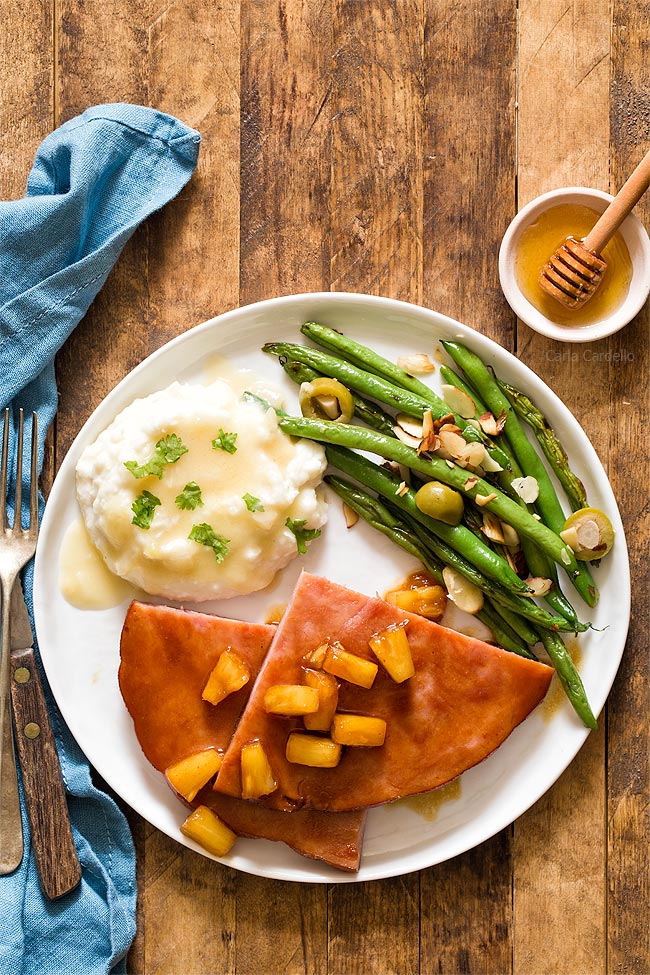 Cooking ham for the holidays such as Easter, Christmas, and even Thanksgiving has always been tough when cooking dinner for two.
I remember a few years ago when I worked with a ham client. They wanted me to create a leftover ham recipe yet sent me an entire ham two days before Thanksgiving.
A whole ham. For me. After I already went shopping to make my stuffed Cornish hen for Thanksgiving.
I ended up buying a ham slice then donated the untouched ham to a food bank. I'd rather have a family enjoy it for the holidays rather than open it up and waste 75 percent of it.
Even if I had frozen it, I'd be eating ham for years.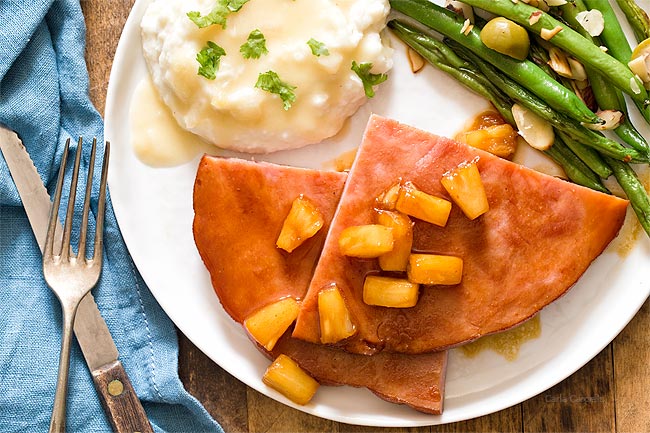 What is ham steak?
A ham steak is a slice of ham from a ham roast, either with or without a bone.
Most ham steaks are already cooked, which will be labeled as "fully cooked" on the packaging. That means it won't take long to prepare because all you have to do is warm it up.
Of course you add more flavor by making a ham steak glaze, but you certainly don't want to overcook it.
However, if your ham slice is raw, make sure you cook it long enough for the internal temperature to reach 145F.
You also have to decide between boneless and bone-in ham steak. I used boneless, but if you do buy one with a ham bone, it's the same cooking method.
After serving, save the ham bone and use it to make soup stock.
How many servings does a ham steak make?
The smallest ham steak I could find in 2020 was between 0.80 and 1 pound.
However, I went to buy another ham steak in 2021 and could only find 8 ounce ham steaks. If that's the case for you, you can either cut the glaze in half or buy two 8 ounce steaks.
A 1 pound ham slice makes about 4 pieces while an 8 ounce ham slice makes about 2 pieces.
Portion sizes are always subjective, but because most people go back for seconds, for a 16 ounce ham slice I calculated 2 pieces per person. Hence dinner for two.
If you're serving Easter or Christmas ham with side dishes, you could stretch it even further, especially if you're hosting guests with smaller appetites.
Because my 16 ounce ham steak was big, I used a large 12 inch skillet (affiliate link).
However, if your meat is bigger than your skillet, you can cut the ham in half and fry each portion separately.
It'll take a little longer to cook in batches, but you don't need to buy a giant skillet if you have a small kitchen.
If you do find yourself with leftover ham, use it up in my Ham and Cheese Soup or Baked Eggs with Ham and Cheese.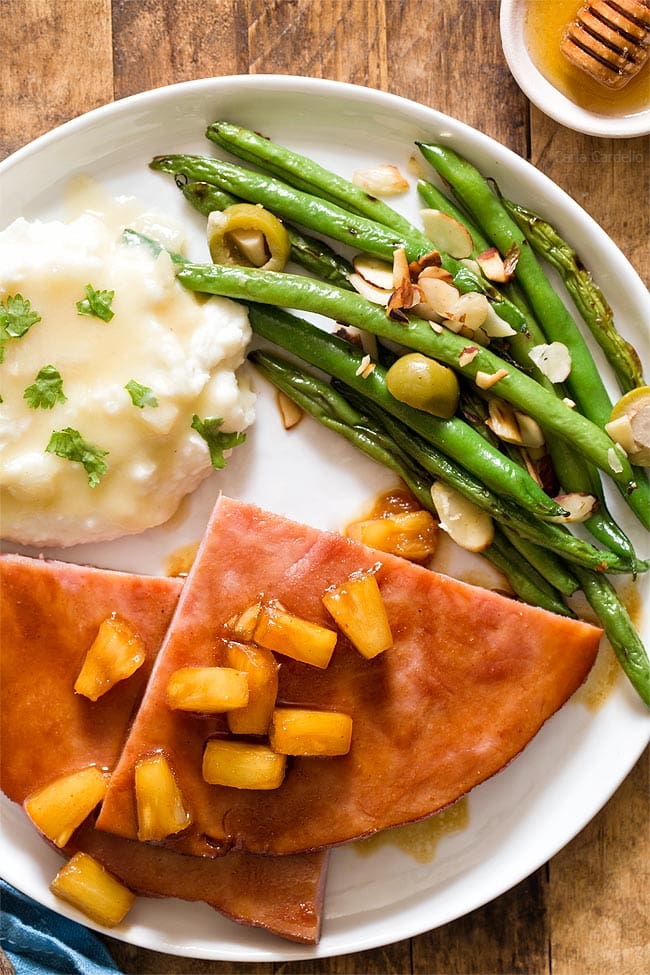 How To Cook Ham Steak
There are two ways to cook this ham steak recipe: fried on the stovetop or baked in the oven. You can't go wrong with either method. Just depends on other dishes you are making with your ham.
If you're baking side dishes such as Au Gratin Potatoes For Two, then you can cook the ham on the stovetop.
Likewise if your stove burners are full from making Stove Top Scalloped Potatoes, you can bake it.
How To Fry Ham Steak
I personally think the best way to cook your ham steak dinner is on the stove. Not only is it quick, you don't have to turn on your oven.
Plus the outside gets nice and brown from pan frying.
First, make the honey glaze for the ham. Whisk together honey, mustard, brown sugar, pineapple juice, and paprika then add to the hot pan.
Dip each side of the ham into the glaze then cook another minute or so. Stir in the pineapple pieces and dinner is ready.
You may be tempted to add some salt to the glaze, but don't. The ham provides enough saltiness to balance out the sweet glaze.
However, if you're adapting this glaze to use with another type of protein, you may want to add some kosher or sea salt to amplify the flavors.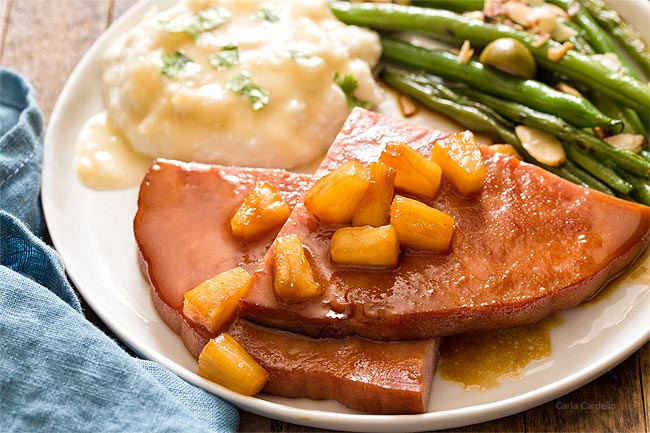 How To Bake Ham Steak In The Oven
Baking your ham steak dinner is easy too!
First, line a pan big enough to hold your ham slice with foil. This makes clean up much easier.
Whisk together your ham steak glaze ingredients, add your ham to the pan, then pour the glaze on top, making sure the steak is completely covered.
How long to cook ham steak?
Cooking ham steak recipe on the stove takes about 10 minutes. Super quick and easy!
Baking in the oven takes a little longer (about 20-30 minutes), but you can work on your side dishes while you wait.
Why do you put pineapple on ham?
Of course it wouldn't be an Easter or Christmas ham steak dinner for two without pineapple!
Pineapple balances the salty ham because it's acidic yet sweet. I added some of the canned pineapple juice to the glaze as well as stirred in some of the pineapple tidbits.
I saw some recipes use maraschino cherries, but I thought that would be a little too sweet.
What To Serve With Ham Steak

If you're looking to plan your full Easter or Christmas dinner menu, I highly recommend these recipes to pair with ham steak:
Looking for more meat to serve with your ham? Check out my lamb chop dinner for two and pork chops with mushroom gravy.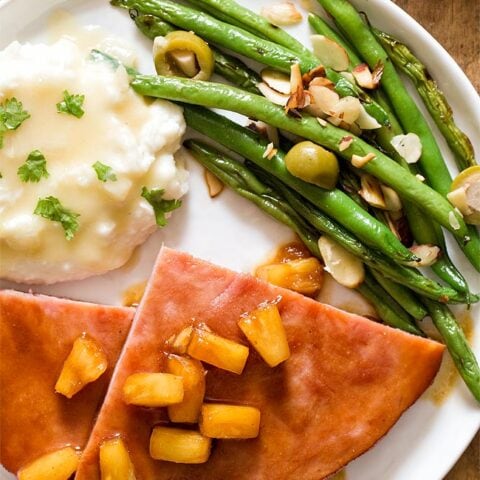 Honey Glazed Ham Steak Dinner
Get ready for Easter and Christmas with this Honey Glazed Ham Steak recipe with pineapple. Fry it on the stovetop or bake it in the oven.
Ingredients
1 tablespoon vegetable or olive oil (omit if baking)
1 pound fully cooked boneless or bone-in ham steak, patted dry*
2 tablespoons honey
1 tablespoon pineapple juice (from canned pineapple tidbits)
1 tablespoon brown sugar
2 teaspoons Dijon mustard
1/2 teaspoon paprika
1/2 cup canned pineapple or crushed pineapple, drained
Instructions
To Fry Ham Steak
In a large 12-inch skillet**, heat the oil over medium-high heat. Once hot, add the ham. Cook until brown, about 2-3 minutes.
Flip and cook the other side until brown, about 1-2 minutes. Transfer to a plate and keep warm.
Meanwhile, in a medium bowl whisk together the honey, pineapple juice, brown sugar, mustard, and paprika.
Turn the heat down to low and add the honey mixture to the empty skillet. Cook until bubbling, about 1 minute. Tilt the pan so the glaze covers the surface of the pan.
Add the ham back into the pan, coating one side with the glaze. Cook 1 minute.
Flip and coat the other side with the glaze. Cook 1 minute.
Add the pineapple tidbits and stir into the glaze (you may need to move the ham around, depending on how large your skillet is).
Remove ham from the pan then serve with pineapple and remaining glaze spooned on top.
To Bake Ham Steak
Preheat oven to 350F. Line a pan large enough to hold your ham with foil for easy clean up. Lightly grease foil.
In medium bowl whisk together the honey, pineapple juice, brown sugar, mustard, and paprika.
Add your ham to the pan and pour the glaze on top, making sure the entire ham is covered. Add pineapple on top.
Bake uncovered for 20-30 minutes or until heated through and starts to brown.
Notes
*If you're using raw ham steak, cook as directed until the internal temperature reaches 145F.
**If your meat is larger than your skillet, cut the ham in half then cook in batches.
Planning your holiday menu? Check out Easter Dinner For Two and Christmas Dinner For Two for recipe pairings.
Recommended Products
As an Amazon Associate and member of other affiliate programs, I earn from qualifying purchases.
Originally published on March 25, 2019