Green Beans with Almonds and Olives
Looking for an easy vegan side dish? Learn how to make these healthy Green Beans with Almonds and Olives!
Can you believe
Thanksgiving
is next week?!
It feels like there should be another week in there, but nope. It's happening in two Thursdays.
By now I'm guessing you have most of your Thanksgiving Dinner For Two menu planned.
I find most people don't stray from their usual holiday dinner. Year after year it's the same bird, side dishes, and dessert.
For anyone like me who feels adventurous in their cooking but knows it's a bad idea to mess with tradition, I have a solution for you.
How about adding an extra ingredient to an already favorite side dish?
Everybody knows the famous green beans with almonds side dish. Well I went ahead and made it a little more special with Green Beans with Almonds and Olives.
More specifically garlic stuffed olives. Can't forget the garlic!
Usually people make green bean casserole without canned soup for Thanksgiving.
But this green bean recipe is a little bit healthier. Mostly because it's only 5 ingredients with little fat added.
I also scaled them down to make 4 servings, especially since there's a lot of food going on for Thanksgiving. Small batch green beans FTW.
And even if your holiday menu is set in stone, these sautéed green beans make a deliciously healthy side dish any time of the year. It's even vegan friendly.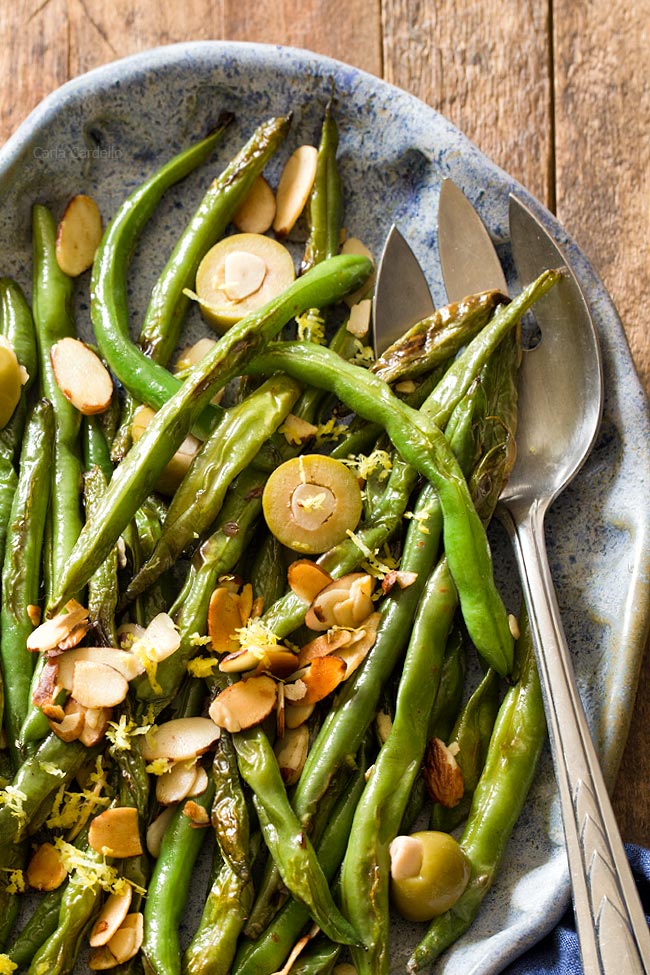 The best way to cook fresh green beans is parboiling them in water then sautéing them in olive oil.
Parboiling means to partially boil them in hot water, immediately chill in an ice bath, then finish cooking in a skillet.
The purpose of parboiling is to speed up the cooking time and to ensure the beans are soft in the middle before the outside burns.
And in the case of these green beans, parboiling helps retain their bright green color after frying.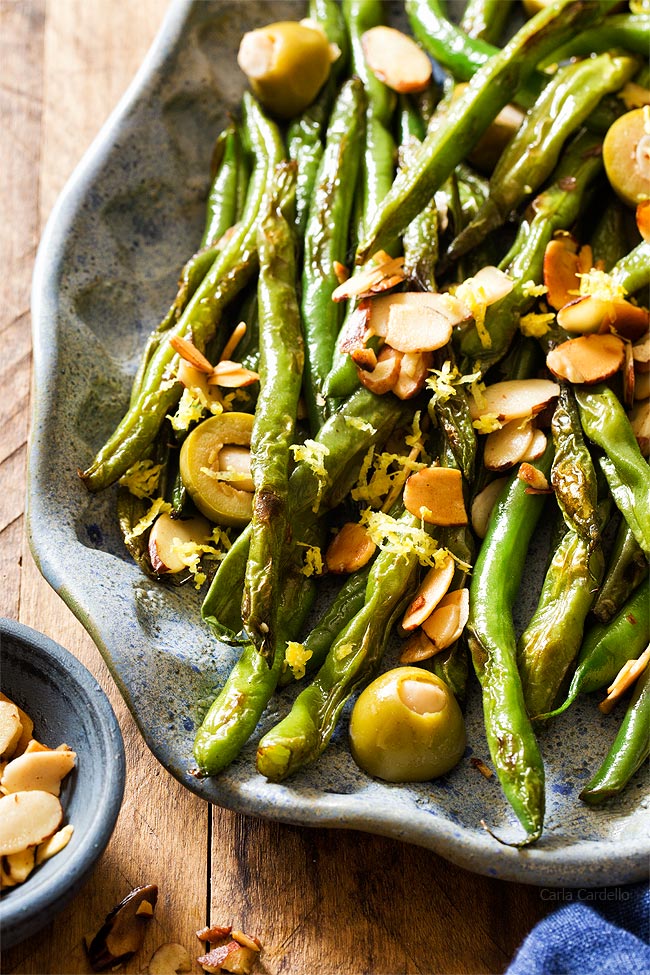 I sauté the sliced almonds with the green beans to give them a toasted flavor.
I personally prefer it over raw almonds. Plus you don't have to toast them separately in the oven.
To punch up the flavor, I added slices of garlic stuffed olives.
Not only do they add some much need garlic flavor (says the Italian), they also add some meatiness and brininess to this vegan side dish.
It's an excellent way to turn the typical green beans with almonds into something a little more substantial.
You can also use feta stuffed olives, which would pair well with these green beans.
And as always, can't go wrong with traditional pimento stuffed!
Other Thanksgiving Recipes For Two To Serve

What else are you serving for Thanksgiving? Here are some more holiday ideas: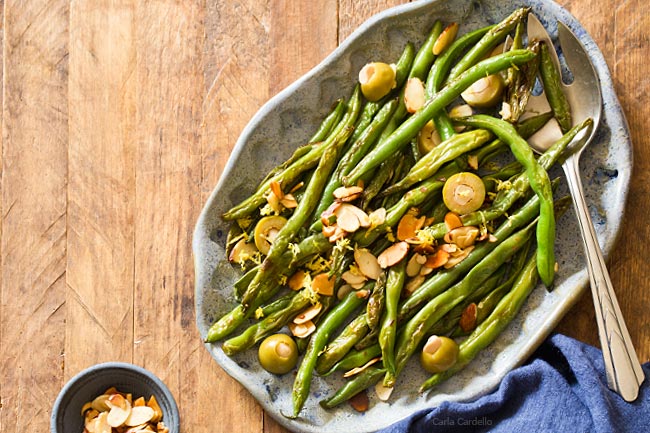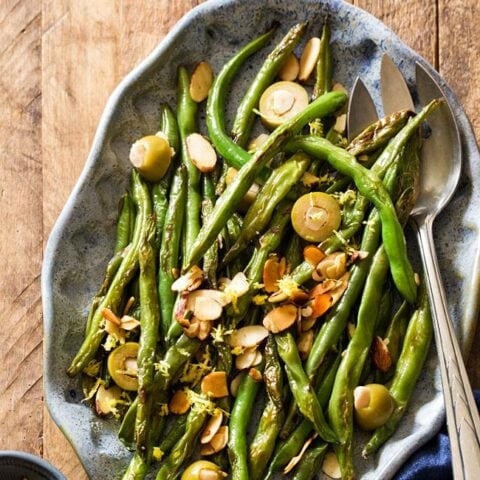 Green Beans with Almonds and Olives
Yield: 4 servings
Prep Time: 15 minutes
Cook Time: 20 minutes
Total Time: 35 minutes
Looking for an easy small batch side dish? Learn how to make these healthy Green Beans with Almonds and Olives!
Ingredients
1/2 pound (228 grams) fresh green beans, trimmed
1 tablespoon olive oil
1/4 cup (22 grams) sliced almonds
1/2 cup sliced garlic stuffed olives
1 teaspoon lemon zest
Salt, for tasting
Instructions
Bring a large pot of water to a boil. Add 1 teaspoon salt and green beans. Cook until bright but still firm, about 2-3 minutes.
Meanwhile add some ice cubes to a large bowl and fill with water. Once the beans are done, drain and immediately transfer to the ice bath. When cool, drain into a colander. Dry completely.
In a large skillet, heat oil. Once hot, add the beans and salt to taste. Saute, tossing frequently, until brown and tender-crisp, about 6-8 minutes.
Make a well in the middle and add the almonds. Cook until toasted, about 2-3 minutes.
Add the olives and zest. Cook for 1 minute or until warmed through.
This post may contain affiliate links. As an Amazon Associate and member of other affiliate programs, I earn from qualifying purchase.