Liven up your picnic side dishes with sweet and creamy Amish Potato Salad! This recipe is better than Walmart's Amish Potato Salad with a tangy dressing made of mayonnaise, mustard, vinegar, sugar, and smoked paprika.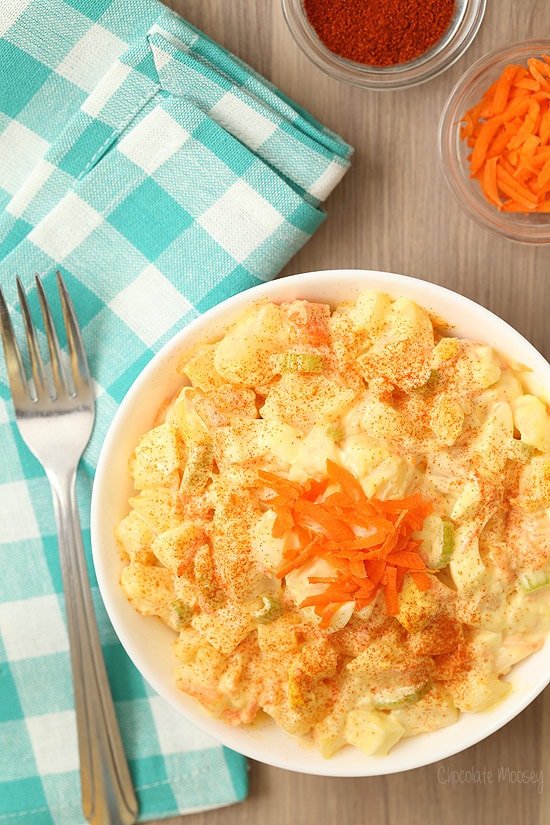 Even though I'm very happy with my choice about living in Pittsburgh again, there are a few things I miss about living in the country.
First, there's less traffic. That's probably a given, but you don't have to plan your day around rush hour traffic to get where you're going.
On the bright side, I'm not stuck going up the mountain at 20 miles per hour behind trucks or stuck on back country roads where you can't (legally) pass the cars in front of you.
Second, I miss the Mennonite and Amish markets. I could name at least 5 markets in the area that sold Amish food, but in Pittsburgh I'm struggling to find anything close.
I miss buttery Amish pretzels (think Auntie Anne's pretzels at the mall but a million times better). I miss Amish doughnuts stuffed with peanut butter cream.
Now I can still get fresh Amish doughnuts near my parents where an Amish family sets up their tent once a month, but peanut butter glazed is not the same as peanut butter cream.
I also miss Amish sides, like Amish Macaroni Salad, potato salad, and coleslaw.
As much as I love making everything from scratch, sometimes when my family visited the entire weekend (Friday night – Sunday night), I needed a little help with dinner.
Often we were running around keeping busy and not home in time to make anything that can't be served right away (who really wants to eat homemade potato salad at 7 PM when you were ready for dinner 2 hours earlier?).
And since the sides were still technically homemade (just not by me), we had no problems devouring a pound.
With the season of potato salad upon us, my craving for Amish Potato Salad is back.
It's a twist on classic potato salad where you add yellow mustard, vinegar, and sugar to your mayonnaise based dressing.
It's a bit sweeter than most potato salads, but the mustard and vinegar help balance it out so it's not too sweet to serve.
Growing up I wasn't a huge fan of mayo-heavy salads, but adding mustard really changed my mind.
Sometimes I see Amish potato salad from the Walmart deli, but typically I make my own, which is really easy to do. Cook the potatoes, whisk together the dressing, toss, and done.
And since typically potato salad makes tons of serving, I made small batch potato salad, which makes about 4 servings or so.
Serve up this Amish Potato Salad recipe for your summer picnics, and I guarantee it'll be the star of side dishes.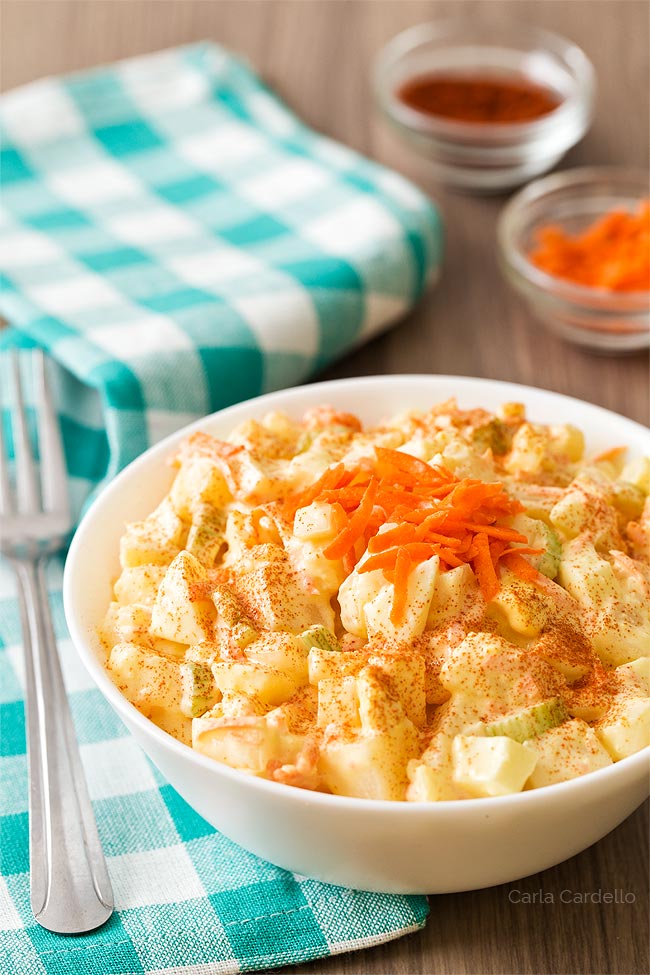 What is Amish Potato Salad?
When I mention this recipe, I'm often asked the difference between Amish potato salad and regular potato salad.
Both versions use potatoes, hard boiled eggs, and a creamy mayonnaise dressing.
However, Amish potato salad has a sweet and tangy dressing. The ingredients are real mayonnaise (not Miracle Whip), yellow mustard, vinegar, sugar, and smoked paprika.
I love mayonnaise but hate Miracle Whip, which has less vegetable oil and isn't qualified to be called mayonnaise (hence it's called salad dressing).
I highly recommend using real mayonnaise, but if you prefer the taste of Miracle Whip, you can use that instead. Please note Miracle Whip is a bit sweeter than mayo, so you may need to taste and adjust the dressing.
Don't like mayo? Check out my Italian Potato Salad without mayo and BBQ Potato Salad.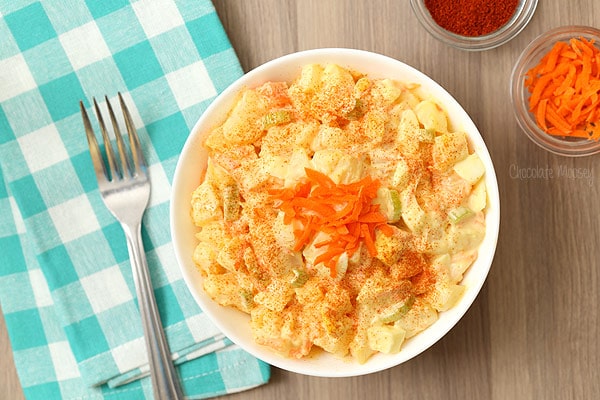 What is the best kind of potatoes for potato salad?
I used russet potatoes for my Amish potato salad. They're starchier than most potatoes and soak up the dressing quite nicely.
Because of the high starch, they do have a tendency to fall apart more easily, so you want to be extra careful you don't overcook your potatoes.
Peeling is optional. Personally I always peel mine.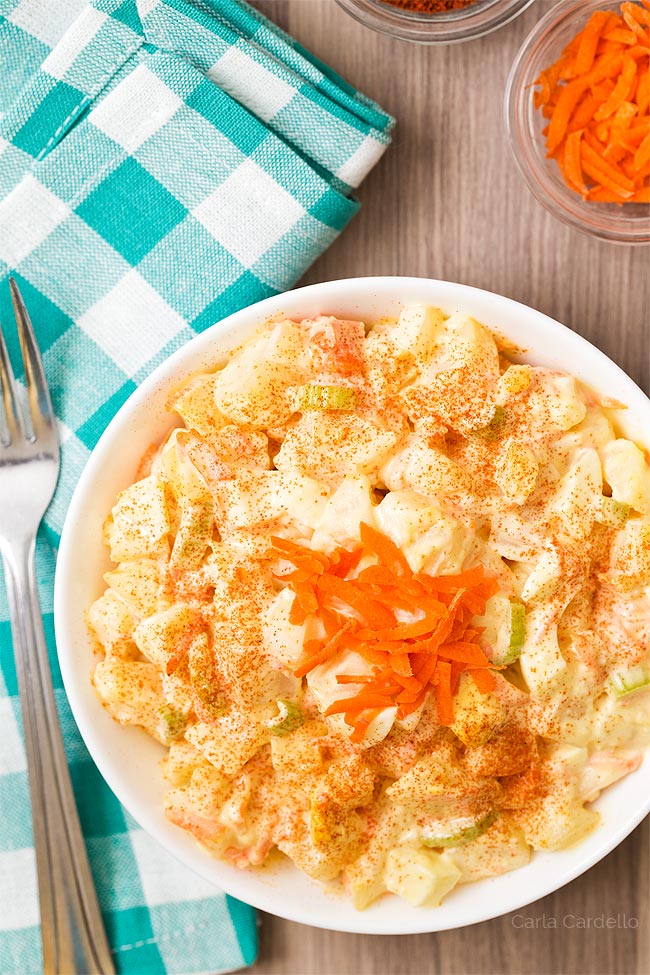 How To Make Amish Potato Salad
Making the best Amish Potato Salad is easy! First things first, start cooking the potatoes.
The best way to cook potatoes is to put them in a large pot, cover them completely with cold water, add some salt, then bring to a boil.
This method ensures the potatoes are cooked all the way through. If you were to add them to boiling water like you do with pasta, the outsides would cook while the insides would still be hard. By the time the insides would cook, the outsides would be mush.
Once the water boils, turn the heat down to a simmer. Potatoes are fragile and if you continue to cook at a rolling boil, the speed of the water will throw them around, causing them to disintegrate and fall apart.
While you wait for the potatoes to cook, whisk together the dressing and prep the vegetables. By the time the potatoes are finished, everything is ready to assemble.
This is also the perfect recipe to use up those hard boiled eggs you may have leftover from your Easter dinner for two.
At this point, the potatoes need to be dry and cool. Rinsing them under cold water will not only help stop the cooking process, it'll cool down the potatoes.
If the potatoes are too hot when tossed with the mayonnaise based dressing, the dressing will melt and split.
Make sure you leave enough time to chill! Refrigerate it for at least 24 hours to allow the flavors to develop. However, if you're in a hurry to serve, chill for at least 1 hour minimum.
Can you make potato salad the day before?
Yes, you can make potato salad a few days before serving. In fact, I recommend letting the potato salad chill in the refrigerator for 24 hours to allow the flavors to develop.
As long as it's properly stored in an airtight container and not left sitting out for more than 2 hours, Amish potato salad can last about 3-4 days.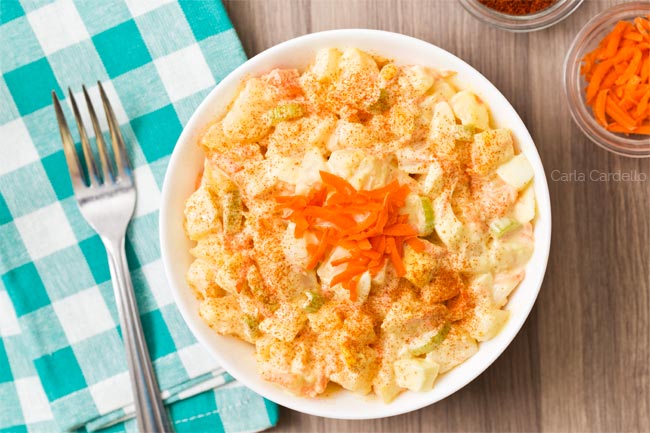 What Can I Serve With Potato Salad?

Getting ready to plan a cook out or a picnic? Here are more recipes you can serve with potato salad:
What To Do With Leftover Potatoes
Since it's cheaper to buy a 5 pound bag of potatoes, you can make my Salt and Vinegar Chips and BBQ Chips with the leftover potatoes.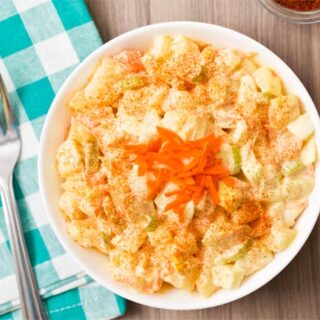 Amish Potato Salad
Total Time:
1 hour
55 minutes
Sweet and creamy Amish Potato Salad is similar to Walmart's Amish Potato Salad with a tangy dressing made of mayonnaise, mustard, vinegar, sugar, and smoked paprika.
Ingredients
1 1/2 pounds russet potatoes, peeled and cut into 1/2-inch cubes (roughly 4-5 potatoes)
1/2 cup mayonnaise*
2 tablespoons yellow mustard
2 tablespoons white distilled vinegar
2 tablespoons sugar
1/2 teaspoon smoked paprika plus more for dusting
1/2 teaspoon salt (preferably kosher)
2 hard boiled eggs, chopped
1 carrot, peeled and grated
1 rib celery, chopped
1/4 cup diced white or yellow onion
Instructions
Add the potatoes and a handful of salt to a large pot and cover with water. Bring to a boil.
Once boiling, turn the heat down to a simmer and cook until fork tender, about 5-8 minutes. Drain and rinse under cold water. Spread in a single layer onto a baking sheet to dry. Cool for 15 minutes.
In a large bowl, whisk together the mayonnaise, mustard, vinegar, sugar, paprika, and salt.
Add the potatoes, carrots, eggs, celery, and onion. Mix everything together until coated with the dressing.
Cover and refrigerate at least 1 hour or until cold (24 hours is preferred to allow the flavors to develop).

Store in the refrigerator for up to 5 days.
Notes
I highly recommend using real mayonnaise, but if you prefer the taste of Miracle Whip, you can use that instead. Please note Miracle Whip is a bit sweeter than mayo, so you may need to taste and adjust the sugar.
Enjoyed this recipe? Check out my Amish Macaroni Salad and Italian Potato Salad.
Got more potatoes to use in your 5 pound bag? Check out my other potato recipes.
Recommended Products
As an Amazon Associate and member of other affiliate programs, I earn from qualifying purchases.
Originally published June 15, 2015