Looking for a hearty meatless dinner? These Vegetarian Stuffed Peppers For Two will hit the spot with rice, tomatoes, and black beans!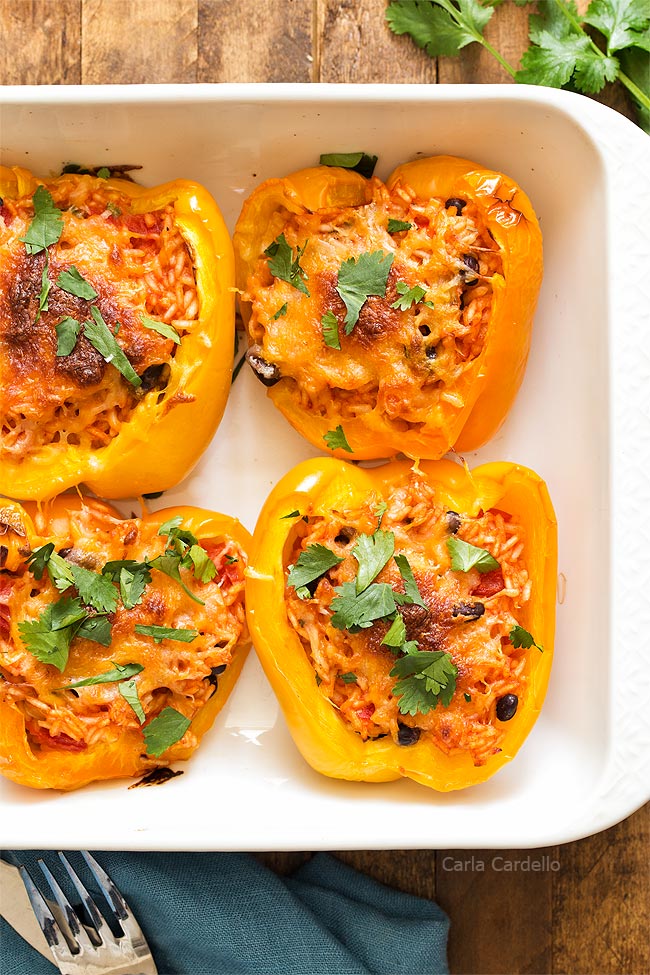 With springtime coming up, I wanted to create a vegetarian main dish for your
Easter Dinner For Two
.
I have so many meat options but not enough vegetarian. I do have my Quiche Florentine, but I needed more.
Many of you have asked for more meatless recipes, so I'm working on expanding my recipe collection.
Back in the fall I made a vegan stuffed butternut squash for Thanksgiving Dinner For Two.
I wanted to recreate that for Easter but was trying to think of a vegetable to stuff. Too early for stuffed zucchini with rice. Too late for butternut squash.
Then it hit me – Vegetarian Stuffed Peppers! Bell peppers are available all year round, so you can definitely make them for Easter.
Of course these stuffed peppers for two are by no means a holiday dinner. I ate stuffed peppers growing up as a regular Sunday dinner (although I didn't particularly care for them as a child).
I'm not fond of green peppers, so as an adult I made mine with orange and yellow peppers.
Instead of your typical ground beef filling, I opted to make a tomato rice filling (similar to my homemade Spanish rice but without the Spanish flair). Then I added black beans for protein.
It's almost vegan as I added shredded cheese on top, but you can easily swap that out for a vegan-friendly cheese or leave it out altogether.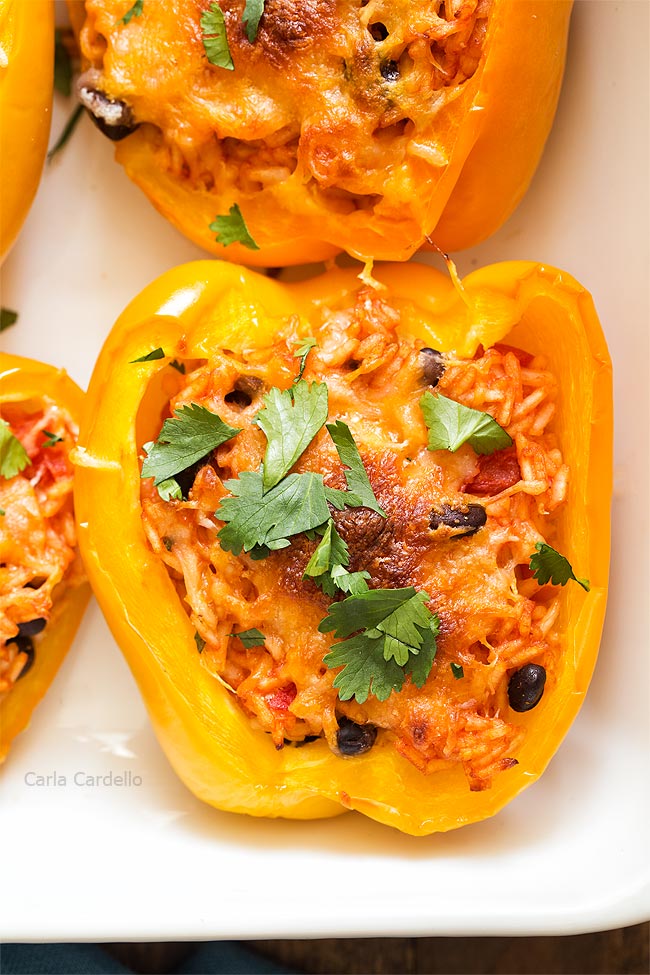 Ingredients For Vegetarian Stuffed Peppers
The ingredients for these stuffed peppers for two are pantry-friendly. They are:
Bell Peppers : Of course you can't have stuffed peppers without the pepper! They come in a variety of colors – green, red, orange, and yellow. I personally don't like green as it's not as sweet, but really any color will do. Make sure you find the largest you can stuff, roughly 8 ounces per pepper. If they're small, you can buy three or eat the remaining rice as a side dish.
Olive Oil: Although these peppers aren't vegan, I used olive oil so you can swap or omit the cheese and make it vegan. You can also use butter.
Salt: Salt enhances flavor and makes everything better. Kosher salt is preferred, but you can use table salt if needed.
Onion and Garlic: Onion and garlic are known as aromatics and help build flavor into your rice. Use white, yellow, or even Vidalia onion. I wouldn't recommend red onion unless that's all you have.
White Rice: Rice is a great way to bulk up your meatless stuffed peppers. You can use almost any type of grain – brown rice, quinoa, barley, even couscous (technically pasta but close enough). Because the ratio of grain to liquid varies, follow the ratio on the back of your packaging.
Tomato Sauce: Most stuffed pepper recipes are tomato based, which is why I used canned tomato sauce as part of the liquid to cook the rice.
Vegetable Broth: Another ingredient making your peppers vegetarian-friendly. Broth is needed to cook your rice and is more flavorful than water.
Tomatoes: I wanted to stir in actual tomato pieces to eat. I used drained petite diced tomatoes for the size. However, if you don't want to open a can you can also use a fresh tomato.
Black Beans: Because these stuffed peppers for two are vegetarian, I needed to find a way to add protein. Canned black beans to the rescue! Make sure you rinse them under water to remove the liquid before adding.
Lime Juice: Adding lime juice adds a bit of brightness to the rice. You can also use lemon juice.
Fresh herbs: I used chopped cilantro for color and freshness, but you can use almost any herb – basil, parsley, thyme, whatever you have on hand.
Shredded cheese: Melting cheese on top takes your stuffed peppers to the next level! If you're vegan, feel free to use a vegan-friendly cheese or omit it altogether.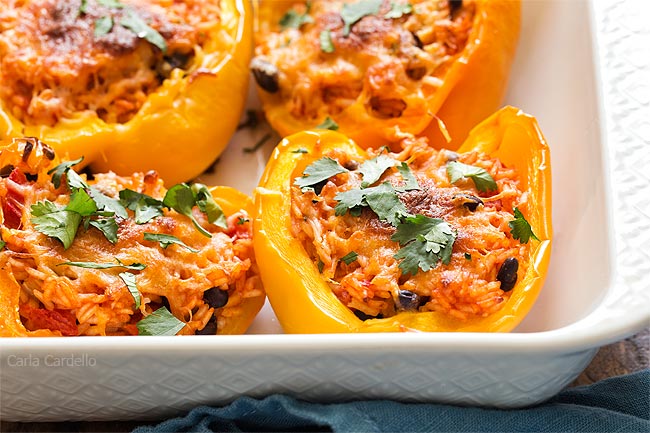 How To Stuff Bell Peppers
Traditionally you cut the tops off of your bell pepper, remove the seeds and membrane, then stuff with rice.
However, this method means your peppers will take forever to bake and soften. Plus once you eat the cheese off the top, no more cheese.
By cutting each pepper in half, they cook faster. Plus now you have double the amount of surface area for cheese.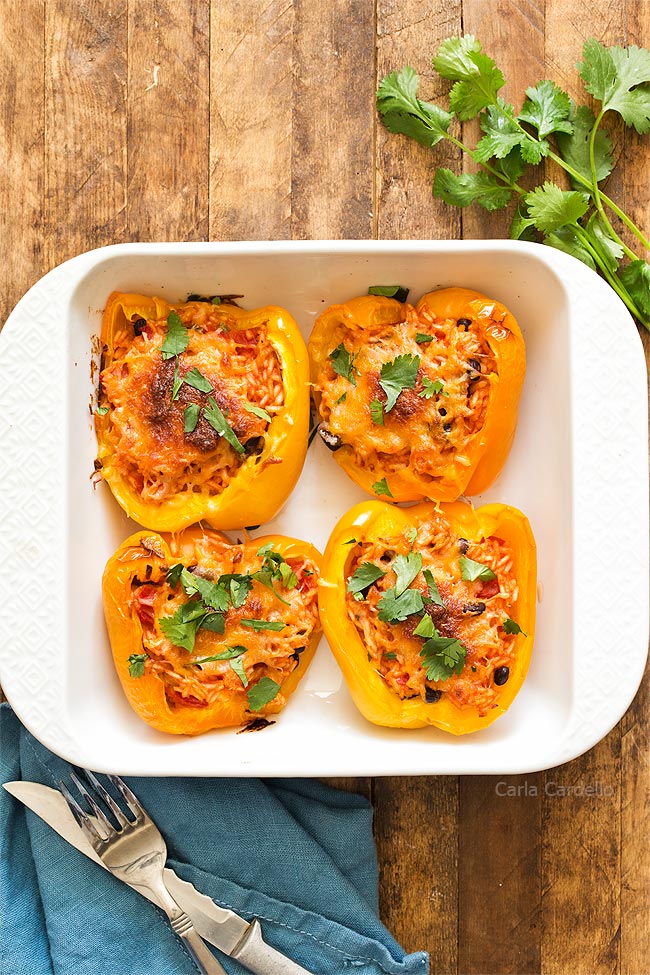 How To Make Vegetarian Stuffed Peppers
To make meatless stuffed peppers, first you need to make your rice filling.
Heat your oil in large skillet. Once hot, cook your onion until softened. Add your garlic and rice then cook for 1-2 minutes or until the rice is translucent.
Next, stir in your tomato sauce and broth. Bring to a boil. Once boiling, turn the heat down to a simmer and cover with lid. Cook for 10-12 minutes or until all of the liquid has been absorbed.
Once cooked, stir in your tomatoes, black beans, lime juice, and cilantro.
While the rice is cooking, preheat your oven to 400F and have an 8×8 or similar pan ready. Add your pepper halves to the pan in a single layer.
Transfer your rice to the peppers, filling them up nice and fully. Top with cheese.
Bake your stuffed peppers with rice for 30-40 minutes. Your stuffed peppers are done when they are fork tender.
Do you have to boil your peppers before stuffing them?
Nope, no need to pre-cook your peppers before stuffing! They'll soften up in the oven after baking, especially since you're cutting them in half.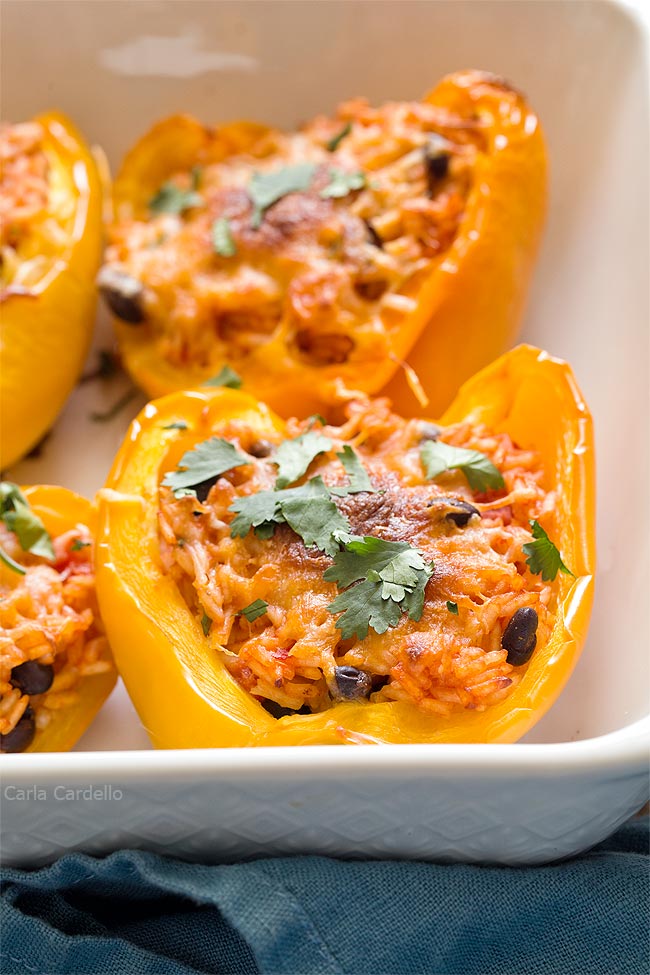 What To Do With Leftover Canned Tomatoes and Black Beans
Ok, ok. I get it. Who wants to open a can for a measly quarter cup of tomatoes and black beans?
I chose canned mostly for the convenience. You can certainly chop up a fresh tomato or use dried black beans and make the appropriate amount.
However, with a little bit of menu planning you can use up those leftover canned goods later on in the week.
For leftover canned tomatoes you can make One Pot Lasagna Soup.
For leftover canned black beans you can make Crock Pot Salsa Chicken.
I also like to substitute black beans for the lentils in Mujadarafrom Aarti Sequeira.
You also use both canned goods in Buffalo Chicken Chili.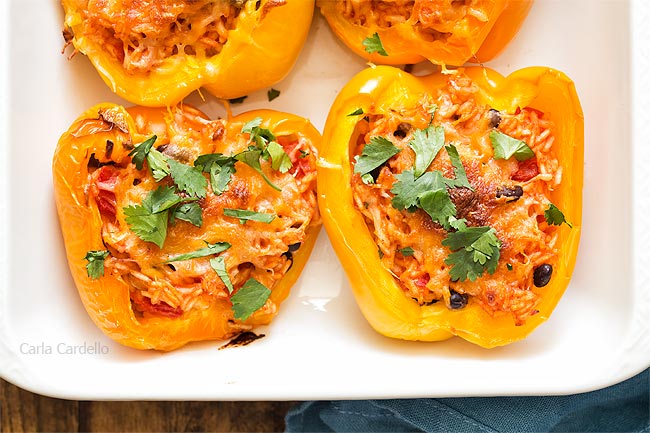 Sides To Serve With Stuffed Peppers

To make your stuffed peppers for a complete meal, check out these side dish recipes: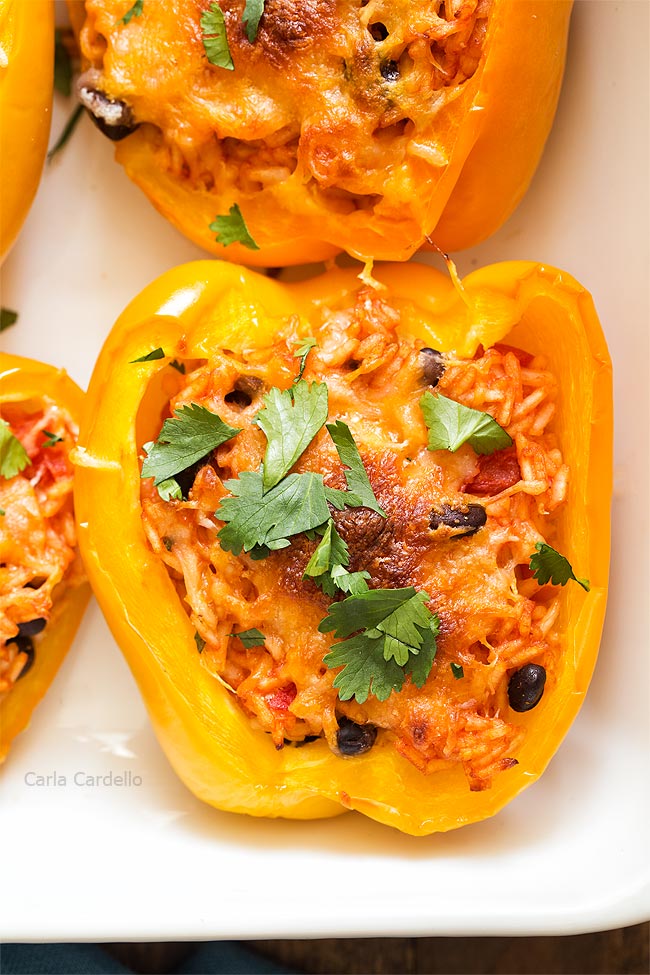 Vegetarian Stuffed Peppers For Two
Total Time:
1 hour
15 minutes
Looking for a hearty meatless dinner? These Vegetarian Stuffed Peppers For Two will hit the spot with rice, tomatoes, and black beans!
Ingredients
2 large bell peppers (any color), cut in half lengthwise and deseeded (roughly 8 ounces per pepper)
1 tablespoon vegetable or olive oil
1/4 cup diced yellow or white onion
1 garlic clove, minced
1 cup uncooked white long grain rice
3/4 cup canned tomato sauce (roughly one 8 ounce can)
1/4 cup vegetable broth/stock, room temperature
1/2 teaspoon salt, preferably kosher
1/4 cup petite diced tomatoes (either drained from a can or freshly chopped tomato)
1/4 cup canned black beans, rinsed
1 teaspoon fresh chopped cilantro
1 teaspoon fresh lime juice
1/4 cup shredded cheese, such as cheddar, Colby Jack, or mozzarella
Instructions
Preheat the oven to 400F. Place the bell pepper halves in an 8x8 baking dish.
In a large skillet, heat the oil. Once hot, add the onion and a big pinch of salt. Cook until softened, about 5 minutes.
Add the garlic and rice then cook for another 1-2 minutes or until the rice is translucent and starts to brown.
Slowly stir in the tomato sauce, broth, and salt. Bring to a boil.
Once boiling, turn the heat down to simmer and cover with a lid. Cook undisturbed 10-15 minutes or until the liquid is absorbed and rice is tender. Taste and adjust for salt, if needed.
Remove from the heat. Stir in the tomatoes, black beans, cilantro and lime juice.
Transfer the rice mixture to the pepper halves and top with cheese. Bake for 30-40 minutes or until the peppers are fork tender.
Recommended Products
As an Amazon Associate and member of other affiliate programs, I earn from qualifying purchases.