Homemade Gravy Without Drippings
Homemade Gravy Without Drippings is an easy from scratch gravy recipe without drippings so you don't have to wait for the meat to be done. Make it ahead of time to reduce stress for Thanksgiving, Christmas, and Easter.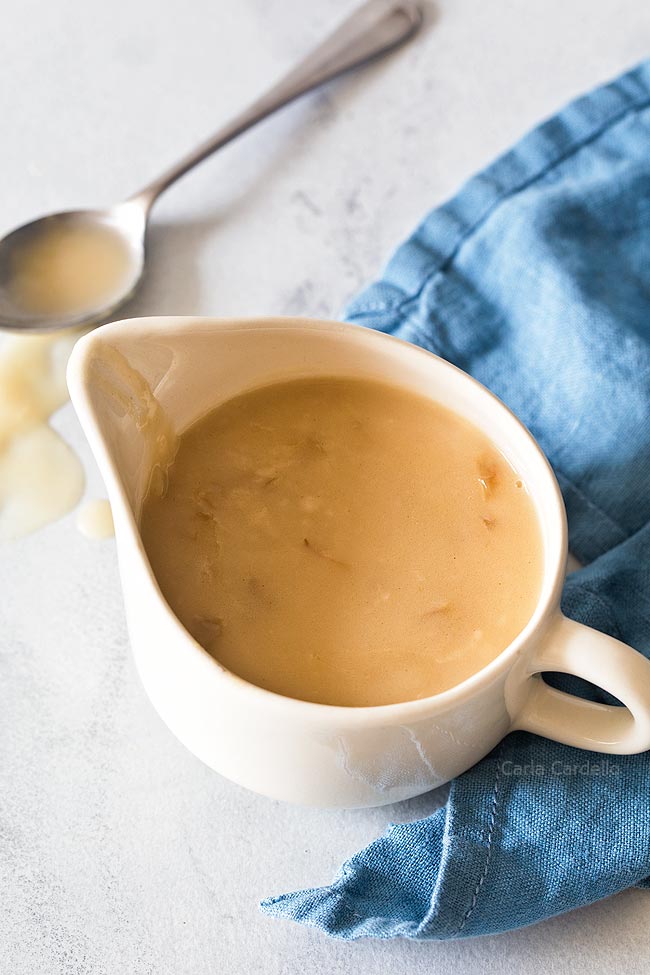 Have you started planning your Thanksgiving menu yet?
So far I've given you dessert ideas with my Small Pumpkin Pie and Small Pecan Pie.
How about I share something savory? Every year, I make Homemade Gravy Without Drippings for Thanksgiving.
Wait, what? You mean you don't have to wait for the Thanksgiving turkey to be done in order to make gravy?
Or maybe you're deep frying your turkey and don't have any drippings to make turkey gravy.
Whatever the reason, you can now make Thanksgiving gravy ahead of time with my Gravy Without Drippings recipe!
Although this post focuses onThanksgiving Dinner For Two, you can make this gravy recipe without drippings for Christmas Dinner For Two and Easter For Two.
You can also make it all year round to pour over mashed potatoes for two, especially since you may not be serving it with any meat.
All you need are a few pantry items including butter, flour, and broth.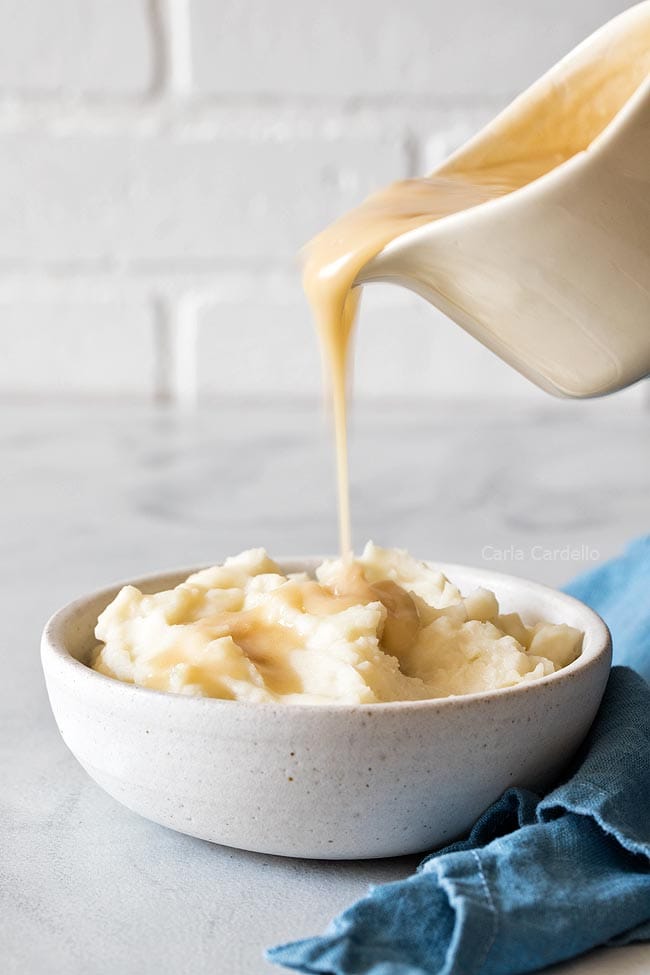 Ingredients For Gravy Without Drippings
To make an easy homemade gravy, you'll need the following ingredients:
Butter: Since you're not using meat drippings, you'll need to substitute butter for the fat. I highly recommend using real butter, but I have made it with margarine at my parents' house.
Onion: Although optional, onions are a delicious aromatic to build your gravy base.
All-purpose flour: Thickens your gravy. You can also substitute cornstarch to make gluten-free gravy.
Salt: Love it or hate it, salt is an absolute must. It takes your homemade gravy from bland to great. The amount will depend on how salty your broth is.
Broth/Stock: The liquid needed to turn your roux into a sauce. Use a flavor that best matches what you're serving.
Milk: Adds a touch of richness.
For my Thanksgiving gravy, I use chicken broth to go with my Stuffed Cornish Hen.
However, you can easily adapt it to match your dinner, such as beef broth for beef pot roast or vegetable broth for mashed potatoes.
Or use it for vegetarian biscuits and gravy for two instead of using sausage gravy recipe for 2.
You can also make my Vegan Mushroom Gravy for a more robust vegetarian gravy.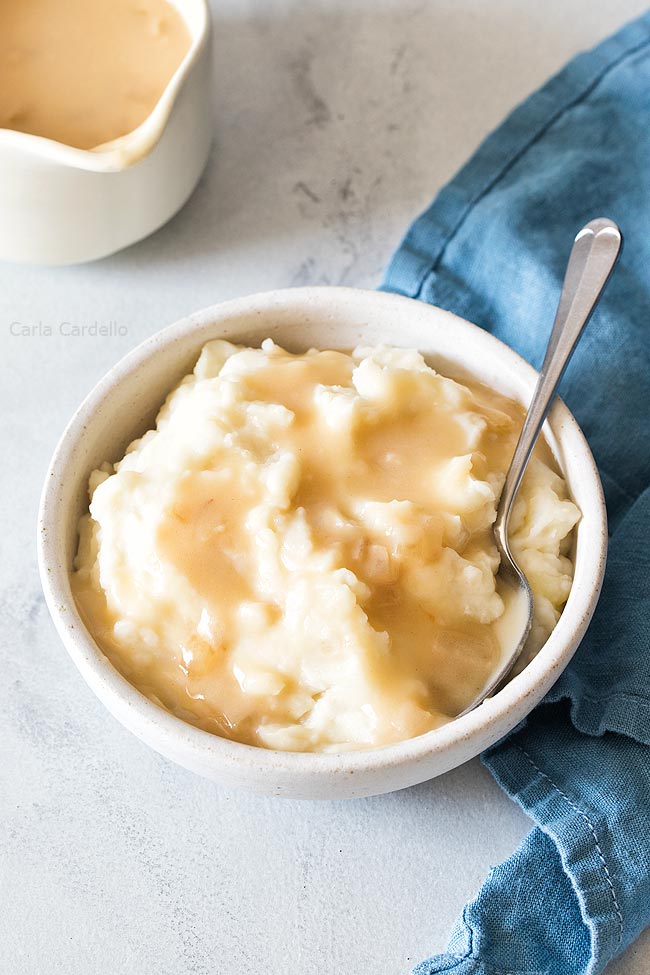 Why make homemade gravy without drippings?
When it comes to learning how to make homemade gravy, you use meat drippings for the flavor. But what happens if you don't have any?
Maybe you're making mashed potatoes to go with your ham steak dinner.
Or you're making a vegetarian Thanksgiving dinner with Stuffed Butternut Squash. Vegetarians should not be denied gravy.
If you're worried about lack of pan drippings means lack of flavor, don't be! Frying the onions adds a huge boost of flavor in addition to the broth of your choice.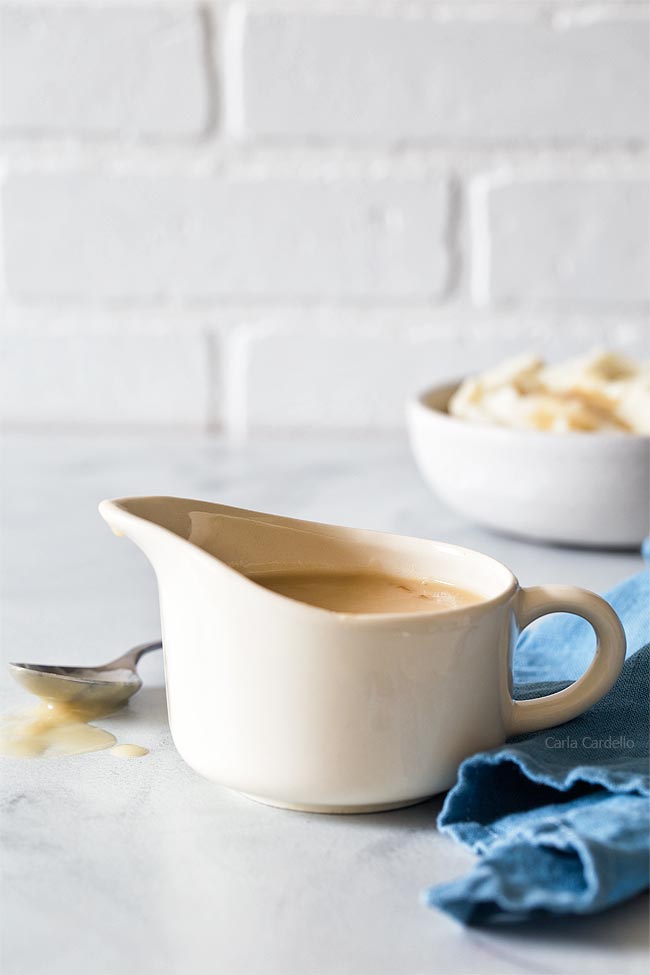 How To Make Gravy Without Drippings
To make homemade gravy with flour, first melt your butter.
Once melted, add your onion and a pinch of salt. Cook until the onion is softened and starts to brown. The darker your onions get, the darker your gravy will be.
Next, stir in your flour to coat the onion. This is called making a roux, which is a flour paste using to thicken your gravy.
Slowly whisk in your broth until smooth (there will be lumps from the onion) then bring to a boil.
Once boiling, cook until it thickens, about 3-5 minutes. Remove from the heat then stir in your milk.
Finally, taste and adjust for salt. It's hard to give an exact amount since broths can vary in sodium levels but if your gravy tastes flat and bland, add more salt.
How To Make Homemade Gravy Without Flour
Looking to make a gluten free homemade gravy without flour? Use cornstarch instead to thicken your gravy.
However, cornstarch is not a 1:1 substitute. Use half the amount, which means 1 tablespoon cornstarch instead of 2 tablespoons flour.
How To Make Homemade Gravy Ahead Of Time
Gravy from drippings is often made at the last minute because you can't do anything until the meat is done.
By substituting butter for the drippings, you can prepare this gravy recipe without drippings ahead of time then reheat it for serving.
That also means you don't have to wait until your meat is done cooking.
Maybe for a normal dinner that wouldn't be a big deal, but this is Thanksgiving we are talking about!
You already have a million things going on – prep this, cook that, carve this, serve that.
When everything in the oven has about 15 minutes left, I start the Thanksgiving gravy. That way when everything is ready, the gravy is ready too.
However, you can certainly save time and make homemade gravy the day before and refrigerate.
It will thicken greatly when it is cold, so right before serving, reheat your gravy by putting it in a small saucepan and heat until smooth and pourable again. You may need to stir in a little more broth to thin it out.
Refrigerate gravy for up to 3 days.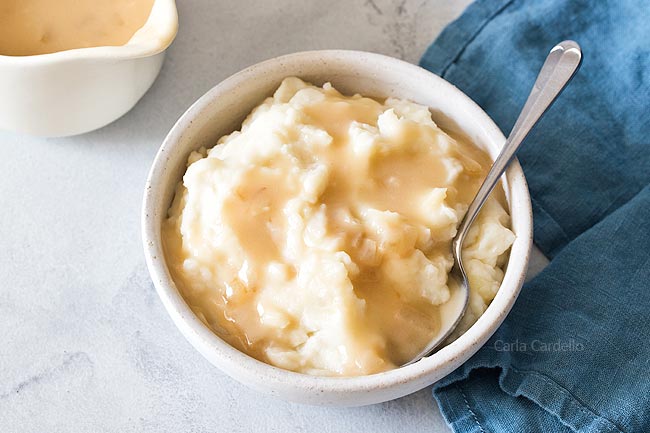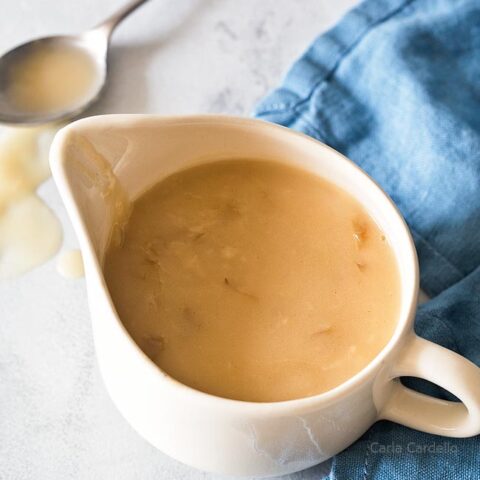 Homemade Gravy Without Drippings
Yield: 1 cup (4 servings)
Prep Time: 15 minutes
Cook Time: 15 minutes
Total Time: 30 minutes
Homemade Gravy Without Drippings is an easy gravy recipe from scratch without pan drippings. Make it ahead of time to reduce holiday stress
Ingredients
1/4 cup (2 ounces or 4 tablespoons) unsalted butter, cut into 4 pieces
1/4 cup diced yellow or white onion
2 tablespoons all-purpose flour (*see Note about substituting cornstarch)
1/2 teaspoon salt plus more to taste
1 cup broth or stock, any flavor
1 tablespoon whole milk
Instructions
In a large saucepan, melt the butter. Once hot, add the onion and a big pinch of salt and cook until softened, about 5 minutes.
Stir in the flour and and salt and cook for 1 minute.
Slowly whisk in the broth/stock and cook until thickened, about 3-5 minutes.
Remove from the heat and whisk in the milk. Taste and adjust for salt. Serve while hot.

Gravy will thicken as it cools, so you may need to reheat and thin it out with more broth until smooth and pourable again.

Refrigerate leftover gravy for up to 3 days.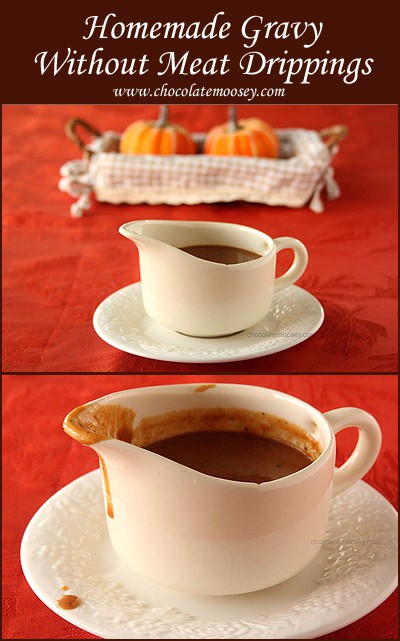 Originally published November 20, 2012
This post may contain affiliate links. As an Amazon Associate and member of other affiliate programs, I earn from qualifying purchase.