Homemade Gravy Without Drippings is an easy from scratch gravy recipe without drippings so you don't have to wait for the meat to be done. Make it ahead of time to reduce stress for Thanksgiving, Christmas, and Easter.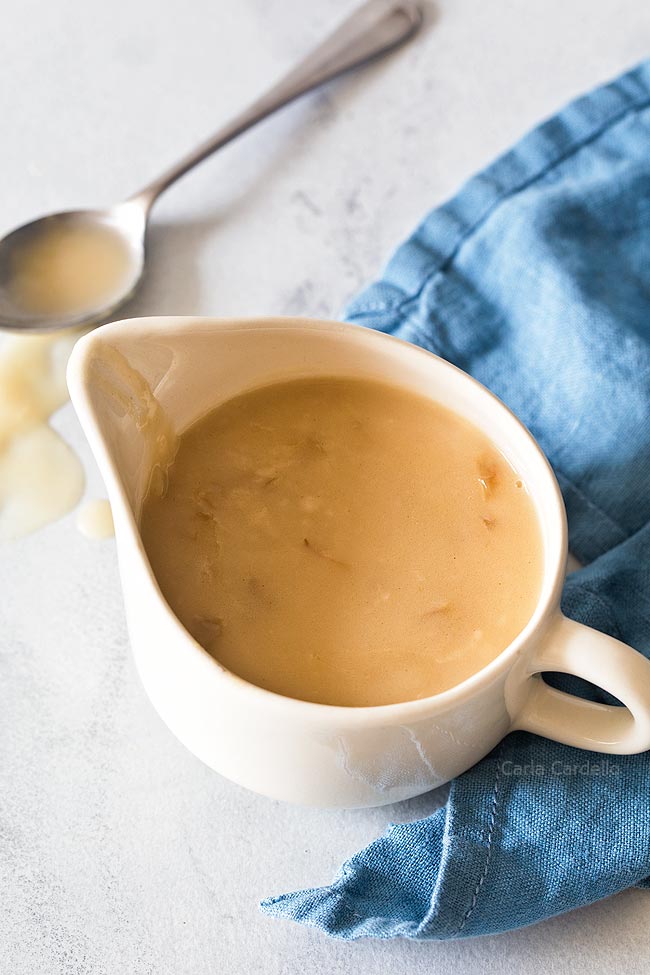 Have you started planning your Thanksgiving menu yet?
So far I've given you dessert ideas, ranging from Small Pumpkin Pie, Small Pecan Pie, and Small Pumpkin Cake to Pumpkin Cheesecake and No Bake Pumpkin Cheesecake.
Now that you're all hyped up on sugar, how about I share something savory? Every year, I make Homemade Gravy Without Drippings for Thanksgiving.
Wait, what? You mean you don't have to wait for the Thanksgiving turkey to be done in order to make gravy?
That's right – you can now make gravy ahead of time with my Homemade Gravy Without Drippings recipe!
Although this post focuses on Thanksgiving, you can make this gravy recipe without drippings for Christmas Dinner For Two and Easter For Two.
You can also make it all year round, especially since you don't need a big fancy roast for it.
All you need is butter, flour, and broth.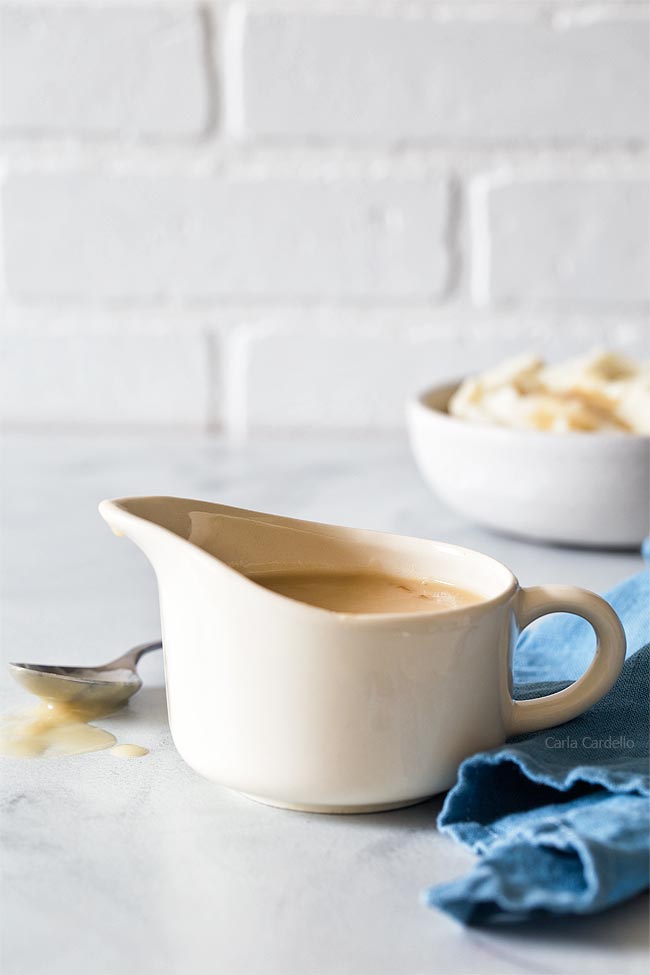 How do you make the best gravy from scratch without drippings?
Instead of making pan gravy with meat drippings, you make a roux using flour and broth.
In this case I use chicken broth to go with my Stuffed Cornish Hen, but you can easily adapt it to match your dinner, such as beef broth for beef pot roast or vegetable broth for mashed potatoes.
You can also make my Vegan Mushroom Gravy for a more robust gravy.
Why make homemade gravy without drippings?
When it comes to learning how to make homemade gravy, you use meat drippings for the flavor, but what happens if you don't have any?
For example, if you wanted to make a quick gravy for my mashed potatoes for two, you may not be making any meat for the main course.
Especially if you're vegetarian. Vegetarians should not be denied gravy.
Or you cook for 1-2 people and simply not going to make a giant pot roast or a whole turkey. And if you do make a small meat for your main course, you may not have enough pan drippings.
Or you're cooking Thanksgiving For Two where you can take all the help you can get for making recipes ahead of time.
Traditional gravy from scratch is a last minute recipe since you can't do anything until the meat is done.
By using flour and broth, you can prepare this gravy recipe without drippings ahead of time then reheat it for serving.
If you're worried about lack of pan drippings means lack of flavor, don't be! Frying the onions adds a huge boost of flavor in addition to the broth of your choice.
The more flavorful your broth is, the more flavorful your gravy will be. That's why I use broth instead of water.
You can use any type of broth to complement your dish. I typically use chicken, but feel free to use turkey, beef, vegetable, mushroom, pretty much whatever you want.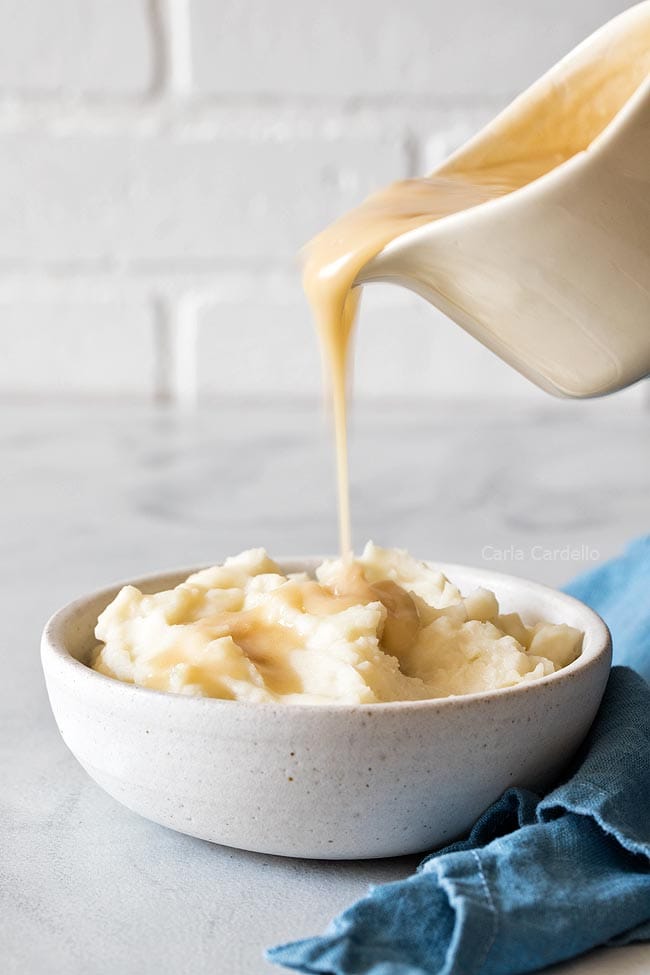 How To Make Homemade Gravy With Flour
To make homemade gravy with flour, first melt your butter in a large saucepan. Once hot, add your onion.
Once the onion has softened, stir in your flour and salt. This will create a roux.
Next, slowly whisk in your broth, smoothing out the roux as much as possible. Then bring to a boil. Once boiling, cook until it thickens, roughly 3-5 minutes.
Finally, stir in your milk for a bit of creaminess.
How To Make Homemade Gravy Without Flour
Looking to make a gluten free homemade gravy without flour? Use cornstarch instead to thicken your gravy.
However, cornstarch is not a 1:1 substitute. Use half the amount, which means 1 tablespoon cornstarch instead of 2 tablespoons flour.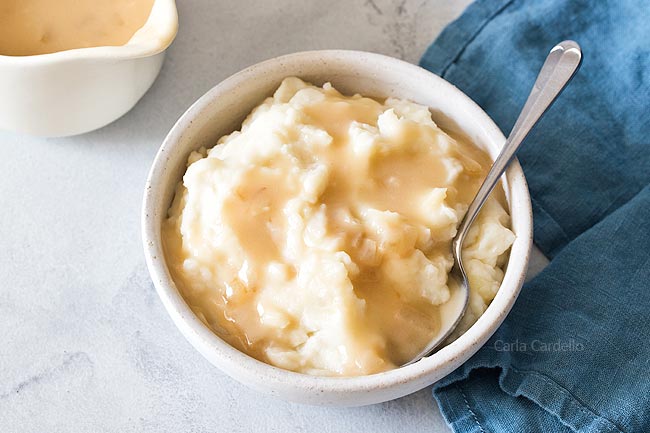 How To Make Homemade Gravy Ahead Of Time
The best part about making this gravy recipe without drippings is you do not have to wait until your dinner is done cooking to make the gravy.
Maybe for a normal dinner that wouldn't be a big deal, but this is Thanksgiving we are talking about!
You already have a million things going on – prep this, cook that, carve this, serve that.
When everything in the oven has about 15 minutes left, I start the gravy. That way, when everything is ready, the gravy is ready too.
However, you can certainly save time and make homemade gravy the day before and refrigerate
It will thicken greatly when it is cold, so right before serving, put it in a small saucepan and heat until smooth and pourable again. You may need to stir in a little more broth to thin it out.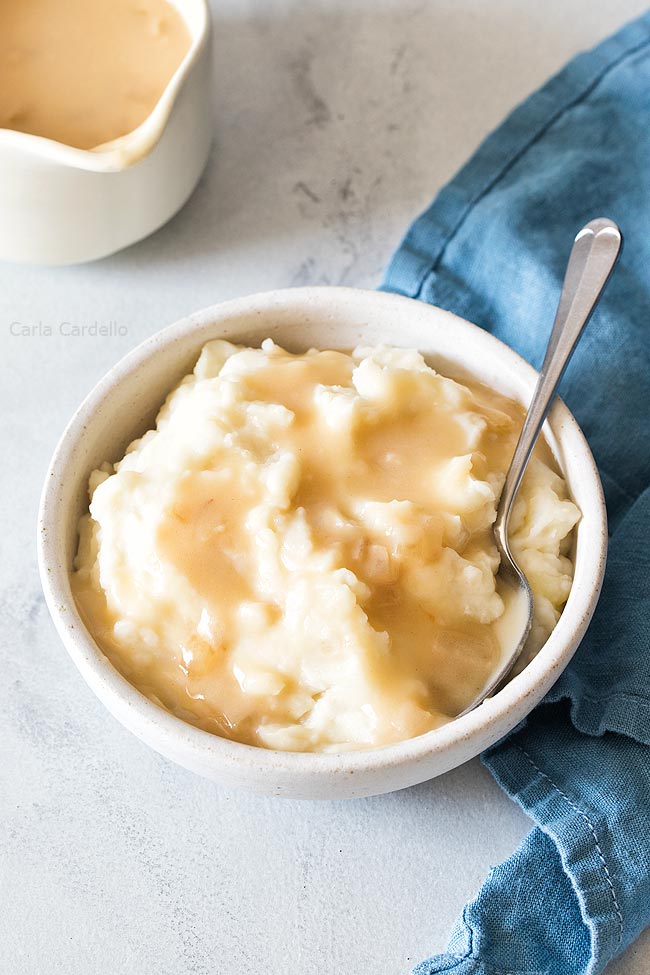 What To Serve With Gravy

Now that you made the best gravy recipe without drippings, what do you serve with it? Here are some ideas: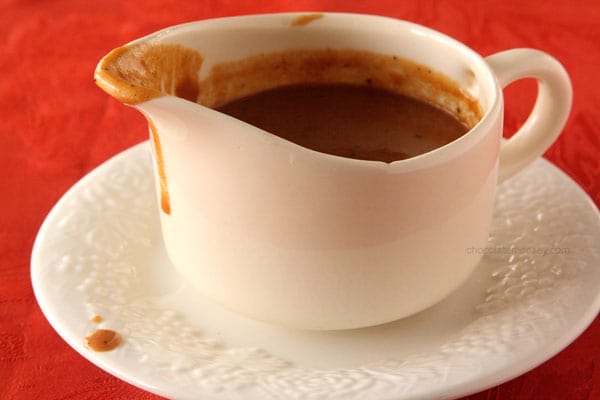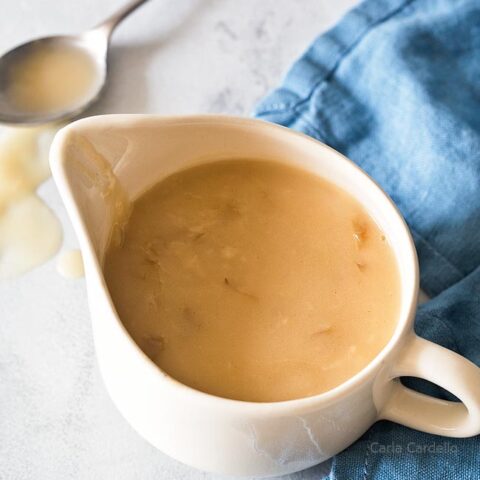 Homemade Gravy Without Drippings
Yield:
1 cup (4 servings)
Homemade Gravy Without Drippings is an easy gravy recipe from scratch without pan drippings. Make it ahead of time to reduce holiday stress
Ingredients
1/4 cup (2 ounces or 4 tablespoons) unsalted butter, cut into 4 pieces
1/4 cup diced yellow or white onion
2 tablespoons all-purpose flour (*see Note about substituting cornstarch)
1/2 teaspoon salt
1 cup broth or stock, any flavor
1 tablespoon whole milk
Instructions
In a large saucepan, melt the butter. Once hot, add the onion and a big pinch of salt and cook until softened, about 5 minutes.
Stir in the flour and and salt and cook for 1 minute.
Slowly whisk in the broth/stock and cook until thickened, about 3-5 minutes.
Remove from the heat and whisk in the milk. Taste and adjust for salt. Serve while hot.

Gravy will thicken as it cools, so you may need to reheat and thin it out with more broth until smooth and pourable again.

Refrigerate leftover gravy for up to 3 days.