This easy microwave deep dish Single Serve Brownie in a ramekin means a fudgy chocolate dessert for one without being tempted by a whole pan.
Because everybody knows I love to bake, I get asked all the time how I'm not fat.
Portion control, really. I eat one or two (and maybe another) then give the rest away, usually to coworkers.
It also helps I scale down recipes to make small batches and recipes for 1-2 people.
But then there are times I want a sweet treat right now and don't want to fuss with the mess or even have the extra goodies over the weekend.
Or maybe I get in one of those moods because I feel lonely, especially if it's Valentine's Day aka Singles Awareness Day.
Anyway, I make homemade one serving desserts, like this Single Serve Brownie in a ramekin.
If you want dessert for two, I do have my brownies for two.
This post is about a one serving brownie recipe with two ways to bake it – in the oven and in the microwave.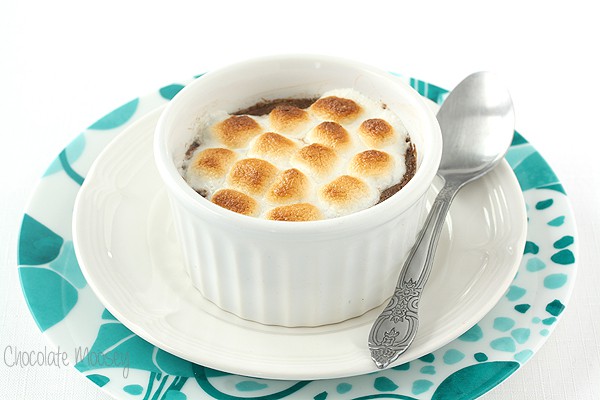 A few months ago, I read
Ali's Single series
and felt inspired.
Inspired enough to write this – there's nothing wrong with being single.
I'm tired of coworkers, friends, TV shows, movies telling me otherwise.
I'm not a damsel in distress nor am I broken. I'm a young woman trying to figure out what to do with my life.
Yes, I get lonely and question if I'll ever fall in love, but you know what? That's ok. I keep myself busy with this blog and I love it.
As a single young woman who lived 4 years in a small town where everyone was older and married, I was often criticized about my lifestyle.
Comments here and there about how I do nothing with my life, spending my nights and weekends sitting on the couch watching tv. That I need to find a man and sign up for online dating accounts.
I actually had someone call me over to his desk to tell me how this radio ad for a singles dating website reminded him of me and I should sign up immediately for it (not once did I ever complain to him about being single).
Then there's the comment where I said I was busy that evening and immediately one person went, "What are YOU doing that you're 'so busy'?"
As if I'm forbidden to occupy my time because I'm not a parent (for the record, I had cookies to make for a friend).
So how does a lonely ol' soul like me survive in a world of loving relationships?
I'm blogging, which is growing beyond what I could imagine.
Whether it's cooking, baking, shooting, writing, editing photos, catching up on social media or all of the above, I'm not just "sitting on the couch."
On the weekends I'm either grocery shopping, traveling, or playing in the kitchen.
Bottom line is I keep myself busy. It's the only way to survive when loneliness starts creeping up.
Plus blogging has brought me the best friends ever, so even though I'm physically alone here in PA, the outpour of love and care online is enormous.
How To Make A Single Serve Brownie
I bet you want to know more about this single serving brownie and not about my life.
The best way to make a single serving dessert is in a ramekin. I personally used a 6 ounce ramekin (affiliate link).
If you use anything smaller, you may need two vessels. Overfilling your ramekin may result in the brownie rising too much then sinking in the middle after cooling.
If you use anything bigger, you may need to adjust your baking time, especially if it's wider and makes a thinner single brownie.
Once you're done eating your brownie, make sure you check out my other Ramekin Dessert Recipes.
How To Make Brownie Batter From Scratch
You don't need a brownie mix when you can make homemade brownie batter from scratch in minutes!
First, melt together your butter and chocolate. Because it's a small amount, I used a large microwave-safe bowl.
I microwaved it for 30 seconds then stirred. The chocolate didn't fully melt, so I put it back in for another 10 seconds.
Your microwave time may vary due to different microwave powers. Whatever you do, don't overheat it or your chocolate will seize and you'll have to start over.
If you don't have a microwave or a large enough bowl, you can melt the butter and chocolate in a saucepan on the stovetop, much like if you were making my Small Batch Fudge Brownies in a loaf pan.
After the butter and chocolate are melted, stir in the sugar and cocoa powder. Then stir in the egg yolk and vanilla. Finally, stir in the flour and salt.
Because you're using an egg yolk, you'll have a leftover egg white. Check out my recipes using leftover egg whites.
Once your brownie batter is made, transfer it to your ramekin.
If you're adding a peanut butter cup, add about half the batter, top it with your peanut butter cup, then cover with the remaining batter.
Bake at 350F for about 20 minutes or until the top looks baked and the edges are bubbling.
How To Make A Single Serve Brownie In The Microwave
Want your brownie faster? Or maybe it's too hot to turn on the oven?
Yes, you can microwave this single serve brownie in a ramekin!
I personally think it tastes a little better from the oven, but brownies in a microwave are still enjoyable too.
Because microwaves vary in wattage, it's hard to give an exact time. Start at 60 seconds. If it still looks a little underbaked, cook for another 10-15 seconds.
Cool for at least 15 minutes so you don't burn your tongue.
How To Serve Brownies
There are several ways you can serve your ramekin brownie.
If you love a gooey warm brownie, let it cool for about 15 minutes (so you don't burn your tongue) then serve immediately.
If you love a traditional brownie texture, let it cool completely so the middle firms up, making the perfect single brownie.
As you can see in the photos, I topped mine with mini marshmallows to give it a mini s'mores feel. I toasted it under the broiler until golden brown.
You can also serve your individual brownie with homemade vanilla ice cream or even peanut butter ice cream.
More Single Serving Desserts

Looking for more dessert for one? Here are some of my favorite recipes for one:

For a full list of recipes, check out my Easy Single Serving Desserts For One guide.
Single Serve Brownie In A Ramekin
This easy deep dish Single Serve Brownie in a ramekin means a fudgy chocolate dessert for one without being tempted by a whole pan.
Ingredients
1 ounce semisweet chocolate, finely chopped
1 tablespoon unsalted butter, softened
2 tablespoons granulated sugar
1 teaspoon unsweetened cocoa powder
1 egg yolk, room temperature
1/4 teaspoon vanilla
1 tablespoon + 1 1/2 teaspoons all purpose flour
1/8 teaspoon salt
1 peanut butter cup (optional)
2 tablespoons mini marshmallows (optional)
Instructions
Preheat oven to 350F if baking. Have one 6-ounce ceramic ramekin ready. If you're microwaving, you can also use a microwave-safe mug.
In a medium microwave-safe bowl, melt together the butter and chocolate, about 30 seconds. If it's not fully melted after stirring, microwave in 10 second increments.

Alternately, melt the chocolate and butter together in a saucepan on the stovetop.
Stir in the sugar and cocoa powder.
Stir in the egg yolk and vanilla.
Stir in the flour and salt.
Transfer the batter to the ramekin. If adding a peanut butter cup, transfer half of the batter, add the peanut butter cup, then cover with the rest of the batter.
Bake 20-22 minutes or until the top looks baked and the edges are bubbling.

Alternately, microwave for about 60 seconds or until the top is done. Microwaves vary in wattage, so the timing may not be exact.
Optional: If adding mini marshmallows, turn on the broiler. Add the mini marshmallows on top then broil until toasted.
Cool 15 minutes then eat for a gooey texture or cool completely for a brownie texture.
Recommended Products
As an Amazon Associate and member of other affiliate programs, I earn from qualifying purchases.