Small Lemon Cake Recipe
This Small Lemon Cake recipe is a 6 inch lemon cake for two from scratch then decorated with homemade lemon buttercream frosting.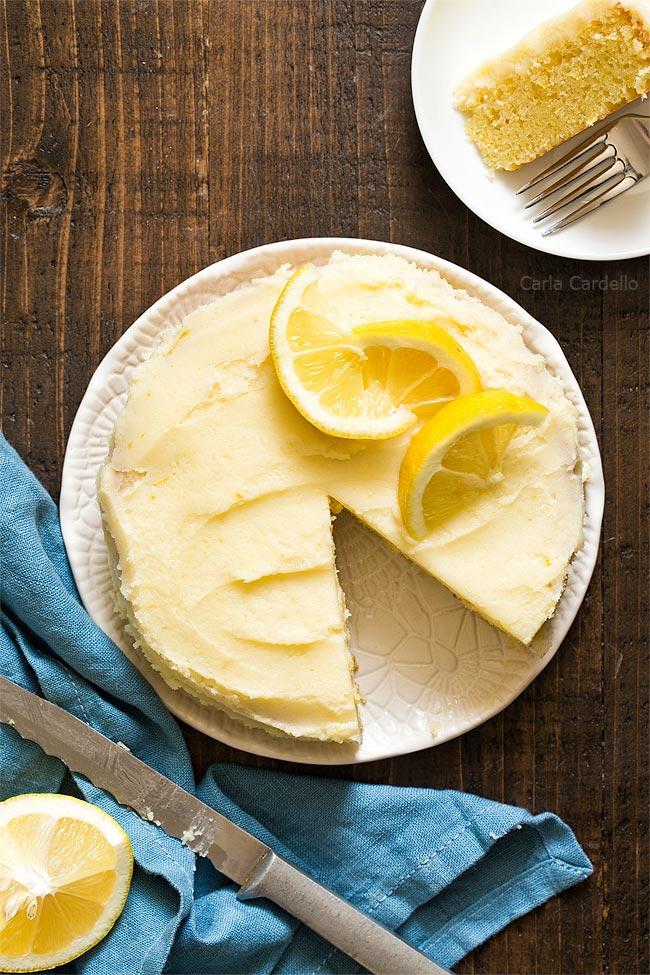 Yesterday I brought you my lemon buttercream frosting. Today I'm bringing you part 2 of that recipe – my Small Lemon Cake recipe!
After all, you can't have frosting without a cake to go with it.
I've had a 6 inch lemon cake on my recipe to-do list for several years. Besides chocolate, lemon is one of my favorite dessert flavors.
I also had this vintage lemon tray I've been dying to use as a prop. You'll see it later in the post. I bought it sometime between 2014-2017 when I lived at a previous apartment.
Every food stylist will tell you there's always that one prop waiting for its day to shine, even if it has to wait a few years on the shelf.
Anyway, back to the cake. Spring always reminds me of lemon, so that was the inspiration behind this lemon cake recipe.
It's a buttery small lemon cake paired with a lemon buttercream frosting. Definitely a burst of lemon in every bite!
I made 4 times in order to get it perfect. It should've been correct on the third round, but I made a dumb baking mistake.
Hint – make sure your oven is ready to go and don't let the batter sit around before it bakes. Otherwise it'll sink in the middle.
My easy small lemon cake recipe also makes a great spring dessert to go with your Easter Dinner For Two.
Want to impress on presentation? Go for two layers with my lemon raspberry cake.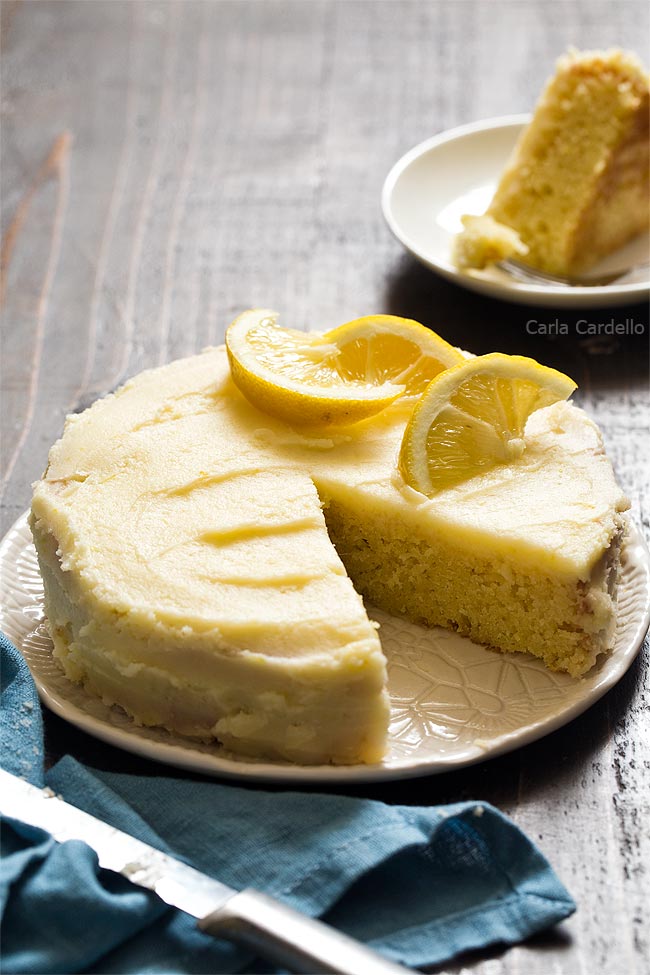 What pan do I need to bake this small lemon cake recipe?
To make the best lemon cake recipe, you will need a 6 inch round cake pan (affiliate link).
You can also check out the cake decorating section of your local craft store.
Don't have a 6 inch pan? Check out my small batch Lemon Cupcakes.
How many servings are in a 6 inch cake?
Generally 6 inch cakes can be sliced into 4-6 slices, making about 4-6 servings per 6 inch cake.
Sometimes if you slice the cake small enough, you can push for 8 slices, equaling 8 servings.
Ultimately serving size is up to you depending on how small you cut your small lemon cake recipe.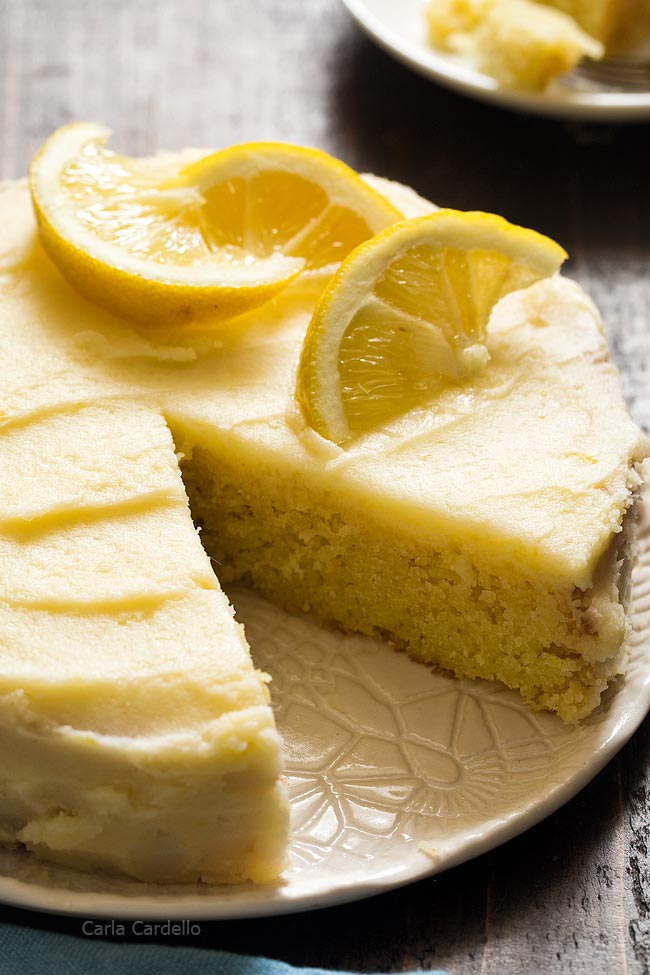 How To Make A Moist Lemon Cake From Scratch
Like most small cake recipes, first you beat together the butter and sugar. Then you beat in the egg.
The first time I made this small lemon cake recipe, I made it with 4 tablespoons butter. However, the cake was thinner than I'd like, so I bumped it up to 6 tablespoons. Much better!
Next, you want to alternate adding your dry ingredients with the buttermilk. This method is important.
Adding the milk all at once could cause the batter to split from oversaturation.
However, adding all of the dry ingredients at once will thicken the batter greatly and will likely overmix, causing a tough cake.
Add the dry ingredients in three additions while adding the buttermilk in two additions, beginning and ending with the dry ingredients.
Transfer your batter to a 6 inch round cake pan and bake until done.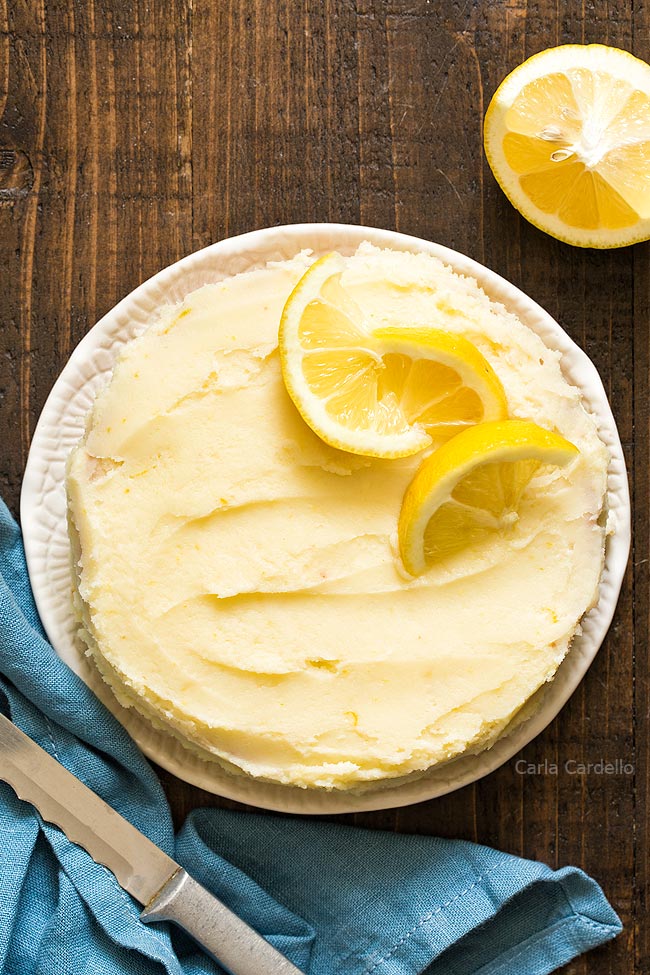 Can you substitute milk for the buttermilk?
Buttermilk is used so its acidity can react with the baking soda.
However, if you don't have any, you can substitute whole milk as long as you add acid to it. Otherwise, the cake won't rise properly.
Add 1 teaspoon lemon juice or vinegar to 1/4 cup whole milk. Let sit for 5 minutes or until the milk curdles.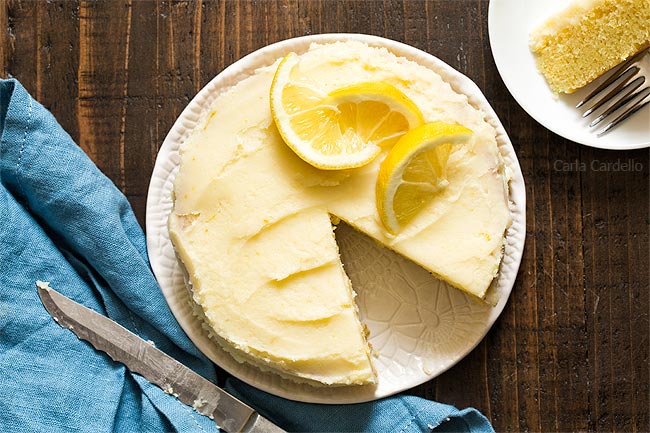 Can I add lemon extract to lemon cake?
Most people don't have lemon extract, so I didn't use it. However, if you do have some in your pantry you can add 1 teaspoon lemon extract with the egg.
Although lemon extract isn't required, it does add an extra lemony kick.
Please leave the lemon juice in the recipe. Baking is a science, so your cake may not bake properly if you take it out.
Can I use bottled lemon juice for lemon cake?
I highly recommend using fresh lemon juice for this small lemon cake recipe. Bottled lemon juice will never be as fresh as the real deal, especially when baking.
Plus it contains preservatives, which may or may not affect baking.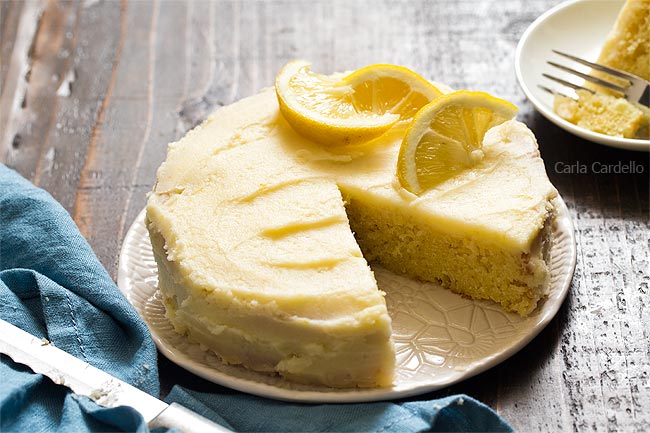 What is the best frosting for lemon cake?
What better frosting to pair with my small lemon cake recipe than lemon buttercream frosting?
It makes enough to frost a 6 inch cake without leftovers.
You can also use my strawberry buttercream, coconut frosting, small batch cream cheese frosting, strawberry cream cheese frosting, or raspberry cream cheese frosting.
Want another flavor? Check out my full list of small batch frosting recipes.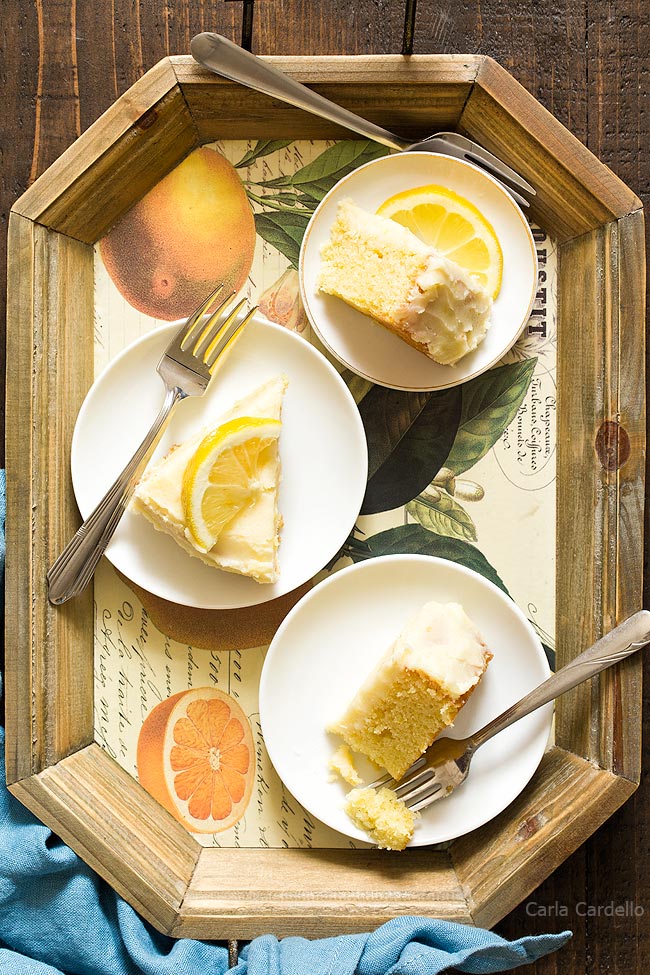 Equipment You Will Need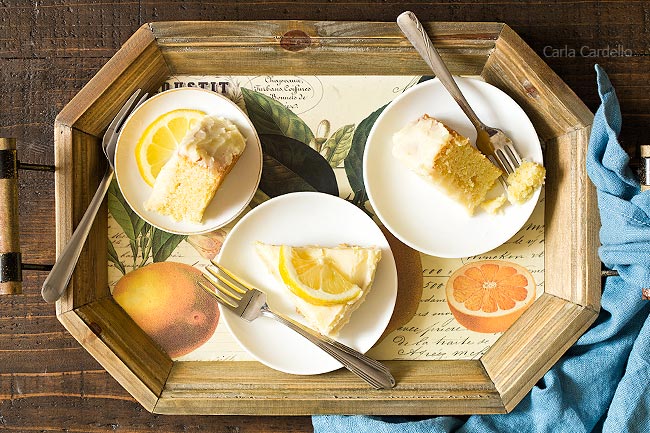 More Small Cake Recipes

Looking for more small cake recipes? Check out my full list of 6 inch Cake Recipes. Some favorites are: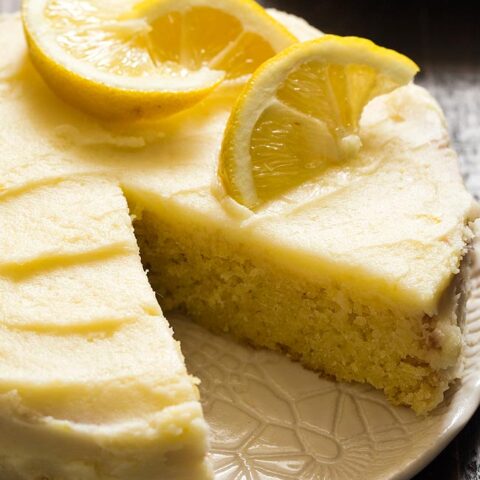 Small Lemon Cake Recipe
Yield: 4-6 servings
Prep Time: 20 minutes
Cook Time: 25 minutes
Total Time: 45 minutes
This Small Lemon Cake recipe is a 6 inch lemon cake for two from scratch then decorated with homemade lemon buttercream frosting.
Ingredients
1/2 cup + 3 tablespoons all-purpose flour (*see Note about using cake flour)
1 tablespoon cornstarch
1/4 teaspoon baking soda
1/4 teaspoon salt
6 tablespoons unsalted butter, softened
1/2 cup granulated sugar
1 tablespoon lemon zest
1 egg, room temperature
1/4 cup buttermilk, room temperature (or substitute 1/4 cup whole milk + 1 teaspoon lemon juice or white distilled vinegar)
1 tablespoon fresh lemon juice (not bottled)
Frosting Options (Pick One)
Instructions
Preheat oven to 350F. Lightly grease one 6-inch round cake pan then line the bottom with parchment paper.
In a medium bowl, sift together the flour and cornstarch then stir in baking soda and salt.
In a large mixing bowl (with the paddle attachment if using a stand mixer), beat together the butter, sugar, and lemon zest until light and creamy, about 1-2 minutes.
Scrape down the bowl then beat in the egg for 1 minute.
Add the flour mixture alternately with the buttermilk, adding the flour in 3 additions and the milk in 2 additions (begin and end with dry ingredients). Add the lemon juice.
Transfer the batter to the pan. Bake 25-30 minutes or until a toothpick inserted in the middle comes out clean. Cool for about 15 minutes, run a knife along the edge of the pan to loosen, and invert onto a cooling rack. Cool right-side-up.
Decorate with frosting of choice.

Cover and store the frosted cake at room temperature for up to 2 days (buttercream only) or in the refrigerator for up to 1 week (buttercream and cream cheese). For best results, let the refrigerated cake sit at room temperature 15-30 minutes before serving.
Recommended Products
As an Amazon Associate and member of other affiliate programs, I earn from qualifying purchases.
This post may contain affiliate links. As an Amazon Associate and member of other affiliate programs, I earn from qualifying purchase.