Instant Pot Pork Roast For Two (Dinner For Two)
Looking for a faster way to cook a pork loin roast? Learn how to make Instant Pot Pork Roast For Two with vegetables and gravy.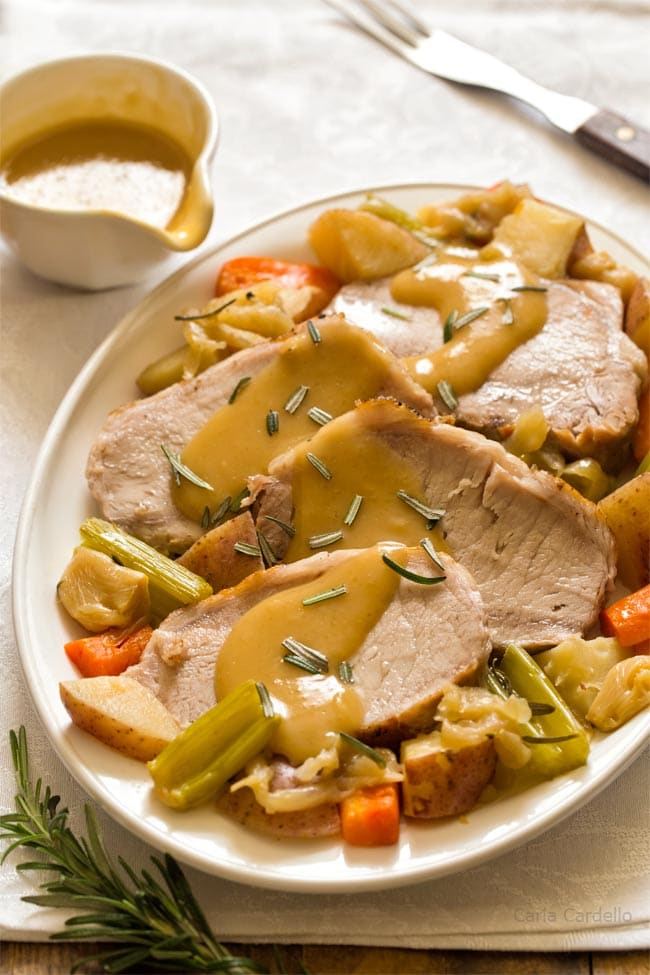 Did you grow up eating classic Sunday dinners? Meals like pork roast, meatloaf, roast beef, recipes like that.
I did. Can't say I miss them because my parents weren't the best cooks. That's why it's important I make these recipes as an adult because I can make them taste good (sorry, Mom and Dad).
The problem with these types of comfort food, especially ones involving tough cuts of meat, is they take several hours to cook. Luckily there's a way to cook them in almost half the time.
You may have heard of an Instant Pot, but do you know what it is? It's a pressure cooker designed to cook food faster using steam pressure.
Pressure cooking isn't new to the culinary world, but most home cooks have never used one.
They can be a little daunting because you don't want to burn yourself on the steam or have the machine explode.
However, you'll learn quickly once you understand how a pressure cooker works, it's quite easy.
Last year I wrote about Instant Pot Beef Stew For Two, which was a hit because not many Instant Pot recipes are scaled down for two people.
You've asked for more Instant Pot recipes for two, so I'm back with another classic – Instant Pot Pork Roast with vegetables and gravy.
Make it as a comforting Sunday supper or for your Christmas dinner for two.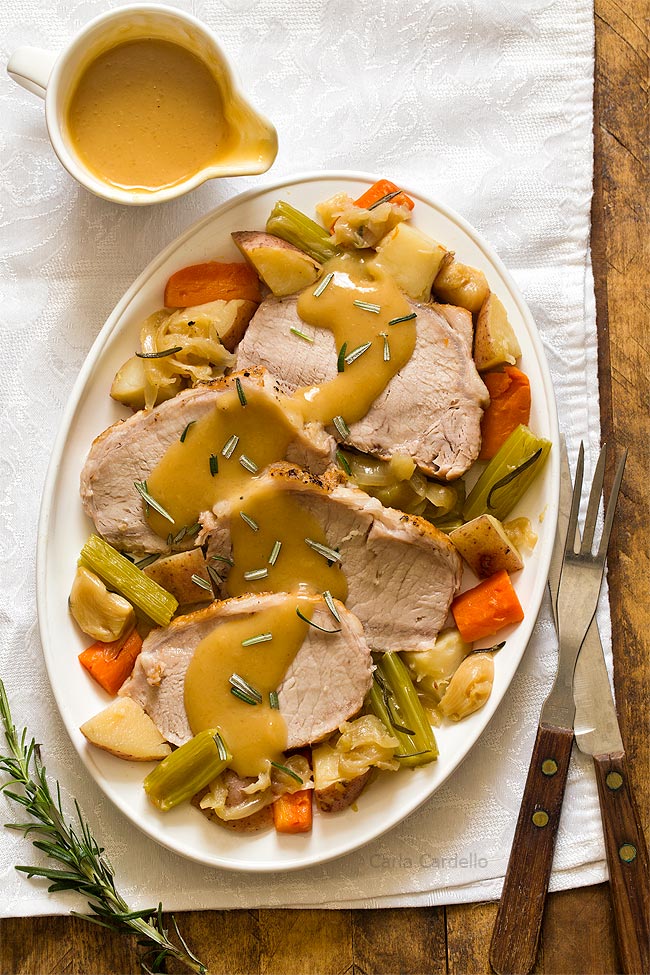 Most roast pork recipes serve large families. The thing is I'm not a large family. It's me and sometimes the cat if he steals my food.
I don't know about you, but I certainly don't want to be eating leftover pork all week long.
Sure, I could freeze a few slices, but I don't have much freezer space (not to mention the accompanying potatoes do not freeze well).
That's why I developed this recipe using 1 pound of meat. Enough for 1-2 people without drowning in leftovers.
Why buy an Instant Pot?
One major benefit to a pressure cooker is steam pressure cooks meat faster than the oven.
For example, if you cooked this Pork Roast For Two recipe in the oven, it would take you almost 2 hours until the meat is tender. In the Instant Pot, it takes about 30 minutes.
The fact I can make a pork loin roast faster without sacrificing flavor is quite amazing.
Unlike a slow cooker, you can sear the meat directly in the pot. This means the meat will have more flavor from the browning.
With a slow cooker, most inserts aren't stovetop proof, so you have to sear the meat in a separate pan then transfer it to the cooker.
Not only is there an extra dish to wash, sometimes you don't have time if you're prepping the slow cooker before leaving for work.
Ready to buy one? I have the LUX60V3 6-in-1 use, which you can buy directly from Amazon (affiliate link).
But I have a slow cooker. Why do I need an Instant Pot?
It's different than a slow cooker because a slow cooker takes about 4-8 hours to cook. If you don't get your food into the slow cooker on time, you may be eating dinner at midnight.
A pressure cooker cooks a lot faster. In fact, you can come home from work, use your Instant Pot, and have dinner ready in about an hour (prep time pending).
It's also not a one trick pony appliance. Depending on the model, you have about 6-8 cooking options, including slow cooker.
That means you can still make your slow cooker recipes without using a separate appliance.
How do I make pork roast for two without an Instant Pot?
Don't have an Instant Pot? Check out my Pork Roast For Two recipe made in the oven.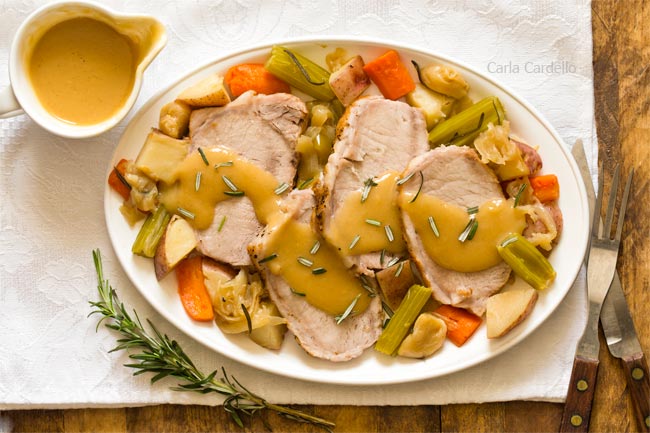 What is the difference between pork loin and pork tenderloin?
Nothing is as frustrating as getting to the grocery store then realizing you have to choose between pork loin and pork tenderloin.
Although the names are similar, the cuts are different and not interchangeable.
Pork loin is wide and thick with a fat cap on top while pork tenderloin is long and narrow with limited fat.
Due to the size and amount of fat, pork loin is best for roasting. If you were to roast tenderloin, it would dry out and overcook quickly.
Pork loin roast can be bought either bone-in or boneless. For this recipe, boneless is best because you'll be slicing it to serve afterwards.
How To Buy 1 Pound Pork Loin Roast
The hardest part about cooking for two is buying a small quantity of meat.
Due to cost saving, most grocery stores sell pork roasts in 2-3 pound packages. This is too much meat for one dinner, so you have two options:
1 – If your store has a butcher counter, ask them to cut a 1 pound piece.
2 – If your store doesn't have a butcher counter, buy the smallest roast you can then portion and freeze. This is where a digital food scale (affiliate link) comes in handy so you can divide the meat into equal pieces.
My pork loin weighed about 2.25 pounds. I cut the meat into two equal pieces weighing slightly over 1 pound. Although they aren't perfect 1 pound pieces, they are close enough to make pork roast for two.
Wrap the extra meat in plastic wrap then place in a freezer bag. Freeze for up to 6 months.
Can I substitute pork shoulder for pork loin?
Although pork shoulder and pork loin are both large pieces, they are not interchangeable due to the amount of fat content; they will cook differently and have different end results.
What vegetables go well with pork roast?
Every pork roast dinner has the following ingredients – carrots, celery, potatoes, onion, garlic, and of course pork.
For the potatoes, I used red potatoes because that's what I had on hand. However, you can also use gold Yukon or Russet. I usually don't peel red or gold potatoes, but I do for Russet.
It's important you cut the vegetables into 1-inch pieces. If you cut them smaller, they may end up mushy after pressure cooking.
How to cook a pork roast in an Instant Pot
First, turn your pressure cooker on to Saute because you want to sear the pork on all 4 sides.
Browning your pork will add another layer of flavor, giving it more depth by caramelizing the surface.
Next, you want to add the broth and scrape any brown bits left behind from the pork. If you skip this step, you may trigger a Burn error.
Then add the vegetables and rosemary around the pork. Cover and lock the lid in place then select Meat/Stew to begin the pressure cooking process.
Your timer won't start right away; this stage is equivalent to preheating your oven. It'll take about 10-15 minutes to come to pressure, depending on how cold your ingredients are.
For example, using room temperature broth means it'll heat faster than cold broth straight from the fridge.
Once the timer is done, let it sit untouched for 10 minutes for a natural release then move the valve to finish releasing pressure.
Transfer the meat to a cutting board to rest then strain the vegetables. Now you can make gravy with the leftover broth.
How To Make Instant Pot Gravy
While the pork roast is resting, you can make gravy in the Instant Pot with the leftover broth and meat drippings.
After straining the vegetables, pour the liquid back into the pot. Stir together the cornstarch and water then stir into the broth.
Select Saute then bring to a boil. Cook until thickened then taste for salt.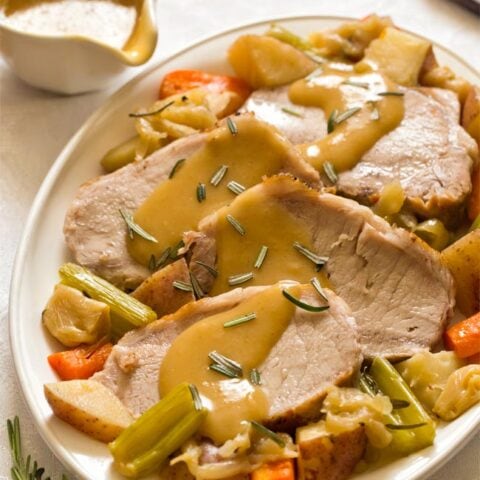 Instant Pot Pork Roast For Two (Dinner For Two)
Yield: 4 servings
Prep Time: 30 minutes
Cook Time: 1 hour
Total Time: 1 hour 30 minutes
Looking for a faster way to cook a pork loin roast? Learn how to make Instant Pot Pork Roast For Two with vegetables and gravy.
Ingredients
1 pound (16 ounces) pork loin (not tenderloin)
Salt (kosher preferred) and black pepper, to taste
1 tablespoon olive oil
1/2 cup chicken or vegetable broth/stock
1/2 small yellow or white onion, sliced (about 1 cup)
1/2 pound (8 ounces) red potatoes, cut into 1-inch pieces (about 2 large potatoes)
8 garlic cloves, peeled
2 ribs celery, cut into 1-inch pieces
1 carrot, peeled and cut into 1-inch pieces
1 sprig fresh rosemary
Gravy
1 tablespoon cornstarch
1 tablespoon water
1 tablespoon milk
Instructions
1. Season the pork on both sides with salt and pepper.

2. Add oil to the Instant Pot and select the Sauté button. When display says "Hot", add pork fat side down. Sear for 4 minutes or until brown then flip and sear another 4 minutes or until brown.

3. Turn the pork onto one side and sear for 1 minute or until brown then sear the remaining side for 1 minute or until brown.

4. Select Cancel. Add the broth and scrape the brown bits off of the bottom with a wooden spoon (this will help prevent a Burn error).

5. Add the onion, potato, garlic, celery, carrot, and rosemary around the pork. Sprinkle the vegetables with salt.

6. Cover the pot with the lid and lock. Set the steam release valve to Sealing.

7. Select the Meat/Stew button and set the cook time to 25 minutes. The screen will display "On" until the preheating cycle is complete, about 10 minutes (if ingredients are cold such as the broth, it will take longer to preheat). It'll then change from "On" to "30". Steam coming from the valve during preheating is normal.

8. Once the cooking cycle has finished and beeped, allow the pot to sit untouched for 10 minutes for a natural release then move the valve to Venting for a quick release. Once the float valve is down and all pressure is released, unlock and open the lid.

9. Check the internal temperature of the pork with a thermometer, which should read between 145F - 160F. If pork isn't done, repeat steps 6-8 with a cook time of 5 minutes. Transfer the pork to a plate and let rest for 10 minutes before serving.

11. While the pork is resting, place a strainer on top of a large bowl. Strain the vegetables and keep warm for serving. Transfer the liquid back into the Instant Pot.

12. Mix together cornstarch and water until smooth. Stir into the liquid then select the Sauté button. When display says "Hot", bring to a simmer. Cook until thickened, about 5 minutes. Stir in the milk. Taste and add up to 1/4 teaspoon salt if necessary. Select Cancel to turn off the heat.

13. Serve pork with vegetables and gravy.
Recommended Products
As an Amazon Associate and member of other affiliate programs, I earn from qualifying purchases.
This post may contain affiliate links. As an Amazon Associate and member of other affiliate programs, I earn from qualifying purchase.