French Onion Dip Deviled Eggs
Kick up your classic deviled eggs a notch with these creamy French Onion Dip Deviled Eggs. Packed full of caramelized onion, this party food will disappear in no time.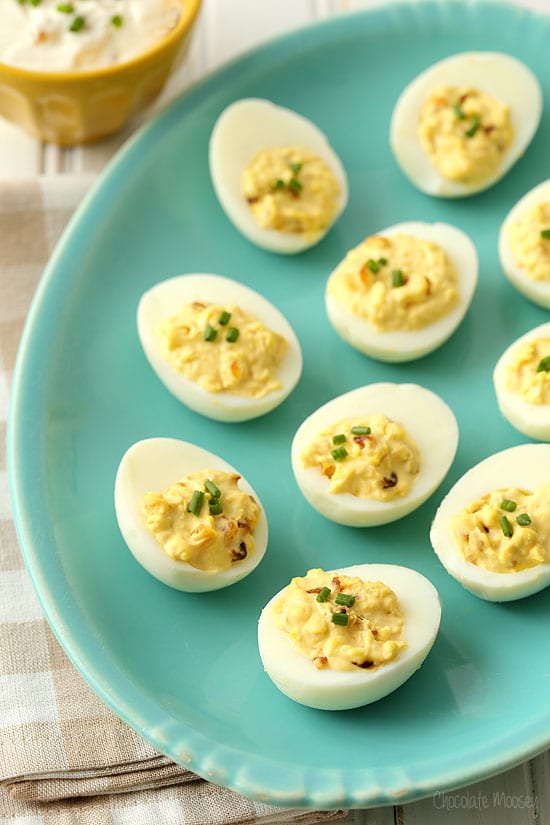 Wow can you believe it's already mid May?!
The weather has gotten (much) warmer, the drive in is open, and another birthday had come and gone.
Pretty soon it'll be Memorial Day (one week from today!) and then a kick off to summer.
Summer may mean playing in the garden, going on vacation, or spending all day in the swimming pool, but to me it means picnic food.
One of my favorite picnic foods is deviled eggs. If I see a tray of deviled eggs, I will load up my already-packed plate with as many eggs as I can carry (although to be nice, I only take 3-4 the first time then go back for seconds later).
I think it's because I rarely make deviled eggs myself, mainly because I've never had the greatest luck with hard boiling eggs. Either the eggs don't peel easily or the yolks are overcooked.
HOWEVER, I've been practicing my hard boiled egg skills and can now confidently make them.
Now that I can eat deviled eggs whenever I want, time to figure out what filling to make. Sure, I could make traditional, but then I wouldn't be me if I didn't put just a little twist on it.
I talked about my onion love when I posted my creamy bacon onion soup.
I add onion to almost everything, even more than garlic. I go through so much onion, I'll chop a whole onion at once, store the extras in a container, and in a few days, the container is empty.
I ate onion rings for my birthday. Huge fan of French onion soup. And don't even get me started on French onion dip.
It was my favorite chip dip growing up. A bag of cheddar and sour cream potato chips, a container of French onion dip, and watching whatever was on TV at the time.
The idea for these French Onion Dip Deviled Eggs came to me while I was sitting on an airplane.
I was on my way to a photography workshop in California and was half falling asleep. I took out a piece of paper, wrote a few recipe ideas down then dozed off. I bet the guy next to me was wondering why I wrote random recipe titles on a piece of paper.
I don't even know why deviled eggs popped into my head, but think about it – the filling is creamy. Dip is creamy. French onion dip is awesome. Why not mash both recipes together for one epic egg recipe?
And that's how these French Onion Dip Deviled Eggs were born.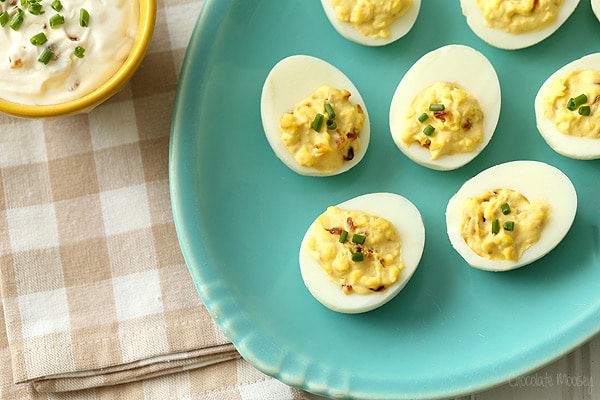 What makes French onion dip so magical? The caramelized onions.
I can't explain the beauty of caramelized onions other than I have to make double than what I need because I tend to uh sample the onions while I'm cooking since a good cook tastes as she goes.
I swapped out some of the mayo in traditional deviled egg filling with sour cream to help give it that dip flavor.
I also added a bit of Worcestershire sauce, but if you want to keep this recipe vegetarian friendly, you can leave it out.
The type of onion I used is Vidalia, which are sweet onions grown only in 20 Georgia counties.
Fun fact – the reason Vidalia onions are from Georgia is because of the soil – back in the 1930s, farmers planted onions and discovered that they were much sweeter than typical onions.
Apparently the number of minutes of daylight during the winter in GA is part of why Vidalia onions are so sweet. Probably one of my favorite examples of a happy accident. Imagine the world without sweet onions.
Vidalia onion season is from late April through mid September in grocery stores nationwide, aligning perfectly with summer so you can make these deviled eggs all summer long.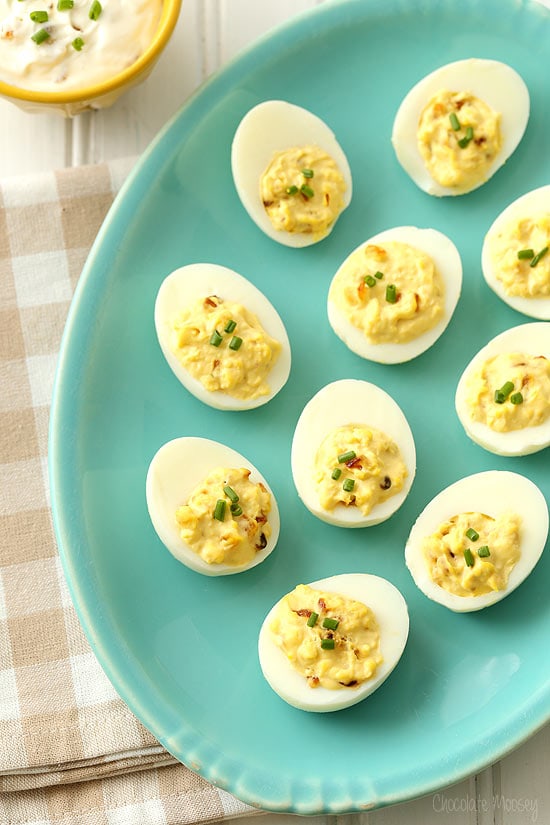 Serve your deviled eggs alongside Caesar Pasta Salad and Italian Potato Salad.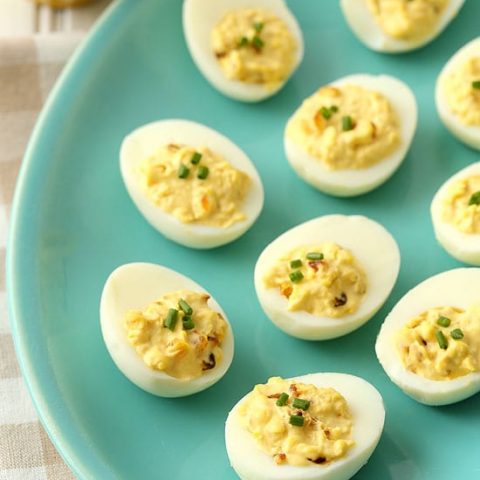 French Onion Dip Deviled Eggs
Yield: 1 dozen
Prep Time: 30 minutes
Cook Time: 20 minutes
Total Time: 50 minutes
Kick up your classic deviled eggs a notch with these creamy French Onion Dip Deviled Eggs. Packed full of caramelized onion, this party food will disappear in no time.
Ingredients
6 large eggs
1 tablespoon olive oil
1 cup diced Vidalia Onion
1/4 cup sour cream
2 tablespoons mayonnaise
1 teaspoon lemon juice
1/8 teaspoon garlic powder
1/8 teaspoon salt
1/8 teaspoon Worcestershire sauce (optional - leave out if vegetarian)
Chopped chives, for garnish
Instructions
Place the eggs in a large saucepan and cover with an inch or two of water. Bring to water to a full rolling boil over high heat. Turn off the heat and keep the pan on the hot burner. Cover and let sit for 10 minutes. Remove the eggs from the pan and run under cold water. Cool to room temperature then peel.
Meanwhile, add the oil to a large skillet over medium-high heat. Once hot, add the onion. Cook for 15-20 minutes or until brown and caramelized.
Cut the eggs in half and place the egg yolks in a large bowl. Add the sour cream, mayonnaise, lemon juice, garlic powder, salt, and Worcestershire sauce. Beat until smooth. Stir in the onion.
Fill each egg half with filling. Top with chives. Store in an airtight container in the refrigerator for up to 3 days.
Other Picnic Side Dishes

Amish Macaroni Salad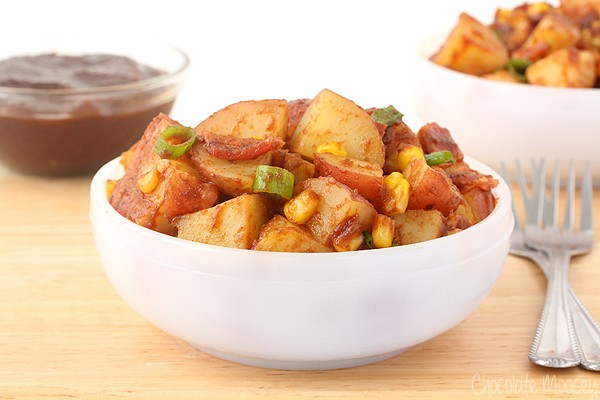 Apple Butter BBQ Potato Salad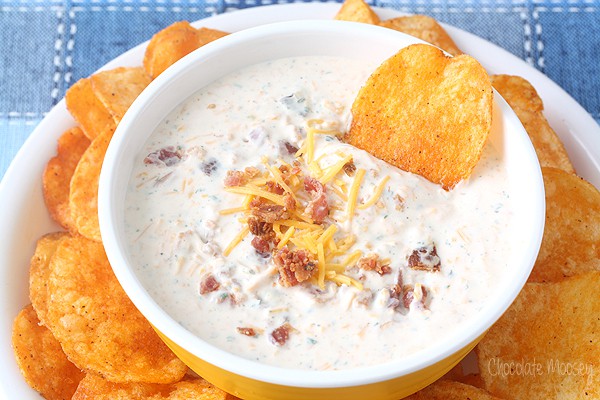 Cheesy Bacon Ranch Dip

Herbed Cream Cheese Grilled Bell Pepper Boats
This post may contain affiliate links. As an Amazon Associate and member of other affiliate programs, I earn from qualifying purchase.