Ham and Cheese Soup
Ham And Cheese Soup without potato is an easy one pot meal that makes a quick weeknight dinner. Great way to use up leftover ham from Easter and Christmas!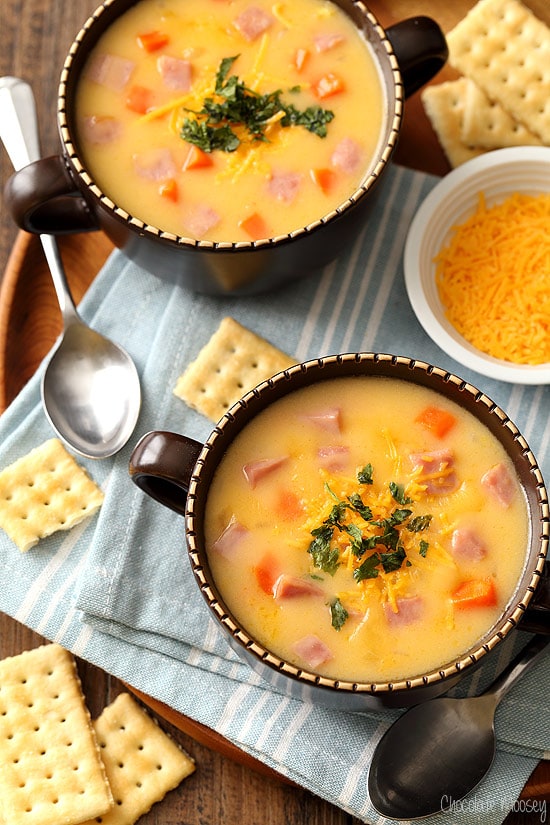 Ever have one of those days where you fall behind and can't seem to catch up?
Yup that was me. It was a bad week as a whole, one of those I'm-going-back-to-bed weeks because I couldn't do anything right.
It all started with two separate recipe fails in one day. I managed to squeeze in one more attempt of the first recipe, which finally turned out how I wanted.
Unfortunately, that meant I was falling behind schedule and had yet to clean up before work was over for the day.
By the time I cleaned up, it was already 6 PM and I still had to make dinner (for reference, I usually start prepping dinner around 4-4:30 PM). No frozen pizza in the freezer.
Part of me wanted to order take out, but did I really want to spend $15-$20 on dinner that day? What can I make that'll not only result in minimal dishes but also be ready soon?
The answer is Ham and Cheese Soup. Everyone loves a good grilled ham and cheese sandwich; why not turn it into a soup?
It's based off of my trusty one pot soup formula. All you need to do is make a roux (flour paste), slowly whisk in your broth, then add your main ingredients.
Voila – soup in under an hour!
And because ham is pre-cooked (much like my honey glazed ham steak dinner), you save even more time with this ham and cheese soup recipe.
Perfect for when you need an easy weeknight dinner idea after a long busy day. Or you have leftover ham from your Easter Dinner For Two or Christmas Dinner For Two.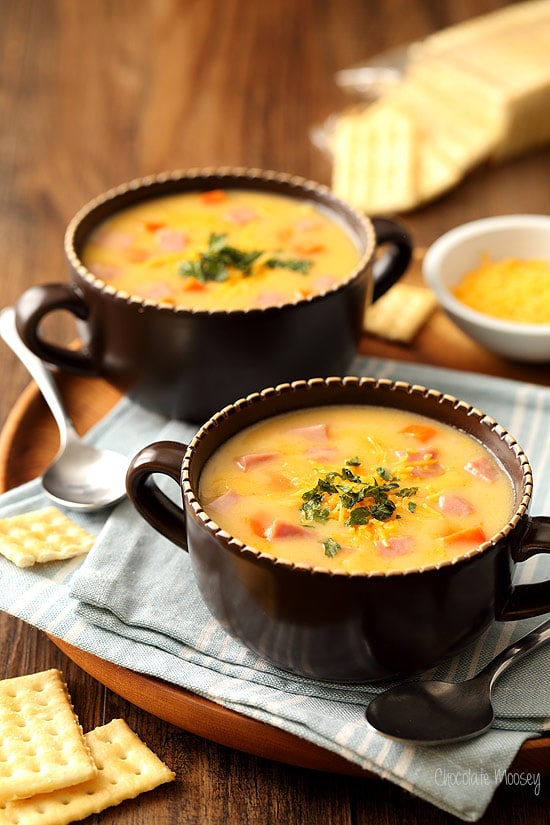 Ingredients For Ham and Cheese Soup
The ingredients to make this easy ham soup are:
Butter: At the base of every good soup is fat to make the roux. I used butter for the flavor, but feel free to use olive oil.
Onion and garlic Known as aromatics, onion and garlic add extra flavor to your soup.
Carrots: I always try to add a vegetable to dinner, so I added fresh chopped carrot. You can even add frozen peas to the end.
All-purpose flour: Flour helps thicken your soup so it has a little more substance when eating.
Chicken broth: I try to pair my broth with the protein used, but since pork broth isn't very common I opted for chicken. You can also use vegetable broth, but I wouldn't use beef broth.
Cubed ham: Most stores have already cubed ham. However, you can use leftover holiday ham or buy a ham slice and chop it yourself.
Whole milk: A little bit of dairy helps balance the broth. Make sure you're using whole milk because using low-fat or fat free will have a higher chance of curdling your soup due to the lack of fat.
Cheddar cheese: It's not ham and cheese soup without the cheese! I find cheddar the best cheese to use, but you can play with different kinds.
Can I use pre-shredded cheese for soup?
For best results, you want to grate the cheese yourself before adding.
That's because pre-shredded cheese is coated with an anti-caking agent, which means it won't melt as smoothly.
With that said, I still use pre-shredded cheese when I'm in a hurry. In this case, add the cheese in small batches, making sure the cheese is melted before adding more. This ensures the soup isn't a clumpy mess in the end.
If you have some cheese leftover, you can also make my Popcorn Soup or Broccoli Cheese Soup.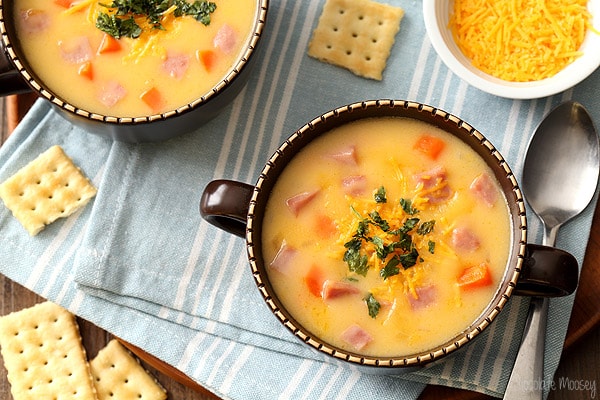 How To Make Ham and Cheese Soup
To make ham and cheddar soup, first melt your butter in a Dutch oven or similar large pot. Once hot, add your onion and carrot then cook until softened then add the garlic.
Next, stir in your flour until everything is coated. This is referred to as making a roux, which is a flour paste used to thicken your soup. Slowly stir in your broth then bring to a boil.
Once boiling, stir in your ham then cook until warmed up, roughly 2-3 minutes. The ham is already cooked, so no need to overdo it.
Remove the pot from the heat then stir in your milk and cheese. Cheese should be added at the last step because high heat will curdle your dairy.
Taste and adjust for seasoning. It's likely you'll need some salt, but between the salty ham and broth you may not need to add as much.
Why did my cheese soup curdle?
Cheese soup with ham curdles for two reasons:
There isn't enough fat. Use whole milk, not skim.
Heat is too high. Turn the heat down to low or even off when adding the cheese. Never let your soup boil after adding the milk and cheese.
How To Fix Curdled Soup
If your cheese soup does curdle, don't panic yet! It's because your soup got too hot.
First, try adding cold milk and whisk vigorously for roughly 10 seconds. If your soup isn't too far gone, this method should work.
However, if that doesn't work you can add your soup to a blender. You may want to use a slotted spoon to rescue the ham before blending.
More Leftover Ham Recipes

Looking for more ham recipes?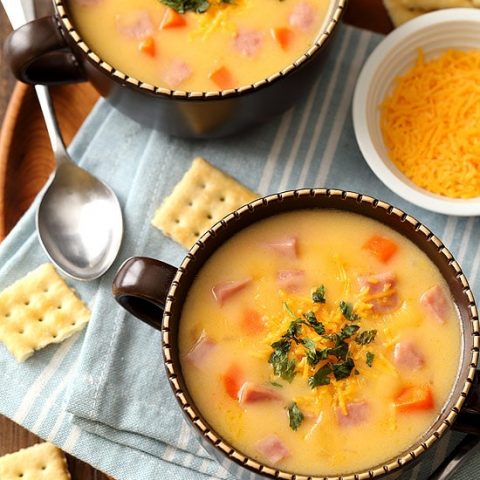 Ham and Cheese Soup
Yield: 4 servings
Prep Time: 10 minutes
Cook Time: 20 minutes
Total Time: 30 minutes
Ham And Cheese Soup without potato is an easy one pot meal that makes a quick weeknight dinner. Great way to use up leftover ham from Easter and Christmas!
Ingredients
2 tablespoons unsalted butter
1/2 cup diced white or yellow onion
1 large carrot, peeled and diced
1 garlic clove, minced
2 tablespoons all-purpose flour
3 cups chicken stock or broth
1 + 1/2 cups cubed precooked ham
1/4 cup whole milk (do not use low fat or skim)
2 cups shredded cheddar cheese
Salt, to taste (preferably kosher salt)
Chopped parsley, for garnish
Instructions
In a Dutch oven or large pot, melt the butter over medium heat. Once hot, add the onion, carrot, and a big pinch of salt. Cook until softened, about 5 minutes. Add the garlic and cook 1 minute.
Stir in the flour until everything is coated and a roux (paste) is formed. Slowly stir in the broth then bring to a boil.
Once boiling, add the ham. Cook until heated through, about 2-3 minutes.
Remove from the heat. Stir in the milk and cheese until melted. Taste for seasoning and add salt as necessary. Garnish with parsley.
Recommended Products
As an Amazon Associate and member of other affiliate programs, I earn from qualifying purchases.

Originally published September 14, 2015
This post may contain affiliate links. As an Amazon Associate and member of other affiliate programs, I earn from qualifying purchase.