Welcome to Homemade In The Kitchen – Your Resource for Small Batch Recipes and Recipes for Two!

If you often find yourself cooking for 1-2 people, whether it's every day because you don't have kids, your kids grew up and moved out, or you have certain evenings where everyone isn't home together, then this is the right place for you! I know how hard it is to scale down recipes, so I'm here to teach you how to cook and bake from scratch without drowning in leftovers.

Most of my recipes make 2-4 servings, leaving you with no or minimal leftovers (which are excellent for lunch the next day). This is what I like to call "realistic dinners for two." I mean, who really only eats one chicken thigh or one bowl of soup?

Instead of quarts of ice cream and a 13×9 pan of brownies, I make pints and loaf pans of brownies. Instead of three layer cakes, I'll cut them down to one layer, sometimes two layers if you need a cake for a party.

Since I've been blogging for 10+ years, my older recipes may make more servings. I'm slowly retesting and rewriting them, so please bear with me. If you need help scaling down an older recipe, please ask.
Meet Carla
Hi there! I'm Carla, a 30-some single woman learning how to adult alone. No kids, no boyfriend/husband/boy toy. Just me. Which means I can eat what I want (like leftover Chinese food for breakfast) and never have to share my food.
You're probably wondering why I'm talking about recipes for two. Truth is I'm lazy and eat the leftovers for lunch the next day #keepingitreal. Currently I live in Pittsburgh where I was born and raised. Follow me on @citylifeadventures to get a better look at the city I call home.

Date Night Menu For Two


I have my Certificate in Culinary Arts, which means I understand the foundational techniques used in recipes. This ensures you will have great results in your kitchen every time.

All recipes are developed and tested multiple times to ensure you can recreate them at home successfully without any doubt. I then style, shoot, and write the recipes for you to enjoy.




Strawberry Shortcake Cobbler


I rebranded in 2018 from Chocolate Moosey to Homemade In The Kitchen. Although the name was whimsical, I felt it no longer reflected who I am.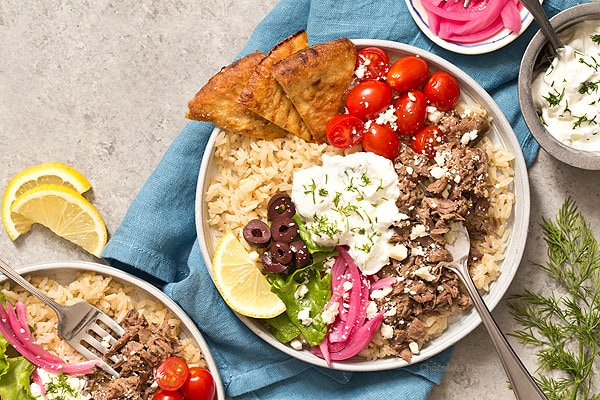 Slow Cooker Gyro Rice Bowls


I started blogging in 2007 when I noticed most if not all of the recipes online focused on making large quantities for families. Back then I was a single college girl learning how to cook; I don't need 8 servings of tuna noodle casserole. I decided to document my recipes in hopes others felt the same way.

Now I'm older and freelancing full time but still have the same philosophy geared towards working adults. You don't need to make giant meals to enjoy delicious food from scratch!

Although my cooking has evolved over the years, you won't find any convenience foods like boxed macaroni and cheese, canned soup, or cake mixes.




Toasted Coconut Skillet Cakes
Disclosures and Disclaimers
To read all of the legalese necessary for running this blog, check out my Disclosures and Disclaimers page.