Toasted Coconut Skillet Cakes
These Toasted Coconut Skillet Cakes with coconut milk are so tender and moist, you don't need to add frosting on top! Serve with homemade whipped cream or a scoop of ice cream.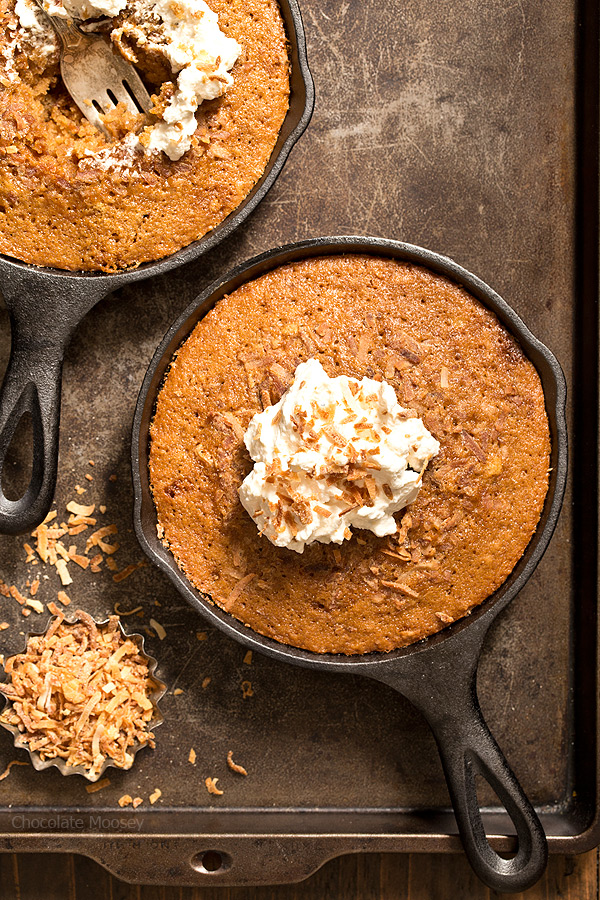 For the longest time I wanted to own a
cast iron skillet
, but it wasn't until last year I finally bought my first one.
Flashing back to my college days, I was teaching myself not only the basics of making dinner but also how to do it on a college budget in the cheapest pots and pans a broke college student could buy (on sale at Kohls with #allthecoupons).
I owned a ton of cookbooks and magazines at the time, over 200 books and who knows how many magazines. I've since reduced the number to a few dozen.
Magazines were the easiest to collect because most flea markets and yard sales sold them for 10 cents. There's a Taste Of The South magazine I still own today that featured cast iron cooking with cinnamon rolls on the cover.
I really wanted one, but between the cost and the literal weight, buying one in college wasn't the right time.
Now I own 4 skillets and 3 mini oval casserole pans. I was going to hang them in my kitchen as functioning decor, but the hooks I bought weren't wide enough (which means I need to remember to buy bigger hooks next time. Which I won't).
I made Toasted Coconut Skillet Cakes with coconut milk for two reasons. One – I associate toasted coconut with Easter. Why? I don't know.
Two – my dad is always requesting some sort of coconut dessert for his birthday and for Father's Day. Usually it's pie, but now he can have cake too.
Last year as I was antique shopping for food props, I spied a lonely cast iron pan on sale. It needed a bit of TLC, but after some research, it's good as new again.
I used it for my Chocolate Stout Skillet Cake and Carrot Cake Skillet Cake.
As you can see for my coconut cake, I used two 6.5 inch skillets, but the batter also fits into one 8 inch skillet.
What makes my coconut cake different than most is using
canned coconut milk
, which you can find either in the Asian or Hispanic aisle of the grocery store.
The label should say coconut milk, not coconut cream or coconut water.
Before opening, shake it really well then pour into a large measuring cup or bowl. Stir both the solid and water together until a smooth milk is formed. This is what you're going to measure for the cake batter.
This cake reminded me of carrot cake but without the carrots. In fact, I upped the coconut flavor during retesting so you wouldn't get confused.
It tastes so tender and moist on its own, it doesn't need any frosting or glaze on top.
I served it with a simple homemade whipped cream, but a scoop of vanilla bean ice cream would be heavenly as well.
Items you may need (affiliate links):
Toasted Coconut Skillet Cakes
Yield: 2-4 servings
Prep Time: 30 minutes
Cook Time: 30 minutes
Total Time: 1 hour
Ingredients
1 cup all-purpose flour
1 teaspoon ground cinnamon
1/2 teaspoon baking soda
1/4 teaspoon baking powder
1/4 teaspoon salt
1/2 cup packed brown sugar
1/4 cup (2 ounces or 4 tablespoons) unsalted butter, softened
1/4 cup granulated sugar
1 egg, room temperature
1/2 teaspoon coconut extract
1/2 teaspoon vanilla extract
1 cup canned coconut milk, solid and liquid stirred together until consistency of milk
1 cup shredded coconut, toasted
Whipped cream or vanilla ice cream, for serving
Instructions
Preheat oven to 350F. Lightly grease two 6.5-inch cast iron skillets, one 8-inch cast iron skillet, or one 8-inch round cake pan.
In a medium bowl, whisk together the flour, cinnamon, baking soda, baking powder, and salt.
In a large mixing bowl, beat together the brown sugar, butter, and sugar until light and creamy, about 2-3 minutes. Beat in the egg, vanilla, and coconut extract.
Add the flour mixture alternately with the coconut milk, adding the flour in 3 additions and the milk in 2 additions (begin and end with dry ingredients). Stir in the toasted coconut.
Transfer the batter to the prepared pan. Bake the 6.5-inch skillets for 25-30 minutes or the 8-inch skillet/pan for 30-35 minutes or until a toothpick inserted in the middle comes out clean. Serve warm or at room temperature with whipped cream or ice cream.
Source: Adapted from my chocolate stout skillet cake
This post may contain affiliate links. As an Amazon Associate and member of other affiliate programs, I earn from qualifying purchase.