6 Inch Cake Recipes
Looking for small cake recipes? Here is the ultimate guide to baking 6 Inch Cake Recipes for two made from scratch for beginners. Flavors include vanilla, chocolate, strawberry, and more!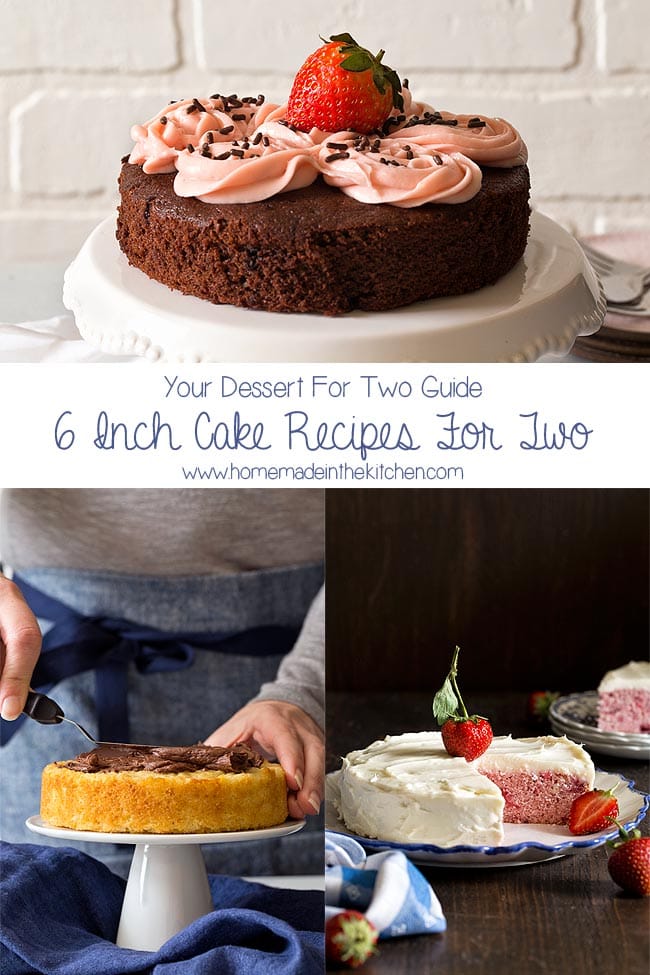 Baking a small cake recipe for two is one of the hardest things to do.
Most cake recipes require an 8 inch pan or larger. Some are even two or three layers.
I love cake but my waistline certainly doesn't. And I feel really guilty over food waste if I can't find people to eat the leftovers.
There aren't many small cake recipes for a 6 inch cake pan, which is why I wrote this ultimate dessert for two guide about 6 Inch Cake Recipes.
I rounded up all of my recipes for small cakes so you don't have to go digging through my archives, ranging from my small chocolate cake and small vanilla cake to my small yellow cake and small red velvet cake.
Making small cakes means less food waste, cheaper by using less ingredient quantities, easier to adjust for dietary needs, and of course portion control.
Now my 6 inch cake recipes may not be literally two servings, but they're catered for two people because they make a small amount (roughly 4-6 slices, depending on how hungry you are).
That means you can eat your small cake now then eat a little more later without having to throw away stale cake. Cake for dessert, cake for breakfast.
Bookmark these recipes for small cakes for birthdays, anniversaries, celebrations, holidays, and any time you're in the mood for cake!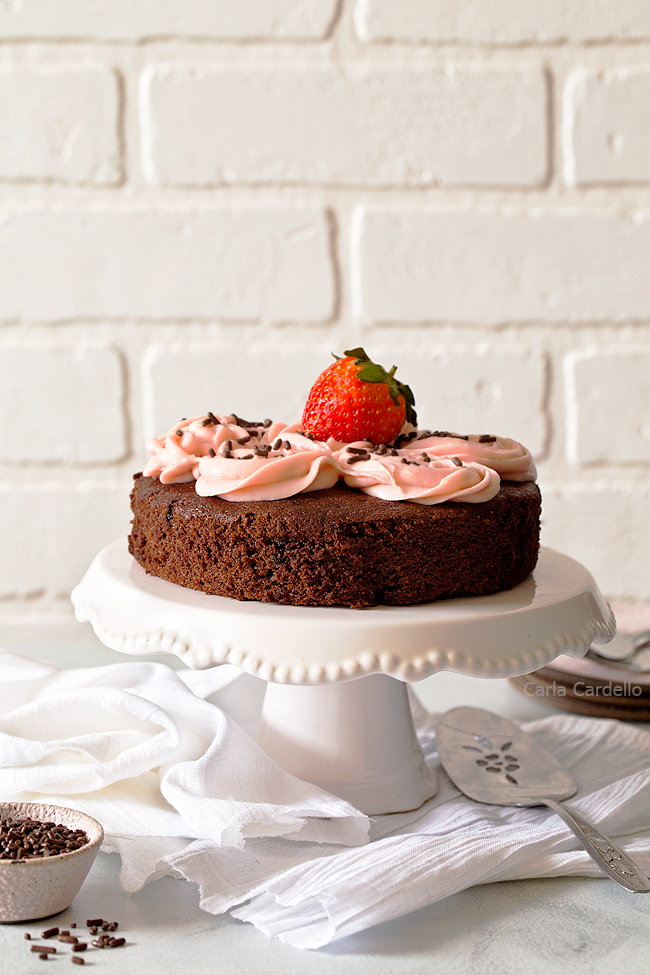 Buying A 6 Inch Round Cake Pan
In order to make a 6 inch cake, you need to buy a 6 inch round cake pan. Easy enough, right?
A 6 x 2 inch round cake pan has a volume of 3 cups and can hold about 2 cups of batter to give it room to rise.
You can buy one online from Amazon (affiliate link) or from your local craft store in the cake decorating aisle.
I'm also starting to see them at big box stores like Walmart and Target.
Although my recipes are mostly for one layer cakes, I highly recommend buying two pans. That way you're ready for a 6 inch 2 layer cake.
Plus if your current pan is in use, you have another one ready to go.
Did you know you can make chicken pot pie for two and shepherd's pie for two in a 6 inch pan?

Now you can make both dinner and dessert!
How To Convert 6 Inch Cake Recipe To 8 Inch
If you don't have a small cake pan, some readers have successfully made the cakes in 8 inch pans. I'm not a fan of this because the cake will be a lot thinner but could be beneficial for layer cakes.
Reduce the baking time by 5 minutes then check for doneness. If the toothpick is wet, keep going. If not, your cake is done.
You can also convert a 6 inch cake recipe to 8 inch by multiplying the ingredients by 1.5x. Sometimes you have to make minor adjustments, but it should get you in the ballpark!
Hate math? I have my 8 inch one layer chocolate cake for you to make without adjustments.
One 6 inch cake recipe also fits into three 4 inch springform pans, like my Mini Guinness Cake.
You can also turn 6 inch cakes into cupcakes or a Bundt cake! Check out my Small Batch Cupcake Recipes and Small Bundt Cake for recipes.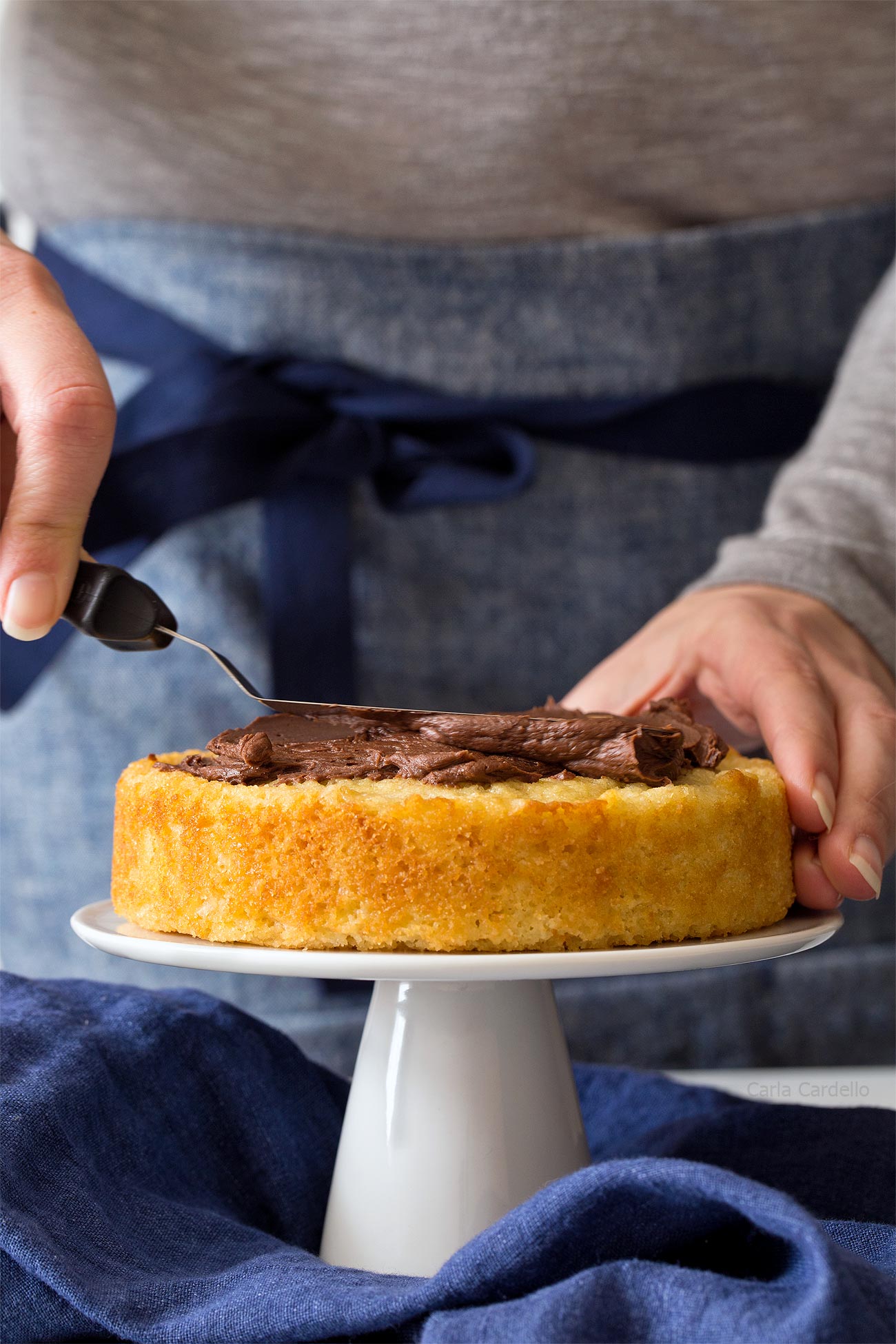 How To Make a 6 Inch Cake
Most cake for two recipes follow the same steps:
Cream together the butter and sugar.
Add the egg and any flavorings
Gradually add your dry ingredients, sometimes alternating with milk.
Transfer batter to a greased 6 inch pan then bake.
My small carrot cake recipe is made a little bit differently as it uses vegetable oil instead of butter, so you beat the oil, sugar, buttermilk, and egg together.
How long should you bake a 6 inch cake?
Depending on the batter, you bake a 6 inch cake at 350F for about 20-25 minutes. Some recipes require 30-35 minutes. Always follow what the recipe tells you.
To tell if your cake is done, insert a toothpick in the center. If it comes out clean, the cake is ready. A few crumbs are ok, but you definitely don't want wet batter.
Not only will it be underbaked it'll also collapse in the middle, leaving you with a crater.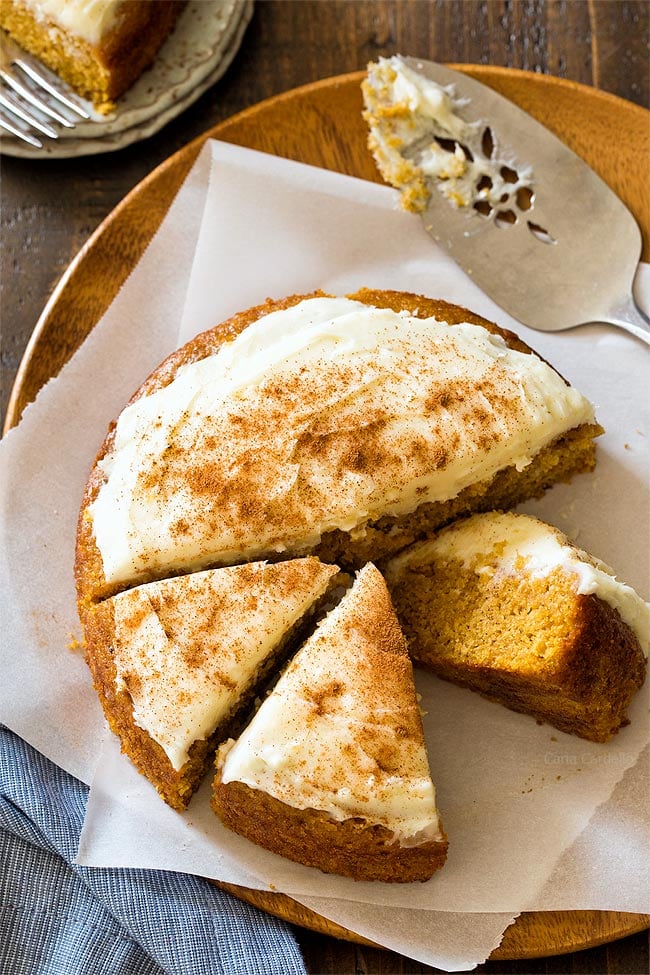 How many servings will a 6 inch cake feed?
Serving sizes are subjective, especially if you only want a small bite of cake. Generally 6 inch cakes can be sliced into 4-6 slices, making it about 4-6 servings per 6 inch cake.
However, if you slice the cake small enough, you can push for 8 slices, equaling 8 servings. That way you can serve my Small Funfetti Cake for someone's birthday and have enough slices for everyone.
Hosting a small Thanksgiving or Christmas for two? Serve my Small Pumpkin Cake or Small Gingerbread Cake for dessert. There will be enough food at dinner that a small 6 inch cake will be plenty of dessert.
Feeling a bit fruity? Check out my Small Strawberry Cake, Small Lemon Cake, and Small Coconut Cake.
Want cake for breakfast? I got you covered with my Small Coffee Cake recipe.
Ultimately serving size is up to you depending on how small you cut your 6 inch cake.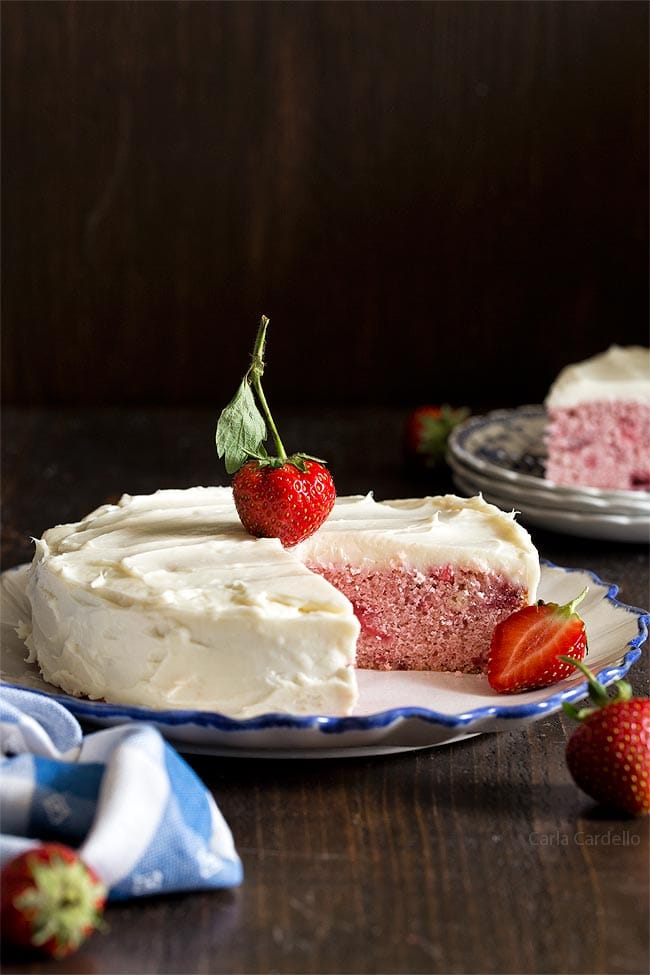 How much buttercream do I need for a 6 inch cake?
You can't serve your 6 inch cake recipes without frosting! That's why I also have a list of small batch frosting recipes and ganache so you're not stuck with leftovers.
You'll need roughly 1 cup buttercream for your small cake recipes. Some popular frosting recipes are:
Is buttercream too sweet for you? Go for a bit of tang with one of these cream cheese frostings:
Finally, for specialty cakes I have German Chocolate Frosting and Coconut Frosting.
6 Inch Cake Recipes
Looking for small cake recipes? Here is the ultimate guide to baking 6 Inch Cake Recipes for two made from scratch for beginners.
First published April 15, 2019
This post may contain affiliate links. As an Amazon Associate and member of other affiliate programs, I earn from qualifying purchase.