Small Coconut Cake Recipe
This 6 inch Small Coconut Cake recipe with coconut milk is a coconut cake for two from scratch decorated with homemade coconut frosting.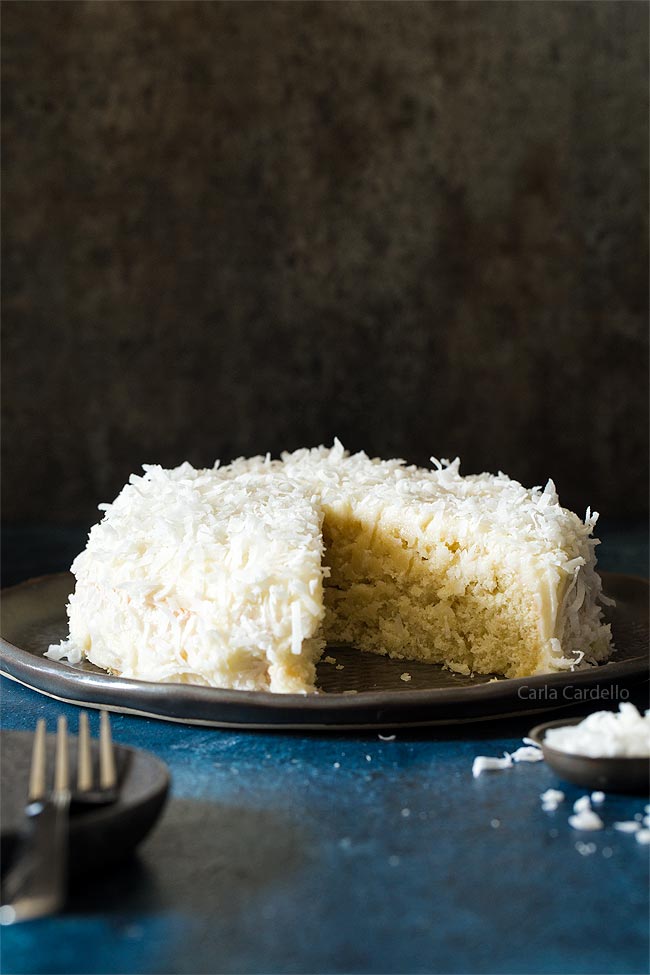 As I mentioned in my last post, I've been busy these past two months with a client project.
Even though I couldn't keep up with the blog during that time, I did work on this Small Coconut Cake recipe throughout the month. I managed to test it three times to get it right.
It started out as my dad's birthday cake. He loves coconut, so every year he requests a coconut dessert for his birthday.
Usually it's pie, but this year he wanted cake. I didn't want to make a huge cake, so I ended up taking a recipe I found and scaling it down into this Small Coconut Cake Recipe.
It's a 6 inch coconut cake made with canned coconut milk, shredded coconut, and coconut extract. A trifecta of coconut flavor.
Then I decorated it with a creamy coconut frosting and more shredded coconut.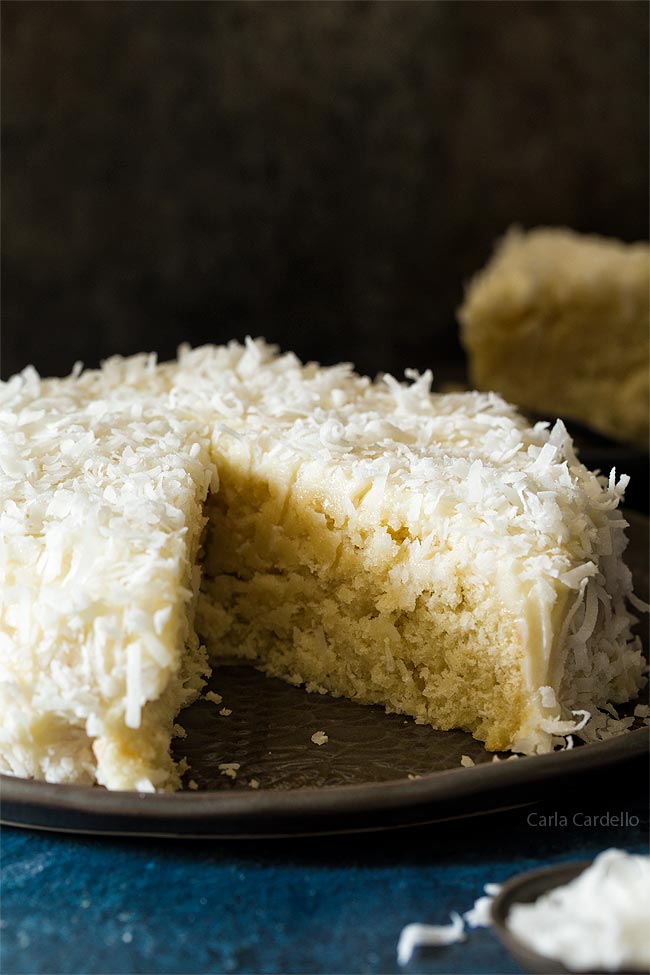 What is canned coconut milk?
Before we start talking about the cake, we need to talk about coconut milk.
First, it's the kind of coconut milk you buy in a can, usually in the Asian aisle. Sometimes you can find it in the Mexican or baking aisles.
The label will say coconut milk. Not cream of coconut. Not coconut water. And make sure it's the normal version and not lite. It won't have enough fat if it's lite.
It's also not the coconut milk you find in the dairy aisle. Those are much thinner and won't work.
Got your canned coconut milk? Good, now let's talk about what it is exactly.
Coconut milk is made up of two parts: the coconut cream and the coconut liquid.
Most of the time when you open a can, you'll see the cream (the solid part) sitting on top. Once you dump the can, you'll notice the liquid underneath.
You want to make sure these parts are equally distributed before using. You can either shake the can really well or dump everything into a large bowl or measuring cup then stir until it becomes one rich and creamy liquid.
It should now be a smooth pourable liquid you can measure, much like regular milk.
What to do with leftover coconut milk
You're going to have leftover canned coconut milk, so what do you make with it? Check out my recipes using coconut milk, including pancakes, hot chocolate, and more!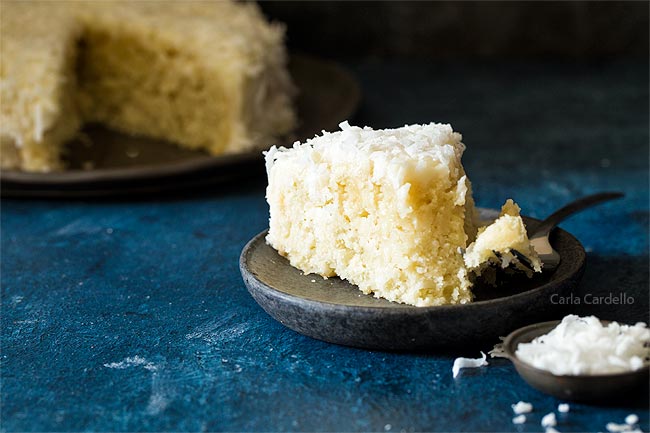 What is coconut extract?
Another important ingredient you need in coconut frosting is coconut extract, but what is it exactly?
Coconut extract is similar to vanilla extract but instead of soaking vanilla beans in alcohol, you soak coconut meat.
This helps add more coconut flavor to a recipe without altering the ingredient list too much.
Why use coconut extract?
I get it. The last thing you want to do is buy an ingredient you'll never use again.
But sometimes extracts are the best way to bring out more flavor in a recipe. The coconut from the milk is very subtle, especially after baking it in this cake.
There is no substitute for coconut extract, assuming you want the recipe to still taste like coconut.
The good news is I have a list of recipes using coconut extract in addition to this frosting recipe.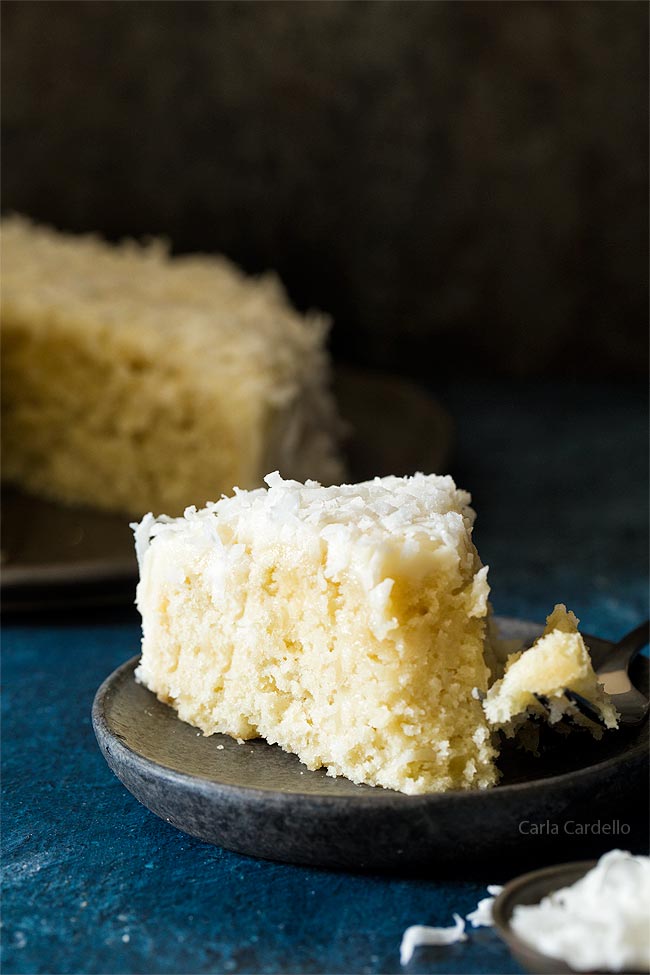 Buying A 6 Inch Round Cake Pan
To make the best coconut cake recipe, you need a 6 inch round cake pan (affiliate link). If you're having trouble finding one, check out the cake decorating section of your local craft store.
How to make a coconut cake from scratch
Like most cake recipes, first you beat together the fat and sugar. Then you beat in the egg and coconut extract.
Next, you want to alternate adding your dry ingredients with the coconut milk. This method is important.
Adding the milk all at once could saturate the batter, causing it to split.
However, adding all of the dry ingredients at once will thicken the batter greatly and will likely overmix, causing a tough cake.
Add the dry ingredients in three additions while adding the milk in two additions, beginning and ending with the dry ingredients.
Transfer your batter to a 6 inch round cake pan and bake until done.
Can you toast the coconut?
When I was working on this cake, I was debating on whether to toast the coconut.
Toasting the coconut brings out more flavor and color. In most cases I probably would have toasted it.
However, I wanted it to be a white non-toasted cake.
You can certainly toast the coconut if you want. Spread the coconut in a single layer on a baking sheet then bake at 350F for about 5-10 minutes.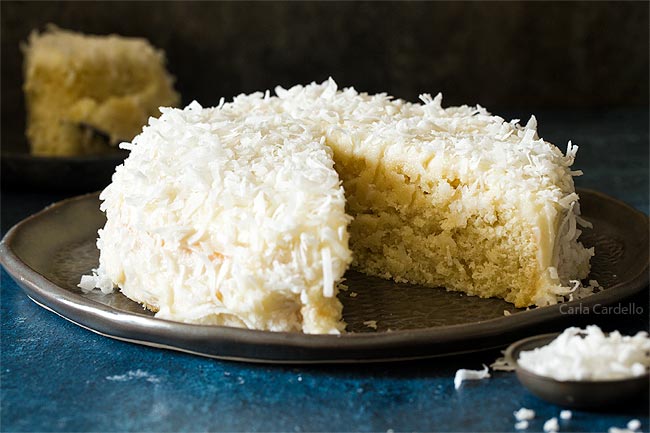 Should you refrigerate coconut cake?
I'm often asked if you have to refrigerate a coconut cake.
The answer is no. Because the coconut frosting uses a good amount of powdered sugar, it's safe to leave out at room temperature for 2-3 days.
However, frosting does tend to melt if it's too warm because of the butter's melting point. In the winter I can leave my cake out, but in the summer I refrigerate my cakes.
What is the best frosting for coconut cake?
What better frosting to pair with a coconut cake than coconut frosting?
I published my small batch coconut frosting in a separate post, which makes just enough to frost a 6 inch cake without leftovers.
You can also use my lemon buttercream frosting for a lemon coconut cake, either strawberry cream cheese frosting pr strawberry buttercream for a strawberry coconut cake, or raspberry cream cheese frosting for a raspberry coconut cake.
Looking for a different flavor? I wrote a comprehensive guide of all my small batch frosting recipes I published.
Equipment You Will Need
More Small Cake Recipes

Looking for more small cake recipes? I wrote a 6 Inch Cake Recipes guide. Some of my favorites are: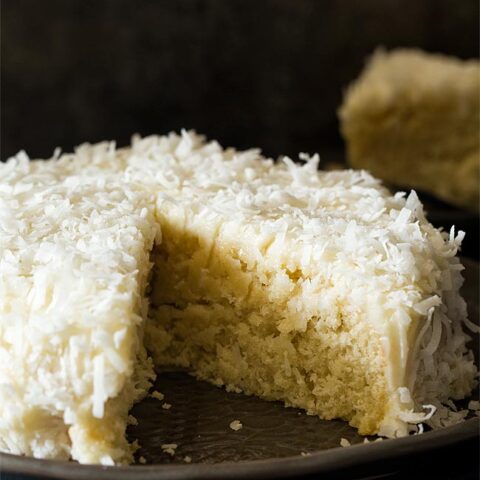 Small Coconut Cake Recipe
Yield: 4-6 servings
Prep Time: 20 minutes
Cook Time: 35 minutes
Total Time: 55 minutes
This 6 inch Small Coconut Cake recipe with coconut milk is a coconut cake for two from scratch decorated with homemade coconut frosting.
Ingredients
3/4 cup + 2 tablespoons all-purpose flour
2 tablespoons cornstarch
1/2 teaspoon baking powder
1/2 teaspoon salt
1/2 cup granulated sugar
1/4 cup (4 tablespoons) unsalted butter, softened
1 egg, room temperature
1 teaspoon coconut extract
1/4 teaspoon vanilla extract
1/2 cup canned coconut milk (see Note about measuring properly)
1/2 cup sweetened shredded coconut
Small Batch Coconut Frosting (get recipe here)
Instructions
Preheat oven to 350F. Lightly grease one 6x2-inch round cake pan then line the bottom with parchment paper.
In a medium bowl, sift together the flour and cornstarch then stir in the baking powder and salt.
In a large mixing bowl, beat together the sugar and butter until light and creamy, about 1-2 minutes.
Beat in the egg, coconut extract, and vanilla extract.
Add the flour mixture alternately with the coconut milk (which should be liquid like dairy milk - please read Note about measuring properly), adding the flour in 3 additions and the milk in 2 additions (begin and end with dry ingredients). Stir in the coconut.
Transfer the batter to the pan. Bake 30-35 minutes
or until a toothpick inserted in the middle comes out with a few crumbs (no wet batter). Cool for about 15 minutes, run a knife along the edge of the pan to loosen, and invert onto a cooling rack. Cool right-side-up.
Frost with Small Batch Coconut Frosting (get recipe here).
Notes
To measure canned coconut milk: Shake the can well then open and add to a bowl. Stir the solid and liquid together until smooth and pourable. Measure then save the rest for future use. Check out my recipes using coconut milk for ideas.
If using leftover coconut milk stored in the refrigerator, it needs to be room temperature. If it's too thick, microwave in 10 second increments until smooth then measure.
Want to pair this cake with a different frosting? Check out my full list of small batch frosting recipes.
Enjoyed this cake? Check out my full list of 6 inch cake recipes including chocolate, vanilla, lemon, and more.
Recommended Products
As an Amazon Associate and member of other affiliate programs, I earn from qualifying purchases.
This post may contain affiliate links. As an Amazon Associate and member of other affiliate programs, I earn from qualifying purchase.