Lemon Raspberry Cake
Welcome sunny days into your kitchen with this Lemon Raspberry Cake! It's a 6 inch lemon cake with a raspberry filling and raspberry frosting and is the perfect small layer cake for any occasion.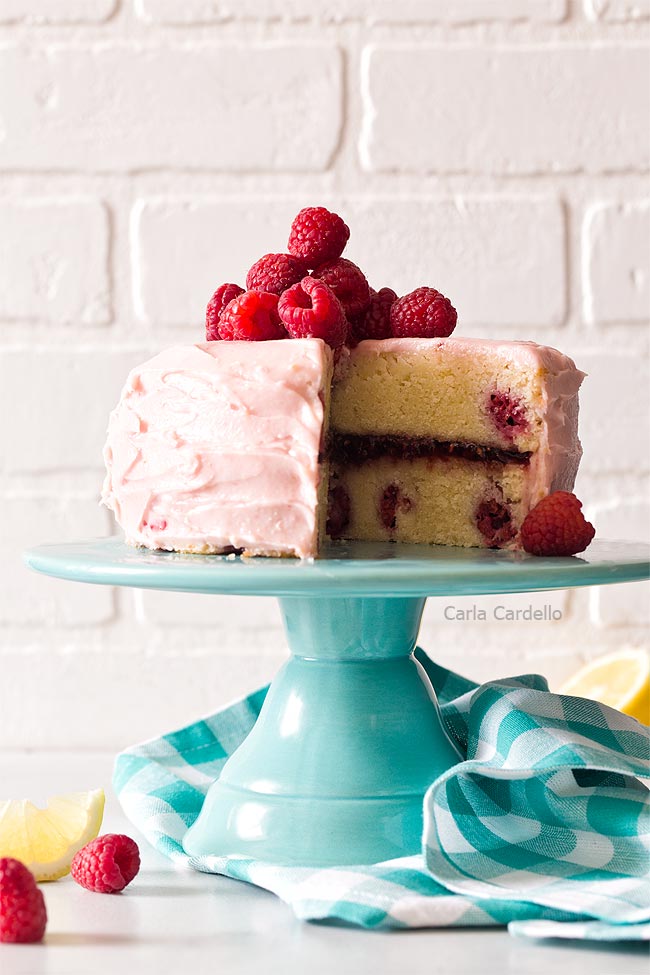 Is it spring yet?
The weather has been SO wacky in Pittsburgh. Rain! Snow! 40 degrees! 70 degrees! All in one week.
In fact, last weekend we had all 4 seasons in one day with rain, sun, and snow.
I originally washed my winter coat to put away but had to bring it back out. I even wore my snow boots in April.
Even if Mother Nature can't make up her mind outside, it's definitely spring in my kitchen with this Lemon Raspberry Cake. Look at how bright and refreshing it is!
And with Easter coming up quickly, you can make it as a beautiful dessert to end your Easter dinner for two.
This lemon raspberry cake recipe is the same as my small lemon cake recipe except I doubled the cake layers, added raspberries to both the batter and filling, then decorated it with raspberry cream cheese frosting.
Usually my 6 inch cake recipes are single layer, but I feel like I've done most of the standard flavors. Now it's time for two layer cakes.
Plus doing a 6 inch layer cake allows me to play with flavor combinations such as a lemon cake with raspberry filling (as opposed to simply stirring raspberries into the batter).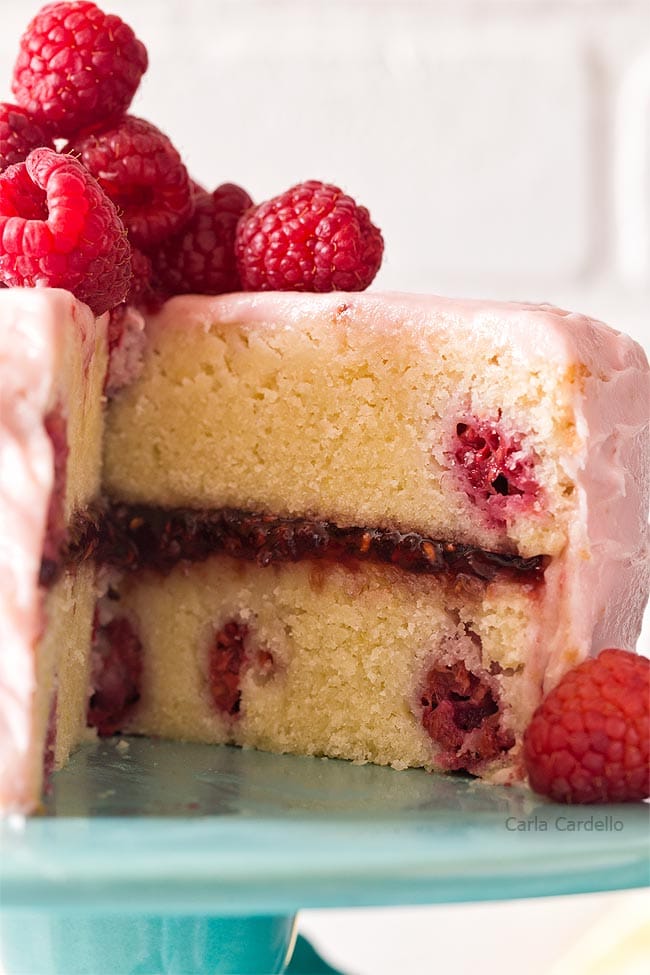 What pans do I need to bake a small layer cake?
To make the best lemon raspberry cake recipe, you will need two 6 inch round cake pans (affiliate link).
If you don't want to buy them online, you can also check out the cake decorating section of your local craft store.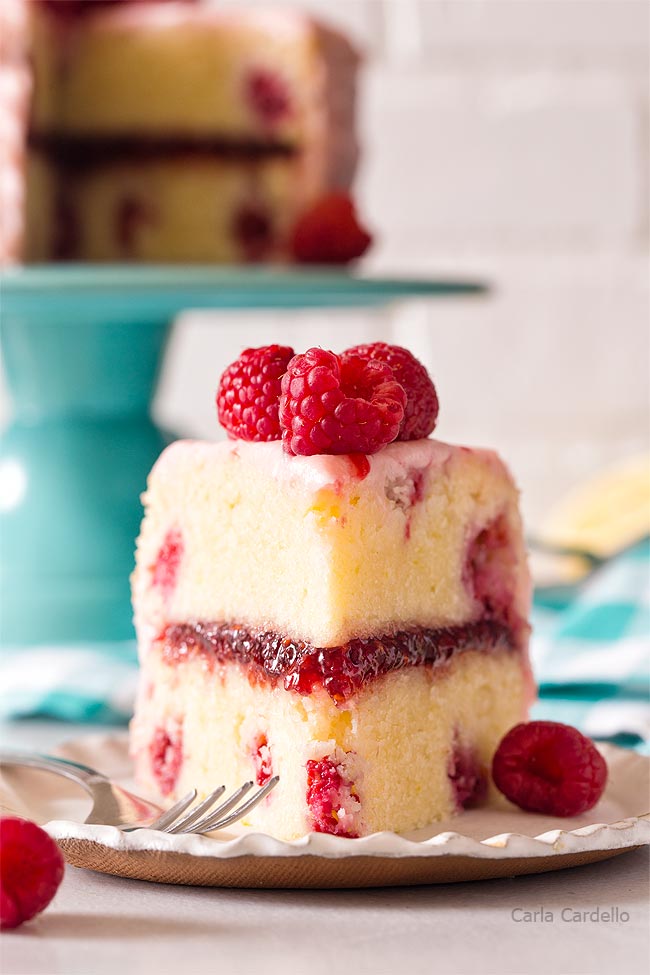 Ingredients For Lemon Raspberry Cake
To make a lemon cake with raspberries, you'll need the following ingredients:
All-Purpose Flour: Because all-purpose is more common than cake flour, that's what I chose to use. Make sure you're using the spoon and level method, not the scoop and pack method.
Cornstarch: Since you're not using cake flour, I added cornstarch to make up for the gluten difference. If you're using cake flour, you can use additional cake flour instead of cornstarch.
Baking soda: This leavening agent is what helps the cake rise. It's important you use baking soda as it'll react properly with the acidic buttermilk.
Salt: You definitely don't want to skip the salt unless you want a bland cake! It'll enhance the other cake ingredients.
Unsalted butter: At the base of every cake batter is fat. Make sure you're using softened butter and not melted.
Granulated sugar: Without sugar, you would have a very, VERY tart and bitter cake.
Lemon zest: You want your cake as lemony as possible, so the zest adds a big boost in flavor.
Egg: Make sure you're using a standard large egg that's at room temperature.
Buttermilk: Because buttermilk is acidic, it'll activate the baking soda, which is what causes your cake to rise properly. Only have regular milk? Add 2 teaspoons lemon juice or vinegar and wait 5 minutes or until curdled.
Fresh lemon juice: You definitely want to use fresh lemon juice and not bottled as the taste is significantly better.
Raspberries: Fresh raspberries are recommended, but you can use frozen as long as they are thawed and drained of any excess liquid.
Raspberry jam: The jam helps "glue" the two layers together as well as adds an extra layer of raspberry to the cake.
Can I add lemon extract to lemon cake?
Most people don't have lemon extract, so I didn't use it. However, if you do have some in your pantry you can add 1 teaspoon lemon extract with the egg.
Although lemon extract isn't required, it does add an extra lemony kick.
Please leave the lemon juice in the recipe. Baking is a science, so your cake may not bake properly if you take it out.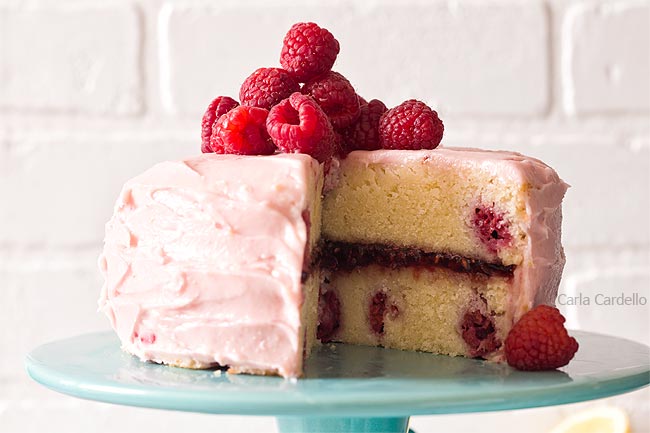 How To Make A Lemon Raspberry Cake
To make a raspberry lemon cake, first beat together your butter and sugar until light and creamy. Then beat in the egg.
Next, you want to alternate adding your dry ingredients in three additions while adding the buttermilk in two additions, beginning and ending with the dry ingredients.
This method is important because adding all the milk at once could cause the batter to split from oversaturation.
However, adding all of the dry ingredients at once will thicken the batter greatly and will likely overmix, causing a tough cake.
Once that's done, turn off the mixer then gently stir in your raspberries with a rubber spatula. You don't want them to break and bleed juice into the batter.
Divide your batter between two 6 inch round cake pans and bake at 350F degrees for 25-30 minutes or until a toothpick comes out clean.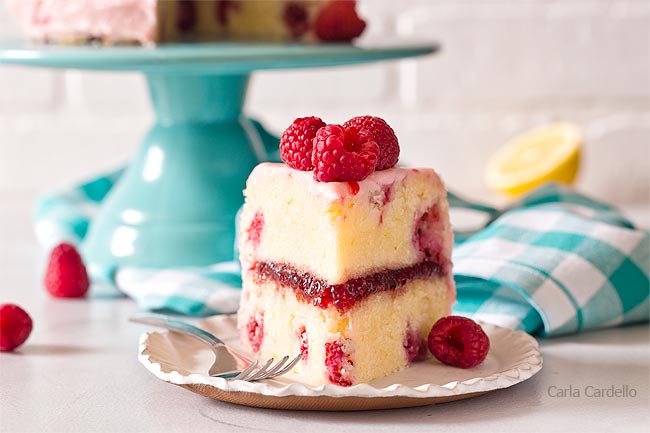 How To Make Raspberry Filling For Lemon Cake
There are two ways you can make the raspberry filling for your lemon cake.
First, you can buy a jar of raspberry jam. Since you're making the cake and frosting from scratch, it's ok to take a little break here.
But if that's not your style, you can certainly make homemade raspberry jam. You can make my easy raspberry jam without pectin.
If you're feeling really adventurous, you can also make my raspberry jalapeno jam.
Want to make a lemon blueberry cake? Use my blueberry jam without pectin.
You can even substitute raspberries in my strawberry curd or use peach curd for a different flavor.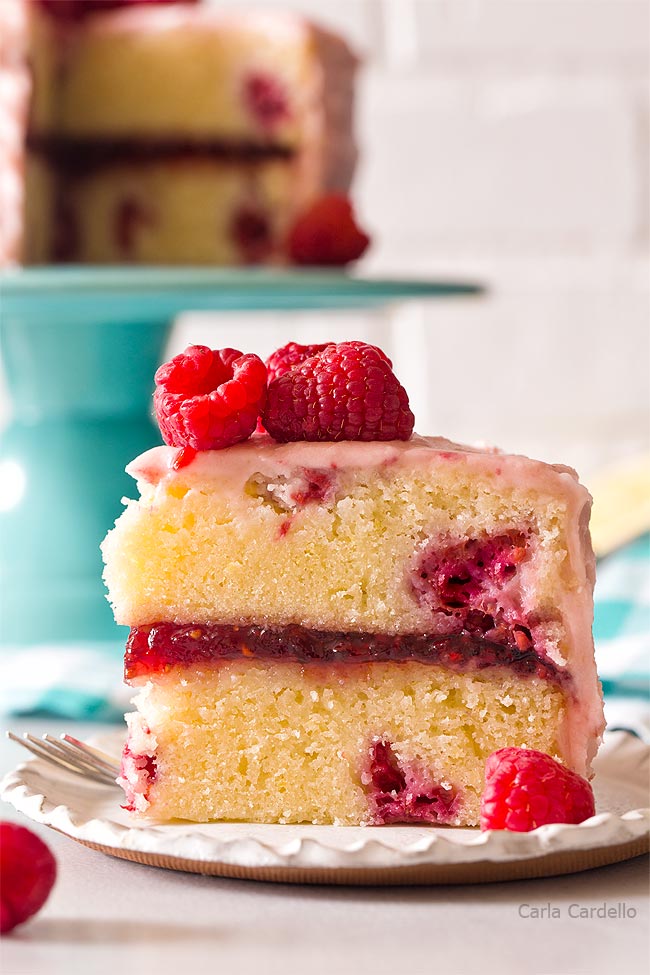 How To Decorate a Lemon Raspberry Cake
As I mentioned earlier, I made a lemon cake with raspberry frosting. The tang of the cream cheese frosting really balances the jam.
However, if you're looking for buttercream, use my strawberry buttercream frosting and substitute raspberries for the strawberries.
Want to make a double lemon cake? Decorate it with lemon buttercream frosting.
In the mood for something tropical? Make a lemon coconut cake with coconut frosting.
Don't want any fruit at all? Check out my small batch cream cheese frosting and small batch buttercream frosting.
Still don't see the frosting you're looking for? Check out my full list of Small Batch Frosting Recipes.
More Small Cake Recipes

Here are more 6 inch cake recipes for you to try: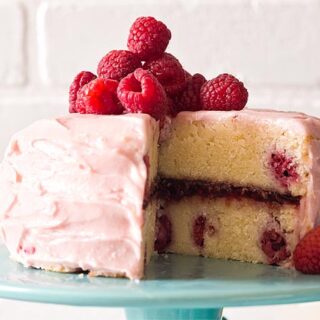 Lemon Raspberry Cake
Yield: 4-6 servings
Prep Time: 20 minutes
Cook Time: 25 minutes
Total Time: 45 minutes
Welcome sunny days into your kitchen with this Lemon Raspberry Cake! It's a 6 inch lemon cake with a raspberry filling and raspberry frosting and is the perfect small layer cake for any occasion.
Ingredients
1 1/4 cup + 2 tablespoons all-purpose flour (*see Note about using cake flour)
2 tablespoons cornstarch
1/2 teaspoon baking soda
1/2 teaspoon salt
3/4 cup (12 tablespoons or 6 ounces) unsalted butter, softened
1 cup granulated sugar
2 tablespoons lemon zest
2 eggs, room temperature
1/2 cup buttermilk, room temperature (or substitute 1/2 cup whole milk + 2 teaspoons lemon juice or white distilled vinegar)
2 tablespoons fresh lemon juice (not bottled)
1 cup fresh raspberries (thawed and drained if frozen)
1/2 cup raspberry jam (homemade or store bought)
1 recipe Raspberry Cream Cheese Frosting
Instructions
Preheat oven to 350F. Lightly grease two 6-inch round cake pans then line the bottoms with parchment paper.
In a medium bowl, sift together the flour and cornstarch then stir in baking soda and salt.
In a large mixing bowl (with the paddle attachment if using a stand mixer), beat together the butter, sugar, and lemon zest until light and creamy, about 1-2 minutes.
Scrape down the bowl then beat in the eggs one at a time for 1 minute each.
Add the flour mixture alternately with the buttermilk, adding the flour in 3 additions and the milk in 2 additions (begin and end with dry ingredients). Add the lemon juice.
Switch to a rubber spatula and gently stir in the raspberries, being careful not to break them.
Divide the batter between the two pans. Bake 25-30 minutes or until a toothpick inserted in the middle comes out clean. Cool for about 15 minutes, run a knife along the edge of the pans to loosen, and invert onto a cooling rack. Cool right-side-up.
To assemble: If the cakes are not flat, trim the tops. Place one cake on a stand or plate. Place a few strips of parchment or wax paper underneath the edges of the cake (you will be pulling them out later - this keeps the frosting off of your stand/plate).
Spread jam on top of the cake layer then top with the remaining cake.
With an off-set spatula, add enough frosting to thinly cover the top and outside of the cake (it is ok to still see the cake through the frosting. This seals the crumbs for clean frosting later). Refrigerate the cake for 30 minutes.
Remove from the refrigerator. Wipe off the spatula to remove crumbs. Finish frosting the rest of the cake. Once done, carefully pull out the paper and discard.

Cover and store the frosted cake in the refrigerator for up to 1 week. For best results, let it sit at room temperature 15-30 minutes before serving.
Notes
To substitute cake flour, use 1 1/2 cups cake flour and omit the cornstarch.
Enjoyed this recipe? Check out my full list of Small Cake Recipes
Making this for Easter? Check out my Easter Dinner For Two menu for more recipe ideas
Recommended Products
As an Amazon Associate and member of other affiliate programs, I earn from qualifying purchases.
This post may contain affiliate links. As an Amazon Associate and member of other affiliate programs, I earn from qualifying purchase.