Lamb Chop Dinner For Two
This easy pan fried Lamb Chop Dinner For Two with a homemade pan sauce comes together quickly to enjoy delicious lamb chops for Easter and Christmas.
Well here we are with Easter around the corner.
Are you cooking Easter dinner this year? How many people are you serving?
I asked this question on social media. A lot of you replied 1-2 people.
Previously I posted my honey glazed ham steak dinner.
Now I wanted to post my Lamb Chop Dinner For Two to go with the whole ham and lamb theme.
Even if you don't make them for Easter dinner this year, there's always Christmas dinner in the future.
Or make them as nice home-cooked meal. Maybe it's your partner's birthday. Maybe it's Valentine's Day. Or maybe you're craving some good red meat right about now.
I also noticed when I bought my lamb chops, there was plenty of lamb left at the store while the beef was picked over. So if you find yourself buying lamb due to availability, let this easy lamb chop recipe be your guide on how to fry lamb chops!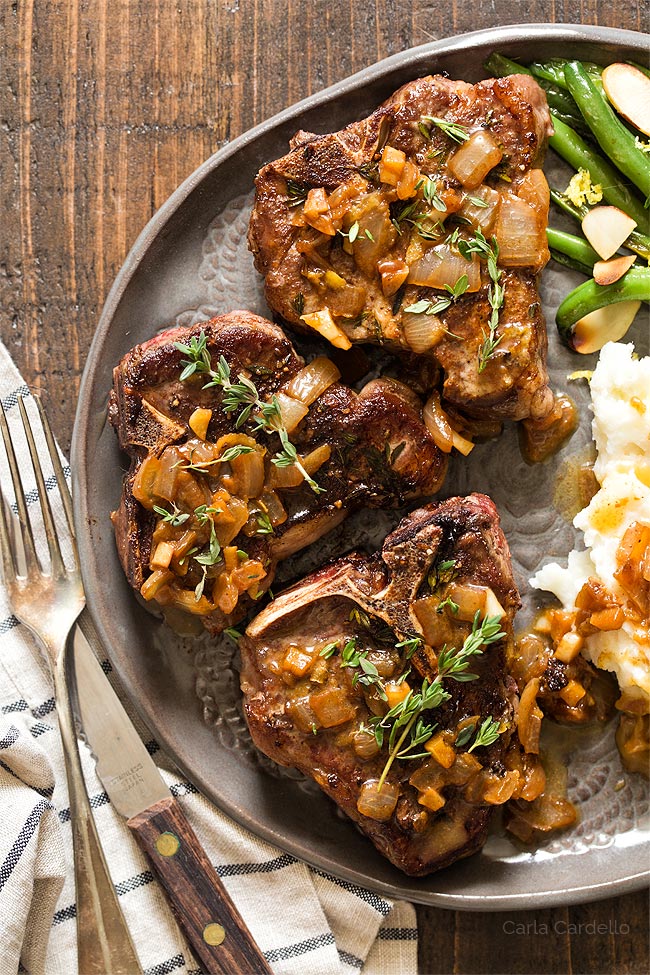 Which lamb chops should I buy?
When you buy lamb chops, you'll notice a variety of cuts to choose from, including loin chops, rib chops, and shoulder chops.
Lamb loin chops come from the most tender cut of lamb and look like little T-bone steaks. Because of their size, plan on making 2-3 loin chops per person.
Lamb rib chops have the long rib bone sticking out, sometimes referred to as a lamb lollipop. These chops have tender, fatty meat and are cooked best with high heat methods.
Lamb shoulder chops are chops cut from the shoulder region of the lamb, which is rich in connective tissue. This means shoulder chops aren't as tender as loin and rib chops.
However, because they are more affordable you can still pan fry shoulder chops, although they may need an extra 1-2 minutes to cook.
I personally chose lamb loin chops because they are more tender than shoulder chops and didn't see rib chops.
Your chops should be at least 1 inch thick to ensure the outside has a nice seared crust while the inside stays juicy and tender.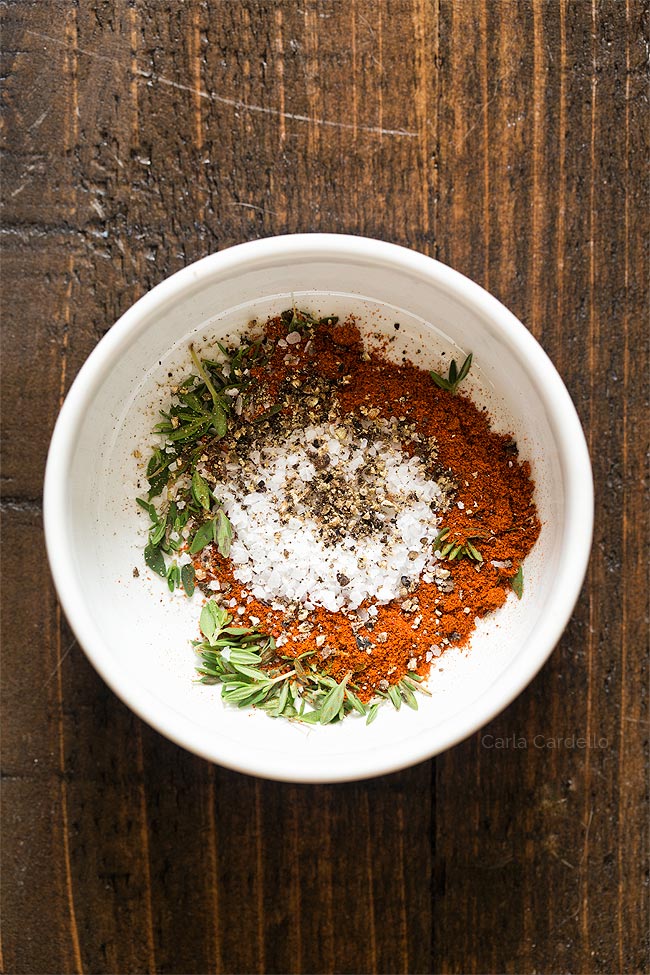 How To Cook Lamb Chops
In order to cook the best lamb chop recipe, you'll want to pan fry your lamb.
First, you need to prepare your lamb loin chops. Rub the outside of your lamb with some seasonings such as paprika, thyme, salt, and pepper.
Or if you have my fajita seasoning in your pantry, you can use that too.
You can also use rosemary for your herb. The store was sold out of rosemary, so I went with thyme.
Now here's a choice you have to make. If you have the time, let your chops sit for 40 minutes to allow the salt to work its magic.
However if you're in a hurry, cook your chops right after salting.
According to this study done by Serious Eats, the best time to cook your meat is either after salting it right away or after 40 minutes.
This is because the juices are either still on the surface (cooking right away) or the juices have been reabsorbed (cooking after 40 minutes).
The author in the article does a much better job explaining why this is the case, so please take some time to go read it.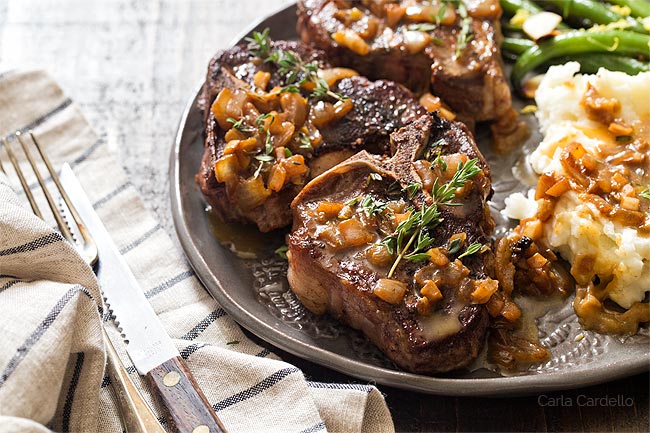 How To Fry Lamb Chops
After seasoning your lamb, next is heating your oil in your skillet.
A cast iron skillet will give your lamb the best sear, but I usually pan fry in a nonstick skillet and still get great results.
Once your oil is hot, add the chops in a single layer. If your skillet isn't large enough for all of your chops, cook them in batches.
If you overcrowd the pan, it'll bring the temperature of your oil down too low, which means you won't get a good sear.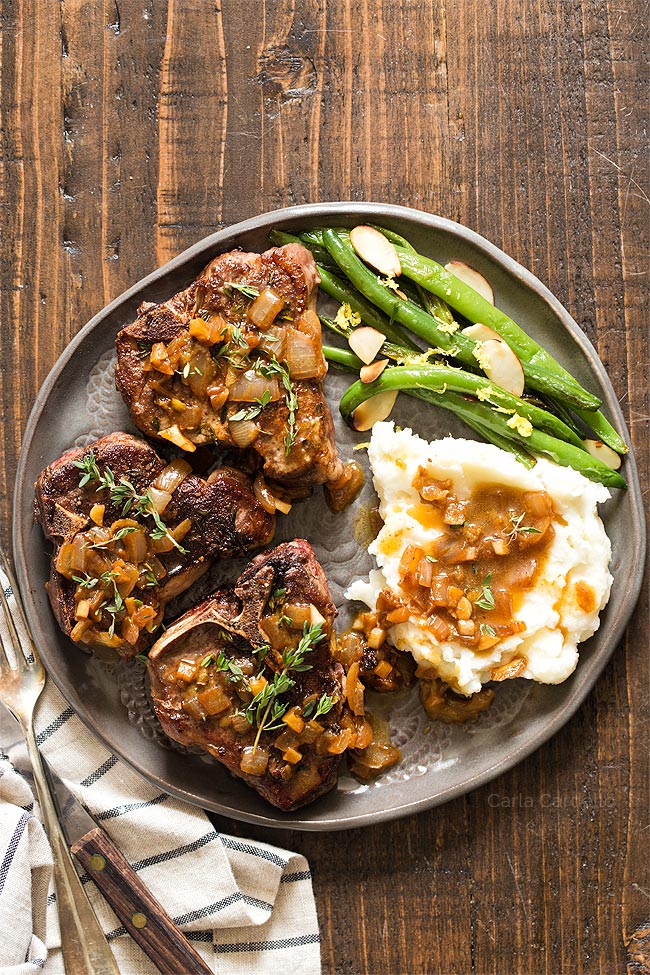 How long does it take for lamb chops to cook?
Your lamb chops are done when they reach the desired amount of pinkness in the middle. Your choices are rare, medium rare, medium, and well done.
Not sure which to choose? Go for an internal temperature of 145F, which is considered medium rare (and the official USDA recommended temperature).
If your loin chops are 1 inch thick, medium rare should take approximately 8 minutes total.
You'll also want to take into consideration carryover cooking, which means the lamb will rise about 5 degrees while resting.
Why rest your lamb after cooking?
As the name suggests, resting your meat means letting it sit before cutting into it.
Letting your meat rest allows the juices that built up in the center during cooking to settle back to the edges. Right now the center is soaked like a sponge and can't hold onto any more liquid.
If you were to cut your lamb right now, those center juices will spill out everywhere, resulting in dry steaks. Your flavor is now on the cutting board instead of in your mouth.
Rest your lamb chops on a wire rack over a plate and place a piece of foil loosely tented over the meat. You'll still have some of the juices leak out, which is normal.
Once the meat is done resting, add the plate juices to the pan sauce for extra flavor.
How To Make A Pan Sauce
A pan sauce, as the name implies, is a quick sauce you make in the same skillet you cooked your meat.
Do you see those brown bits left behind from the lamb cooking? That's called fond, which is FULL of flavor left behind (as long as it's not burnt, of course).
You want to scrape that deliciousness off the bottom of the pan and add them to your sauce. It's kinda like making gravy with drippings.
First, drain off all but 1 tablespoon of liquid fat left behind. If for whatever reason you don't have a tablespoon of fat, you can add some oil or butter.
Add your onion and garlic to the hot fat then fry until brown.
Next is a step called deglazing. Normally you add wine to deglaze, but I personally add broth with lemon juice as a substitute for wine.
I'm not against wine; I simply don't want to open a bottle for a small amount.
While the broth simmers, use a wooden spoon to scrape up the fond then cook until reduced to half.
Remove your sauce from the heat then swirl in the butter until melted. Taste and adjust for salt if needed.
Serve your pan sauce on top of your now-rested lamb.
What To Serve With Lamb Chops
Because lamb chops are the main protein, you want to serve your lamb chops with side dishes.
Pictured with the lamb chops are my mashed potatoes for two and green beans with almonds.
I personally find the meat to be rich, so I make sure to serve vegetables with lamb chops.
If you're serving lamb chops for Easter or Christmas, check out my menus for Easter Dinner For Two and Christmas Dinner For Two.
Here you'll find your favorite holiday dishes scaled down for your lamb chop dinner for two, such as au gratin potatoes for two and stove top scalloped potatoes.
Don't forget the small pecan pie!
Not in the mood for lamb? Check out my pork chops with mushroom gravy or caprese steak.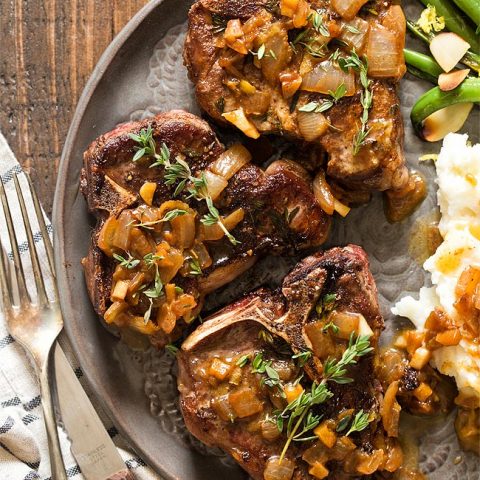 Lamb Chop Dinner For Two
Yield: 2 servings
Prep Time: 15 minutes
Cook Time: 20 minutes
Rest Time: 40 minutes
Total Time: 1 hour 15 minutes
This easy pan fried Lamb Chop Dinner For Two with a homemade pan sauce comes together quickly to enjoy delicious lamb chops for Easter and Christmas.
Ingredients
1 tablespoon + 1 teaspoon fresh thyme leaves
1 teaspoon ground paprika
1/2 teaspoon salt, preferably kosher
1/4 teaspoon ground black pepper
4-6 lamb loin chops*, 1 inch thick
2 tablespoons olive oil
1/4 cup chopped white or yellow onion
1 garlic clove, minced
1/2 cup chicken broth/stock
1 tablespoon lemon juice
1 tablespoon lemon zest
2 tablespoons unsalted butter
Instructions
In a small bowl, mix together 1 tablespoon thyme, paprika, salt, and pepper.
Rub the lamb with the spice mixture. If you have the time, let lamb sit at room temperature for 40 minutes. If not, cook the seasoned lamb immediately.
In a large skillet, heat the oil. Once hot, add the lamb in a single layer. If the pan isn't large enough, cook the lamb in batches. Do not overcrowd the pan or the meat will steam instead of sear.
Cook for 4 minutes then flip and finish cooking until the internal temperature reaches 145F, about another 4-6 minutes. Transfer the lamb to a plate and loosely cover with aluminum foil.
Pour off all but 1 tablespoon of the fat left in the skillet. If you don't have enough fat, add some extra oil.
Add the onion, garlic and the remaining 1 teaspoon thyme. Cook until the onion begins to brown, about 2-3 minutes.
Add the broth and lemon juice. Using a wooden spoon, scrape up the brown bits left in the bottom of the pan. Cook until reduced by half, about 1 minute.
Remove from the heat and stir in the lemon zest, butter, and any juices accumulated on the plate from the lamb. Taste and adjust for salt. Serve sauce with the lamb.
Notes
Did you buy lamb shoulder chops instead? You can still cook them the same way as the loin, although you may need an extra minute or two to reach 145F.
Not sure what to serve with lamb chops? Check out my Easter Dinner For Two and Christmas Dinner For Two menus for side dish ideas.
Recommended Products
As an Amazon Associate and member of other affiliate programs, I earn from qualifying purchases.
Originally published April 3, 2020
This post may contain affiliate links. As an Amazon Associate and member of other affiliate programs, I earn from qualifying purchase.