This recipe for small batch Carrot Cake Cupcakes with pineapple, coconut, walnuts, and raisins is a super moist carrot cake from scratch decorated with homemade cream cheese frosting.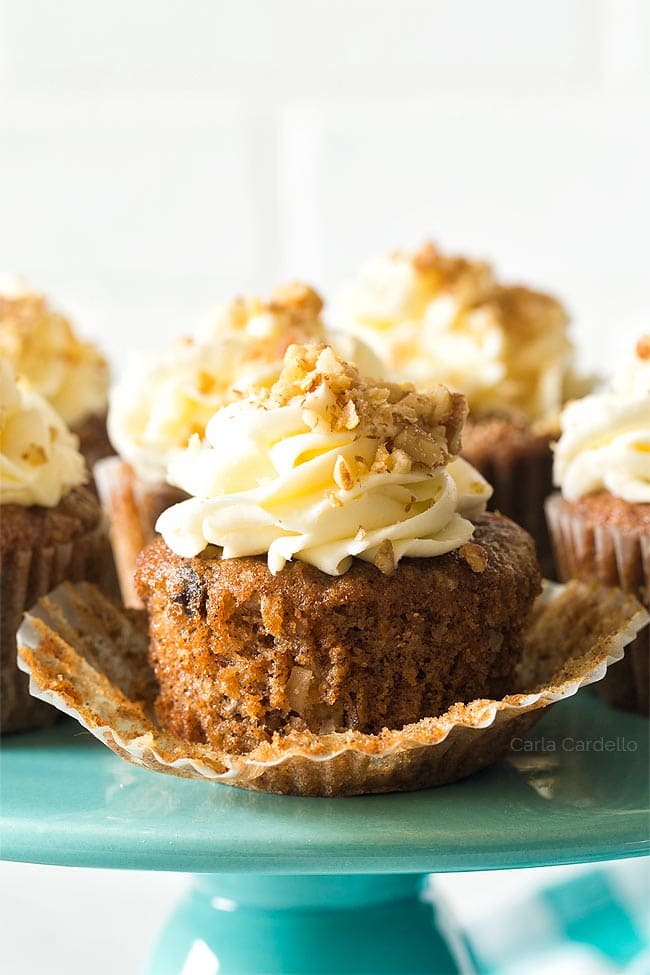 Being a food blog, I noticed the quarantine really changed how people cook.
Back in 2020 when the shut down first started, my recipes for two really took off as everyone stayed home and cooked in smaller quantities.
Fast forward to 2022, people are going back to work and baking in larger batches again.
Still, lifestyles have forever changed. More people are working at home remotely. That means not being able to pawn off baked goods on your coworkers.
If you're craving cupcakes but don't want to eat a whole dozen, I got you covered with the best Carrot Cake Cupcakes with pineapple and cream cheese frosting.
They stay incredibly moist thanks to the vegetable oil, brown sugar, buttermilk, and pineapple.
My carrot cake cupcake recipe is almost identical to my Small Carrot Cake recipe. Difference is I reduced the buttermilk a bit so the batter wasn't as liquidy.
First round the cupcakes were completely flat and sunk in the middle. This told me 1 – I filled the liners too full and 2 – I didn't have enough flour to support the amount of liquid.
Second round I reduced the liquid and voila – cupcakes!
These small batch carrot cake cupcakes are the perfect ending for your Easter Dinner For Two or even Thanksgiving Dinner For Two if you don't like pumpkin pie.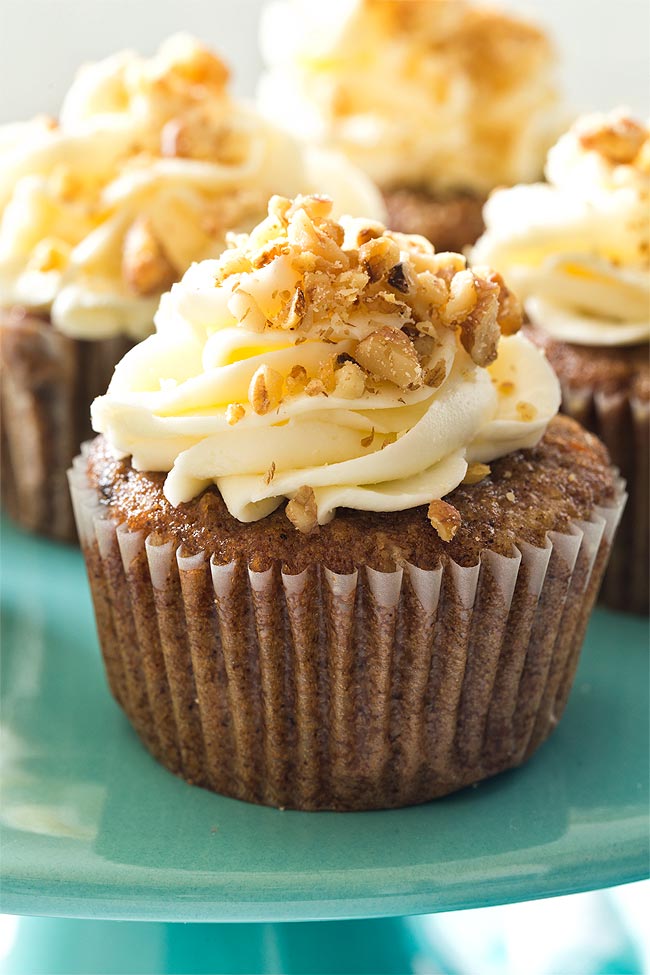 What is carrot cake?
Carrot cake is a spice cake with grated carrots, cinnamon, nutmeg, and clove then frosted with cream cheese frosting.
Ingredients For Carrot Cake Cupcakes With Pineapple
To make this recipe for carrot cake cupcakes, you'll need the following ingredients:
All-purpose flour: Make sure when you're measuring your flour, you use the spoon and level method, not the scoop and pack method.
Cinnamon, nutmeg, and clove: Can't have a spice cake without spices!
Baking soda: This leavening agent reacts with the acidity in the buttermilk, helping the cupcakes rise.
Salt:Enhances the other flavors
Granulated sugar: Sweetens the cake batter
Brown sugar: Using brown sugar in addition with white sugar helps make the batter more moist.
Vegetable oil: Using vegetable oil in carrot cake not only makes the cupcakes moist, it won't mask the other flavors such as tangy buttermilk. If you used melted butter, it would overpower the buttermilk.
Buttermilk: You need the acidity to react with the baking soda. If you use regular milk, don't forget to add some lemon juice!
Egg: Use 1 large egg at room temperature
Vanilla: Brings out the flavors of the other ingredients
Grated carrots: I grate my carrots by hand but you can also use a food processor.
Canned crushed pineapple: No need for fresh! Make sure it's drained well as the excess liquid may throw off your flour ratio.
Sweetened coconut flakes: I used the sweetened coconut often found in the baking aisle. You can also use unsweetened for less sugar.
Walnuts: Adds crunch to the cupcakes
Raisins: Adds little pops of sweetness throughout the cake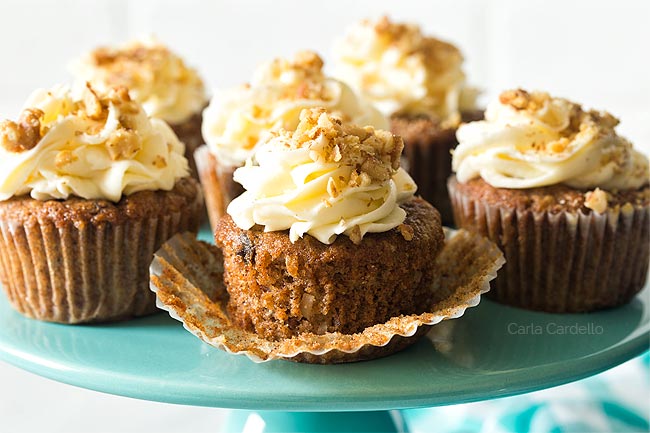 How To Make the Best Carrot Cake Cupcakes
This cake batter is easier to make from scratch than most because you don't have to worry about creaming the butter and sugar.
With small batch carrot cake cupcakes, you beat together the sugar and liquid ingredients together until smooth. Then you gradually add your dry ingredients.
Once the batter is made, you add your mix-ins catered to your preference.
Your carrot cake cupcakes are done baking when a toothpick inserted in the center comes out clean, roughly 20-23 minutes in a 350F/180C oven.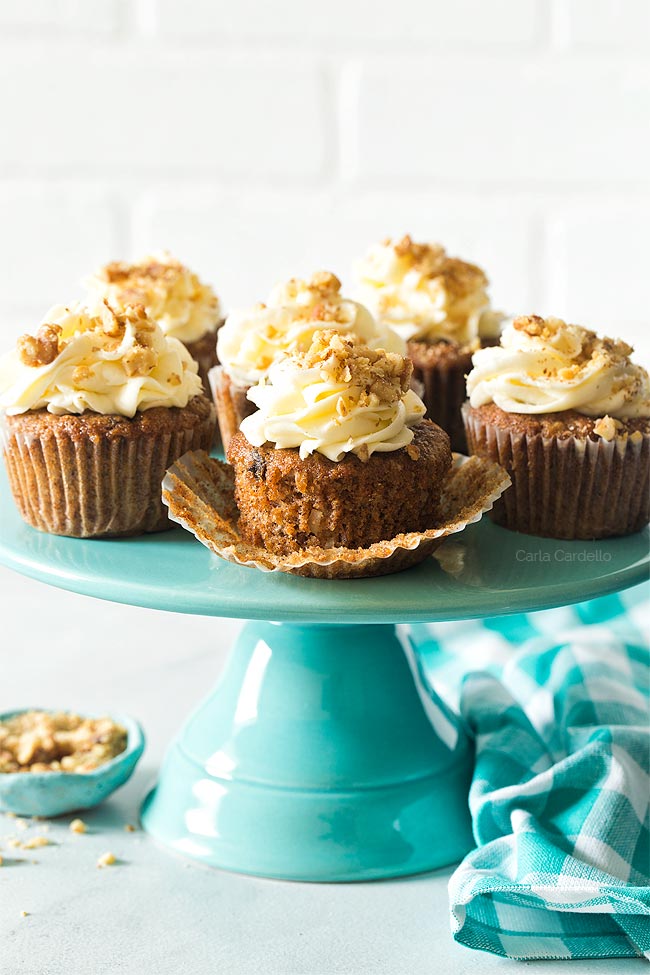 How much batter do you put in carrot cake cupcakes?
I've seen recipes saying to fill the liners 2/3 or 3/4 full. Truth is I can't tell the difference between the two amounts when I fill them. It's…more than half.
All I know is you want to not fill the liners completely full or they will rise too much and overflow.
Likewise you don't want to not fill them enough. Otherwise, your cupcakes will be shorter than your liner.
Best way to fill the cupcakes is to put one scoop of batter in each of the 7 liners then divide the remaining batter into each of the cupcakes again.
This should also help evenly distribute the batter. I hate when the first cupcake is all nice and full but then you're struggling to fill the last one.
What is the best oil for baking carrot cake?
The best oil to use in carrot cake is either vegetable or canola, which are both neutral oils. I'd avoid using olive oil because you'll be able to taste it.
Can I use butter instead of oil in carrot cake cupcakes?
Don't have vegetable oil? Use an equal amount of melted better. The end result will taste slightly different but will still taste delicious.
Do I have to buy buttermilk? I always throw the rest away!
My store sells a small carton of buttermilk, so I didn't have to worry about wasting it.
However, if you do find yourself with a quart, check out my leftover buttermilk recipes.
But if you really, really don't want to buy buttermilk, you can substitute 2 tablespoons whole milk with 1/2 teaspoon lemon juice or vinegar. Let it sit for 5 minutes or until the milk looks curdled.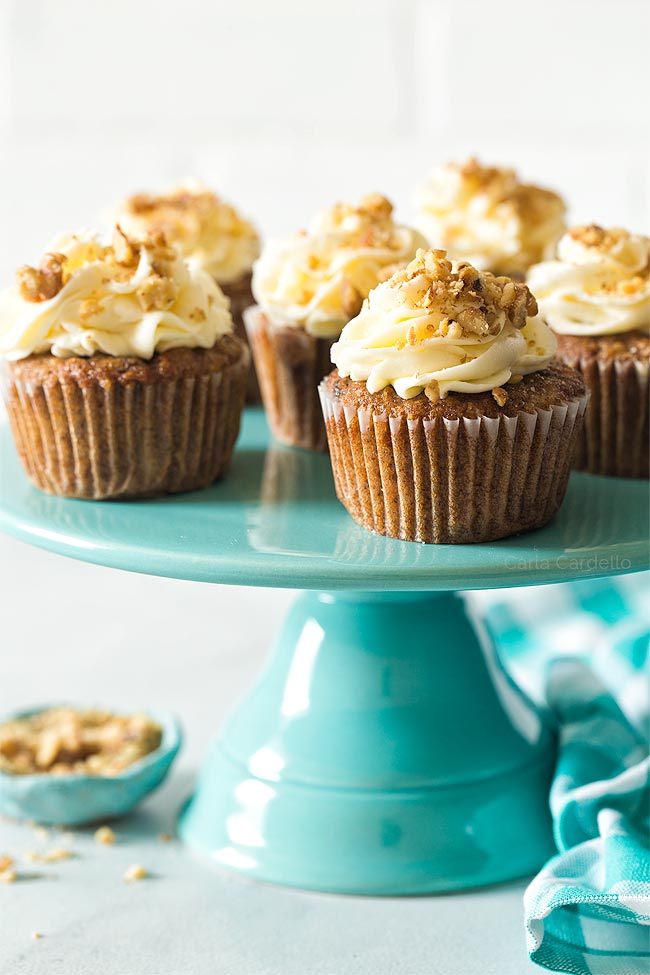 Is there pineapple in carrot cake cupcakes?
For whatever reason, carrot cake cupcakes with pineapple are controversial. Personally, pineapple is one of my favorite fruit so of course I'm pro-pineapple.
Adding pineapple to carrot cake isn't just about flavor preference; pineapple plays an important role in keeping your carrot cake moist.
No need to buy fresh pineapple! Crushed canned pineapple is perfectly acceptable. Make sure you drain out the liquid before adding to your batter.
However, if you don't like pineapple or if you're allergic, you can leave it out.
Are carrot cake cupcakes better with walnuts or pecans?
Chopped nuts add a much-needed crunchy texture to contrast the soft and tender cake.
At the end of the day, it doesn't matter whether you use walnuts or pecans. Can't decide? Use both!
Of course if you're allergic to nuts, leave them out as they're an optional mix-in.
Do I have to use raisins in my carrot cake cupcakes?
I may not like raisins in my oatmeal cookies, but I do love raisins in my carrot cake!
Raisins add a nice burst of sweetness in your small carrot cake. They might even secretly be my favorite part.
As with the other mix-ins, if you don't like raisins you can certainly leave them out.
What frosting to use for carrot cake cupcakes?
You can't have carrot cake without cream cheese! That's why I frosted mine with Small Batch Cream Cheese Frosting.
It makes enough to decorate small batch cupcakes without leftovers.
How To Store Carrot Cake Cupcakes
Store unfrosted carrot cake cupcakes at room temperature in an airtight storage container for up to 3 days.
Store frosted carrot cake cupcakes in an airtight storage container in the refrigerator for up to 1 week.
Let them sit at room temperature for 15-30 minutes before serving.
Can you freeze carrot cake cupcakes?
You can freeze unfrosted carrot cake cupcakes for up to 6 months. Wrap it in plastic wrap first then place in a freezer bag.
More Small Batch Cupcake Recipes

Looking for more cupcake recipes to bake? Check out these recipes for small batch cupcakes:

For a full list of recipes, check out my Small Batch Cupcake Recipes guide.

Don't want to make cupcakes? Check out my full list of 6 Inch Cake Recipes.
Carrot Cake Cupcakes with Pineapple
This recipe for small batch Carrot Cake Cupcakes with pineapple, coconut, walnuts, and raisins is a super moist carrot cake from scratch decorated with homemade cream cheese frosting.
Originally published March 21, 2020