Bacon Wrapped Asparagus Puff Pastry Tart
Bacon Wrapped Asparagus Puff Pastry Tart with a Parmesan ricotta cheese filling is a delicate, flakey appetizer to celebrate spring and Easter. Serve it for brunch or dinner.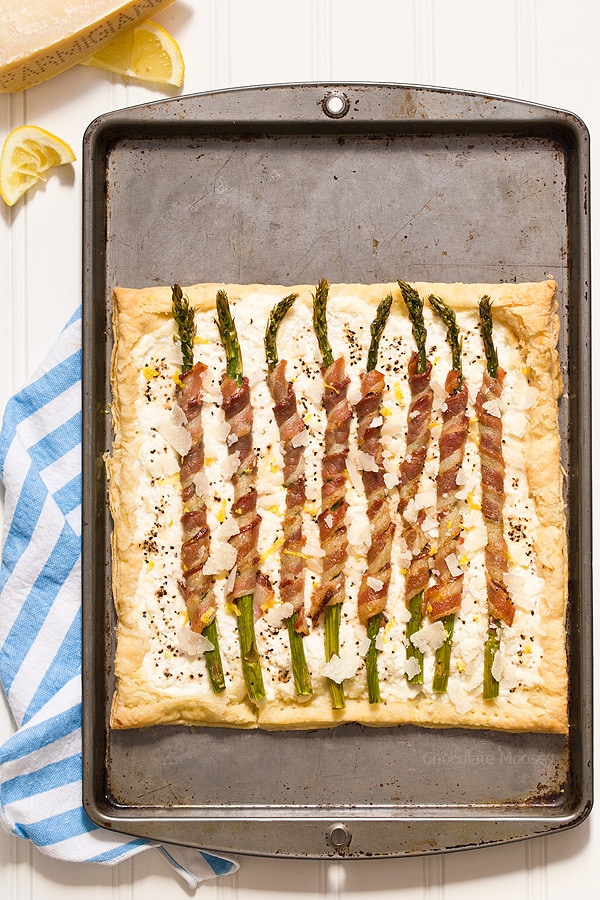 This weather is killing me. Normally every winter is a struggle because I love to walk outside to clear my head and get away from the computer. It's rough when I'm stuck inside, but I get used to hibernating for a few months.
However, with Mother Nature teasing us, I take advantage of those warm days but when it gets cold again, I get restless. My friend and I were joking it'll probably snow on our birthdays in May at this rate.
No matter the weather outside, Easter is coming up in April so it's going to be spring in the kitchen, whether we're wearing short sleeved shirts or bundled up in winter coats.
The centerpiece of ham and lamb may never change, but you can still introduce one new side dish or appetizer. Asparagus is often associated with Easter because they're a spring vegetable with its peak in April.
And what better way to serve fresh vegetables than wrapping them in bacon (ha)? That's exactly what I did with this Bacon Wrapped Asparagus Puff Pastry Tart. A delicate, flakey appetizer with a Parmesan ricotta cheese filling and asparagus with bacon on top.
Growing up my mom always fed us asparagus from a can, which was probably one of my favorite canned vegetables back then.
Now that I'm an adult, it's time for fresh. Look for brightly colored green spears with compact, tightly closed tips. If you're not cooking them right away, refrigerate them upright in a jar with about an inch of water then cover loosely with a plastic bag.
This
puff pastry
tart was quite the experiment because there were numerous variables to consider.
Do you wrap raw bacon around the asparagus?
Do you partially bake the bacon then wrap the asparagus?
Do you fully cook the bacon wrapped asparagus then add it to the tart? Or do you add it partially cooked then bake everything assembled?
Do you parboil the asparagus?
Do you prebake the puff pastry before topping it?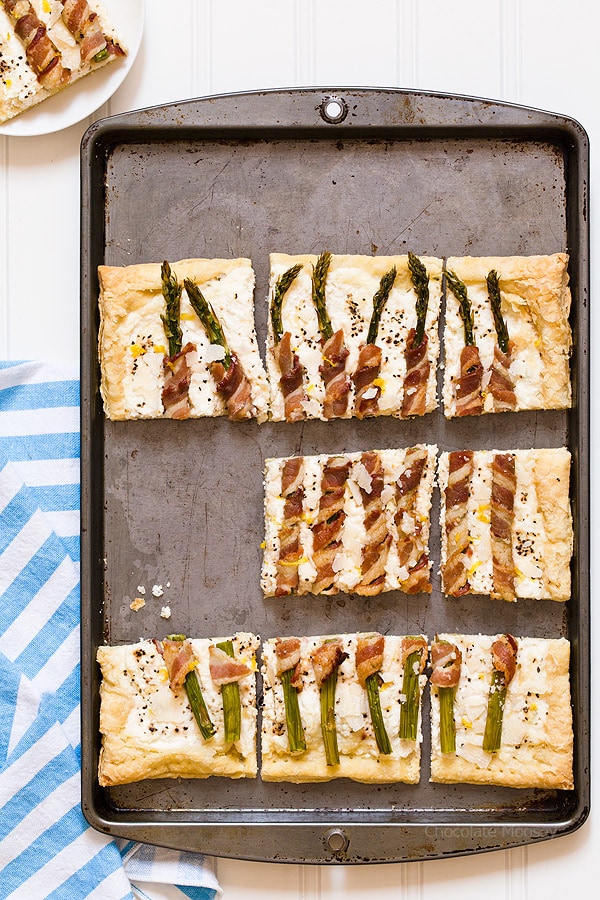 I made this tart three times to get it right. I learned you don't need to parboil the asparagus because it cooks with the bacon. You do want to fully cook the bacon wrapped asparagus on a separate tray before adding; otherwise, it'd render too much grease on top of the tart. You also want to prebake the puff pastry, which you can bake simultaneously with the asparagus.
For the
bacon
I used
Hatfield Quality Meats
, a PA-based company producing quality pork for family tables. They're all about keeping things delicious, simple, and stress-free in the kitchen, especially for big holiday dinners like Easter. Hatfield also promotes the importance of spending time with your family, no matter how small your household may be. Nothing brings family together like bacon, amIright?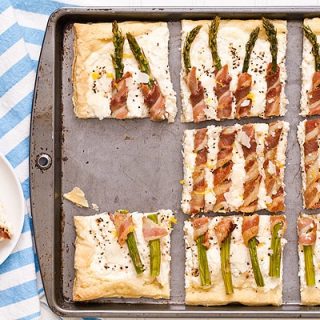 Bacon Wrapped Asparagus Puff Pastry Tart
Prep Time: 30 minutes
Cook Time: 25 minutes
Total Time: 55 minutes
Ingredients
1 sheet puff pastry, thawed according to package directions
4 Hatfield Quality Meats Applewood Bacon Slices
8 fresh medium asparagus spears, woody ends trimmed
1 cup full-fat ricotta
1/2 cup grated Parmesan cheese
2 tablespoons lemon juice
1 clove garlic, minced
1/2 teaspoon black pepper
Lemon zest and Parmesan flakes, for garnish
Instructions
Preheat oven to 400F. Line one baking sheet with parchment paper. Line a second baking sheet with foil and place a wire rack on top.
Unfold the puff pastry and place on the parchment-lined sheet. Score* the pastry 1/2 inch from the edge then prick all over with a fork.
Cut each bacon slice in half lengthwise, making 8 narrow strips. Wrap each strip tightly around each asparagus stalk. Place seam side down onto the wire rack sheet.
Bake both trays at the same time for 15 minutes or until the puff pastry is golden brown and bacon is cooked. If the bacon isn't done, remove the puff pastry and bake the bacon another 5 minutes or until done.
Meanwhile in a large bowl, mix together the ricotta, Parmesan, lemon juice, garlic, and black pepper.
Once everything is cooked, evenly spread the ricotta mixture on the puff pastry**. Top with asparagus. Bake 10 minutes.
Right before serving, garnish with lemon zest and Parmesan flakes.
Notes
*Scoring the dough means to cut but not cut all the way through. This will allow some of the steam to escape during baking.
**If your puff pastry is too puffed, cut a slit into all sides, wait 5 minutes, then gently push the top down. If it cracks a little, the cheese will cover it up.
Disclosure: This post is sponsored by Hatfield. Thank you for supporting me and the companies I work with as sponsored posts help pay for website hosting and groceries.
This post may contain affiliate links. As an Amazon Associate and member of other affiliate programs, I earn from qualifying purchase.