Looking for easy stay-in date night dinner recipes to make at home? This Date Night At Home Menu is filled with romantic meal ideas for two at home ranging from drinks, appetizers, and side dishes to main dishes and dessert. Serve it for Valentine's Day, anniversaries, birthdays, and days off together.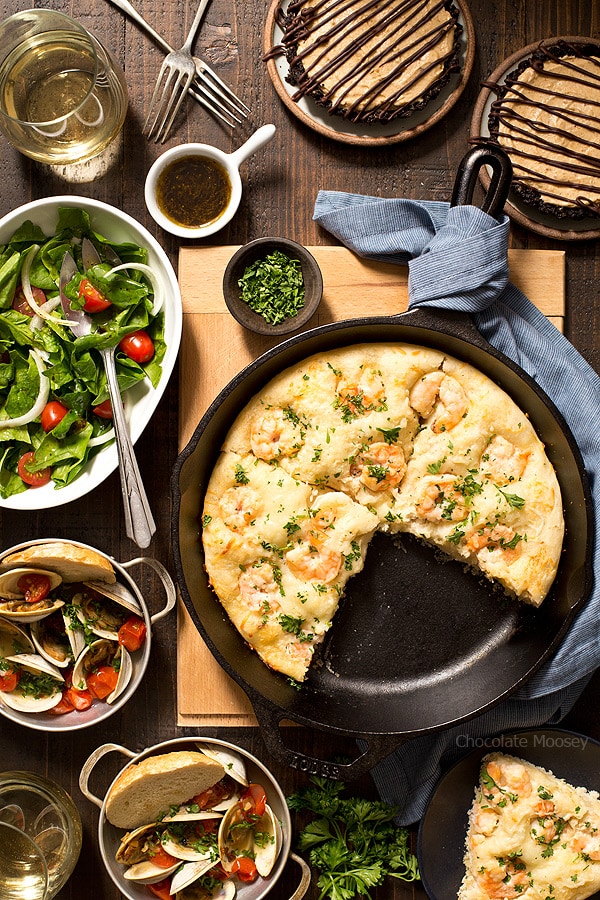 One feedback I hear often is how much you enjoy my small scale recipes.
Dinners for two
, a small batch of cupcakes, a pint of ice cream. Not everyone, including myself, cooks for a huge family.
That brings us to that one special day in February where everyone thinks about dinner for two. Couples around the U.S. will be thinking about flowers, chocolate, and dinner reservations.
However, restaurants take advantage of this by offering an exclusive (read – expensive) romantic dinner menu or reservations are full.
Plus who really wants to spend a date together in a crowded room of strangers? The point of going on a date is to connect, whether you're getting to know each other or whether you've been so busy you haven't had a chance to catch up.
The best way to do that is at home in your own kitchen where not only can you hear each other and share secrets, but you can cook the menu together to make memories.
Today I'm kicking off a progressive dinner series called Date Night At Home where over the next two weeks, I'll be posting new recipes for a romantic meal at home. It'll start with an appetizer, move into the main course, then end with dessert.
In addition to the new recipes coming up, below I listed some more recipes for two I've posted so you can mix and match your menu.
Even though this post is intended for Valentine's Day, really it's for any date night throughout the year. Anniversary? Check. Birthday? Check. Both have the evening off together? Check.
And for my single readers out there, you can easily make this menu for yourself. Treat yourself with a dozen clams, pizza makes great leftovers, and you can easily freeze the second mini tart. Your future self will thank you.
The Date Night At Home Menu you see pictured is made up of 5 categories:
Drinks
Above I served Chardonnay poured straight from the bottle. Did you know wine companies now make 4-packs of wine in tiny bottles? I love it because I hate opening a regular bottle if I don't plan on drinking it all at once, especially if a recipe calls for a small amount for cooking. Each little bottle serves about 1-2 glasses.
Not a wine drinker? You can serve a sparkling non-alcoholic drink, usually grape or apple juice.
Other Drink Recipes:
Appetizer
Start the meal off with a simple appetizer of Steamed Clams with Pan-Roasted Tomatoes. Seafood always makes a meal feel more special, and steamed clams is one of the easiest appetizers you can make. Throw everything in a pan and cook.
Other Appetizer Recipes:
Side
I made a simple side salad to get some vegetables into the meal. Choose a mild-tasting green such as romaine or spinach, stir in some more vegetables, and toss it with a simple vinaigrette, which is 1 part vinegar mixed with 3 parts oil.
The recipe I made was 1 clove minced garlic, 1 tablespoon balsamic vinegar, 3 tablespoons olive oil, and sea salt to taste. It should be a little on the salty side because it will also be seasoning the salad.
If you don't have balsamic, you use most other vinegars such as red wine or apple cider (except white distilled. Don't use that).
Other Side Recipes:
Main
To keep with the seafood theme, I elevated pizza night at home with Shrimp Scampi Skillet Pizza. You don't need to get all gourmet with things like steak tartare or shrimp ceviche during date night. A pizza dressed up in flavor does the trick! Plus the cast iron skillet (affiliate link) bumps up the presentation.
I have plenty more recipe ideas on my Romantic Meals For Two At Home post.
Other Main Recipes:
Dessert
The best part of the meal in my opinion! These Mini Peanut Butter Mousse Tarts takes the best part of Valentine's Day (chocolate) and makes it even better by pairing it with peanut butter.
I love dessert so much, I wrote a post about Easy Romantic Desserts For Two At Home.
Other Dessert Recipes: