Steamed Clams with Pan Roasted Tomatoes
Learn how to make Steamed Clams with Pan Roasted Tomatoes as an easy date night appetizer to make at home! This recipe makes enough to serve two people, ideal for Valentine's Day, anniversaries, birthdays, and days off together.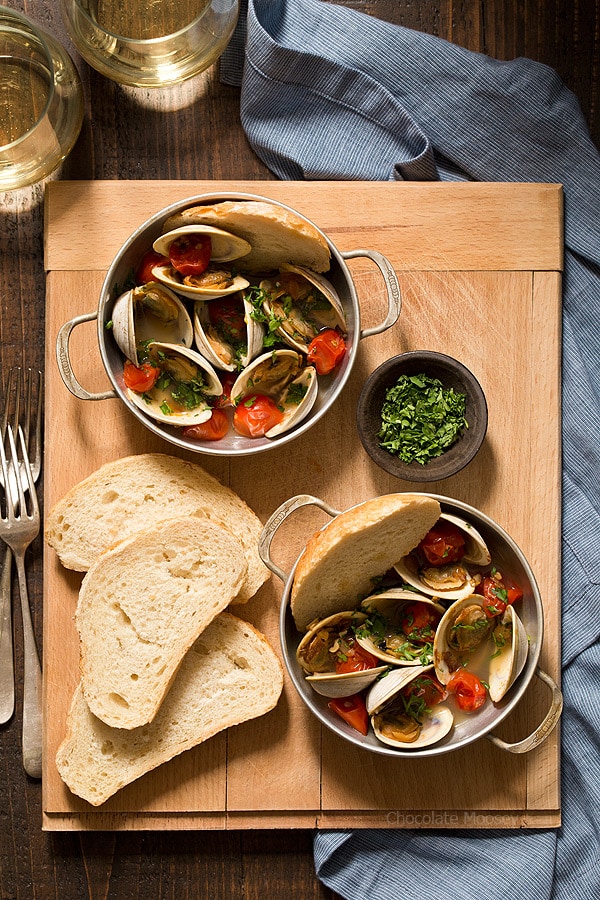 In less than two weeks, couples will be enjoying an intimate dinner together for Valentine's Day.
Rather than spending money on a pricey restaurant menu in a crowded room of strangers, connect with each other at home in your kitchen where not only can you hear each other and share secrets, but you can cook the menu together to make memories.
That's why I'm doing a Date Night At Home Menu series to inspire you with recipes for two, both for dinner and dessert.
Today's menu kicks off with an appetizer of Steamed Clams with Pan Roasted Tomatoes. Seafood is ideal for special occasions since it tends to be more money than other types of protein. For this particular menu, steamed clams pair well with Shrimp Scampi Skillet Pizza.
To make it a little more filling (and nutritious), I added grape tomatoes you cook right in the pan before adding the clams.
I used littleneck clams because as their name suggests, they are little clams so you get to eat more. However, this method of steaming clams will work with most varieties, although you may need to adjust the amount of liquid to ensure there's enough for steaming.
If you've never worked with clams before, I'm going to walk you step by step prepping them as you do need to properly take care of them before cooking. This post is everything I wish someone would've told me before buying clams for the first time.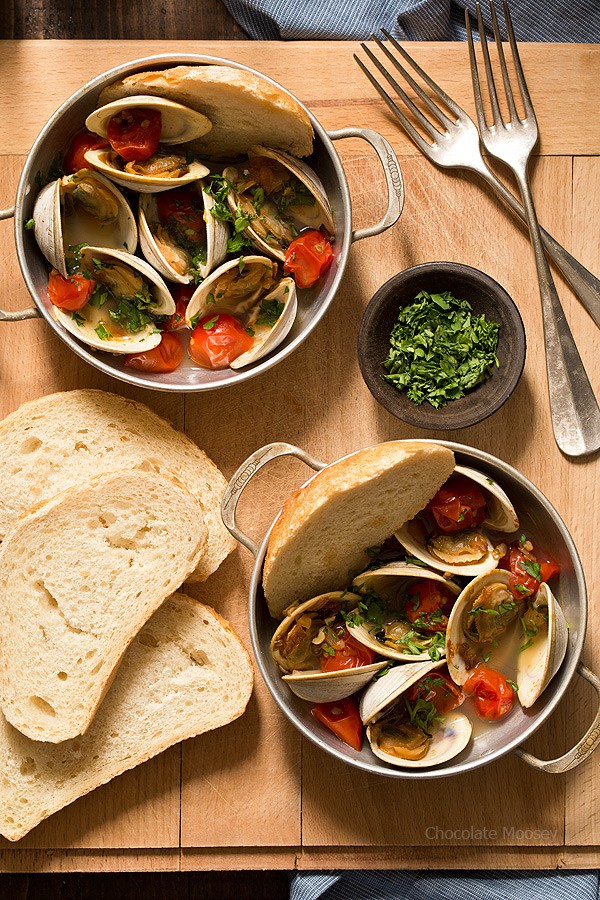 Caring for clams before cooking is important is because they're still living, breathing creatures even though they aren't moving.
I didn't realize this the first time I bought clams until the guy behind the counter asked if I wanted ice to keep them alive until I got home.
There are two ways to buy clams – at the seafood counter or in a ready-to-grab mesh bag. If you order from the counter, you can order exactly how many you want without them being broken because they're carefully handpicked and packaged for you.
If you buy a mesh bag, you will need to inspect each one as they may have been damaged during transportation. That's why mesh bags usually have more than you need because there will be a few casualties.
Now that you're home with your clams, what's next? Here is everything you need to know about how to clean clams:
Store live clams in the refrigerator for about 24-48 hours. Don't completely submerge them in water until you're ready to clean because they'll eventually use up the oxygen and (ironically) drown. Keep them uncovered in the refrigerator, preferably in a breathable bag such as mesh, and damp either with ice or with wet paper towels.

I keep them on ice from the store, making sure no clams are submerged too long in the melted ice. Once the ice is gone, I switch to damp paper towels.

Clean your clams before cooking. Because clams live in the ocean, you don't want sand in your food. Submerge them in water for about 20-30 minutes so they can filter out the grit then remove. Don't keep them in the water too long or they'll use up all of the oxygen and die.

If you're not ready to cook, give them new water to filter. Once ready, take them out by hand and rinse under running water, scrubbing any that might need it. Do not dump them into a colander because you'd be pouring sandy water right back onto them.

Throw away any clams with broken or cracked shells. It sucks throwing away food, but this means they're unfit to eat. If any are open, give them a little tap. If they don't close automatically, this indicates they're dead and must be discarded.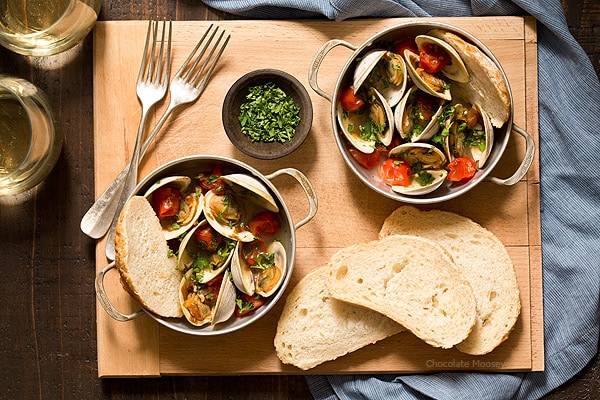 Now it's time to cook! White wine is used as the steaming liquid, which cooks off and adds extra flavor to the clam juices that are released.
However, you can easily substitute broth for a non-alcoholic version. Steam the clams for 5 minutes. If any don't open, steam them for another 5 minutes. At this point, discard any closed ones. Serve with crusty bread and more wine.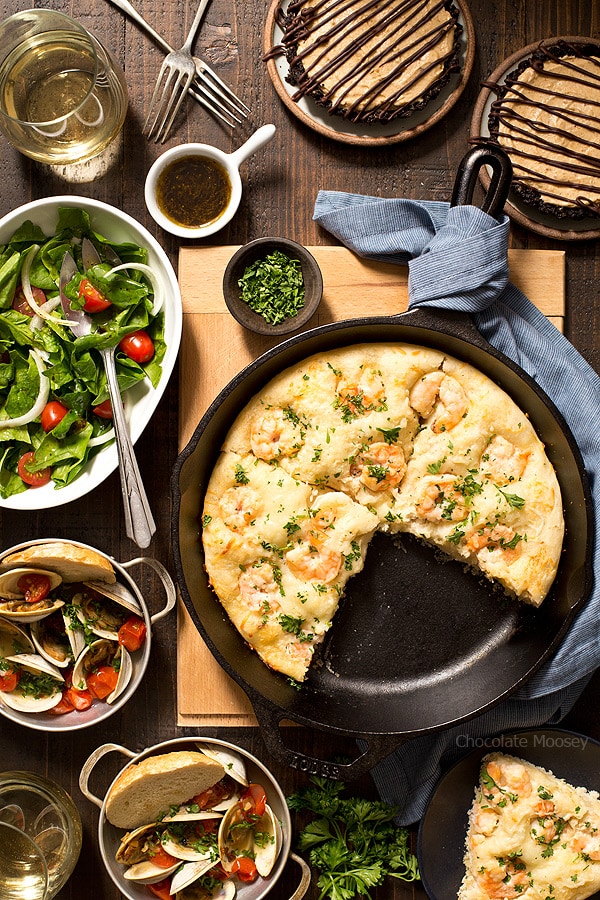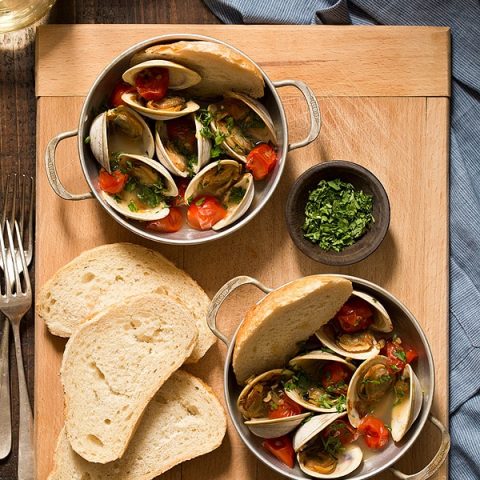 Steamed Clams with Pan Roasted Tomatoes
Yield: 2 servings
Prep Time: 30 minutes
Cook Time: 20 minutes
Total Time: 50 minutes
Ingredients
12 littleneck clams, cleaned
1 tablespoon olive oil
1/4 cup chopped onion
1 garlic clove, minced
1 cup halved grape tomatoes
1/2 cup white wine or vegetable/chicken broth
1/2 teaspoon sea salt
Chopped parsley and crusty bread for serving
Instructions
Heat the oil in a large skillet until hot. Add the onion and cook until softened, about 5 minutes. Add the garlic and cook 30 seconds. Add the tomatoes and cook until they start to soften, about 5 minutes.
Pour in the wine/broth and salt. Bring back up to a simmer then cook until half of the liquid has cooked off, about 2 minutes.
Add the clams in a single layer then cover with a lid. Cook for 5 minutes then check to see if the clams opened. If some are still closed, cook for another 5 minutes. Discard any remaining closed clams. Serve immediately with parsley and crusty bread.
This post may contain affiliate links. As an Amazon Associate and member of other affiliate programs, I earn from qualifying purchase.