Chicken Broccoli Alfredo Stuffed Shells
Take some time from your busy schedule for a good home-cooked meal with Chicken Broccoli Alfredo Stuffed Shells with homemade Alfredo sauce.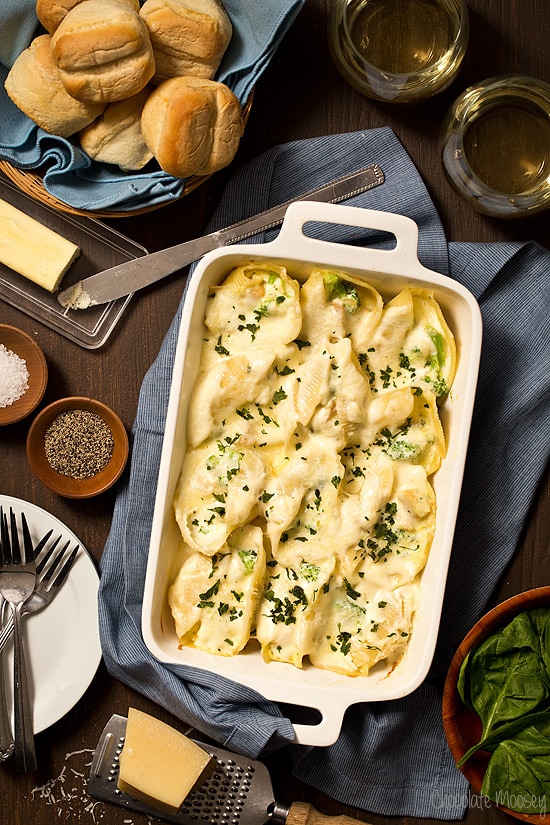 I'm all about quick dinners, but once in awhile, I want a good home cooked meal.
One where you can sit down with a fresh basket of small batch dinner rolls, green onion salad, and a glass (or two) of wine.
Stuffed shells and lasagna are two dishes I rarely make because they take time and typically make large servings, too large for someone who cooks for one or two people.
Luckily I figured out how to scale them down with my lasagna for two and three cheese stuffed shells for two.
Ever since I made the cheese stuffed shells last year, I had the idea for these Chicken Broccoli Alfredo Stuffed Shells.
I love anything with a good Alfredo sauce such as my Alfredo mac and cheese, especially when broccoli and either chicken or shrimp are involved.
This time around I chose chicken as it's a more affordable protein, but you can easily substitute shrimp if you're in the mood for seafood Alfredo.
Or make it vegetarian by substituting lots of mushrooms.
Or add mushrooms with the chicken or shrimp. Or go all out with both chicken and shrimp.
The beauty about cooking at home is you get to make stuffed shells your way.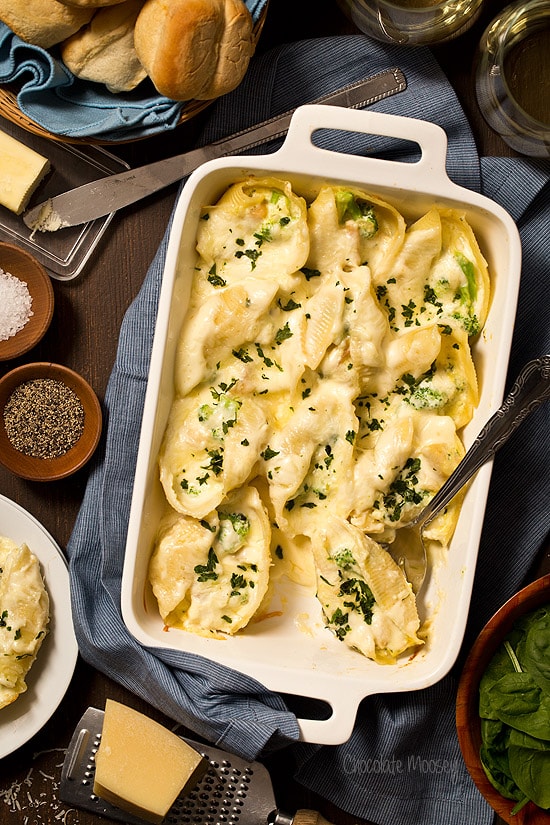 There are multiple steps to making stuffed shells since I also make a homemade sauce, but there are several ways you can save some time.
First is the chicken. I hate when recipes call for already cooked chicken because there's a 99 percent chance I don't have any and have to take the extra time to cook some.
I'm guessing you don't either, so I included cooking chicken in the instructions.
If you have leftover cooked chicken or a rotisserie chicken on hand, that'll save you some time.
Sometimes if I know I need chicken for two different recipes within a few days of each other, I'll cook up some extra.
Second is the sauce. You can easily make the Alfredo sauce ahead of time and refrigerate until ready. If it's too thick after warming it up, you can stir in a little extra cream to thin it out.
Third is the broccoli. I used fresh because I had some to use up, but you can easily use frozen, which is already chopped for you.
Don't have stuffed shells? Use rigatoni in this Chicken Alfredo Bake from Beyond The Chicken Coop.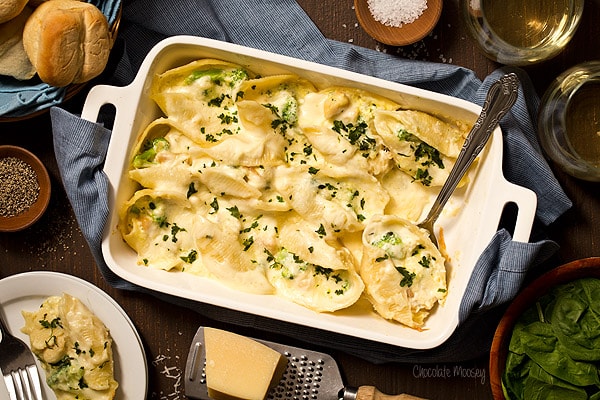 Confession: I find making recipes for two a little tricky sometimes.
On one hand, this recipe makes 4 servings. On the other hand, most people often eat 2 servings each, so this would feed 2 people at dinner time.
Or it might feed 2 people with a few shells leftover for lunch the next day if you serve it with bread and a side.
I personally enjoy having some leftovers as I don't have to make lunch the next day (or in the case of these shells, the next 2 days since I'm the only one eating them).
Enjoyed this recipe? Check out my Mediterranean Chicken Thighs.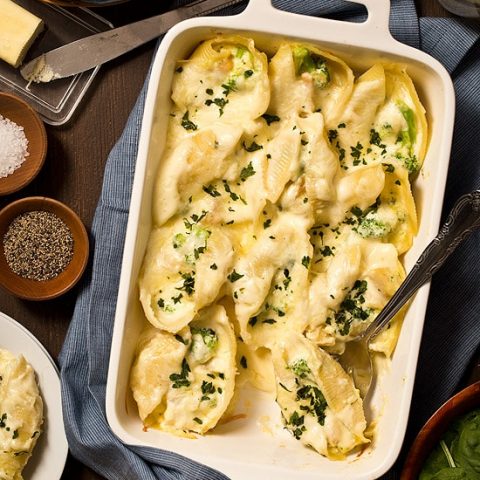 Chicken Broccoli Alfredo Stuffed Shells For Two
Yield: 4 servings
Prep Time: 45 minutes
Cook Time: 25 minutes
Total Time: 1 hour 10 minutes
Take some time from your busy schedule for a good home-cooked meal with Chicken Broccoli Alfredo Stuffed Shells For Two with homemade Alfredo sauce.
Ingredients
12 uncooked jumbo shells
1 cup chopped broccoli
1 teaspoon vegetable oil
1 large boneless skinless chicken breast, cut into 1 inch pieces and lightly salted
1/4 cup chopped onion
1 clove garlic, minced
1 cup ricotta cheese
1 1/4 cup grated mozzarella cheese
1/4 cup grated parmesan cheese
1/4 teaspoon salt
1 tablespoon fresh chopped basil or basil paste
1 egg
Alfredo Sauce
1/4 cup (2 ounces or 4 tablespoons) unsalted butter
1 cup heavy whipping cream
1 1/2 cups grated Parmesan cheese
Instructions
Preheat oven to 350F. Have a small casserole dish ready.
Bring a large pot of salted water to a boil. Cook the shells according to package directions, about 14-15 minutes. During the last 2 minutes of cooking, add the broccoli. Drain and let cool.
While the pasta is cooking, in a large skillet over medium heat, heat the oil. Add the chicken and cook for 3 minutes. Flip and cook for another 3-4 minutes or until the chicken reaches an internal temperature of 165F. Transfer to a plate and keep warm.
In the same skillet, melt the butter. Add the onion and a big pinch of salt, scraping up any brown bits left behind. Cook until softened and starts to brown, about 5 minutes. Add the garlic and cook 1 minute.
Slowly whisk in the cream then whisk in the cheese. Bring to a boil. Cook for 3-5 minutes or until thickened. Taste and adjust. If it's not salty enough, add a little more cheese.
In a large bowl, mix together the ricotta, 1 cup mozzarella, Parmesan, salt, basil, and egg. Add the cooked chicken and broccoli.
Spread 1/4 cup Alfredo sauce on the bottom of the casserole dish. Stuff each shell with some of the ricotta mixture and place snug inside the dish. Top with remaining sauce and mozzarella cheese. Cover with foil and bake for 20 minutes. Remove the foil and bake for another 5 minutes or until the cheese is melted on top.
More Shell Recipes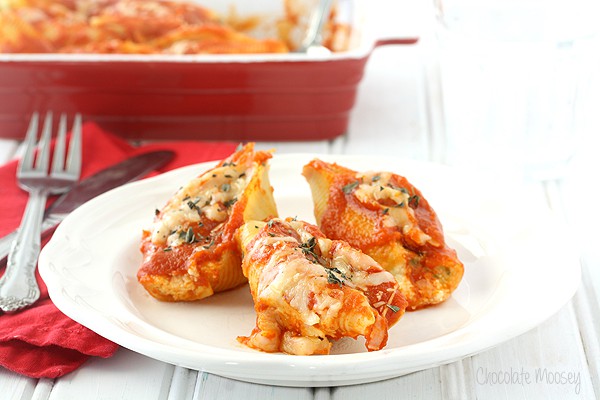 Three Cheese Stuffed Shells For Two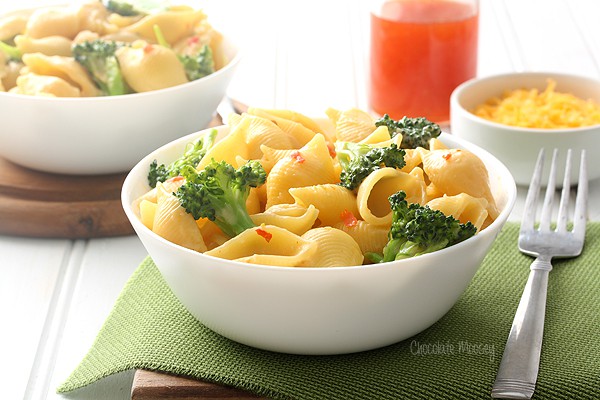 Sweet Chili Mac and Cheese Shells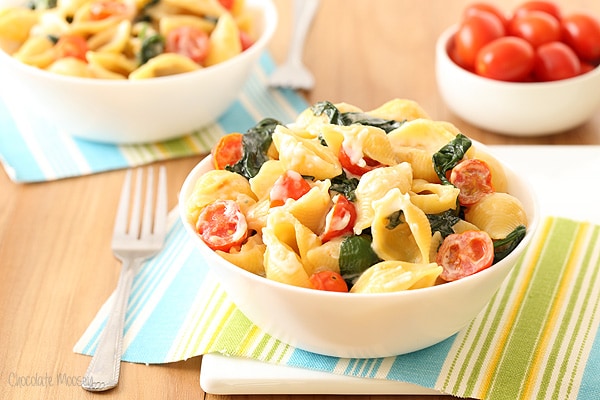 Tomato, Spinach, and Goat Cheese Pasta
This post may contain affiliate links. As an Amazon Associate and member of other affiliate programs, I earn from qualifying purchase.