Brussels Sprouts and Goat Cheese Risotto
This hearty vegetarian Brussels Sprouts and Goat Cheese Risotto pairs shredded Brussels sprouts and creamy goat cheese with a traditional Italian dish.
Guilty pleasure confession: I'm a sucker for cooking competition shows. Top Chef, Chopped, Food Network Star, Cutthroat Kitchen, Worst Cooks In America. Recently I started watching Kitchen Inferno through my cable's On Demand feature. I said I wasn't going to watch another competition show, yet there I was home alone on the couch looking for something to watch. I'm not sure why I find these shows so fascinating; I have no desire to become a professional chef cooking in restaurants. I guess I just find them more entertaining than watching pregnant teenagers go to high school or millionaires going on dates. At least with these cooking shows, I learn about different ingredients to try and dishes to make. Ever stand in the produce aisle and think to yourself, hey that was in a Chopped basket! I am now terrified of even trying cherimoya because Chopped taught me that the seeds are poisonous.
I remember the first time I heard about risotto. The Bravo channel was free for the month since it wasn't included in the current package I had. As I was looking for something to watch, er, listen to while I was in the kitchen, I saw that a Top Chef D.C. marathon was on. I've never seen the show before but did briefly hear about it, so I watched. One of the chefs decided to make a risotto, and I remember one of the judges saying how difficult it was to make a risotto and that it was a risky move. I didn't know what risotto was, so that made me believe it was a complicated dish that only chefs could pull off. Funny thing is, risotto is very easy to make at home. If you can make regular white rice, you can make risotto. The "challenging" part is that you need to tend to it quite often while cooking, so you can't get distracted or walk away like the competing chefs were doing. I've probably made risotto at least a dozen times now. My latest (and favorite) recipe is Brussels Sprouts and Goat Cheese Risotto. A hearty dinner with shredded Brussels sprouts and creamy goat cheese, which is perfect for the snowy weather that Pittsburgh has.
I got the idea for this Brussels Sprouts Risotto from the cookbook
Plenty More
. I checked it out from the library and saw the author's recipe for it. Mine is different as I changed some of the ingredients to fit my pantry, but the inspiration to use shredded Brussels sprouts is still there. I garnished with
roasted Brussels sprouts
, but you don't have to. I've also made this recipe using chopped cabbage since that's basically what Brussels sprouts are anyway (little cabbages).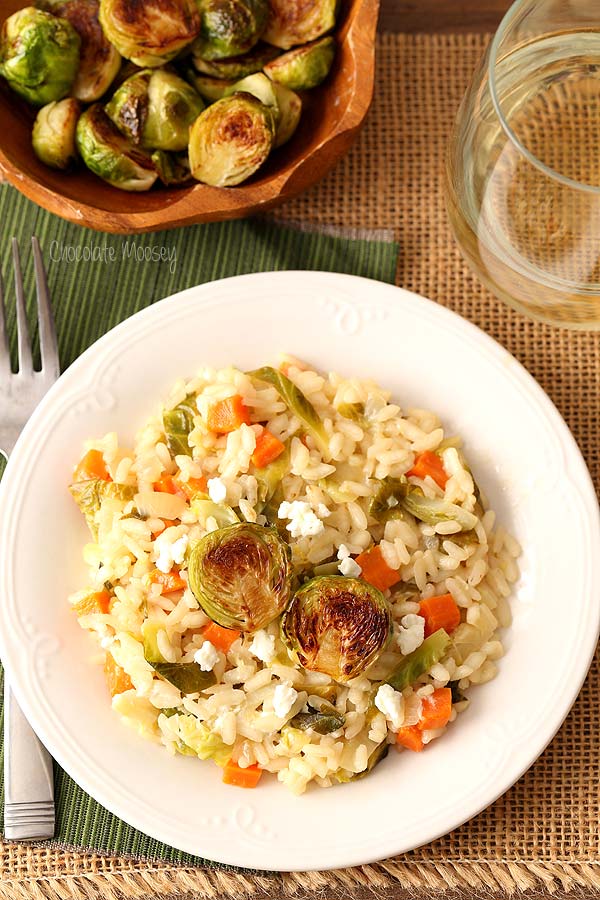 Fun fact: Risotto refers to the cooking technique, not the type of rice used. Don't be like me walking up and down the aisle, looking for "risotto" rice. The most common grain to use is
Arborio rice
. If you can't find it in your grocery store, either look in the dedicated Italian aisle or stop at an Italian grocery store.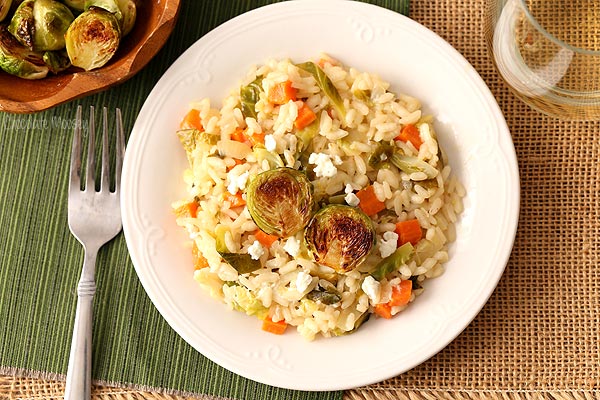 Traditional risotto also calls for dry white wine, which is used for flavor and acidity. I used
Middle Sister Pinot Grigio
for reference, but feel free to use your favorite white wine. However, wine isn't absolutely necessary to make risotto. To substitute for the wine, use extra broth and add 1 teaspoon lemon juice.
Items You May Need:
Brussels Sprouts and Goat Cheese Risotto
Yield: 4 servings
Prep Time: 30 minutes
Cook Time: 30 minutes
Total Time: 1 hour
This hearty vegetarian Brussels Sprouts and Goat Cheese Risotto pairs shredded Brussels sprouts and creamy goat cheese with a traditional Italian dish.
Ingredients
2 cups vegetable or chicken broth
1/2 cup dry white wine*
1 tablespoon olive oil
1 tablespoon butter (add pinch of salt if unsalted)
1/2 cup chopped onion (roughly 1 small onion)
1 carrot, peeled and chopped
1 cup shredded or thinly sliced Brussels sprouts
1 cup Arborio rice
1/4 cup crumbled goat cheese
1/2 teaspoon lemon zest
Roasted Brussels sprouts, for garnish (optional)
Instructions
In a medium saucepan, warm up the broth and wine. Keep on simmer while you prepare the risotto.
In a Dutch oven or large pot with a wide bottom, heat the oil and butter until melted and hot. Add the onion, carrot, and shredded Brussels sprouts and cook for 5 minutes or until the onion starts to soften. Stir in the rice and cook for 1 minute.
Slowly add some of the broth mixture (roughly 1/2 cup) to the rice mixture. Stir very often until the liquid is almost all absorbed. Continue this method until all of the broth mixture is used. By then, the rice should be soft and a little creamy.
Stir in the goat cheese and lemon zest until the cheese is mostly melted. Serve immediately with roasted Brussels sprouts on top, if desired.
Notes
*If you don't have white wine, you can substitute an additional 2 cups broth plus 1 teaspoon lemon juice
Adapted from
Plenty More
More Winter Recipes

Roasted Brussels Sprouts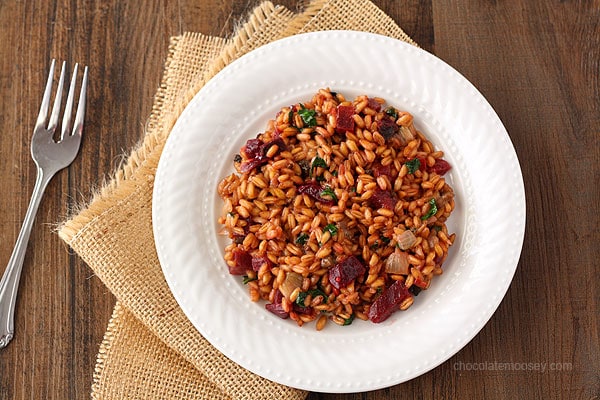 Beet, Spinach, and Goat Cheese Farro Risotto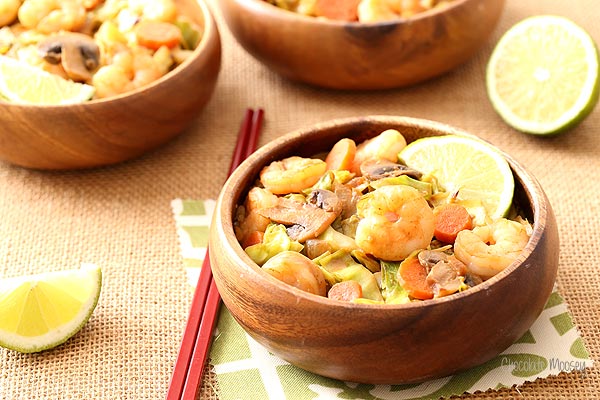 Thai Sweet Chili Shrimp with Cabbage "Noodles"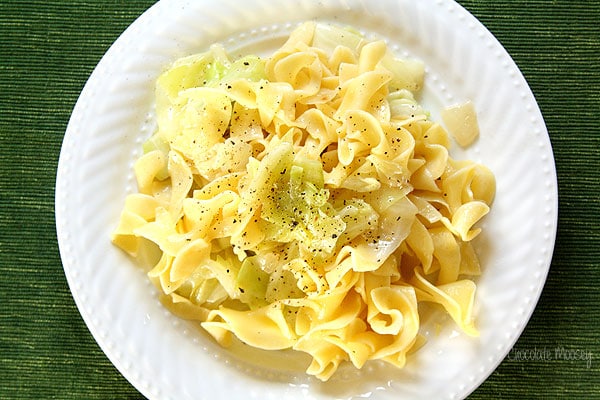 Haluski (Cabbage and Noodles)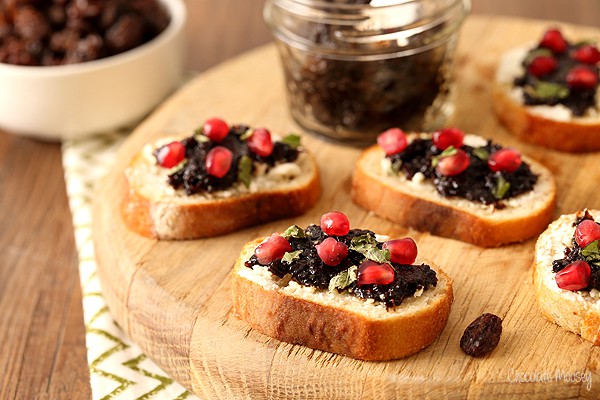 Raisin Jam and Goat Cheese Crostini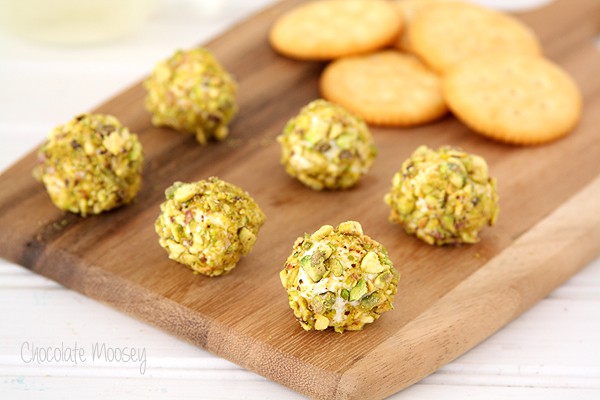 Goat Cheese, Bacon, and Pistachio Truffles
Disclosure: This post contains Amazon affiliate links, which means I earn a small portion of any sales through these links. All money earned will go back into maintaining Chocolate Moosey. As always, thanks for your support!
This post may contain affiliate links. As an Amazon Associate and member of other affiliate programs, I earn from qualifying purchase.