No Bake Mini Peanut Butter Mousse Tarts For Two
End your stay-in date night at home dinner for two on a sweet note with No Bake Mini Peanut Butter Mousse Tarts made with a chocolate cookie crust, eggless peanut butter mousse, and chocolate drizzle on top.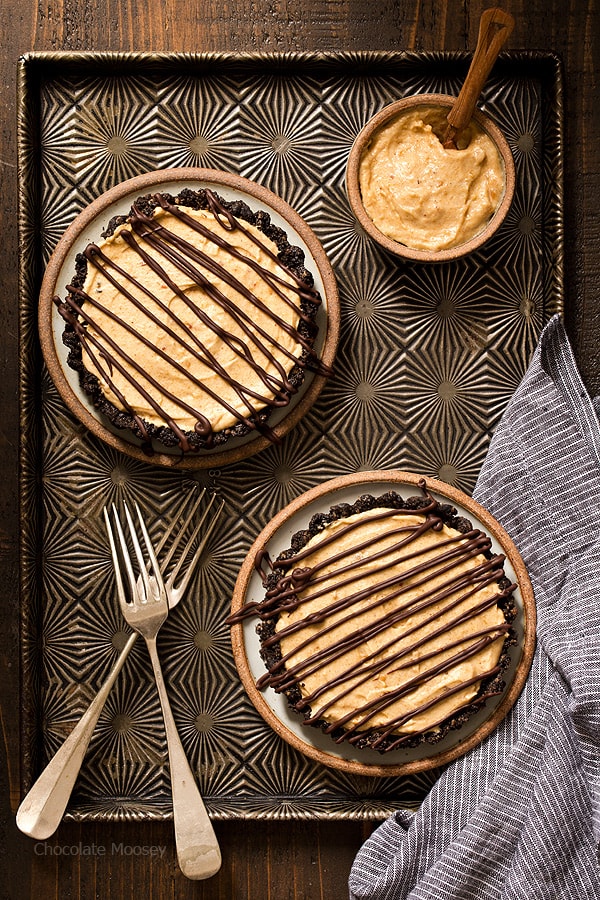 In less than one week, couples will be enjoying an intimate dinner together for Valentine's Day.
Rather than spending money on a pricey restaurant menu in a crowded room of strangers, connect with each other at home in your kitchen where not only can you hear each other and share secrets, but you can cook the menu together to make memories.
That's why I'm doing a Date Night At Home series to inspire you with recipes for two, both for dinner and dessert.
First we started the meal with Steamed Clams with Pan Roasted Tomatoes. We then turned it into pizza night with Shrimp Scampi Skillet Pizza For Two. Now it's time to end date night with the best course of all – dessert!
I think it's safe to say one of the most popular flavor combinations for dessert is chocolate and peanut butter. Ranging from peanut butter cups to buckeye treats, people can never get enough (myself included).
That's why I ended this special meal with No Bake Mini Peanut Butter Mousse Tarts. They are mini tarts with a chocolate cookie crust, eggless peanut butter mousse, and chocolate drizzle on top.
Best part is these tarts can be either refrigerated or frozen ahead of time, which means you have more time to spend together for date night.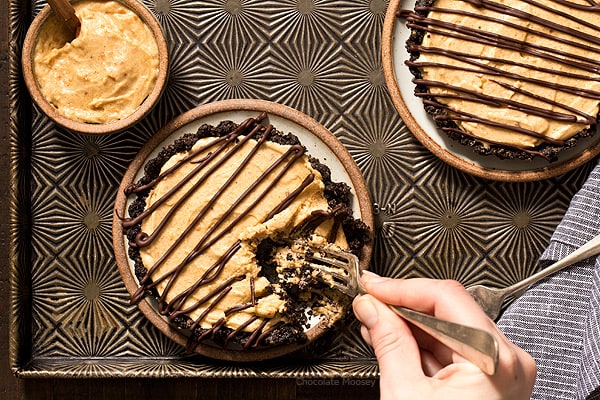 Mousse is a fluffy, creamy dessert similar to pudding but with a lighter texture from whipping air into the mixture.
Traditionally it's made with egg whites, but I opted to use homemade whipped cream instead. That way you don't have to worry about raw egg or what to do with leftover egg yolks.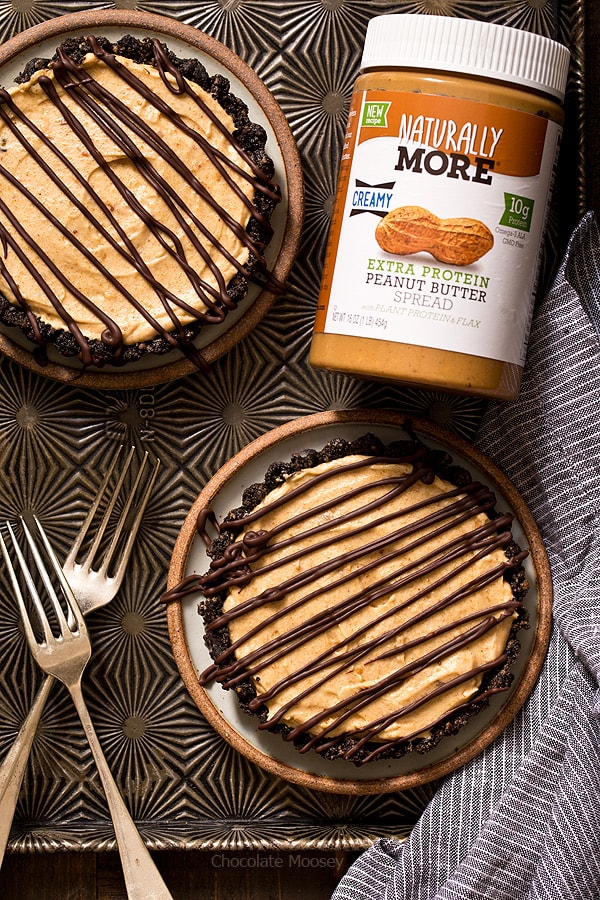 The peanut butter I used in the mousse is
Naturally More Creamy Peanut Butter
, which is wholesome and protein-packed to help better absorb the natural protein found in nuts. Their high quality peanuts are grown by farmers in the Southern United States and are roasted to nutty perfection.
This recipe makes enough for two tarts made in
mini tart pans
, although you may have a spoonful or two of mousse leftover (the horror!).
For the crust, I had a package of chocolate peanut butter cream filled sandwich cookies to use up for an extra punch of peanut butter flavor, but you can easily use regular cream filled cookies.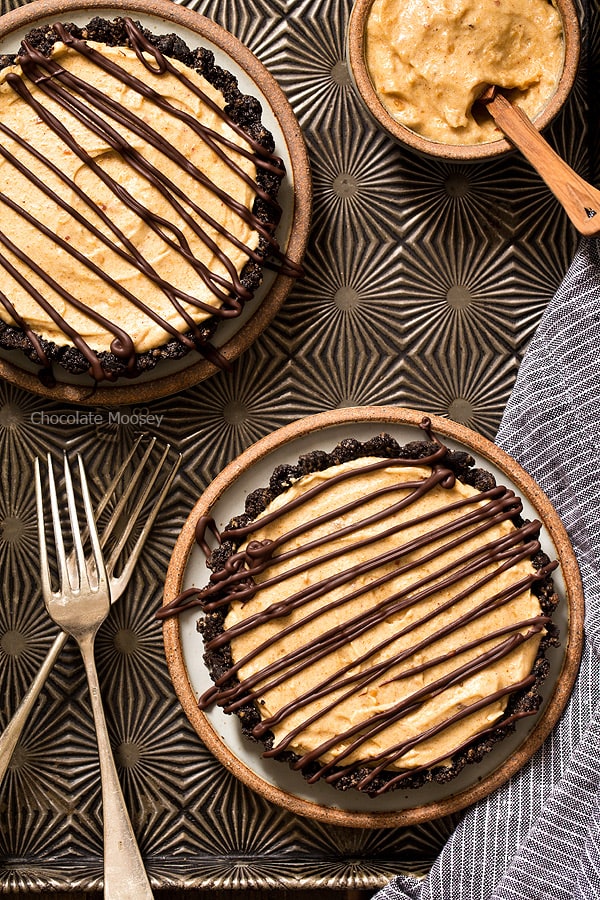 No Bake Mini Peanut Butter Mousse Tarts For Two
Ingredients
1 cup chocolate sandwich cookie crumbs
2 tablespoons unsalted butter, melted
3/4 cup heavy whipping cream
1/2 cup Naturally More Creamy Peanut Butter
1/4 cup powdered sugar
1/2 teaspoon vanilla extract
1/4 cup semisweet chocolate chips
Instructions
In a medium bowl, mix together cookie crumbs and melted butter until moistened. Pat into two lightly greased 4-inch mini tart pans with removable bottoms. Refrigerate at least 30 minutes.
In a small saucepan, warm together 1/4 cup cream and peanut butter. Heat until smooth and forms a paste, stirring often. Remove from the heat and transfer to a large bowl.
In a large mixing bowl (with whisk attachment if using a stand mixer), beat the remaining 1/2 cup cream until thickened. Gradually beat in the sugar and vanilla then continue beating until stiff peaks form (when you pull the beater up, peaks will form and not fall over).
Fold the whipped cream into the peanut butter mixture until fully incorporated. Spread into the tart pans. Refrigerate at least 1 hour or until firm.
Place chocolate chips into an unzipped sandwich bag. Microwave 30 seconds. Gently massage the bag. Keep microwaving in 15 second intervals until the chocolate has fully melted. Push all of the chocolate to one corner of the bag. Cut a small hole then pipe over the tarts. Let the chocolate harden before serving. Store in an airtight container in the refrigerator for up to 1 week.
Disclosure: This post is sponsored by Naturally More and also contains Amazon affiliate links. Thank you for supporting me and the companies I work with as sponsored posts help pay for website hosting and groceries.
This post may contain affiliate links. As an Amazon Associate and member of other affiliate programs, I earn from qualifying purchase.