Raspberry Crisp For Two
Enjoy a sweet ending to your day with mini Raspberry Crisp For Two with a sweet and slightly tart raspberry filling topped with a crispy almond streusel baked in two ramekins.
Awhile back I asked you on Facebook what recipes you'd like to see coming up.
I kept seeing "dessert for two", so that got my wheels turning. What haven't I made yet you'd enjoy for summer?
I have my brownies for two, but it may be a little too heavy for the warm weather.
I have pear crisp and apple crisp for two, but those are more for fall.
With Memorial Day and the unofficial start of summer next week (!!!), it's only fitting to start sharing some berry recipes.
Everyone seems to love fresh fruit desserts in the summer, whether it's peach cobbler for two, blueberry cobbler for two, or strawberry ice cream.
As I was going through my recipe list, I realized I didn't have many raspberry recipes. Then it hit me – fruit crisp!
I've made plenty of cobblers, dumplings, and even a crumble, but only one crisp.
Plenty of apples, peaches, and strawberries, but hardly any raspberries.
And that's how my Raspberry Crisp For Two was born with a sweet and slightly tart raspberry filling topped with a crispy almond streusel baked in two ramekins.
Topped with ice cream, they are the ideal sweet treat to end your meal.
The difference between a crisp and crumble is the oats. Think of the oats giving the topping a crispy texture, hence the name crisp.
I also added almonds for extra crunch. To bring out the almond flavor even more, I added almond extract to complement the raspberries.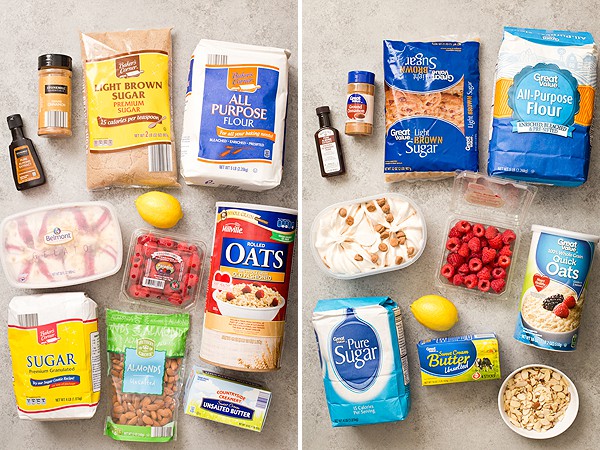 As fun as baking is, it's no secret it can be a bit pricey with the ingredients – butter, flour, sugar, eggs, the list goes on.
That's why I shop at ALDI because their low prices make baking more affordable; they believe you should never have to over-spend to enjoy quality food.
Take these raspberry crisps for example. Buying the ingredients at another store with their private label brand came to $32.99.
Buying the same ingredients at ALDI came to $29.19. Buying national brands would make the savings difference even more.
Considering this is for one recipe, imagine all of the desserts you could bake with the above ingredients and the savings for an entire week of groceries.
It's a little hard to compare apples to apples (err raspberries to raspberries?) because some products were different sizes (e.g. 42 ounces of oats vs. 18 ounces of oats), but in my experience, you get more product and spend less at ALDI.
Here are some examples of the price differences:
Raspberries at ALDI for $2.49 vs. another store for $3.48 (28% price difference)
Oats at ALDI for 0.06 cents an ounce vs. another store for 0.09 cents an ounce (33% price difference)
Cinnamon at ALDI for $1.19 vs. another store for $2.44 (51% price difference)
Butter at ALDI for $2.99 vs. another store for $3.37 (11% price difference)
Of course no raspberry crisp is complete without ice cream on top! I paired them with raspberry cheesecake gelato because of the raspberry swirl, but feel free to use your favorite flavor.
Items you may need (affiliate links):
Raspberry Almond Crisp For Two
Yield: 2 mini crisps
Prep Time: 15 minutes
Cook Time: 30 minutes
Total Time: 45 minutes
Ingredients
6 ounces raspberries
1 tablespoon Baker's Corner granulated sugar
2 teaspoons Baker's Corner cornstarch
1 teaspoon lemon juice
1 teaspoon Stonemill almond extract
Crisp Topping
2 tablespoons Baker's Corner brown sugar
2 tablespoons Baker's Corner all-purpose flour
2 tablespoons Millville old-fashioned rolled oats
2 tablespoons chopped Southern Grove unsalted almonds
1/4 teaspoon Stonemill ground cinnamon
1 tablespoon Countryside Creamery unsalted butter, cold
Belmont Premium Desserts Raspberry Cheesecake Gelato, for serving
Instructions
Preheat oven to 350F. Have two 6-ounce ramekins ready.
In a large bowl, gently mix together the raspberries, sugar, cornstarch, lemon juice, and almond extract.
In another bowl, mix together the brown sugar, flour, oats, almonds, and cinnamon. Using a pastry blender or two knives, cut in the cold butter until the mixture resembles small pebbles.
Divide the raspberry mixture between the two ramekins. Top with crisp topping.
Bake for 30-35 minutes or until the raspberries are bubbly and the topping is golden brown. Cool for 15 minutes then serve warm or at room temperature with gelato.
Disclosure: This post is sponsored by ALDI. As always, thank you for reading and supporting brands I work with, which helps keep this blog running.
This post may contain affiliate links. As an Amazon Associate and member of other affiliate programs, I earn from qualifying purchase.