Spaghetti Carbonara (Dinner For Two)
Have an easy romantic dinner at home with Spaghetti Carbonara For Two with bacon and cheese! Serve it with white wine and dessert for a stay-in date night.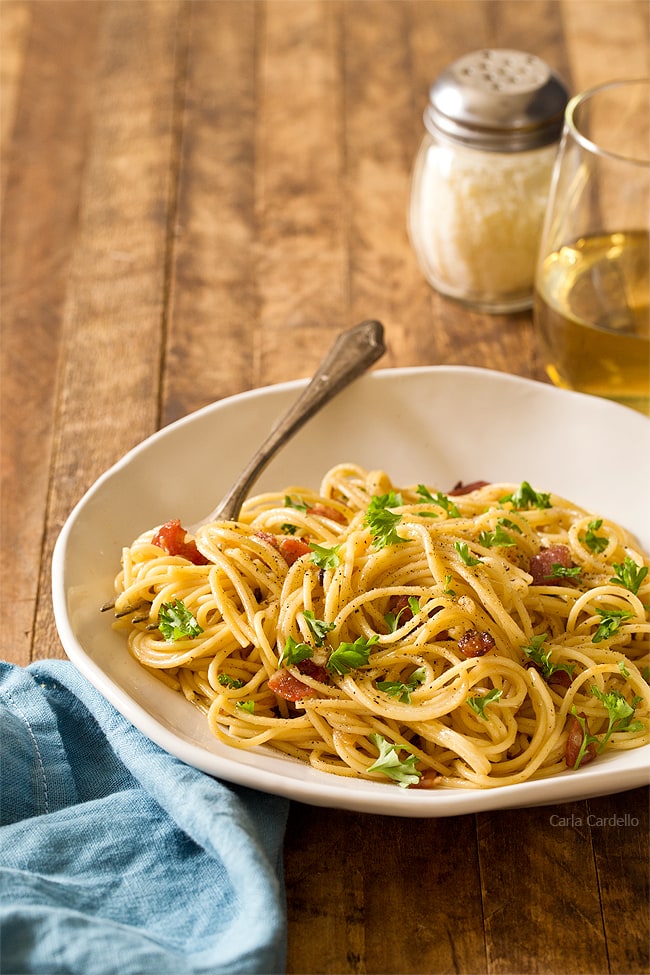 Let's take a poll. Do you celebrate Valentine's Day? If yes, do you eat out or stay in?
I've always been single for the holiday for as long as I can remember, so I never had to deal with reservations at a restaurant packed full of other couples with a limited overpriced menu (or so I've been told).
If I did have a date, I would be more inclined to whip up a romantic meal for two at home or Charcuterie Board For Two because it's what I enjoy doing. Plus I'm good at what I do, so no lackluster dinner here.
With Valentine's Day coming up, I'm guessing you're here looking at recipes to make for your other half.
Or maybe you're single and want to treat yourself because wallowing all day with a lonely storm cloud is no fun (I've been there. It's much more fun to indulge than to self pity).
This year I'll be spending the day with Mr. J who will happily be chowing down on his usual can of chicken. I'll personally be chowing down on a bowl of Spaghetti Carbonara For Two.
Pasta Carbonara is a spaghetti dish with bacon and a creamy sauce made from eggs and cheese. You can also make my Prosciutto Pasta for a similar yet different twist.
I think of this dish as romantic because spaghetti is often associated with that famous kiss scene from The Lady and The Tramp.
Plus it's rich and full of bacon, so it's not a meal you (should) eat often. Serve it with a glass of white wine, and you're well on your way to date night at home.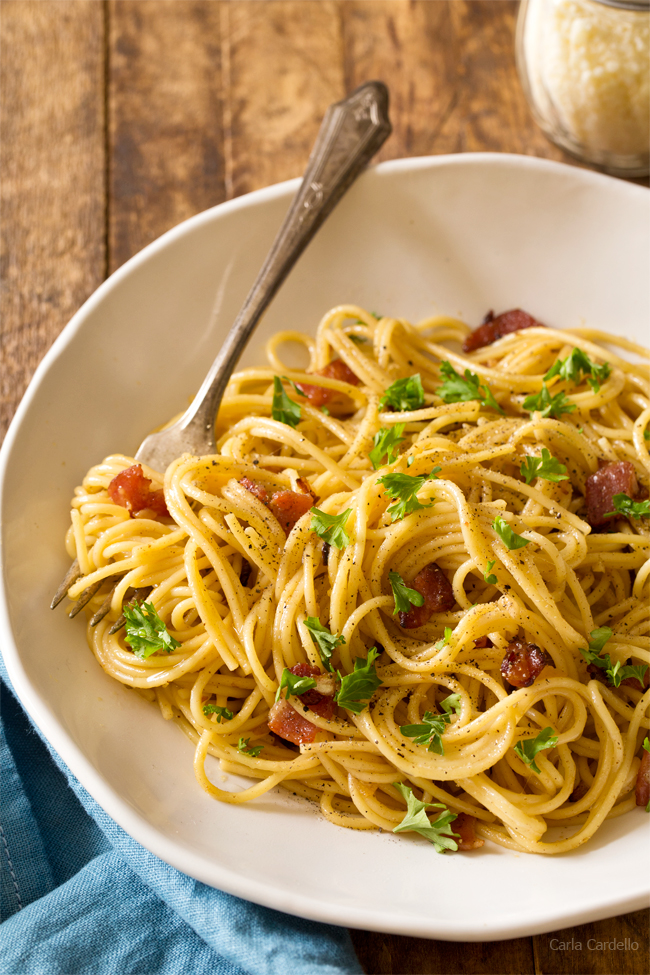 How To Make Spaghetti Carbonara
To make spaghetti carbonara, you fry up some bacon with onion and garlic while you wait for the pasta to cook.
Once the noodles are done, toss them in the bacon mixture then stir in the egg and cheese.
Garnish with black pepper and parsley then serve before your cat lays on it (true story and I don't even know where to begin explaining that one).
In an ideal world, it's important to use the best ingredients because spaghetti carbonara has a straight-forward ingredient list.
For example, you'd want to use fresh Parmigiano-Reggiano cheese and not grated cheese from the green can.
However, I made this several times in college with the green can cheese, so if your budget is tight, no judgment here. The most important part is spending the evening together.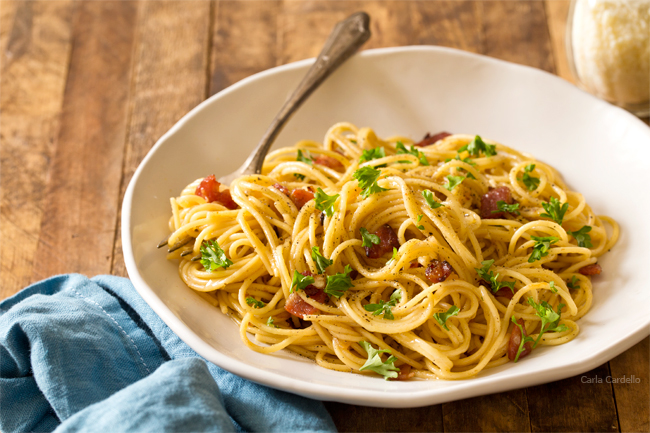 To make the carbonara sauce, you whisk together a whole egg with grated Parmigiano-Reggiano cheese.
Then you gently and quickly toss it with the spaghetti. The residual heat is enough to cook the raw egg, but you must work quickly before it accidentally scrambles.
The egg makes the sauce creamy without using heavy whipping cream. When I first learned how to make this dish, I did use cream, which is apparently frowned upon in the culinary world.
For dessert, you can follow it up with my Small Chocolate Cake For Two or customize a Cheesecake For Two.
Other Romantic Meals For Two At Home
Spaghetti Carbonara (Dinner For Two)
Yield: 2 servings
Prep Time: 15 minutes
Cook Time: 20 minutes
Total Time: 35 minutes
Have an easy romantic dinner at home with Spaghetti Carbonara For Two with bacon and cheese! Serve it with white wine and dessert for a stay-in date night.
Ingredients
4 ounces uncooked spaghetti
1 teaspoon olive oil
2 slices uncooked bacon, chopped
1/4 cup chopped onion
1 garlic clove, minced
1 egg, room temperature
1/2 cup grated Parmigiano-Reggiano cheese
Ground black pepper and fresh chopped parsley, for serving
Instructions
Bring a large pot of water to a boil. Once boiling, add a big pinch of salt then add spaghetti. Cook as directed on the package until al dente, about 8-10 minutes. Reserve 2 tablespoons pasta water then drain into colander.
While the pasta is cooking, heat olive oil in a large skillet. Once hot, add the bacon and onion. Cook the bacon until crispy and onions are softened, about 5 minutes. Add the garlic and cook 1 minute.
Remove from the heat and add the hot, cooked spaghetti. Stir until the noodles are coated.
In a small bowl, whisk together the egg, cheese, and reserved pasta water. Make a well in the middle of the spaghetti and add the egg mixture, mixing quickly until the egg is cooked. Keep stirring to avoid scrambling the egg. Serve with black pepper and parsley on top.
This post may contain affiliate links. As an Amazon Associate and member of other affiliate programs, I earn from qualifying purchase.