Mushroom Rice Stuffed Chicken Breast
Mushroom Rice Stuffed Chicken Breast with cheese and spinach may seem like a fancy dinner for two, but it's an easy technique sure to impress. Serve it for Valentine's Day, anniversaries, birthdays, or as a home-cooked Sunday dinner.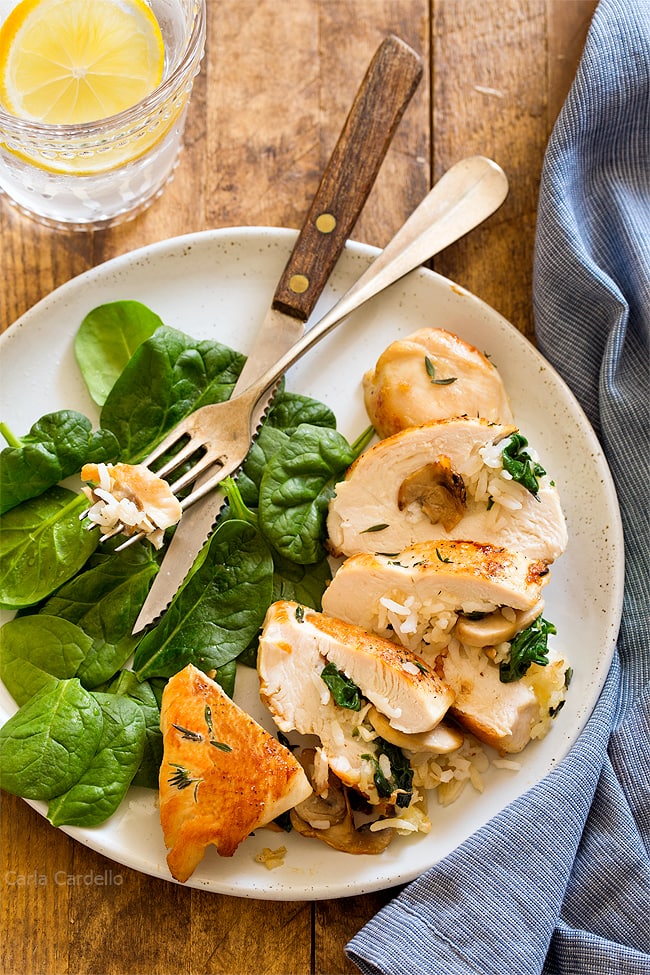 With Valentine's Day in a few days, I thought I'd squeeze in one more recipe to add to my
romantic meals for two at home
list.
Romantic is so subjective, but in my mind if you have to take an extra step or two to finish it, it's usually elevated enough to qualify as a special meal.
Take this Mushroom Rice Stuffed Chicken Breast recipe for example. Sure, you can simply brown the chicken on the stove then finish baking in the oven, but that's boring.
But once you take that extra step to make mushroom spinach rice and stuff it into chicken, suddenly there's a little wow factor going on with your dinner for two. All because you took a few extra steps with some knife work.
Making stuffed chicken breast with rice and cheese isn't as difficult as it looks. All you need is a (sharp) knife, a spoon, and the ability to not freak out when touching raw meat (you laugh, but I had this issue when I first started cooking. Needless to say I got over that super quickly).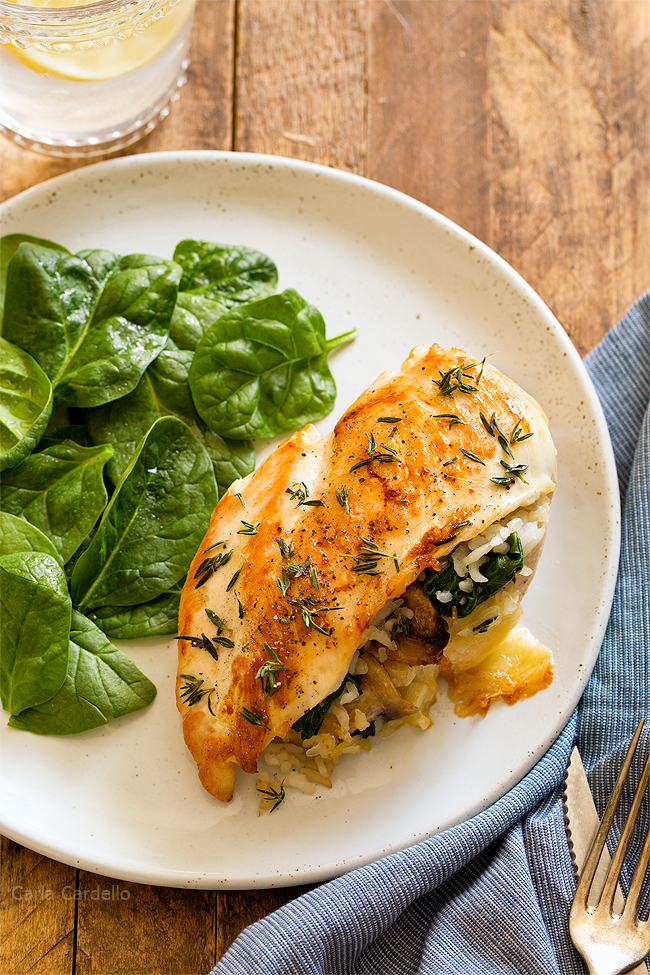 To stuff a chicken breast, first you need to start with a thick piece. Cut a long slit into the thickest part of the chicken. Make the pocket as deep as possible without tearing through the chicken.
If your chicken is too thin to cut, you can opt to spread the stuffing on top then roll it up like a roulade. Or you can simply fold over one half of the chicken and secure with toothpicks as it cooks.
If you enjoy tasty and flavorful food (and I know you do), don't skip browning on the stove first. Yes, I know it's a bit tricky with the stuffing, but I PROMISE it's worth it.
The first time I made stuffed chicken breast, I was lazy and skipped the browning; they went straight into the oven. The problem is they will never brown enough in the oven without overcooking and drying out. They came out looking pale and anemic.
If you think the stuffing will spill out, you can use a few toothpicks to seal the pocket. Use them horizontally so they don't stick out and interfere with the browning.
Typically for rice stuffing, you need to cook the rice ahead of time before starting the stuffing. That's why I used
Veetee Rice
to cut down on time because it cooks in only a few minutes without adding any liquid. I used their white long grain rice, but you can easily use their wholegrain brown rice for a healthier option.
Depending on the size of your chicken, there's a high chance you'll have leftover rice. Serve the extra rice alongside the chicken for a more filling meal.
Side Dishes To Pair With Chicken
Enjoyed this recipe? Check out my Mediterranean Chicken Thighs!
Mushroom Rice Stuffed Chicken Breast
Yield: 2 servings
Prep Time: 30 minutes
Cook Time: 30 minutes
Total Time: 1 hour
Ingredients
2 tablespoons vegetable oil
1/4 cup chopped onion
4 large white button mushrooms, sliced
1 garlic clove, minced
2 cups fresh spinach leaves
1 tray Veetee Dine-In Long Grain White Rice, crumbled
1/2 teaspoon salt
1 tablespoon fresh thyme leaves
2 thick boneless skinless chicken breasts
Salt and ground black pepper, to taste
2 slices mozzarella cheese
Instructions
Preheat oven to 400F.
In a large ovenproof skillet, heat 1 tablespoon oil. Once hot, add the onion, mushroom, and pinch of salt. Cook until softened, about 5 minutes.
Add the garlic and spinach. Cook until the spinach starts to wilt, about 2-3 minutes.
Stir in the rice, salt, and thyme. Cook until the rice has softened, about 2-3 minutes. Remove from the heat.
Pat the chicken dry. Cut an opening into the thick part of each breast, cutting as deep as you can go without tearing through the chicken.
Fold the mozzarella slice in half and add to each pocket. Add some of the filling without overstuffing. Transfer leftover rice to a bowl and keep warm.
Press the opening together to seal. If it won't stay shut, insert a few toothpicks horizontally so they don't stick out. Season the outside with salt and pepper.
Return the empty skillet to the heat. Add remaining 1 tablespoon oil. Once hot, carefully add the chicken top side down. Cook 5 minutes or until golden brown. Flip and cook until golden brown, another 5 minutes.
Transfer to the oven and bake for 10 minutes or until the internal temperature reaches 165F degrees. Serve with extra rice on the side.
Disclosure: This post is sponsored by Veetee Rice. Thank you for supporting me and the companies I work with as sponsored posts help pay for website hosting and groceries.
This post may contain affiliate links. As an Amazon Associate and member of other affiliate programs, I earn from qualifying purchase.