Love lasagna but hate leftovers? Lasagna For Two baked in a loaf pan is a small baked pasta dish that makes only 4 slices. Made with a beef and ricotta cheese filling.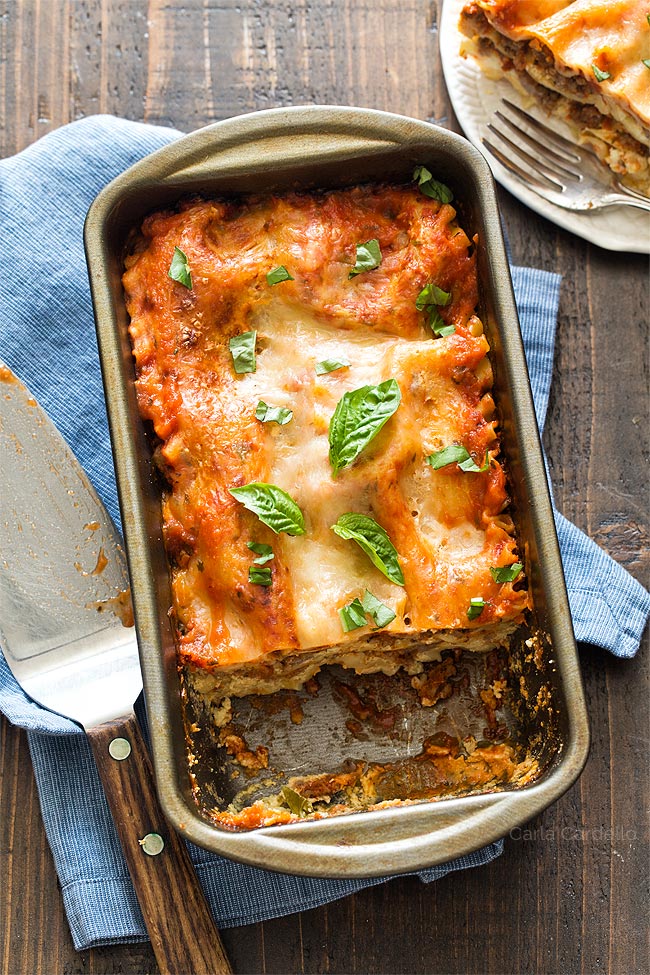 Back in 2015, I posted my
buffalo chicken lasagna for two
and talked about how I learned how to make loaf pan lasagna from a local cooking class.
I've been meaning to post my Lasagna For Two recipe using beef and ricotta cheese, but I was avoiding it because it's difficult to photograph well.
Here I am 6 years later and think I've grown enough to shoot it without it looking like poo.
As I shared behind the scene stories on Instagram, a lot of you were really excited for it.
Lasagna is one of those dishes that is universally loved but almost always baked in a large 13×9 pan. That's not going to work for us small households, now is it?
That's why I'm thrilled to (finally) bring you my Lasagna For Two. It's a beef lasagna recipe with ricotta cheese filling baked in a bread pan.
Even though it's not a fancy dish, people tell me they often make lasagna as an easy date night recipe, especially for Valentine's Day.
I find lasagna for 2 to be one of those dishes everyone loves but don't make it often because it takes time to assemble. What better way to show someone you care than by taking the time to cook a homemade meal?
Don't have time to make loaf pan lasagna? Check out my Vegetable Skillet Lasagna and Lasagna Soup For Two.
Serve your lasagna with Green Onion Salad and Small Batch Dinner Rolls.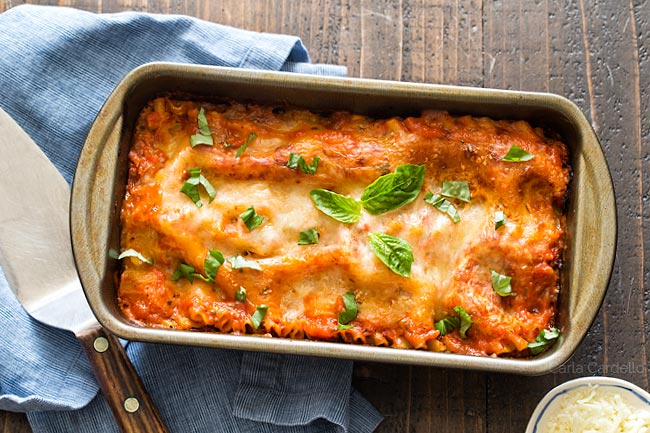 What size pan do I need for lasagna?
I baked my lasagna recipe for two in a 9×5 loaf pan. This is the perfect size for a small batch lasagna because it makes 4 slices.
Leftovers will depend on who's eating dinner and how large your appetite is. If two people eat two slices each, there won't be leftovers.
However, if you only eat one slice each or if you're serving only one person, then you'll have extra for lunch the next day.
What is the difference between no boil noodles and regular?
As the name states, no boil noodles means you can layer them uncooked in your lasagna. They'll absorb the sauce and soften while baking.
Regular lasagna noodles usually require boiling ahead of time before assembling.
I like to use no boil noodles simply to save time, but there's no right or wrong answer. Just as long as you prepare your noodles properly.
How To Make Lasagna For Two
If you're using traditional lasagna noodles, first you need to cook them according to the package directions.
This means bring a large pot of water to a boil, add the noodles and a big handful of salt, and cook until al dente. You don't want to overcook your noodles since you'll be cooking them again while baking.
Next, brown the meat along with the onion, garlic, and carrot. I chose to use all ground beef for my lasagna.
However, some people like to use a mixture of ground beef and Italian sausage. As long as you use 1/2 pound meat total, you can use what you like.
Once the meat is cooked, stir in the sauce. I used jarred sauce to help save on time and energy. However, you can use your favorite homemade spaghetti sauce.
While the meat is cooking, stir together the ricotta, egg, mozzarella, parmesan, basil (or homemade basil pesto), and salt for the cheese filling.
Ricotta cheese is traditional, but feel free to substitute cottage cheese (drained of any excess liquid).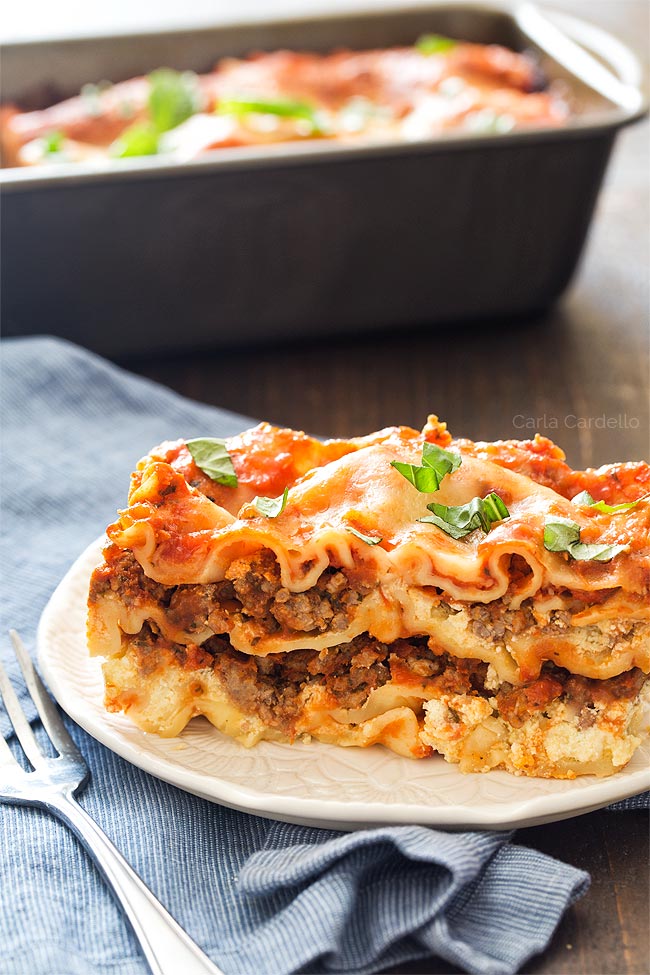 Do you add egg to ricotta for lasagna?
When I first started cooking, I didn't add egg to my ricotta filling. Mostly because I didn't know better.
As I improved my cooking skills, I learned adding an egg helps bind the filling so it doesn't ooze out everywhere when cutting.
Plus the egg adds some extra creaminess from the yolk.
I highly recommend using an egg in your lasagna filling. However, you can leave it out and make an eggless ricotta filling.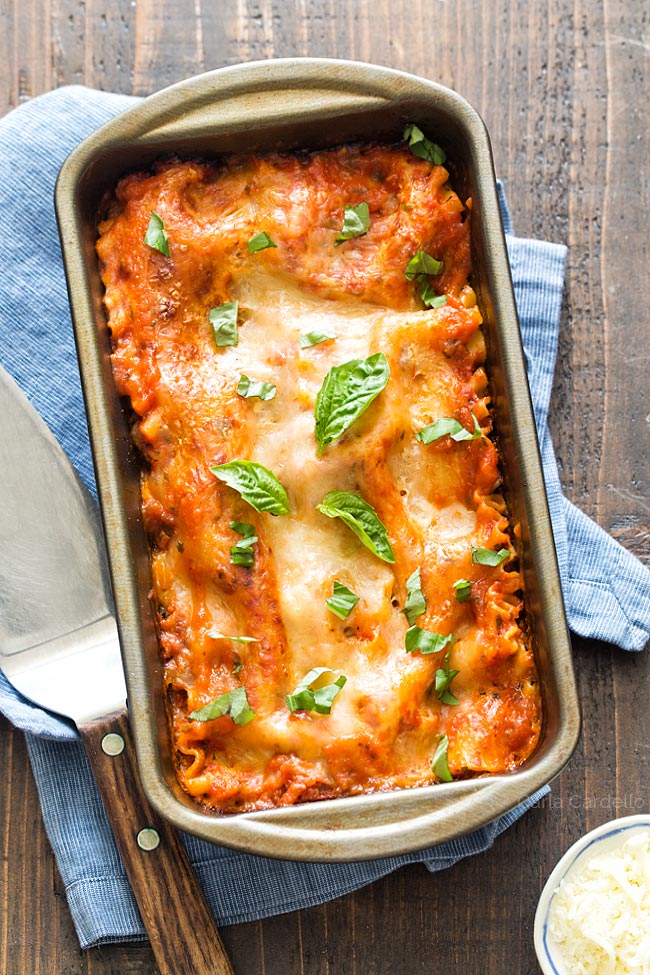 How To Make Lasagna in a Loaf Pan
Once both fillings are done, it's time to assemble your lasagna.
First, add about 1/4 cup sauce into the bottom of your loaf pan. This helps prevent sticking and keeps the noodles from drying out.
Next, add your noodles. The tricky part about assembling lasagna in a loaf pan is the length of lasagna noodles.
Noodle length depends on which brand you use. The no boil noodles I used were the same length and width as traditional. They were a touch too long for a loaf pan, so I cut off the one end to fit.
I also had to use two noodles per layer due to the small width
However, I've seen no boil lasagna noodles that are shorter in length but bigger in width. Those only required one noodle per layer.
After adding your noodles, add your ricotta cheese filling then top that with the meat and sauce. Make sure the noodles are fully covered so they cook properly while baking.
End your layer with 1-2 more noodles. Repeat this one more time, using up the remaining meat and ricotta filling.
Once you get to the very top, finish it off with the remaining sauce then sprinkle with cheese. Cover with foil then bake as directed.
How long do you cook lasagna in loaf pan?
Bake time for lasagna will depend on whether you used traditional or no boil noodles.
If using no boil noodles, you'll cook at 375F until the noodles are soft and tender, about 30 minutes then remove the foil and bake another 15 minutes until browned.
If using traditional noodles, they're already mostly cooked so you may need less time, about 20 minutes before removing the foil and browning.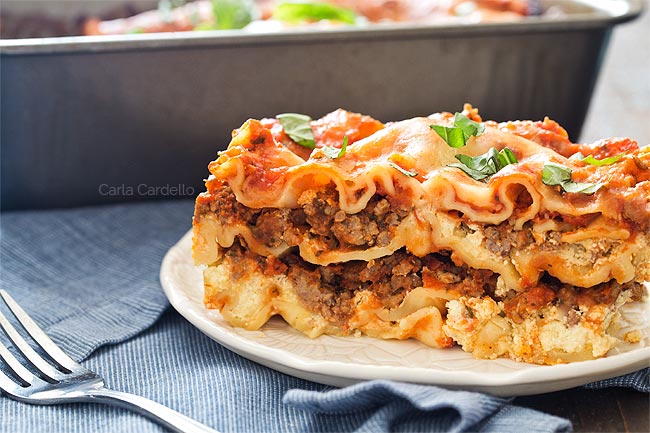 Can I assemble the lasagna and cook later?
Cooking lasagna takes time. You have to make both the meat and ricotta fillings. Sometimes even homemade sauce if you go that route. Then you need to spend time assembling it before finally baking it.
Good news – you can assemble lasagna ahead of time! Cover and refrigerate for up to 3 days. If you need more time, you're better off freezing it.
Before refrigerating, make sure everything is cooled to room temperature. This includes the meat and sauce (if homemade).
This is due to food safety. You want the lasagna to become cold as soon as possible in the refrigerator. If you put it in while hot, it takes longer to cool down.
The longer it takes to cool down, the more likely bacteria may grow. It's a similar concept to why you don't leave perishable foods out on the counter for more than 2 hours.
How To Freeze Lasagna Before Baking
If you're freezing lasagna before baking, assemble as written. Make sure it's fully cooled if it's hot from the filling.
If you freeze warm lasagna, not only may it melt other frozen foods around it, ice crystals are more likely to form.
First, wrap the entire pan in plastic wrap and remove as much air as possible. Next wrap it all up in aluminum foil. Freeze for up to 3 months.
How To Freeze Lasagna After Baking
Even though this is a small batch recipe, sometimes you may have a slice or two leftover.
If you want to freeze leftover lasagna for a future dinner, first cut the remaining lasagna into one serving slices. Make sure it's completely cool first.
Next, wrap the slice with plastic wrap then again with foil. Place it in a freezer-safe plastic bag. Freeze lasagna for up to 3 months.
How To Reheat Frozen Lasagna
To reheat frozen lasagna, transfer it to the refrigerator and thaw overnight. If thawing slices, you may only need a few hours.
When ready to bake, let it sit at room temperature for 30 minutes. Remove the foil and plastic wrap then cover with new foil.
Bake a full pan at 375F until hot, about 30-45 minutes. Then remove the foil and bake another 10-15 minutes or until the top is brown.
To bake individual slices, place them in a baking dish (either back in the loaf pan or 8×8 pan) and bake at 375F until hot, about 20-30 minutes. Then remove the foil and bake until brown, about 10 minutes.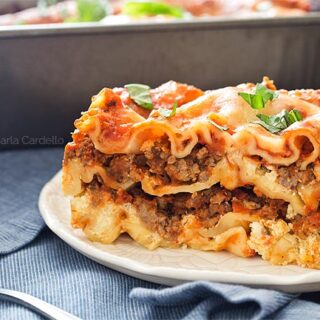 Lasagna For Two
Total Time:
1 hour
25 minutes
Lasagna For Two baked in a loaf pan is a small baked pasta dish that makes only 4 slices. Made with a beef and ricotta cheese filling.
Ingredients
3-6 uncooked lasagna noodles (preferably no boil)
1 teaspoon vegetable oil
1/2 pound ground beef
1/2 cup diced white or yellow onion
1 carrot, diced
1 garlic clove, minced
2 1/4 cups your favorite spaghetti sauce
1 cup full-fat ricotta cheese
1 egg, room temperature
1 cup shredded mozzarella cheese
1/4 cup + 2 tablespoons shredded Parmesan cheese
2 tablespoons chopped basil plus more for garnish
1/2 teaspoon salt
Instructions
Preheat oven to 375F. Have a 9x5 loaf pan ready.
If using no boil lasagna noodles, you don't need to cook them.

If using traditional noodles, bring a large pot of water to a boil. Add the lasagna noodles and a big handful of salt. Cook until al dente, about 5-8 minutes. Do not overcook. Drain and cool.
In a large skillet, heat the oil. Once hot, add the ground beef, onion, carrot, and a big pinch of salt. Cook until meat is brown and no longer pink, about 5-8 minutes. Drain off excess grease.
Add the garlic and cook 1 minute. Taste and adjust for salt. Stir in 1 1/2 cups spaghetti sauce then bring to a simmer. Remove from the heat.
Meanwhile, in a large bowl whisk together the ricotta, egg, 1/2 cup mozzarella, 2 tablespoons parmesan, basil, and salt.
Spread 1/4 cup sauce onto the bottom of the loaf pan into a thin layer. Add 1-2 noodles to cover the bottom, depending on noodle width. If the noodles are too long, cut off the ends to fit.
Spread half of the ricotta mixture on top of the noodles then add half of the meat mixture on top. Top with 1-2 more noodles
Repeat the layering one more time, using up the remaining ricotta and meat mixture.
Top with the last 1-2 noodles then cover with the remaining 1/2 cup sauce. Sprinkle with the remaining 1/2 cup mozzarella and 1/4 cup parmesan cheeses.
Cover tightly with foil. If using traditional noodles, bake for 20 minutes or until noodles are tender (use a toothpick or small sharp knife to test). If using no boil noodles, bake for 30 minutes.
Remove the foil and bake another 15 minutes or until the top is browned. Let sit about 15 minutes before cutting and serving. Garnish with basil, if desired.
Recommended Products
As an Amazon Associate and member of other affiliate programs, I earn from qualifying purchases.