Caprese Steak Dinner For Two
Make a romantic steak dinner at home with pan fried Caprese Steak Dinner For Two with mozzarella, tomatoes, basil, and arugula.
As I was going through my recipe index, I realized I'm lacking in the beef department.
Sure, I cook with ground beef often such as my lasagna for two but there isn't a lot of steak to be found.
I actually love eating steak, but it's not a meal I cook often due to the price.
However, since I'm a recipes for two blog I wanted to share an easy romantic steak dinner recipe you can use to impress your partner (or to impress yourself with how well you can cook, like I do).
It's a recipe I learned and fell in love with while in cooking school. I made a few changes, but the concept is the same.
It's a tasty Caprese Steak, which is a pan fried sirloin steak with mozzarella, tomatoes, basil, and arugula.
Caprese Steak is a full meal in one, so you don't need to make a separate side dish. Everything is cooked in one frying pan (plus a bowl to toss the arugula salad).
I mean, it's pretty much a fancy steak salad with everyday ingredients.
Make this steak dinner for two any day of the year or bookmark it for Valentine's Day.
Nervous about buying steak? Don't be! I'll guide you on which cut of beef to buy so you end up with a delicious tender steak rather than chewy shoe leather.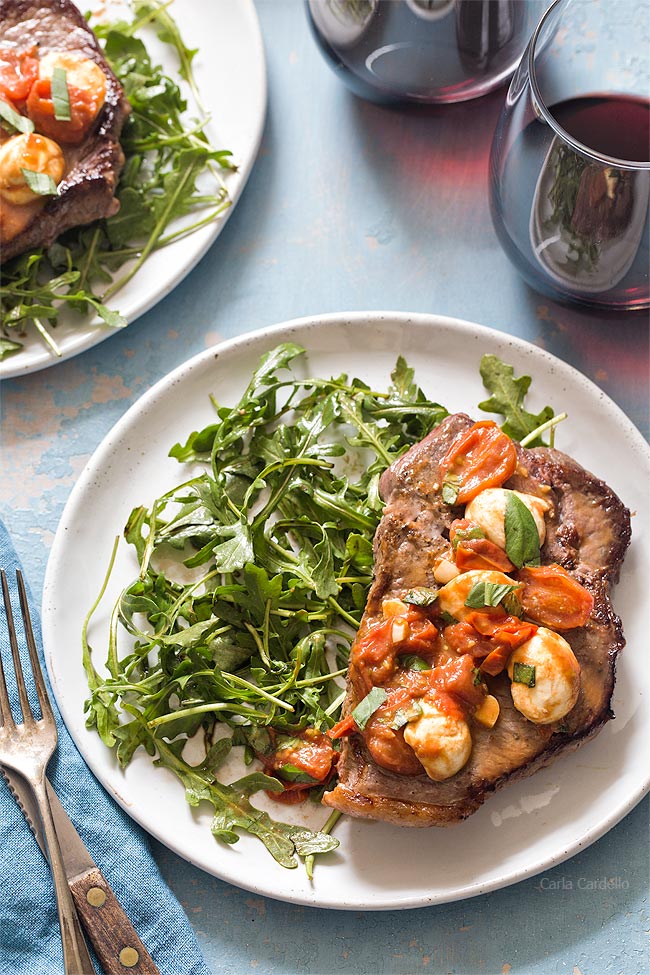 What is the best steak cut?
The hardest part about buying steak is knowing which cut of beef to choose. There are SO many names, where do you begin?!
The top choices are filet mignon, ribeye, New York strip, porterhouse, and sirloin.
That's because these cuts come from the part of the cow with less connective tissue than other fattier cuts. Less fat = quicker to cook.
The downside to that is being more expensive. Think supply and demand – there aren't as many premium cuts in a cow compared to other cuts.
I chose sirloin steak because of the price. I have every intention of buying a ribeye, but one look at the price tag made me go "maybe next time."
Although it's cheaper than other steaks, sirloin still produces a tender and juicy steak at a more affordable price.
Not in the mood for beef? Check out my pork chops with mushroom gravy or lamb chop dinner for two!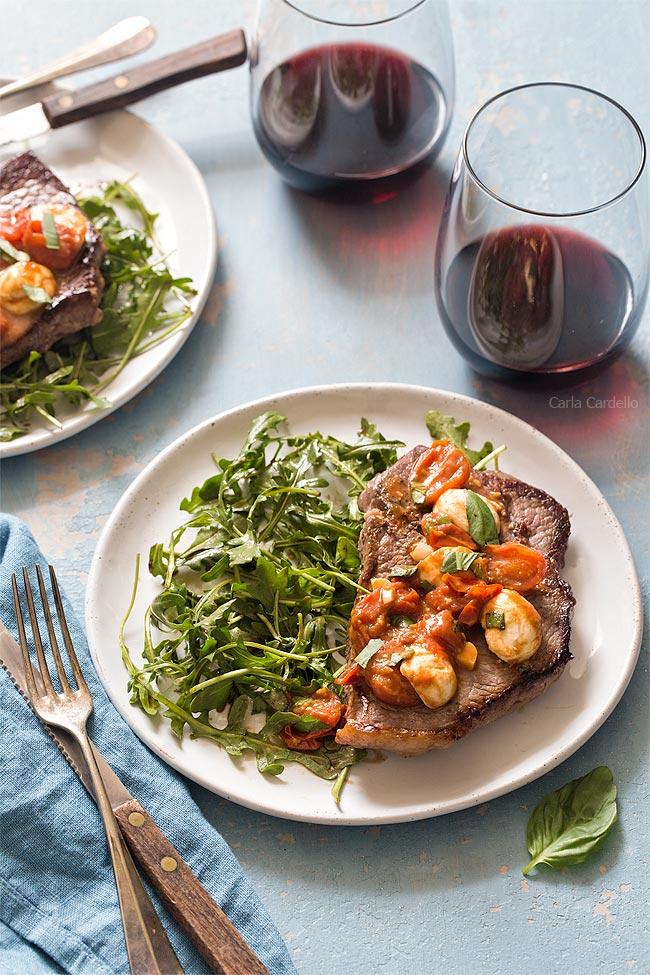 How can I make steak tender and juicy?
The secret to making sirloin steak tender and juicy?
Hint: You have it in your pantry right now and does not involve a hammer.
It's…drum roll…salt!
Yes, all you need for a tender steak dinner for two is salt. And a bit of patience.
Before cooking your caprese steak, rub them with salt and pepper then let sit at room temperature for 60 minutes.
This is done for two reasons:
It brings the steak closer to room temperature, which helps the steak cook more evenly.
Salt tenderizes the meat. The longer the meat is salted, the deeper the salt works into the meat. This enhances the beef flavor by bringing more juices to the surface, which are then reabsorbed as the meat sits.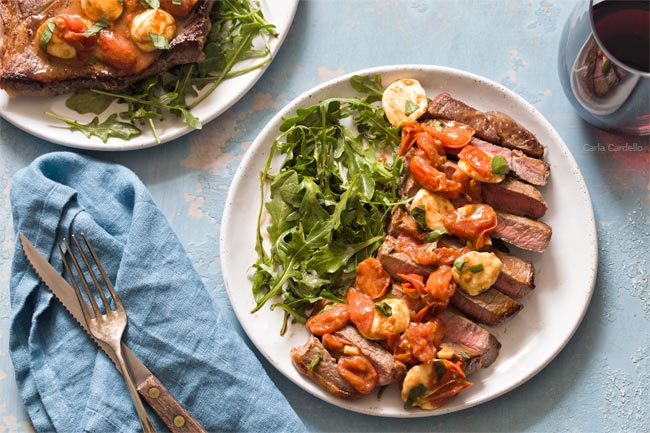 How do I cook the perfect sirloin steak?
Since I don't own a grill, the best way to cook a sirloin steak is to pan fry it on the stove top.
First, after your salted meat sits at room temperature for an hour, blot it dry with paper towels. Dry meat is key to getting a nice sear.
Heat some olive oil in a large skillet until hot. You don't want to overcrowd the pan, so either use a giant 12 inch skillet or fry them in batches.
Once you add the steak, do not touch until ready to flip. This allows a nice brown crust to form on the outside while the meat is searing.
When ready, flip and cook the other side. At this point, your cooking time will depend on how you like your meat.
How to know when your steak is done
Your caprese steak is done when it reaches the desired amount of pinkness in the middle. Your choices are rare, medium rare, medium, and well done.
I like my steak medium rare, so I cooked my 1/2-inch thick sirloin for 3 minutes on each side (6 minutes total). If your steak is thicker, you may need to do 4 minutes on each side.
There will be some carry-over cooking as the meat rests, so you'll want to pull your steak before it's actually done.
Want to know if your meat is done without cutting into it or using a thermometer? Use the hand trick.
Touch together your thumb and index finger to form the OK sign. Press your palm right below your thumb. It should feel soft and malleable, which is how a rare steak will feel.
Now touch your middle finger and thumb together. Feel how it firms up slightly? This is what medium rare feels like.
Touch your ring finger and thumb together to see what medium feels like.
And finally, touching together your pinky and thumb is what well done feels like.
How long do you pan fry a steak?
Not sure about the hand test? Here are approximate cooking times for pan frying a sirloin steak:
Rare steak (125F): 4 minutes
Medium rare steak (135F): 6 minutes
Medium steak (145F): 8 minutes
Well done steak (160F): 10 minutes
Why rest your steak after cooking?
As the name suggests, resting your meat means letting it sit before cutting into it.
Letting your meat rest allows the juices that built up in the center during cooking to settle back to the edges. Right now the center is soaked like a sponge and can't hold onto any more liquid.
If you were to cut your meat right now, those center juices will spill out everywhere, resulting in dry steaks. Your flavor is now on the cutting board instead of in your mouth.
Rest your steaks on a wire rack over a plate and place a piece of foil loosely tented over the meat. You'll still have some of the juices leak out, which is normal.
Once the meat is done resting, add the plate juices to the pan sauce for extra flavor.
How can I make a romantic dinner at home?
Whether it's a date, an anniversary or Valentine's Day, you may want to cook your steak dinner for two as a romantic meal for two at home for your partner.
Or maybe you're single like me and want to treat yourself while you snuggle with your cat (until your cat won't stop touching your food).
That's why I added caprese and a small arugula salad. The freshness and acidity from the salad dressing balances out the richness of the steak.
Plus healthy vegetables and stuff.
What is caprese?
Pronounced cah-prey-zay (not cah-preese), it's a small Italian salad of tomatoes, mozzarella, and basil.
Traditionally you'd use large slices of tomatoes and mozzarella. I chose to use grape tomatoes and small mozzarella balls (called ciliegine) due to the size of the steak.
What can you substitute for arugula?
It wasn't until after I made this recipe when I realized there is an arugula shortage. That explains why my leaves were so tiny.
If you're having trouble finding some, you can easily substitute fresh spinach for arugula.
What should I serve with steak?

Looking for more sides for your steak dinner for two? Or maybe you want to end your meal with dessert. Either way, here are some more recipes to serve with steak: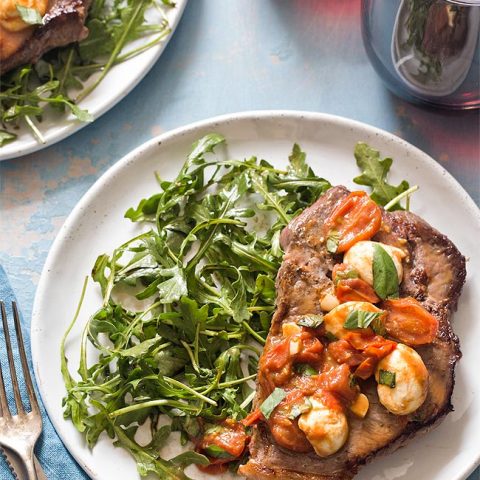 Caprese Steak Dinner For Two
Yield: 2 servings
Prep Time: 15 minutes
Cook Time: 10 minutes
Rest Time: 1 hour 10 minutes
Total Time: 1 hour 35 minutes
Make a romantic steak dinner at home with pan fried Caprese Steak Dinner For Two with mozzarella, tomatoes, basil, and arugula.
Ingredients
2 (8 ounce) sirloin steaks, 1/2-inch thick
Salt (preferably kosher) and ground black pepper
1 tablespoon + 2 teaspoons olive oil
1 cup halved grape tomatoes
1 garlic clove, minced
1 tablespoon beef broth/stock or water
1 tablespoon lemon juice
1 tablespoon fresh chopped basil
1/2 cup halved ciliegine mozzarella balls
2 cups arugula or spinach
1 tablespoon balsamic vinegar
Instructions
Rub both steaks with salt and pepper on both sides. Let rest at room temperature for 1 hour. Pat dry with paper towel.

Although I highly recommend waiting, you can certainly season then cook right away. It'll still be pretty tasty (although not at its full potential).
In a large 12-inch skillet, heat 1 tablespoon oil. Once hot, add the steak. Sear for 3 minutes then flip and cook until desired doneness is reached (1 more minute for rare, 3 more minutes for medium rare, 5 more minutes for medium, and 7 more minutes for well done).
Remove from the pan and place steaks on a wire rack over a plate. Loosely tent with foil and rest for 10 minutes.
While the meat is resting, add tomatoes and garlic to the pan. Cook until the tomatoes soften, about 3-5 minutes.
Add the broth, scraping up any brown bits on the bottom of the pan. Cook for 2-3 minutes or until broth has reduced.
Remove from the heat then stir in lemon juice, steak juices accumulated from the plate while resting, and basil then stir in the cheese.
In a large bowl, stir together the remaining 2 teaspoons oil, vinegar, and enough salt to taste salty. Add arugula and toss to coat.
To serve, add arugula salad to a plate, place steak on top, then top with tomato mixture.
Recommended Products
As an Amazon Associate and member of other affiliate programs, I earn from qualifying purchases.
Originally published February 3, 2020
This post may contain affiliate links. As an Amazon Associate and member of other affiliate programs, I earn from qualifying purchase.