Brownies For Two (Ramekin Brownies)
Ooey gooey Brownies For Two are homemade deep dish brownies baked in ramekins. Top with vanilla ice cream for the perfect dessert for two.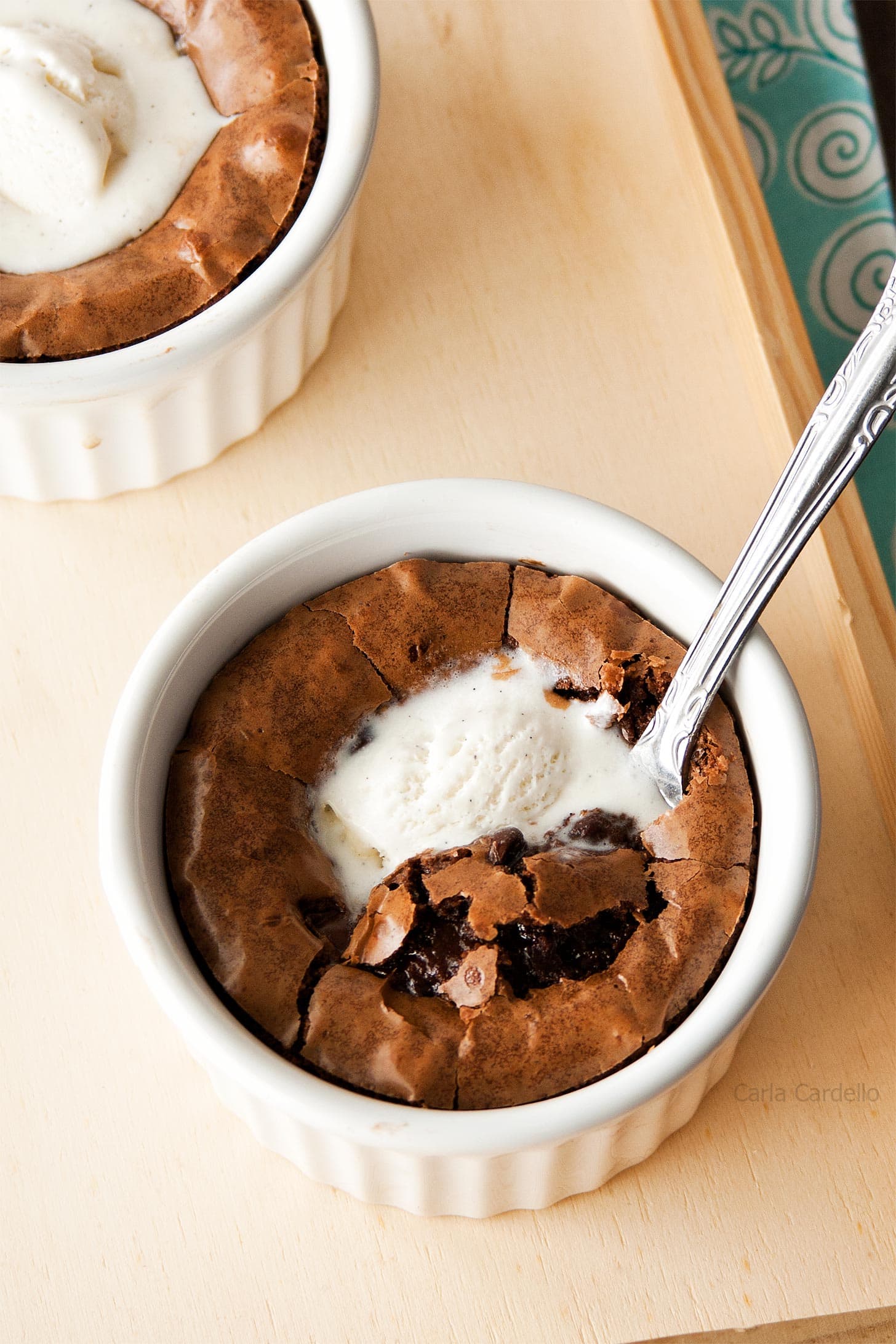 Sometimes I can't think of anything to say, which is why most people perceive me as quiet.
I've been struggling to come up with this post for these Brownies For Two.
Sure, I could've been mainstream and said this is the perfect romantic dessert for two to end your Valentine's Day dinner because it's decadent and only makes two brownies.
Or I could've boo hooed about how I'm alone and plop myself on the couch eating both of these while watching sappy romantic movies and crying in between bites.
But neither are true. I have no date and I'm not going to cry.
So here I am back to square one with nothing to say except these Brownies For Two are so rich and decadent, it's every chocoholic's dream.
It's almost like eating underbaked fudgy brownies with their rich chocolatey centers.
This brownie for two recipe is individual brownies baked in ramekins. Unlike my Small Batch Brownies baked in a loaf pan, you won't have any leftovers.
Serve your ramekin brownies to end your Romantic Dinner For Two At Home.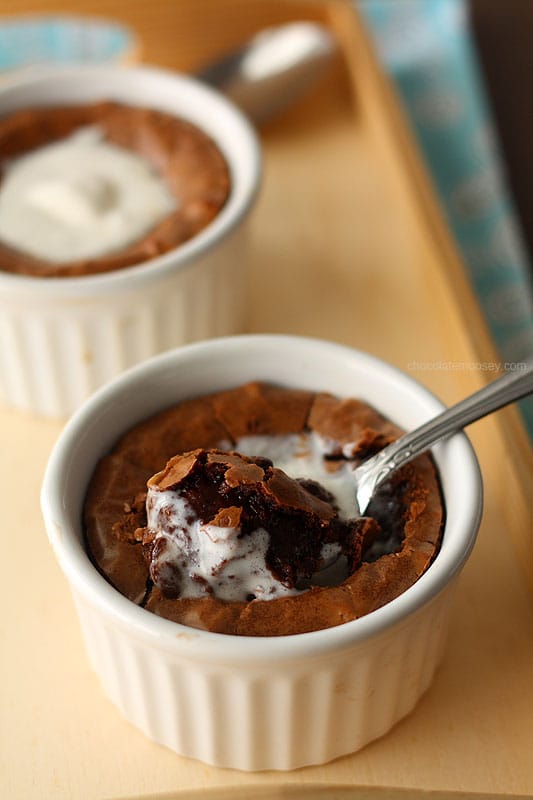 What are ramekins?
Ramekins are round ceramic baking dishes with a fluted exterior. They're the perfect vessel to serve individual desserts, such as my Single Serve Brownie.
Deep dish brownies get their name because they're much thicker than average brownies when baked in ramekins.
I used two 6-ounce ramekins. You can buy a pair online at Amazon (affiliate link) or find some at a thrift store.
After you buy yours, be sure to check out my full list of Ramekin Dessert Recipes.
The brownie batter is filled to the top, so don't use anything smaller. Because it's so full, it'll rise then sink in the middle.
Normally when this occurs, I'd reduce the batter amount. However, when I did, it was missing that ooey gooey chocolatey goodness you got from overfilling, almost like an underbaked brownie.
After testing, I decided to purposely keep the underbaked brownie texture.
Don't have ramekins? Check out my recipe for Peanut Butter Brownies baked in a loaf pan.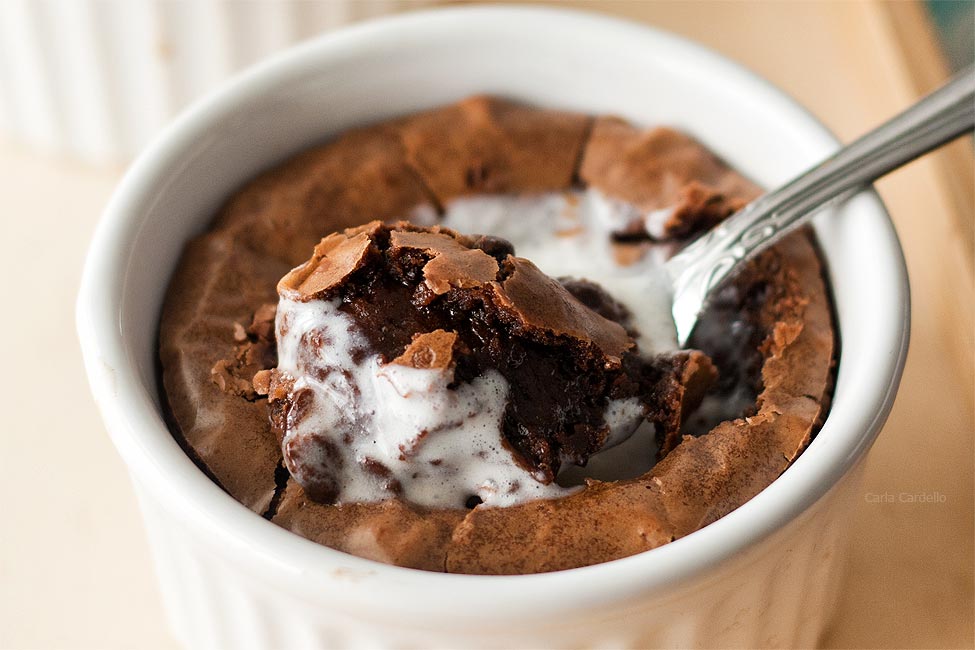 Brownies For Two Ingredients
The ingredients for deep dish brownies are:
Butter: Use butter and not a substitute like margarine
Chocolate chips: Use semisweet chocolate chips
Cocoa powder: Use unsweetened natural cocoa powder
Sugar: As tempting as it may be, don't reduce the amount or you won't get a shiny, cracked top
Salt: Makes sure your ramekin brownies aren't bland
Egg: Use a standard large egg
Vanilla: Makes chocolate taste even better
Flour: Used to thicken the batter
How To Make Brownies For Two
To make brownies for two, first melt your butter and chocolate chips together in a large saucepan.
Once melted, remove from the heat and whisk in your cocoa powder, sugar, and salt. At this point your batter will look grainy. Don't fret!
Next beat in your egg and vanilla. At this point your batter should smooth out and stop looking grainy.
Switch to a rubber spatula and gently stir in your flour until everything is moistened. Be careful not to overmix.
Divide the batter between two ramekins then add a few chocolate chips to the center. This will amp up the gooeyness factor!
Bake at 350F for 20 minutes or until the tops look done. Cool for 15 minutes before serving.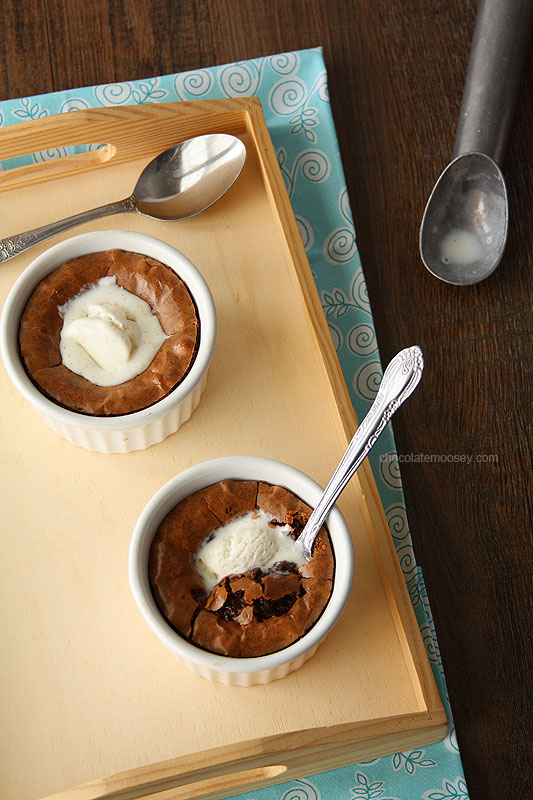 What do you serve with brownies for two?
Yin and yang. That's how chocolate and vanilla works.
You either love chocolate or you love vanilla. Very rarely do you see someone go crazy over both individually.
But pair them together and you have another story. That's why you often see vanilla used in chocolate desserts.
Ever make a super chocolatey dessert, only to find it lacking some oomph? Add some vanilla extract. Suddenly the chocolate seems to pop more in flavor while the vanilla helps balance the richness.
It's also why most chocolate desserts are served with vanilla ice cream. Not only does the cold contrast nicely with the warm brownie, the flavors balance each other out.
Imagine serving warm gooey brownies with chocolate ice cream. About halfway through, the dessert becomes too rich to finish. Serve it with vanilla ice cream, and it's gone in no time.
Try your hand at making a pint of vanilla bean ice cream, but there's also no shame in buying a carton either.
You can also serve them with homemade whipped cream, peanut butter whipped cream, or chocolate whipped cream instead.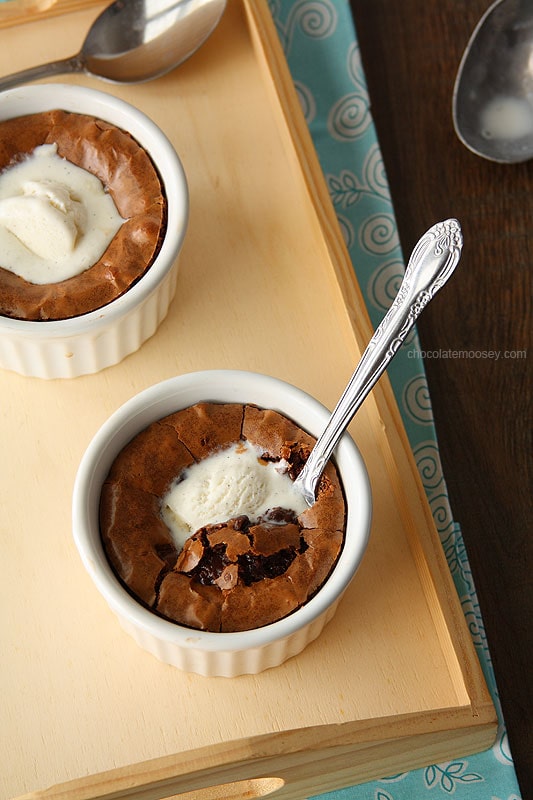 How To Freeze Ramekin Brownies
Sometimes you need to make your brownies for two ahead of time. Or maybe you're single and want to save the second brownie for a future dessert.
To freeze deep dish brownies, first freeze the ramekins for an hour. This will prevent them from falling apart since they are gooey.
Once frozen, remove them from the ramekins by running a knife around the edge and loosening them up.
If they won't loosen, run the ramekins under warm water for a few seconds, like you're unmolding popsicles.
If that still doesn't work, let them come to room temperature then try again.
Wrap each one in plastic wrap then place in a freezer-safe plastic bag. Freeze for up to 3 months.
When ready to eat, let them thaw at room temperature then eat as it or microwave for 10-15 seconds.
More Desserts For Two

If you enjoyed these individual brownies, then you'll also love these other ramekin dessert recipes: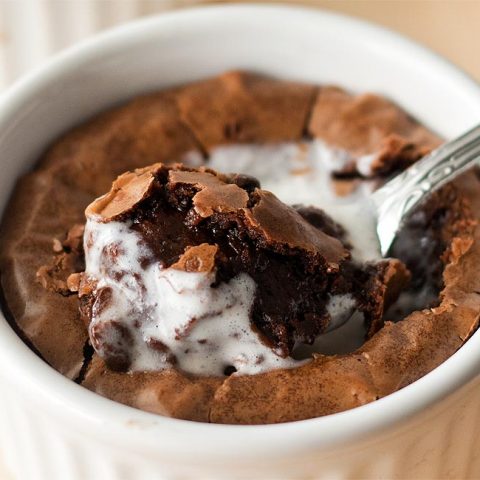 Brownies For Two
Yield: 2 servings
Prep Time: 15 minutes
Cook Time: 20 minutes
Cool Time: 15 minutes
Total Time: 50 minutes
Ooey gooey Brownies For Two are homemade deep dish brownies baked in ramekins. Top with vanilla ice cream for the perfect dessert for two.
Ingredients
1/4 cup (2 ounces or 4 tablespoons) unsalted butter
1/2 cup + 2 teaspoons semisweet chocolate chips*
1 tablespoon unsweetened cocoa powder
1/2 cup granulated sugar
1/4 teaspoon salt (preferably kosher)
1 large egg, room temperature
1 teaspoon vanilla extract
1/4 cup all-purpose flour
Vanilla ice cream or Homemade Whipped Cream, for serving
Instructions
Preheat oven to 350F. Have two 6-ounce** ramekins ready.
In a large saucepan, melt the butter and 1/2 cup chocolate chips, stirring often so it doesn't burn.
Remove from the heat and whisk in cocoa powder, sugar, and salt (batter will be a little grainy).
Whisk in the egg and vanilla. Batter should smooth out.
Switch to a rubber spatula and stir in the flour until moistened (do not overmix).
Divide the batter evenly between the two ramekins. Place 1 teaspoon chocolate chips into the middle of each brownie; press the chips lightly into the batter.
Bake 20-25 minutes or until the tops look dry and crisp (they will still be bubbly but the tops should be firm). Let cool for 15 minutes then serve with vanilla ice cream or whipped cream.
Notes
*Love peanut butter? Use chopped up peanut butter cups instead of 2 teaspoons chocolate chips.
**The 6 ounce ramekins will be filled almost completely to the top. If you are using smaller ramekins, you may need to use 3 ramekins instead.
Looking for more small brownies? Check out my Single Serve Brownie (Microwaveable) and Small Batch Brownies in a loaf pan.
Recommended Products
As an Amazon Associate and member of other affiliate programs, I earn from qualifying purchases.
First published February 12, 2013
This post may contain affiliate links. As an Amazon Associate and member of other affiliate programs, I earn from qualifying purchase.