Really Good Freekeh Salad
Looking for a filling side salad? Make this Really Good Freekeh Salad with arugula, tomatoes, goat cheese, and pickled red onion. Serve it warm or cold for a hearty whole grain salad.
I know what you're thinking. Really Good What Now? Freak what? What the freekeh is going on? Why is there a salad, let alone a WHOLE GRAIN salad, on my blog?
Because I can't stop eating this grain salad since I started culinary school. No joke – I've made it at least 3 times during school then probably another 2-3 times after that. And I will not stop.
Don't worry. I won't stop with the desserts either, but I reached a point where I'm shifting how I cook. Culinary school opened up a new world of cooking methods and flavors, so I'll be branching out.
I hope you'll stay with me. I'm still going to make small serving sizes. Just more vegetables. And maybe I'll even throw in the H word. Healthy, that is.
This freekeh salad has arugula, tomatoes, goat cheese, and pickled red onion.
What I love about this salad (besides the big bursts of flavor and color) is it fills you up from the whole grain.
You can serve it as a side with protein such Asian Salmon recipe or Quiche Florentine. Or you can eat a giant bowl of it (it may make 4 servings, but I pretend it's 1).
And since it's summer, it's perfect as a cold grain salad. However, if you're impatient and starving like me 90% of the time, you can also eat it warm.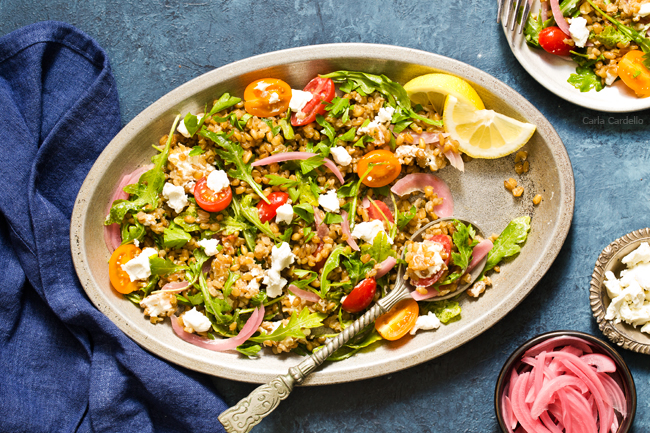 After getting through the foundation of culinary school with food safety and knife skills, my first cooking course was salads.
Salads. The one food group I don't eat. But here I was introduced to what salads SHOULD be, not those lifeless garden salads with too much iceberg lettuce and not enough tomatoes.
It's why I love making my green onion salad because there is no lettuce.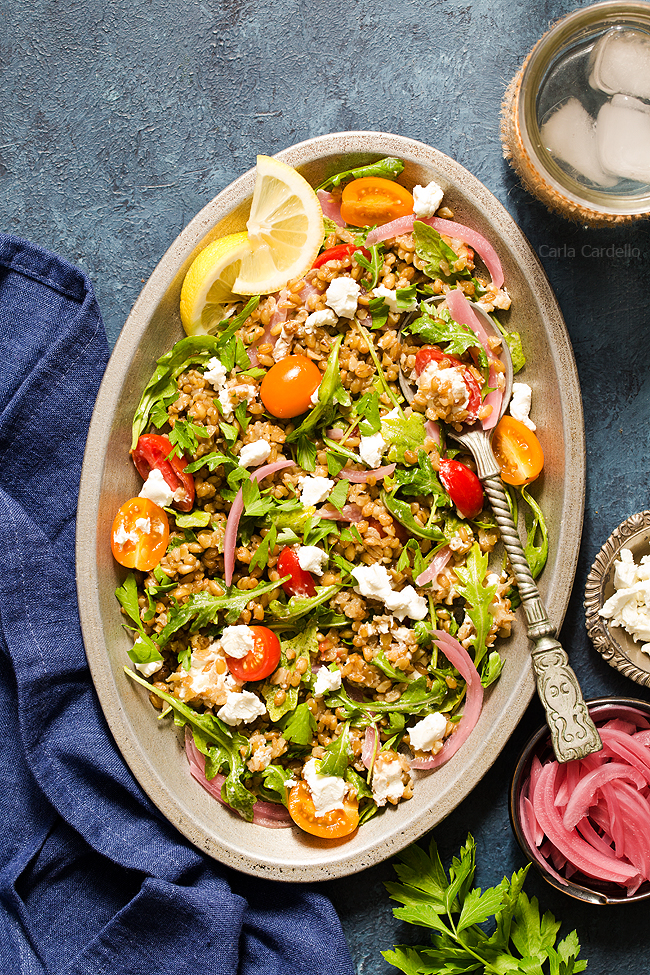 This is when I started cooking with arugula. I've eaten arugula before at restaurants but never in my own kitchen. And now it's my favorite leaf ever.
Arugula has a peppery bite to it – the opposite of flavorless iceberg lettuce. With a touch of olive oil and sea salt, it makes the fastest salad ever. Or you can add it to other dishes for a burst of pepper.
Soon we got to the grain course in culinary school. Again, whole grains wasn't something I ate. I still struggle with eating whole grain bread, but I actually enjoyed the grains I cooked.
Probably because they aren't much different than rice. For example, this salad is the exact same way you cook rice pilaf. Toast the freekeh before adding the liquid then let it cook until the liquid has been absorbed.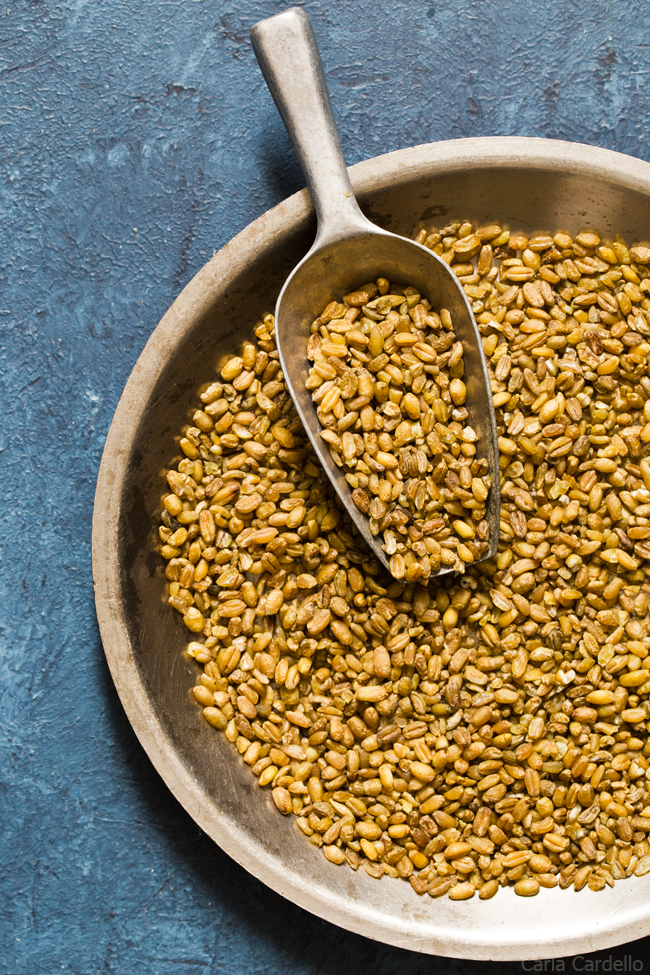 What is freekeh?
Freekeh is a whole grain that tastes nutty with a chewy texture, similar to brown rice and quinoa.
I was introduced to it when I cooked something from the Jerusalem cookbook.
When I was first bought freekeh, it was at a Middle Eastern grocery store. Which meant half of the box was in Arabic. The directions? "Add a suitable amount of water." SUITABLE AMOUNT. Thank you, box.
Luckily freekeh is more common in grocery stores now, so you can find it where you buy rice, bulgur, couscous, and quinoa. No special trips for boxes you can't read with vague directions.
And in case you're wondering what a suitable amount is, it's a 2:1 ratio. 2 parts liquid to 1 part freekeh.
Serve your freekeh salad with Prosciutto Arugula Pizza or Fried Egg Burger for a complete meal.
Really Good Freekeh Salad
Yield: 4 servings
Prep Time: 15 minutes
Cook Time: 20 minutes
Total Time: 35 minutes
Ingredients
2 tablespoons olive oil
Kosher or sea salt
1/4 cup diced white or yellow onion
1 garlic clove, minced
1/2 cup freekeh
1 cup vegetable stock or broth
1 cup arugula
1 teaspoon lemon juice
1/2 cup halved grape tomatoes
1/4 cup crumbled goat cheese
1/4 cup pickled red onion (homemade recipe found here)
1 tablespoon fresh chopped parsley
Instructions
In a large saucepan over medium heat, heat 1 tablespoon olive oil. Once hot, add the onion and a pinch of salt. Cook until softened, about 5 minutes.
Add the garlic and freekeh then cook for another 1-2 minutes or until the freekeh is lightly toasted.
Slowly stir in the stock/broth. Bring to a boil.
Once boiling, lower the heat to simmer and cover with a lid. Cook 20-25 minutes or until the liquid has been absorbed and the freekeh is done (it'll be slighty chewy but not hard and crunchy). Let rest with the lid on for 10 minutes.
In a medium bowl, toss the arugula with the remaining 1 tablespoon oil, lemon juice, and a few pinches of salt.
Once the freekeh has rested, stir in the dressed arugula, tomatoes, goat cheese, red onion, and parsley. Serve immediately or refrigerate and serve cold.
Notes
No freekeh? No problem! You can substitute a variety of grains, such as bulgur. Depending on the grain, you may need to adjust the ratio of liquid to grain. You can usually find this information on the package you're using.
This post may contain affiliate links. As an Amazon Associate and member of other affiliate programs, I earn from qualifying purchase.