S'mores Baked Alaska For Two
S'mores Baked Alaska For Two is a mini decadent dessert that pairs the contrast of toasted, crispy marshmallow meringue with still-cold chocolate ice cream and graham cracker crust.

Now that I'm mostly settled into my new apartment, I think it's time to fill you in.
If you've been following me on social media, you probably noticed I moved back to Pittsburgh, the city where I grew up. I even briefly mentioned it in this post.
I scheduled a few posts during my move so my absence wasn't noticeable, but I bet now you're wondering about the details and how it's all connected to my S'mores Baked Alaska For Two.
I made this a few weeks before I moved because I had chocolate ice cream and egg whites to use up. I had the idea ever since I made a s'mores pie for my birthday.
Graham cracker crust, chocolate ice cream, and marshmallow meringue, all scaled down into two little ramekins.
Whether you share with someone you love or keep both for yourself, well that decision is totally up to you.

The bottom half was my apartment
For the past four years, I spent most of my time living in a small country town and working as an in-house videographer for a machine manufacturing company.
I was the one who produced training videos so you wouldn't get hurt while operating our machines.
It was my first big girl job and thought it's what I wanted to do – produce videos. I had spent the previous 13 months job hunting while working at Target.
I didn't care what the nature of the job was – I was producing videos at least!
But somewhere along the line, I got lost. Being the only videographer may sound exciting (I get to do all the parts!), but it sucks.
I had no guidance and certainly very little experience. I never realized how important a team, or even just one other videographer, was.
And it wasn't so much the workload – I had no problem doing the work – but rather just having someone else who gets me.
One who understood my frustrations and could even provide some insight (I was the only one in the company who was a trained videographer).
There were days I questioned why I was still around and felt like a failure. Days where my own department wouldn't use me for my photography skills no matter how loud I raised noise about it.
And since I never had a previous big girl job, I couldn't compare my experiences to anything. Are all jobs like this? Is this how the corporate world works?
I reached my breaking point. I promised myself that if I didn't find another job by my next work anniversary (which was July 12), I need to do something. Anything.
I've actually been planning my move back to Pittsburgh for at least the past year. I had two job interviews in the city, but unfortunately because I wasn't local, it was much harder to convince them to hire me.
Between my savings account and the income I do get from blogging, I decided to move now and figure it out as I go. Which I actually don't recommend, but this past year pushed me to make the leap.
I don't regret these past four years, not at all. It taught me who I was and who I was meant to become.
There was a quote from the latest X-Men movie that almost made me cry in the theater – "Just because someone stumbles and loses their way, it doesn't mean they're lost forever."
Will I go back to videography? I'm not sure. I'm hoping to produce a few cooking videos and see if I got my fire back. Hopefully it's not gone forever.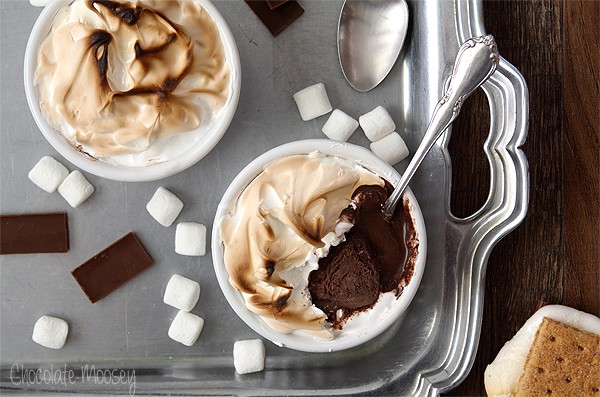 Now to finally talk about my S'mores Baked Alaska For Two.
I remember the first time I had Baked Alaska. It was in my high school cooking class where my teacher introduced it to us as a dessert that was named to honor Alaska's addition to the U.S.
Traditionally it's sponge cake topped with ice cream then covered in meringue that you will eventually toast.
There's something magical about eating contrasting temperatures – one spoonful of toasted, crispy meringue paired with still-cold ice cream.
If you do it correctly, the ice cream doesn't melt because the meringue acts as insulation. However, one tiny little hole, heat gets in and melts the ice cream.
Fortunately these are made in ramekins where the mistake is not as crucial.
Fun fact – these S'mores Baked Alaska actually do freeze well after toasting.
I was worried the marshmallow meringue would get too hard when frozen, but it actually stayed soft. Of course you no longer have contrasting hot and cold temperatures, but cold is just as good.
Not so fun fact – meringue is finicky. I had to make the meringue three times before the egg whites finally whipped to stiff peaks.
You need to ensure the mixing bowls and beaters are squeaky clean and completely dry (the slightest bit of fat or water, even a drop of egg yolk, means the whites won't whip properly); do not use plastic bowls (fat tends to stick in the plastic no matter how clean you wash it); and do not make on a rainy or humid day (the moisture in the air affects the whites).
Want more meringue experience? Check out my mini lemon meringue pies.
As for Pittsburgh, I'm still getting used to my new routine and location. The hardest part is not knowing what will happen these next few months.
For now, I'm a freelance food photographer and recipe writer (because saying you are a food blogger for a living gets some pretty confused looks).
There are days where I wish I had a crystal ball to guide me, but I don't. All I have is hope that everything will unfold the way it's meant to be.

S'mores Baked Alaska For Two
S'mores Baked Alaska For Two is a mini decadent dessert that pairs the contrast of toasted, crispy marshmallow meringue with still-cold chocolate ice cream and graham cracker crust.
Ingredients
1/4 cup graham cracker crumbs
1 tablespoon melted butter
1 cup chocolate ice cream, softened slightly
2 egg whites
1/8 teaspoon cream of tartar
1/2 cup granulated sugar
1/2 teaspoon vanilla extract
Instructions
Preheat oven to 350F. Have two ramekins ready.
In a medium bowl, mix together the graham cracker crumbs and butter until moistened and clumps form. Press into the bottom of each ramekin. Bake 5-7 minutes or until set. Cool.
In a heatproof bowl over a pan of simmering water (do not let the bowl touch the water), beat together the egg whites, cream of tartar, and sugar, whisking constantly, until the sugar is completely dissolved and mixture appears pale and opaque, about 3-4 minutes.
Immediately transfer the egg white mixture to a large clean mixing bowl (if using a stand mixer, use the whisk attachment). Add the vanilla and starting on low speed, beat the egg whites, gradually increasing speed to high as you go, until glossy and stiff peaks form (when you pull the beater straight up, peaks will form but not fall over), roughly 5-7 minutes.
Fill each ramekin with chocolate ice cream. Top generously with the meringue topping, ensuring that the entire top is covered and no holes are present. Toast the top with a blowtorch or underneath a broiler. Serve immediately.
Notes
Whipping egg whites is easy but they can be finicky. Make sure all bowls and beaters are completely clean and dry, do not use plastic bowls, and do not make on a rainy or humid day. If you get any egg yolk into the white after separating, you will need to start over.
Source: Meringue adjusted from
The Back in the Day Bakery Cookbook
(Amazon affiliate link)
—
Want More S'mores Recipes?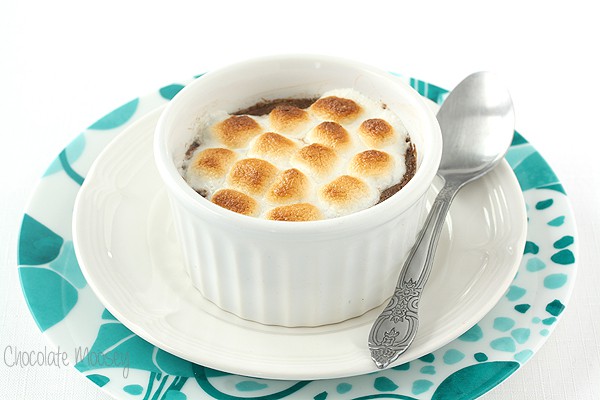 Single Serving S'mores Peanut Butter Cup Brownie
This post may contain affiliate links. As an Amazon Associate and member of other affiliate programs, I earn from qualifying purchase.