Shrimp Scampi Skillet Pizza
Turn pizza night at home into a special date night dinner with Shrimp Scampi Skillet Pizza For Two with a white wine garlic butter sauce and homemade pizza dough. Ideal for Valentine's Day, anniversaries, birthdays, and days off together.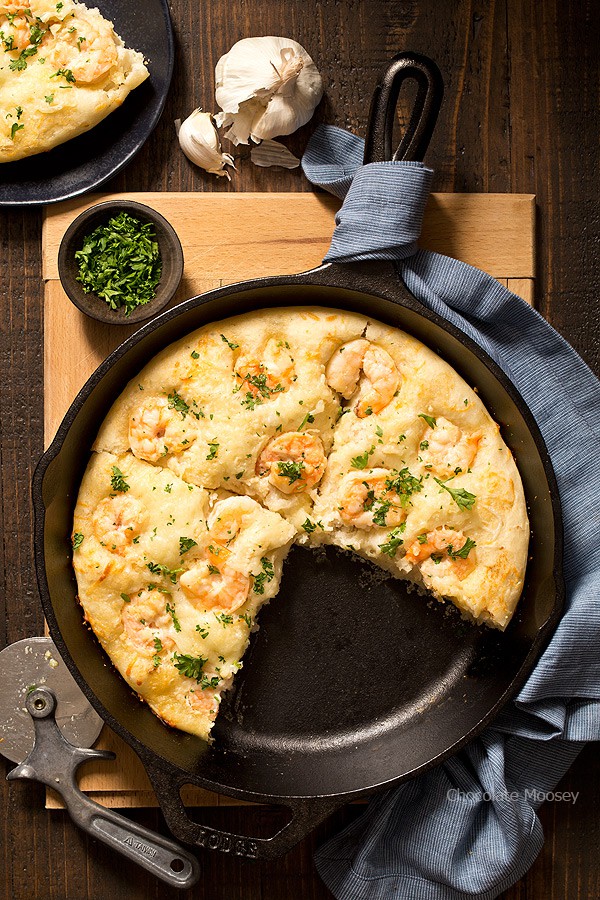 In one week, couples will be enjoying an intimate dinner together for Valentine's Day.
Rather than spending money on a pricey restaurant menu in a crowded room of strangers, connect with each other at home in your kitchen where not only can you hear each other and share secrets, but you can cook the menu together to make memories.
That's why I'm doing a Date Night At Home Menu series to inspire you with recipes for two, both for dinner and dessert.
When people hear date night, they usually think about fancy gourmet dishes such as steak tartare and shrimp ceviche.
Although I'm sure those items would be tasty if I'm at a restaurant, they aren't dishes I want to make at home. Date night doesn't necessarily mean fancy gourmet!
Pizza on the other hand is the perfect canvas. How many of you have pizza night at home? I turned pizza night into a special date with Shrimp Scampi Skillet Pizza.
Shrimp scampi with white wine is shrimp sauteed in a white wine garlic butter sauce. Usually it's eaten as is or paired with pasta, but I opted to make a pizza out of it because why not?
Serve it with Steamed Clams with Pan Roasted Tomatoes as an appetizer.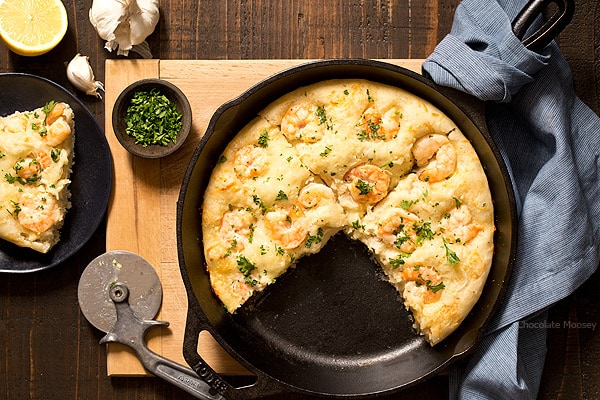 I love skillet pizzas because you don't have to roll and transfer the dough. I have the tiniest kitchen counter for rolling not to mention my dough never stays round anyway.
With a cast iron skillet, you shape the dough to fill up the pan.
I used my 10 inch cast iron pan for a flat pizza, but you can use an 8 inch cast iron pan for a deep dish pizza, much like my BBQ Chicken Skillet Pizza.
A 12 inch cast iron pan will result in an even thinner pizza.
The key to making a good pizza starts with the dough. I love making homemade pizza dough when time permits (and luckily dough freezes well, so you can have it ready to go for a busy weeknight).
There seems to be a misconception yeast is hard to work with, but I'm here to tell you it's not! As long as you make sure your water is warm enough, you mix everything together like you would for a batter.
If you have a stand mixer, it does the work for you. If you don't, kneading dough is often therapeutic.
Usually when I make
dinner for two
, my goal is to not have leftovers.
However, I made an exception for the dough because you have to wait an hour before you can use it, no matter how much dough you're making.
I made enough dough for two pizzas – one to make now for date night and the other to make a second pizza later, such as my Prosciutto Arugula Pizza.
Trust me – you'll thank me later when you're staring at your freezer next month trying to figure out what's for dinner.
Shrimp Scampi Skillet Pizza For Two
Yield: 4 slices
Prep Time: 1 hour 40 minutes
Cook Time: 20 minutes
Total Time: 2 hours
Ingredients
Pizza Dough (makes enough for 2 pizzas - can be refrigerated or frozen)
1 1/3 cup warm water (120F - 130F degrees)
2 tablespoons vegetable oil
1 package (1/4 ounce) Red Star Active Dry Yeast
3 1/2 cups all-purpose flour
1 tablespoon granulated sugar
1 teaspoon salt
Shrimp Scampi
1 tablespoon olive oil
1 tablespoon butter (add a pinch of salt if unsalted)
2 garlic cloves, minced
1/4 cup white wine or chicken broth
2 teaspoons lemon juice
1/4 teaspoon salt
1 cup shredded mozzarella cheese
1/2 pound (8 ounces) shrimp, peeled, deveined, and patted dry
Chopped parsley for garnish
Instructions
For the pizza dough
In a large mixing bowl, mix together the warm water, oil, and yeast. Let sit for 5 minutes.
After 5 minutes, add 1 cup flour, sugar, and salt. With the paddle attachment on a stand mixer or a regular hand mixer, beat until everything is combined (the dough will be wet and loose).
Gradually add the remaining 2 1/2 cups flour and beat until the dough is slightly sticky and elastic. If it's still too sticky (sometimes due to the weather), add up to an extra 1/4 cup flour.
If using a stand mixer, switch to a dough hook attachment and beat for 4-6 minutes or until the dough pulls away from the sides of the bowl. If not using a stand mixer, knead the dough on a floured surface for 4-6 minutes.
Place the dough in a lightly-oiled bowl and cover with a towel. Let the dough rise in a draft-free warm area until doubled in size, about 60-90 minutes.
Punch down the dough. With floured hands split the dough into 2 equal pieces. Refrigerate or freeze the second dough for future use. With the remaining dough, continue with the recipe or refrigerate until ready to use.
For the shrimp scampi
Preheat oven to 450F. Place rested pizza dough in the center of a 10 inch cast iron skillet. Gently stretch the dough until it covers the bottom of the pan.
In a large skillet, heat the oil and butter. Once melted and hot, add the garlic and cook 1 minute. Add the wine/broth and cook until reduced by half, about 2-3 minutes. Stir in lemon juice and salt.
Generously brush about half of the sauce over the pizza crust. Sprinkle with mozzarella. Add the raw shrimp on top, brushing with remaining sauce.
Bake 15-18 minutes or until crust is golden brown and cheese is melted. Garnish with parsley before serving.
Notes
This pizza dough recipe makes enough for 2 skillet pizzas. Since making the dough takes time, it's nice to have a spare dough in the freezer to use at a moment's notice. However, if you don't want extra dough, split the dough ingredients in half.
This post may contain affiliate links. As an Amazon Associate and member of other affiliate programs, I earn from qualifying purchase.