This moist and flaky Asian inspired Ginger Garlic Marinated Salmon is ready in 30 minutes! Serve with rice and fresh vegetables for a complete meal.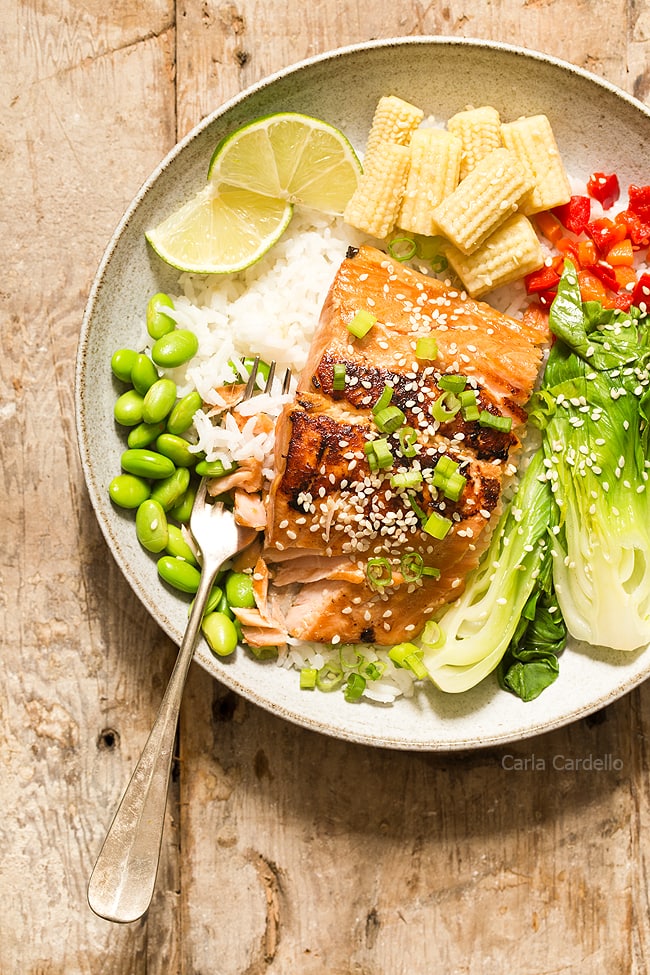 Right now as you're reading this, I drowning in boxes. Last week I signed a lease for a new apartment. I'll still be in Pittsburgh on the same side of the city. Just 15 minutes from my current place.
After spending 3 years living in my current apartment, it's time to upgrade and move into a bigger one. Not only will it have an extra room for an office and studio ("studio") space, I'll have an adequate amount of kitchen counter space.
A legit kitchen! My stovetop won't have to double up as extra counter space. I can actually plug my appliances in the kitchen rather than in my dining room. I won't have to balance a cookie sheet on top of my coffee maker. I won't have to do dishes in the middle of prepping so I can have space to chop an onion.
I may even have room to host my parents and brother for a holiday dinner. There may actually be standing room for two people to work in the kitchen at the same time!
The best part? I'm allowed to have a cat. The original listing said no pets, but when I visited the apartment of the tenants still living there, a friendly black and white cat greeted me. My future landlord couldn't deny that one (ha). I wonder if he comes with the apartment?
The not so best part? It's on top of a giant hill, so winters will be…interesting. Luckily I work from home so I won't be commuting when the roads are icy.
The whole moving thing though won't be fun. Have you read The Life Changing Magic Of Tidying Up? That'll be my mantra these next few weeks as I pack. I'm not taking anything I won't use in my new place.
And since I'll be busy cleaning and packing, I'm going to need all the quick and easy dinners I can get. Not only am I cleaning out my fridge and pantry, I won't have the energy to make complex dinners.
That's where this Ginger Garlic Marinated Salmon recipe comes in handy. 4 ingredients. 30 minutes. 20 of those minutes are spent waiting as the salmon marinates, which means I can pack a box or two during that downtime.
And since I'm in an eat-all-of-my-food-so-I-don't-have-to-pack-it mode, I can serve the fish with Really Good Freekeh Salad using whatever grain I have in my pantry and Green Onion Salad with whatever vegetables I need to eat.
Whether you're like me in the middle of a big life change, you live a busy lifestyle, or you're just too tired from working all day, this Asian salmon is a life saver.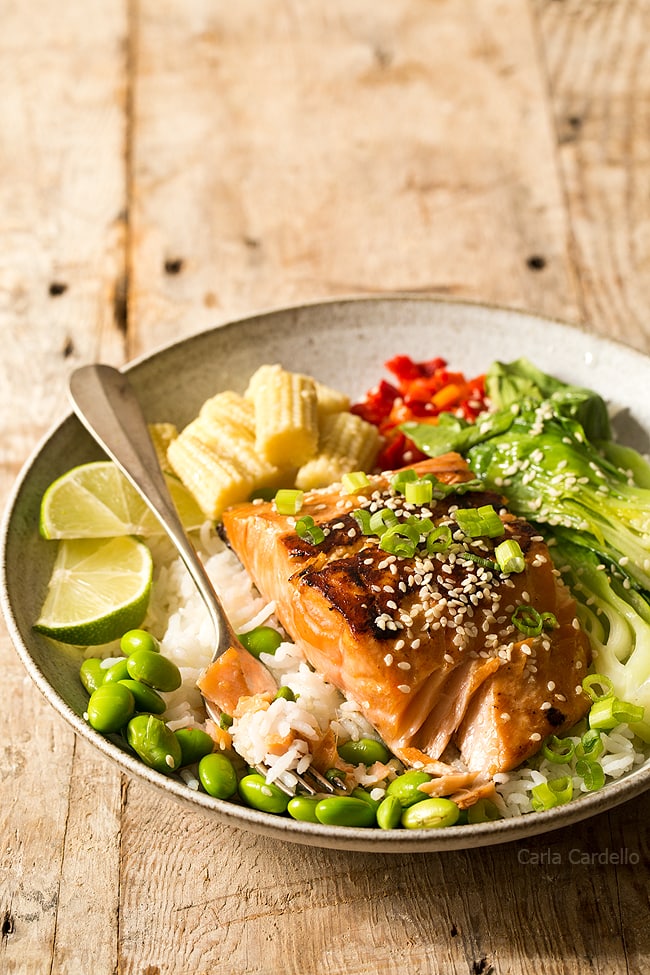 This Ginger Garlic Marinated Salmon is another culinary school inspired recipe. It was originally made with trout, but salmon is my favorite fish plus I don't see trout too often.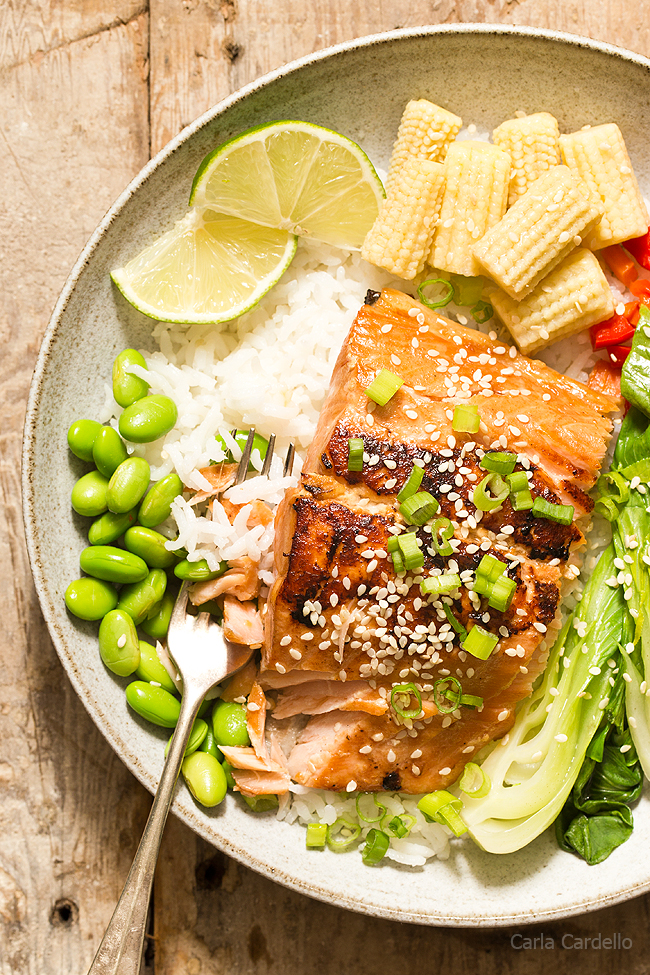 Fun fact – you can eat salmon medium rare, much like you would with a steak.
In fact, I wouldn't cook it past this stage (125F if you're measuring). The salmon will be so moist and flaky.
You *can* cook it well done, but you also run the risk of overcooking it.
My favorite part is the crispy skin.
When I first started cooking with salmon (back in college when it was on sale), I wasn't sure what to do with it. Eat it? Remove it?
Although you *can* remove it, trust me – leave it on. It's so good!
And if you insist on removing it, can you at least fry it up and send it to me? I'll eat all of your crispy skin.
Don't want to pan fried fish? Check out my Baked Fish and Chips.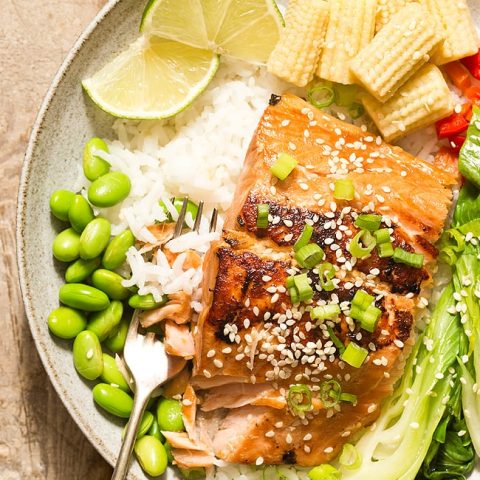 Ginger Garlic Marinated Salmon
Ingredients
1/4 cup soy sauce
2 teaspoons ginger paste or finely chopped ginger
1 garlic clove, minced
2 salmon fillets with skin (about 6 ounces each)
1 tablespoon olive oil
Instructions
Whisk together the soy sauce, ginger, and garlic.
Add the salmon skin side up to a container or plastic bag then pour in the marinade.
Cover and marinate for 20 minutes in the refrigerator. Remove fillets and pat dry.
In a large skillet heat the oil over medium high heat until it starts to shimmer. Turn the heat down to medium low and add the salmon skin side down.
Cook until the fillets are cooked 2/3 of the way up the sides and a thermometer registers 120F, about 5-8 minutes depending on the thickness of the fish. If the fish sticks, cook another minute longer then try again.
Flip and cook for 1-2 minutes or until it flakes easily.
Serve with rice, edamame, and steamed bok choy.