Small Batch Mini Chocolate Cheesecakes are individual chocolate cheesecakes baked in a muffin pan. Serve as a chocolate dessert for two.
January, oh January.
It's been quite an up and down month. It's snowing. It's raining. It's sunny. It's warm. It's cold. It's raining again.
Last week's inauguration happened, but then I started culinary school earlier this month to be officially certified in the culinary arts.
I've been thinking about it for the past year and found a program that fits with my schedule as I'm still working full time (gotta make that income!) while taking classes two days a week.
I made some business changes to help compensate for the extra time going back to school (which is still weird for me to say), but don't worry.
You won't notice these changes because it's all related to the boring business stuff and not the actual recipes.
In fact, I'm continuing my normal recipe schedule with these Small Batch Mini Chocolate Cheesecakes.
After making my mini margarita cheesecakes and mini pumpkin cheesecakes, it was time for a chocolate version.
After all, it would be a disgrace to not have one given the amount of cheesecake recipes I have, right?
They remind me of hot chocolate because of the chocolate batter, mini marshmallows, and chocolate drizzle on top.
After debating on what to use for the crust, I went with graham cracker crumbs to give them both color and flavor contrast from the chocolate.
You can certainly make an Oreo crust to make them extra chocolatey.
Not a fan of marshmallows? You can also garnish them with whipped cream or ganache.
Looking for more flavors? Check out my Easy Mini Cheesecake Recipes post where I list all of my recipes for mini cheesecakes in one spot.
What pan do you use to bake mini cheesecakes?
Typically cheesecake is baked in a springform pan because of how delicate it is.
However, for mini chocolate cheesecakes I baked them in a muffin tin (Amazon affiliate link) because it's a common baking pan almost everyone has.
Yes, there are special mini cheesecake pans with removable bottoms, but I didn't want to buy a specialty pan.
I haven't tested this recipe in one of those cheesecake pans, but I feel like it would still work. Quantity may vary.
How do you get a cheesecake out of a muffin tin?
Because you don't use a springform pan, you have to gently remove the mini cheesecakes from the cupcake pan.
I use paper liners so they don't stick to the pan. It's up to you whether you want to remove the liners before serving or let whoever is eating remove their own. It's really up to how you want to present them.
Don't have paper liners? Grease the pan so they don't stick then use an offset spatula or knife to gently pop them out.
Ingredients for Mini Chocolate Cheesecakes
Mini cheesecakes are made up of a few easy ingredients:
Cookie crumbs: I used graham cracker crumbs to balance the chocolate, but you can certainly use Oreo for an extra chocolate bite. I use a food processor to crush into crumbs.
Butter: Needed to bind the crust
Cream cheese: It's not cheesecake without cream cheese! Make sure you're using full-fat cream cheese. The low fat and fat free versions have more water in them and may be too watery after baking.
Granulated sugar: Adds a bit of sweetness to balance out the tanginess of the cream cheese
Egg: As with all baking recipes, use a large egg.
Melted chocolate: You want to use baking chocolate (not chocolate chips) for your melting chocolate. Semisweet chocolate is the most common to use, but if you love bittersweet you can also use dark chocolate.</ li>
Vanilla: Adds flavor to the batter and makes the chocolate taste more chocolatey.
Which cream cheese should I use for cheesecake?
Baking cheesecake is one of the few times where the brand of cream cheese you buy matters.
For the smoothest cheesecake possible without any lumps, you want a cream cheese without xanthan gum or guar gum. Both are stabilizers, which help cream cheese keep its shape.
This means no matter how much you beat the batter, tiny bits of cream cheese will remain. This is especially noticeable in pumpkin or chocolate cheesecake because of the color contrast.
Now if you discover your cream cheese in your fridge does have these ingredients, don't panic! Your cheesecake will still taste delicious. It just may have tiny white specks and not look as smooth.
How To Make Mini Chocolate Cheesecakes
First, start with your crust.
Mix together your crumbs and melted butter. Then add roughly 2 tablespoons to each paper liner and press down to form a bottom crust.
Bake for about 5-8 minutes or until the crust no longer looks wet. This will help crisp up the crust before the cheesecake filling is added.
While the crust cools, make the chocolate cheesecake filling.
Beat together the cream cheese and sugar until super smooth, scraping down the bowl as needed.
Then beat in the egg, being careful not to overbeat the batter.
Finally, add the melted chocolate and vanilla for flavor.
Transfer the batter to your cookie crust. Bake at 325F degrees for 20-25 minutes.
How do you know when a mini cheesecake is done?
Mini cheesecakes are done baking when the edges are set, the center doesn't look wet and is mostly set with some wiggling, and internal temperature reaches 150F degrees.
They'll puff up a bit but will deflate and flatten when cooling.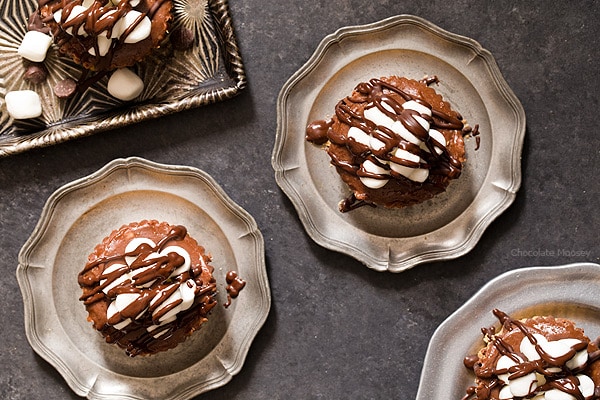 Do you need a water bath for mini cheesecakes?
Mini chocolate cheesecakes do not need a water bath because they're small enough to evenly bake in the middle without overbaking the top.
What kind of crust do mini cheesecakes have?
As mentioned, I made these mini chocolate cheesecakes with a graham cracker crust.
However, you can most definitely use Oreo crumbs.
If you're using Oreos, you can cut back on the melted butter. Oreos have the cream filled centers which help with binding, so you don't need as much butter.
What can I top cheesecake with?
Because I wanted them to be like hot chocolate, I piled them high with mini marshmallows and "glued" them in place with melted chocolate so they don't fall over.
Just don't knock them over before you add the chocolate like I kept doing.
You can also garnish with chocolate whipped cream or ganache, which is a chocolate glaze made from heavy cream and chocolate. It has a silky smooth texture with a soft bite to it.
How long do mini cheesecakes last in the fridge?
Cheesecake can last up to 5-7 days in the refrigerator. Although with this small batch recipe, they'll likely be gone before then.
Can mini cheesecakes be frozen?
Yes, mini cheesecakes can be frozen before you garnish them.
First place them in a single layer on a baking sheet or plate then freeze until firm, about 1 hour. This prevents them from sticking to the plastic wrap and to each other.
Next wrap each cheesecake individually in plastic wrap then place in a freezer-safe bag. Freeze for up to 1-2 months.
Why do mini cheesecakes sink in the middle?
Chances are if your mini cheesecakes sunk in the middle after cooling, the middle is underbaked. When it's underbaked, it's not strong enough to support the top.
Another possible reason is you overbeat the batter especially after adding the egg, incorporating more air than needed.
This air will cause the batter to rise too much then sink as it cools.
How do you keep mini cheesecakes from sinking?
As mentioned, sinking likely happened if your cheesecake is underbaked. Make sure the edges are set, the center doesn't look wet and is mostly set with some wiggling, and internal temperature reaches 150F degrees.
Why is my cheesecake lumpy?
If your cheesecake batter is lumpy, chances are your cream cheese and egg are too cold.
Make sure they sit out at room temperature until no longer cold to the touch. I let my ingredients sit out about 2 hours or so, but it'll depend on how cold your kitchen is (think summer vs. winter).
If your cream cheese is still too cold, microwave (without the foil wrappers!) in 5-10 second increments until no longer cold to the touch. Be careful you don't accidentally melt it!
To warm up the egg, place it in a warm bowl of water and let sit for about 15 minutes or until no longer cold to the touch.
What to do if my cheesecake batter is lumpy
Unfortunately no amount of beating will smooth out the lumps. And the lumps certainly won't melt while baking.
Sometimes you can use a blender to smooth out the lumps. This method may incorporate too much air, which could cause the cheesecake to crack. However, you can cover the cracks with a garnish.
Sometimes you can run the batter through a strainer. You may lose some of the batter in the process, but at least it'll be smooth.
More Mini Cheesecake Recipes

Here are more small cheesecake recipes for two: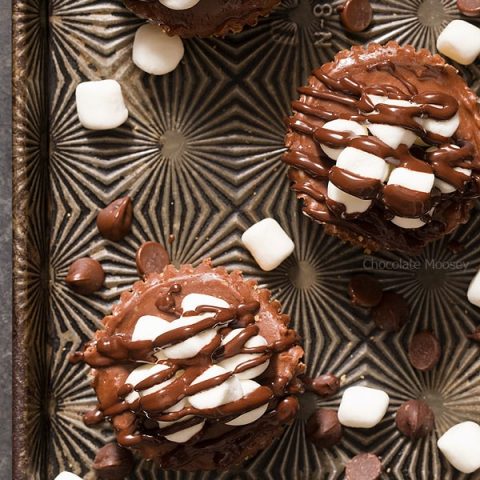 Mini Chocolate Cheesecakes (Small Batch)
Yield:
6 mini cheesecakes
Total Time:
4 hours
50 minutes
Small Batch Mini Chocolate Cheesecakes are individual chocolate cheesecakes baked in a muffin pan. Serve as a chocolate dessert for two.
Ingredients
2 ounces semisweet chocolate, chopped
3/4 cup graham cracker crumbs*
2 tablespoons unsalted butter, melted
8 ounces (1 block or 8 tablespoons) full-fat cream cheese, room temperature and not cold to the touch (do not sub fat free)
1/3 cup granulated sugar
1 egg, room temperature and not cold to the touch
1/2 teaspoon pure vanilla extract
Garnish Ideas
Mini marshmallows and melted chocolate
Instructions
Preheat oven to 325°F. Line a muffin pan with 6 paper liners. If not using paper liners, grease with cooking spray.
In a large microwave safe bowl, add the chocolate. Microwave for 30 seconds then stir. Repeat in 15 second increments until the chocolate is completely smooth. Cool for 15 minutes.

Alternatively, add about an inch of water to a saucepan and bring to a simmer on the stove. Turn off the heat and place a heatproof bowl over top (do not let the bottom touch the water). Add the chocolate and melt until smooth. Remove from the heat and cool 15 minutes.
In a small bowl, mix together the graham cracker crumbs and melted butter until moistened and clumpy. Press roughly 2 tablespoon into the bottom of each paper liner and bake 5-8 minutes or until set and no longer looks wet. Cool while you make the filling.
In a large mixing bowl on high speed, beat together the cream cheese and sugar until light and fluffy, about 2-3 minutes. Scrape down the bowl as needed.
Beat in the egg for 1 minute or until smooth (do not overbeat). Beat in the melted chocolate and vanilla.
Divide the filling among the paper liners. They should be filled to the top. Bake 20-25 minutes or until tops and edges are firm, the center slightly jiggles when moved, and internal temperature is 150F.
Cool for 1 hour at room temperature then cover and refrigerate at least 4 hours or overnight before garnishing and serving.

Store leftovers in an airtight container in the refrigerator for up to 5-7 days.
Recommended Products
As an Amazon Associate and member of other affiliate programs, I earn from qualifying purchases.