Pimento Goat Cheese Spread
Bring a little Southern charm to your kitchen with this creamy Pimento Goat Cheese Spread served on crostini or crackers. It also makes an excellent filling for the ultimate grilled cheese sandwich.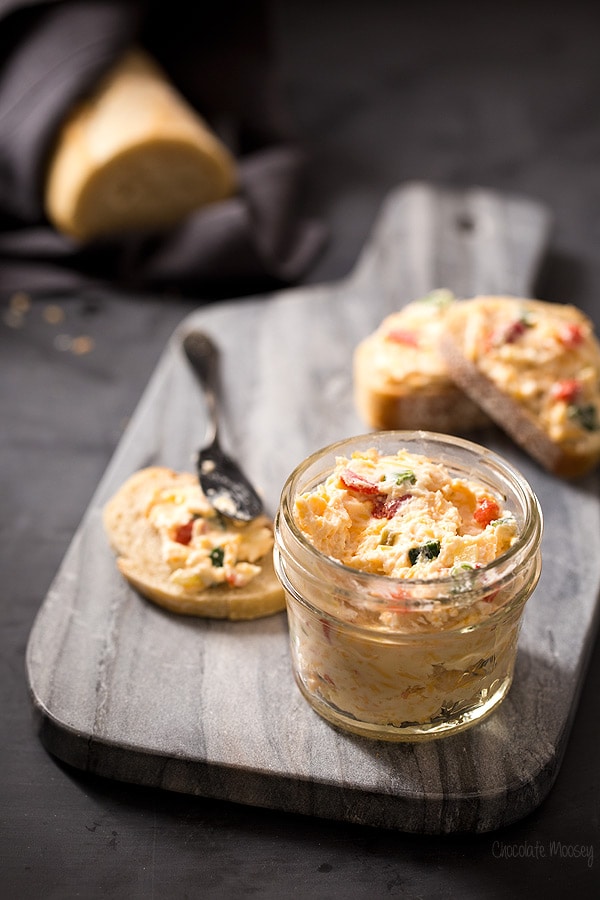 Sometimes I forget how much I love to travel and explore.
Sure, sitting at the airport for hours is exhausting, but if we can fast forward through that part, exploring a new destination gives me wanderlust.
Maybe it's because I don't do anything exciting back in Pittsburgh. Maybe it's because I love sharing my photos on Instagram of what I see and experience.
I've always loved shooting with my camera long before I became a food photographer. If you follow me on Instagram (and you should), you probably noticed I was busy exploring Charleston, SC earlier in the month.
A group of friends and I decided to take a photography workshop together. We arrived a few days beforehand to explore Charleston (with one friend joining us later due to work).
It was refreshing, especially since it was off season and during the week, which meant we were experiencing the city as locals rather than as tourists.
We mainly ate our way through Charleston while also taking time to visit the famous Pineapple Fountain (which I didn't know was an iconic symbol for Charleston that represents Southern hospitality. Who knew!).
I knew when I got back to work in the kitchen, I wanted to share something that represented my trip.
The first night, we ate dinner at a smokehouse where one of our appetizers was pimento cheese fritters. I forgot how much the South (and me) loved pimento cheese.
A few days later once all four of us were together, we stopped at a pizza place for lunch. On the menu was a pimento and pickles cheese plate featuring pimento goat cheese spread served with crostini.
I've never heard of pimento cheese made with goat cheese before, and it definitely lived up to expectations.
I decided to recreate the cheese spread rather than the cheese fritters because let's face it – who wants to fry at home?
This pimento goat cheese spread recipe isn't meant to be a copycat recipe but rather an inspiration.
Quite frankly, I think it's better than the restaurant because I adjusted it to my tastes. Served with crostini or with crackers, you'll wish this appetizer was totally acceptable for dinner.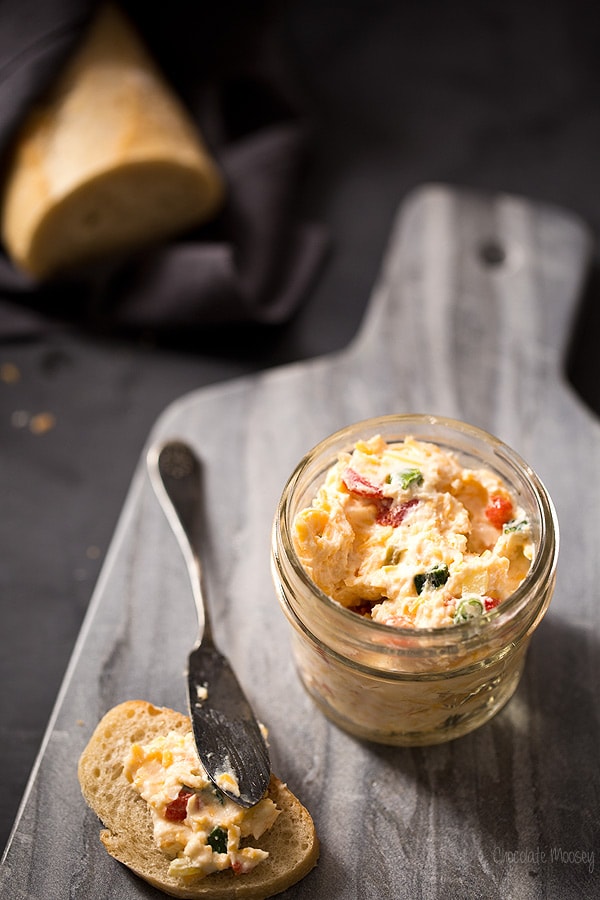 Pimento goat cheese spread is a little unusual from regular pimento cheese spread as it uses goat cheese instead of cream cheese.
There is still some mayonnaise involved, but it's not overpowering for you mayo haters.
If you find yourself with leftover pimento cheese spread, it makes an excellent filling for grilled cheese, especially if you use fried green tomatoes. A true Southern experience.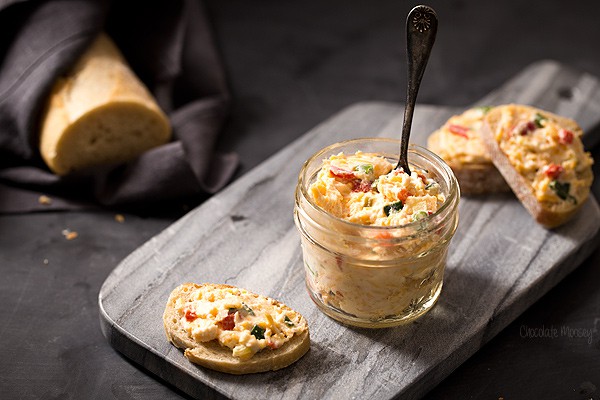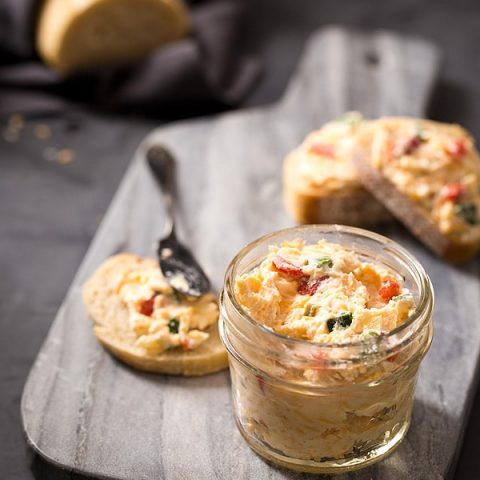 Pimento Goat Cheese Spread
Yield: 4-6 servings
Prep Time: 15 minutes
Chill Time: 1 hour
Total Time: 1 hour 15 minutes
Bring a little Southern charm to your kitchen with this creamy Pimento Goat Cheese Spread served on crostini or crackers.
Ingredients
4 ounces goat cheese
1 cup finely shredded sharp cheddar cheese
1/2 cup mayonnaise
1/4 cup diced jarred pimentos, drained
2 green onions, sliced
1 tablespoon sweet pickle relish
1 teaspoon garlic powder
1 teaspoon onion powder
1 teaspoon ground mustard
1/4 teaspoon salt
Instructions
In a large mixing bowl, beat together the goat cheese, cheddar cheese, and mayonnaise until smooth.
Add the pimentos, green onion, relish, garlic powder, onion powder, mustard, and salt. Refrigerate for at least 1 hour or until chilled. Serve on crostini or crackers.
Notes
To make crostini: Preheat the oven to 350F. Cut a fresh baguette loaf into 1/2-inch slices and place in a single layer on a baking sheet. Brush with olive oil, sprinkle with sea salt, and bake for 8-10 minutes or until the middle is soft and the edges are crunchy.
More goat cheese appetizer recipes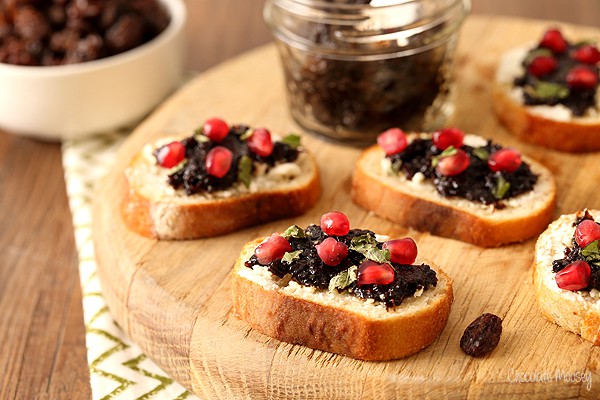 Raisin Jam and Goat Cheese Crostini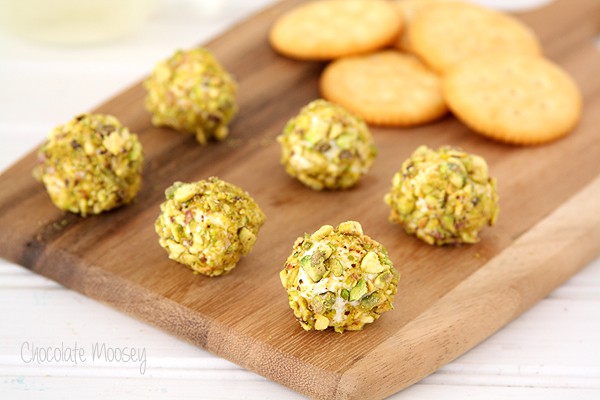 Goat Cheese, Bacon, and Pistachio Truffles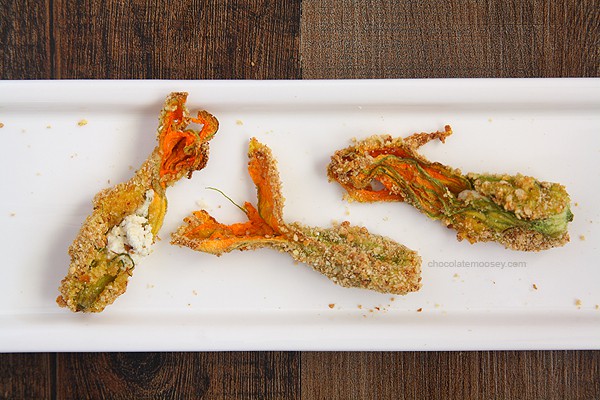 Goat Cheese Stuffed Squash Blossoms
This post may contain affiliate links. As an Amazon Associate and member of other affiliate programs, I earn from qualifying purchase.