Easy Chicken Dinners For Two
A recipe collection of my favorite Easy Chicken Dinners For Two, ranging from chicken leg quarters and bone-in thighs to boneless skinless chicken breast and ground chicken.
Chicken is probably the most versatile and popular protein most people eat.
You always hear chefs on TV talking about how cooking a chicken is the best test of your skills because it's a blank canvas.
And it really is. You can find chicken in almost any cuisine, whether it's Mexican, Middle Eastern, or Greek.
It's also hard to think of (savory) ingredients that don't go with chicken (unless you're vegetarian, which this isn't the post for you).
As I was updating my romantic meals for two at home post, I realized I had a ton of chicken recipes for two.
In fact, I had so many I was able to create this Easy Chicken Dinners For Two round up with over 15 recipes.
Originally I wanted to write this for Valentine's Day as easy romantic chicken dinners for two. But honestly? Chicken is so versatile, you can make these recipes every day of the year.
Maybe you're bored of your usual menu planning. Maybe the only protein left in your freezer is chicken. Or maybe you're trying to impress a date.
Whatever the reason, I have all kinds of recipes using chicken. Whether you enjoy eating chicken breasts, chicken thighs, bone in skin on chicken, boneless skinless chicken, or even ground chicken, there's a recipe for you.
But first, I'm answering a few of your questions:
How much chicken do I need for 2 people?
This depends on whether you're serving the chicken as individual pieces or whether it's chopped up and served with other ingredients.
If you're serving individual chicken pieces, such as chicken thighs or chicken breasts, typically you want 1 pound per person. Usually this is 1 chicken quarter, 1 large breast, or 2 chicken thighs, but it's really subjective. Some people eat more than others.
However, if you're adding chopped chicken to a meal, such as stuffed shells or pot pie, 1/2 pound will be enough because the other ingredients will bulk it up.
What is the best way to freeze chicken?
Buying meat when cooking for two is a challenge because it's cheaper to buy in bulk. And unless your store has a butcher counter, most places force you to buy several pounds at once.
This is mostly why I eat chicken so much since I always have it in my freezer.
Luckily for us, chicken is the easiest to freeze. Wrap each individual piece in plastic wrap and place in a freezer bag. That way you can grab as many as you need without waiting for the entire package to thaw.
Freeze chicken for up to 9 months.
Easy Chicken Dinners For Two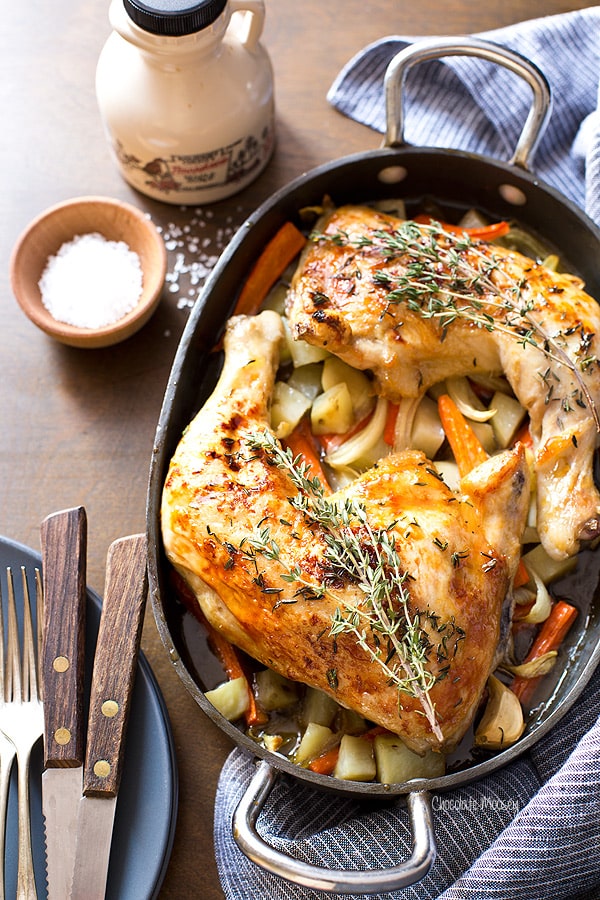 Maple Roasted Chicken Quarters – Not only do you get sweet, crispy chicken skin to crunch on, you also get a built-in side dish with the roasted vegetables underneath. Win-win!
Honey Mustard Chicken Thighs – Similar to maple roasted chicken with the crispy skin but made with a sweet and savory honey mustard sauce.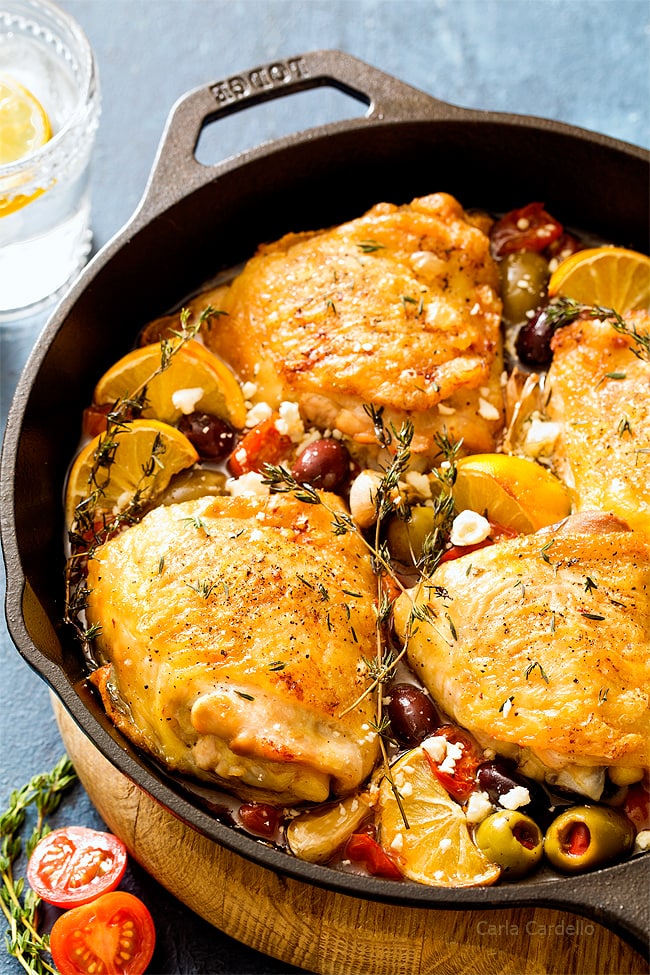 Mediterranean Chicken Thighs – Another one skillet meal with simple roasted chicken thighs served with olives and tomatoes.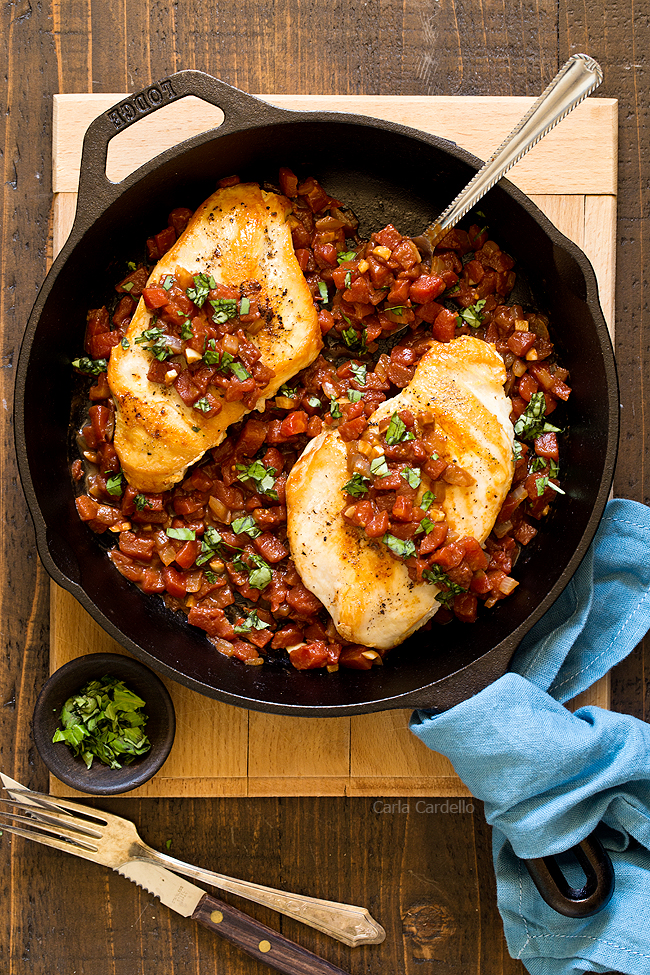 Balsamic Tomato Skillet Chicken – If you prefer light meat over dark, this easy skillet chicken is made with chicken breast. You cook the chicken and sauce all in one pan, making clean up a breeze.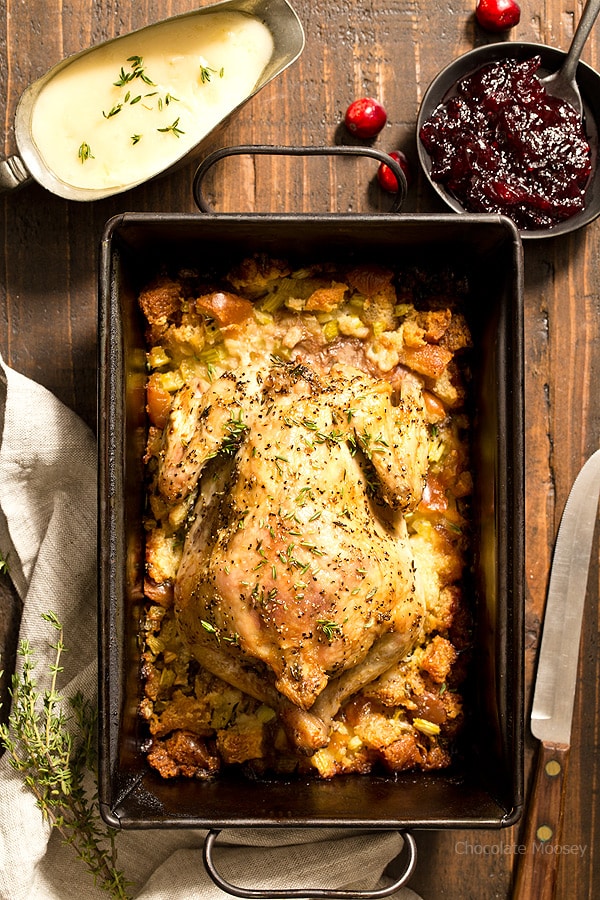 Cornish Hen with Homemade Classic Stuffing – This recipe isn't reserved only for Thanksgiving! I find roasting a whole albeit tiny bird makes a better wow factor for presentation.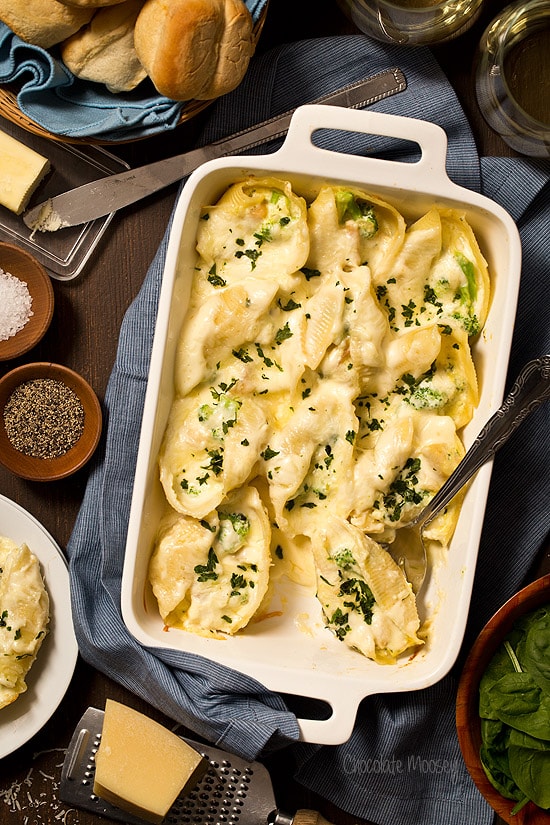 Chicken Broccoli Alfredo Shells For Two – A different take on a classic pasta recipe! I personally think stuffed shells are born for special occasions because it's not every day you stuff pasta with a delicious chicken and cheese filling.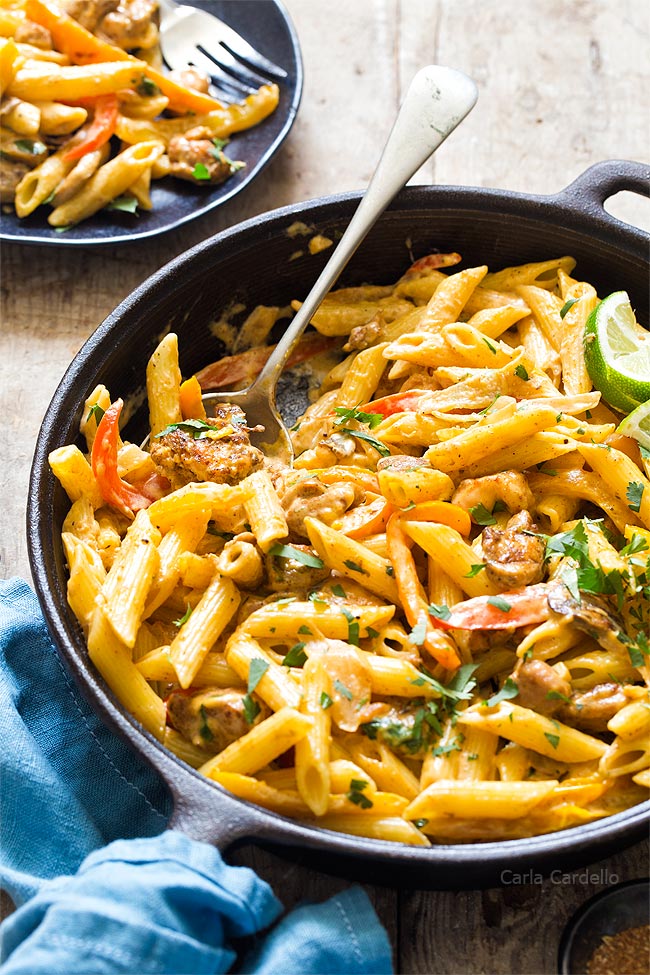 Chicken Fajita Pasta – Italian meets Tex Mex with this Chicken Fajita Pasta in a creamy cheese sauce.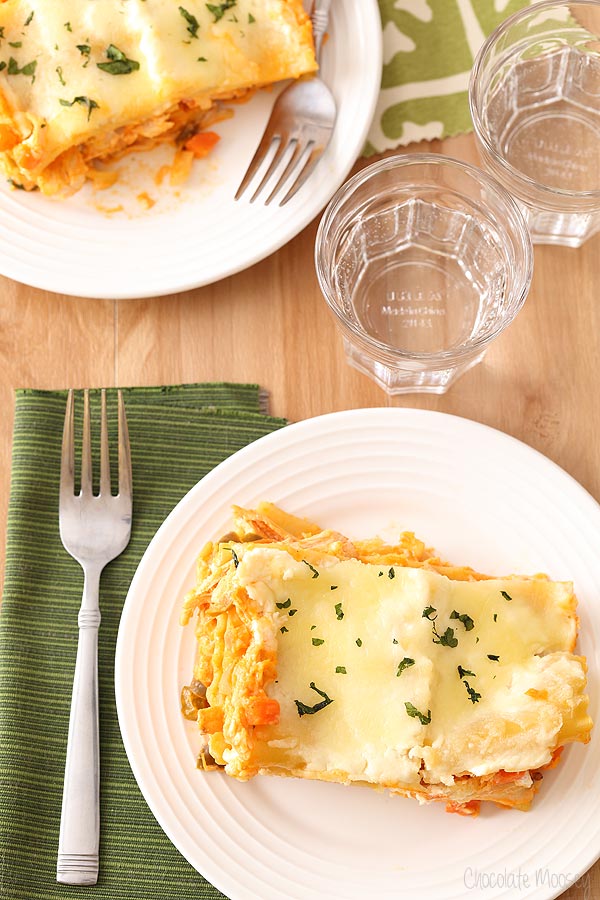 Buffalo Chicken Lasagna For Two – Lasagna for two is definitely possible thanks to cooking it in a loaf pan!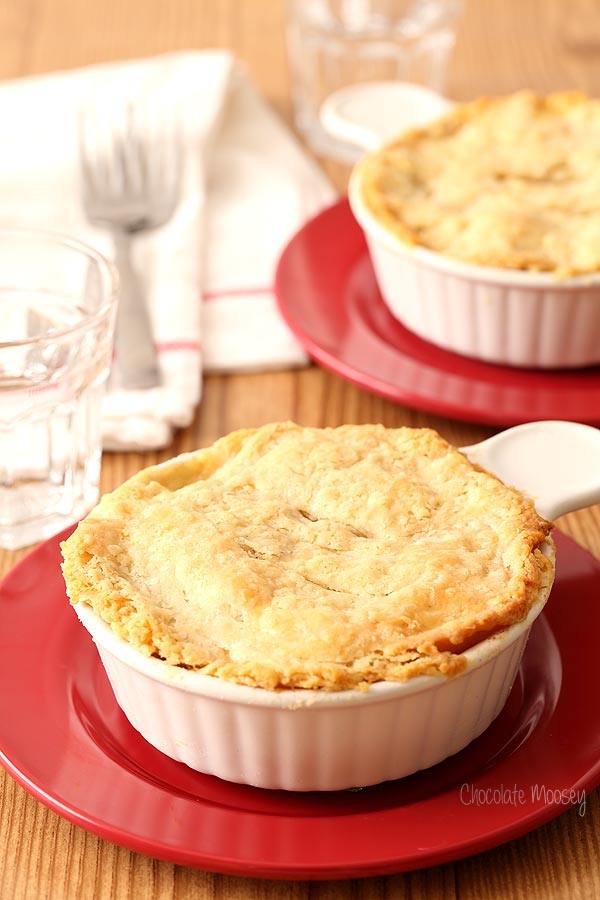 Chicken Pot Pie For Two – Having your own pot pie means you don't need to fight over who gets the last bite.
Chicken Pot Pie Baked Potatoes – A slightly different take on pot pie without having to make pie crust.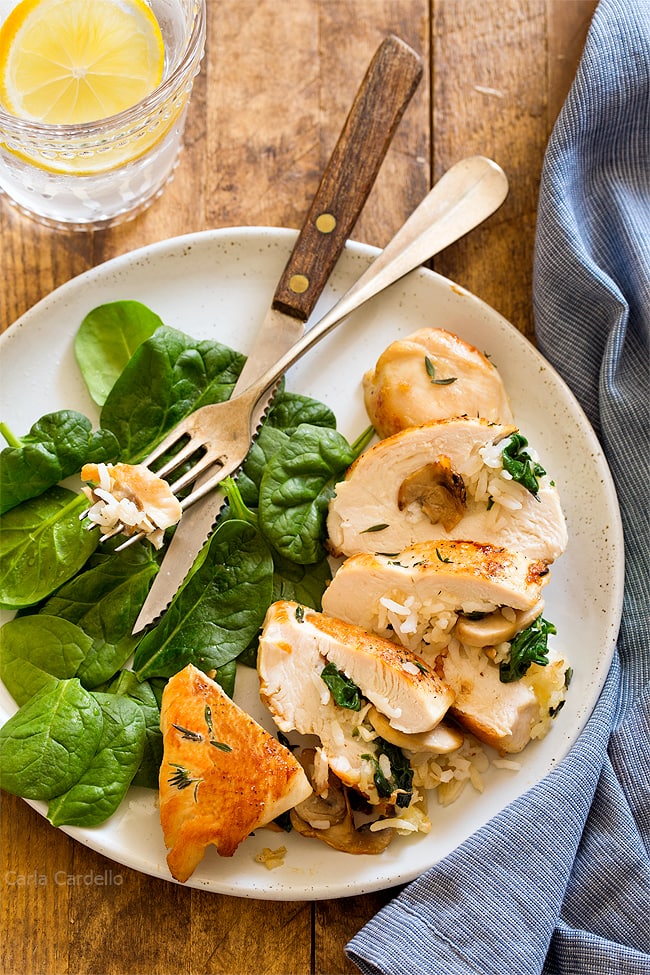 Mushroom Rice Stuffed Chicken Breast – This stuffed chicken breast recipe with cheese and spinach may seem like a fancy dinner for two, but it's an easy technique sure to impress.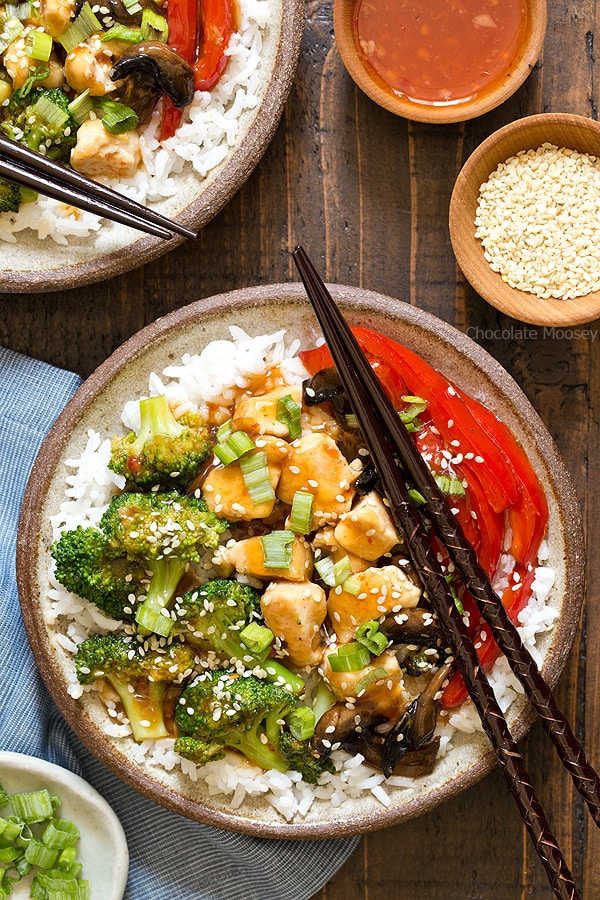 General Tso's Chicken Rice Bowls – Love Chinese takeout? Stay home and make these rice bowls. Much cheaper and healthier!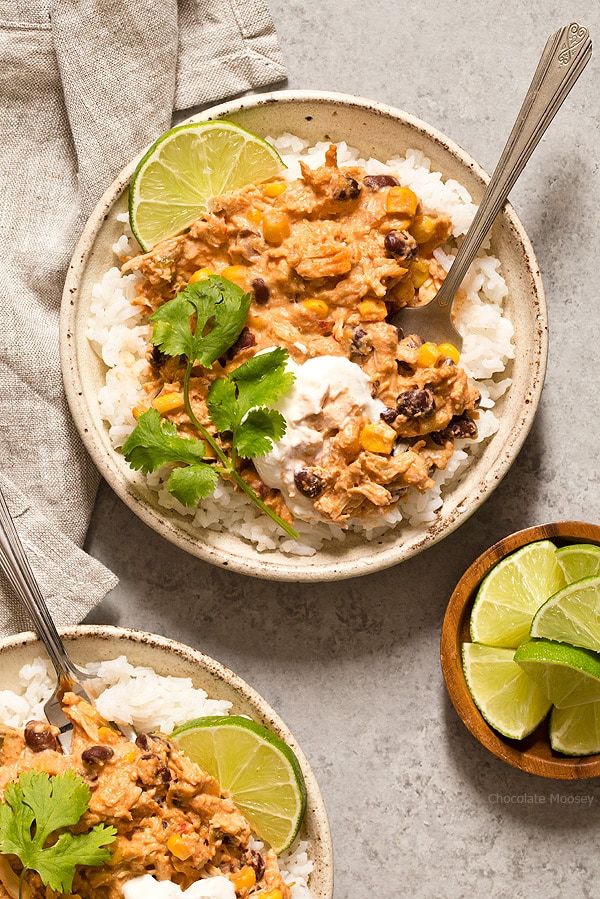 Slow Cooker Salsa Chicken – No time to cook during dinner time? Luckily you can start this crockpot salsa chicken in the morning then have it ready to eat later.
BBQ Chicken Skillet Pizza For Two – Did you know you can make pizza for two in a cast iron skillet? You definitely can with this BBQ chicken pizza!
Thin Crust Buffalo Chicken Pizza – Hate the idea of making a yeast pizza dough? Opt for making this easy no yeast pizza crust, which means you don't have to wait for the dough to rest.
Buffalo Chicken Chili – Ground chicken, black beans, and hot sauce come together in this hearty one pot chili.
Chicken Dinners For Two From Other Bloggers
P.S. Looking for a sweet way to end your meal? Check out my Easy Romantic Desserts For Two At Home.
This post may contain affiliate links. As an Amazon Associate and member of other affiliate programs, I earn from qualifying purchase.