Slow Cooker Salsa Chicken
Warm and spicy Slow Cooker Salsa Chicken is served over rice with cilantro and lime. Make it with boneless skinless chicken breast or chicken thighs.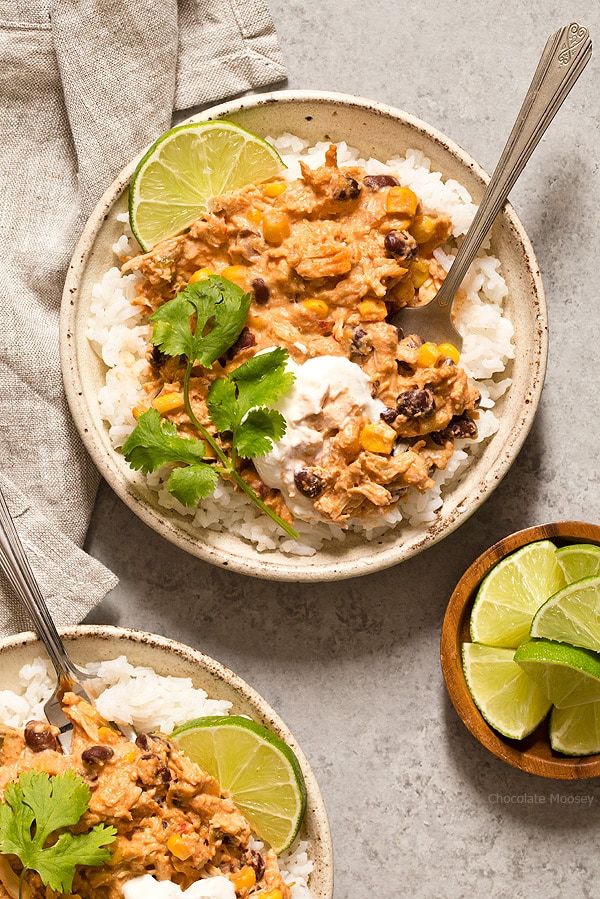 So here I am in 2017 posting my first slow cooker recipe. I told myself for the longest time I wouldn't own a slow cooker.
Back when I worked in an office, a coworker suggested I buy a slow cooker so dinner would be ready when I got home.
The idea of leaving it on all day in my kitchen while I'm not home terrified me.
I know they are designed to not catch on fire, but I couldn't be at work for 8 hours and not worry if my apartment was still standing.
Fast forward to a few months ago, I needed to buy two slow cookers for a client project. That meant keeping them afterwards.
Here I am with a 1.5 quart slow cooker and a 6 quart slow cooker and no idea what to do.
The little one is too small to cook a meal, but it'd be ideal to keep snack foods warm, like dips and meatballs.
I wanted to use my 6 quart slow cooker for a few meals before I posted any recipes from it since I was new to the whole concept.
I asked my friends which recipes I should make.
One friend who is a working mom told me she makes Slow Cooker Salsa Chicken for her family. I can understand why!
All you do is put everything in the slow cooker and let it cook. Once the chicken is done, you shred it. No need to pre-cut anything.
I made a few adjustments from the original recipe she gave me such as scaling it down to be dinner for two, but the concept is the same.
You can even use my homemade fresh garden salsa recipe.
Serve it over rice with sour cream on top for a filling meal.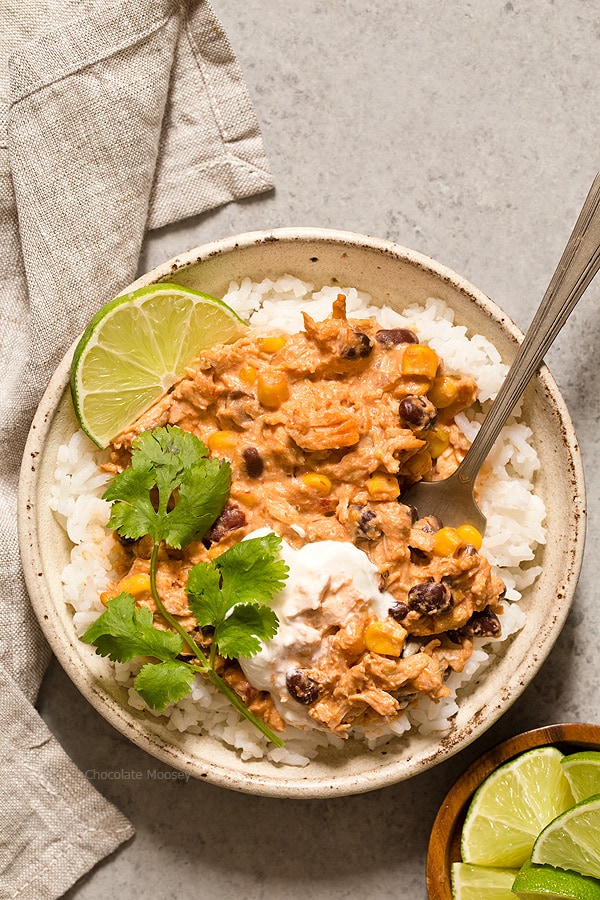 A few things I learned while researching slow cooker recipes:
1. Most recipes make too many servings. I made my friend's slow cooker lentil and sausage soup.
However, it left me with way too much soup to eat all week. At the time, I didn't have room in the freezer, so freezing it wasn't an option.
Other recipes call for large pieces of meat that may be suitable for when my parents and brother visit, but not for single me.
2. Some recipes require cooking before using the slow cooker.
I thought the point was for the slow cooker to make cooking hands off? If I'm going to brown the meat, I might as well finish cooking it on the stovetop.
Plus who is really awake in the morning to cook before putting everything in the slow cooker?
3. Most recipes take 7-8 hours on low to cook, but you can usually speed it up by cooking 4-6 hour on high.
I don't want to make a blanket statement since maybe there's a recipe where cooking time does matter, but so far I noticed as long as the meat cooks, you can opt for a shorter cooking time.
I made sure to cook my salsa chicken on both settings to confirm this theory. That way if you're running to work, you can cook it for 8 hours.
Or if you work at home like me, you can wait until the afternoon to prep everything.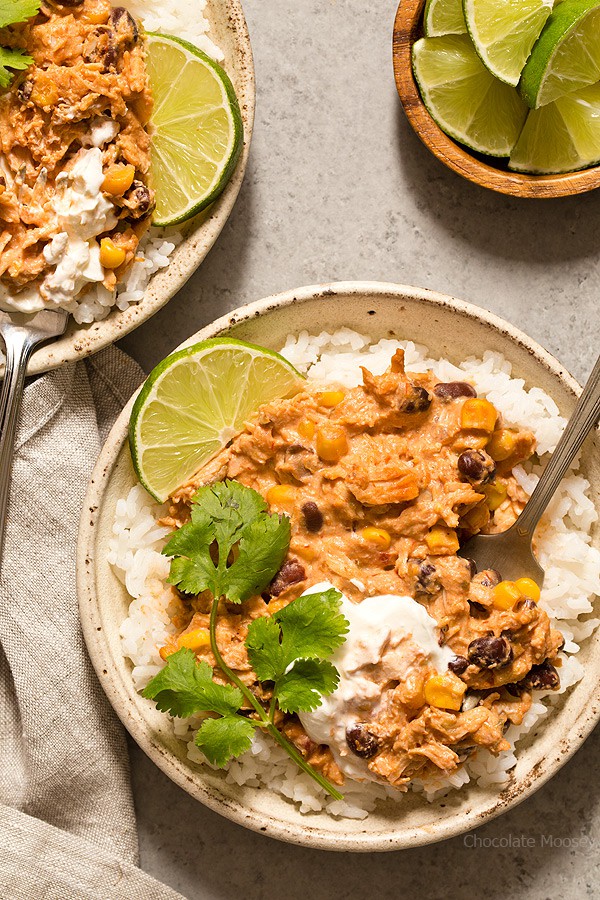 Based on these three things, I'm developing my slow cooker recipes to make dinner for two (ideally 4 servings is my goal, enough to realistically feed 2 people), to have little prep time beforehand, and to have interchangeable cooking times to fit your schedule.
This slow cooker salsa chicken fits all three requirements. Enjoy!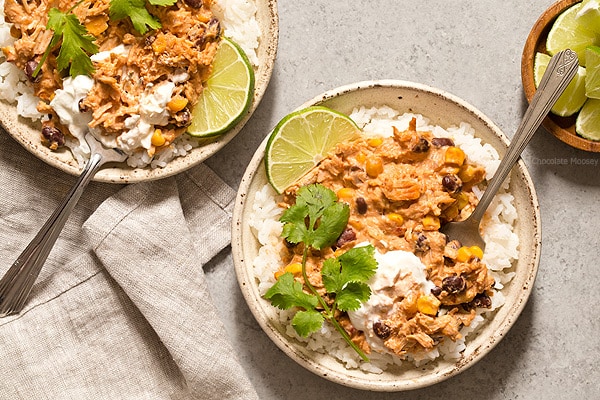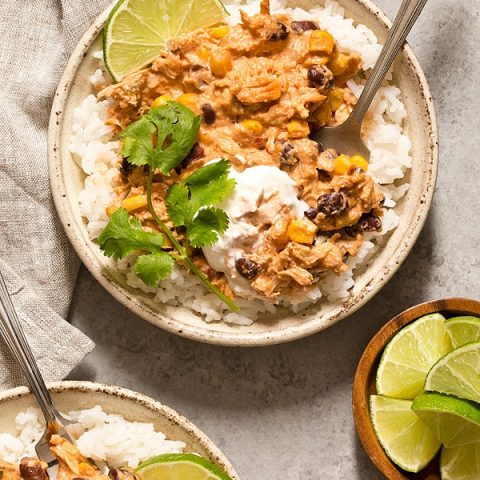 Slow Cooker Salsa Chicken
Yield: 4 servings
Prep Time: 15 minutes
Cook Time: 8 hours
Total Time: 8 hours 15 minutes
Warm and spicy Slow Cooker Salsa Chicken (Dinner For Two) is served over rice with cilantro and lime. Make it with boneless skinless chicken breast or chicken thighs.
Ingredients
1 large boneless skinless chicken breast or 2 boneless skinless chicken thighs, thawed and patted dry
Salt, to taste (preferably kosher)
1 cup salsa (homemade or store-bought)
1 cup canned black beans, drained and rinsed
1 cup fresh or frozen corn kernels
1 tablespoon fresh lime juice (roughly 1-2 limes)
4 ounces cream cheese, cut into 4 pieces
1 tablespoon chopped fresh cilantro
Cooked rice and sour cream, for serving
Instructions
In a 6-quart slow cooker, add the chicken. Sprinkle the top with salt.
Add the salsa, black beans, corn, and lime juice, making sure the chicken is covered. Add cream cheese pieces.
Cover and cook on high for 4-6 hours or on low for 8-10 hours or until chicken is cooked and easily falls apart with a fork.
Shred the chicken with 2 forks. Stir everything together until the cream cheese is melted and smooth. Stir in cilantro. Serve over rice with sour cream.
This post may contain affiliate links. As an Amazon Associate and member of other affiliate programs, I earn from qualifying purchase.