Buffalo Chicken Lasagna For Two
Love to eat lasagna but don't want leftovers for days? This Buffalo Chicken Lasagna For Two is scaled down to feed two people and has all the flavors you love about buffalo chicken dip.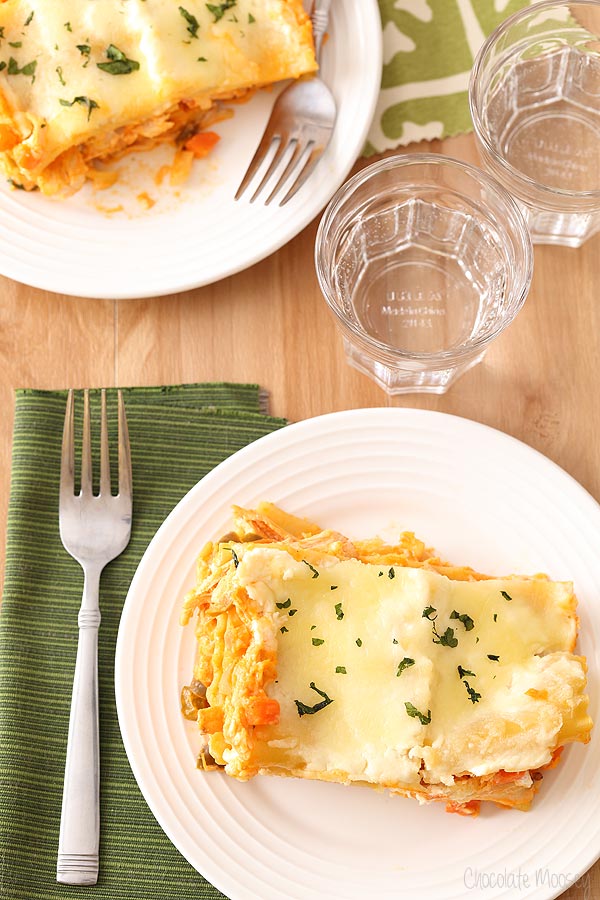 One of the challenges I face since I cook for myself is scaling down popular recipes so I don't end up with leftovers for weeks. I don't mind leftovers for lunch, but after a few days, I'm over it.
I asked you on Facebook which recipes do you love to make but don't because it makes too many servings?
Several of you mentioned lasagna, and I totally agree. My spinach, mushroom, and carrot lasagna that I make when my mom requests it makes enough to feed a family of four twice.
Sure, I could freeze it, but at my previous apartment, I had very little freezer space. I have a bigger freezer now, but space is still limited.
That's when I discovered that you can make lasagna in a loaf pan and have just enough to feed two people. Say what?
I had this Buffalo Chicken Lasagna on my to-make list for quite some time as I love buffalo chicken recipes but been putting it off since I didn't want a gazillion leftovers.
Now I can make just enough for dinner and for lunch the next day.
Not a fan of spicy? Check out my traditional Lasagna For Two.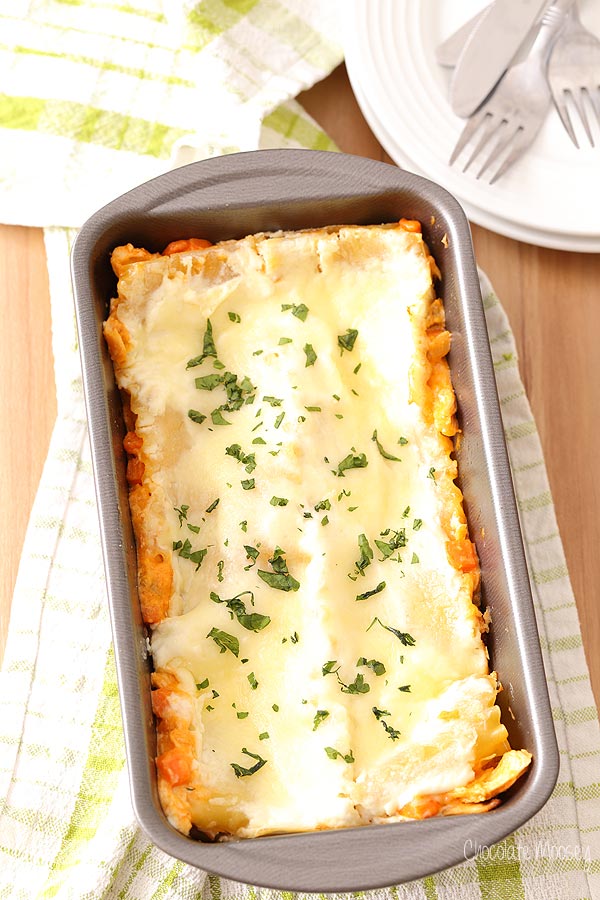 I first heard about making a small scale lasagna back in October from
Jessica of How Sweet Eats
.
She was doing a cooking demonstration to promote her cookbook when she scaled down her butternut squash lasagna to fit into a loaf pan.
That is freaking genius! I never make lasagna because it's always in a 13×9 pan, enough to feed a small army basically, and here all I had to do was switch to a smaller pan.
There are several components that every lasagna recipe must have – the noodles, the cheese, the filling, and the sauce.
Since I was changing it up with buffalo chicken, I thought of all the components that go into buffalo chicken dip – chicken, hot sauce, ranch dressing, cream cheese, cheddar cheese.
Then I added some green peppers (since I don't eat celery) and carrots because you almost always serve buffalo chicken with carrot sticks.
Instead of a traditional tomato sauce, I went with a Alfredo-type cream cheese sauce (it's not quite Alfredo but close enough).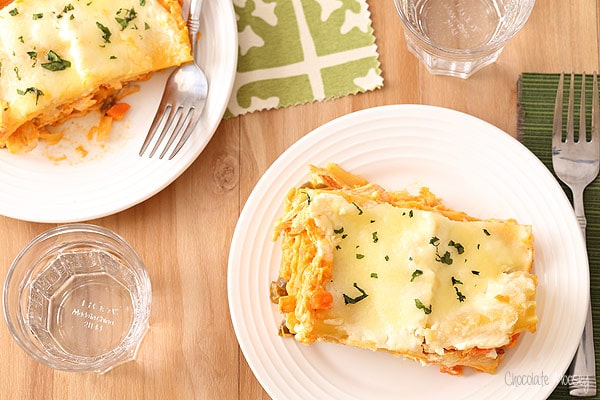 This lasagna technically makes four servings, but I find that most people eat two servings each.
I'm not sure if buffalo chicken lasagna screams date night, but you can certainly have a date night in and serve this along with garlic toast and a small salad.
Or you can just have a casual dinner together after a long day of work.
Like most lasagnas, you can assemble this ahead of time (usually the day before) then throw in the oven when ready to bake.
I don't have experience freezing lasagnas, but after some research, it looks like you can assemble and freeze before cooking.
Buffalo Chicken Lasagna For Two
Yield: 4 servings
Prep Time: 30 minutes
Cook Time: 35 minutes
Total Time: 1 hour 5 minutes
Love to eat lasagna but don't want leftovers for days? This Buffalo Chicken Lasagna For Two is scaled down to feed two people and has all the flavors you love about buffalo chicken dip.
Ingredients
3-6 oven-ready lasagna noodles* (see Note about noodle size)
1 tablespoon vegetable oil
2 small boneless skinless chicken thighs or 1 large boneless skinless chicken breast, cut into 1 inch pieces (or substitute 2 cups cooked chicken)
1 tablespoon unsalted butter
1 large carrot, diced
1/2 cup diced onion
1/2 cup diced green bell pepper
1 clove garlic, minced
1/2 cup hot sauce
1/2 cup ranch dressing
1 cup shredded cheddar cheese
1 tablespoon chopped fresh parsley (plus more for garnish)
1 cup shredded mozzarella cheese
Sauce
1/4 cup (2 ounces or 4 tablespoons) unsalted butter
3/4 cup whole milk
1 teaspoon salt
8 ounces cream cheese, softened and cut into 16 pieces
1 tablespoon lemon juice
Instructions
Preheat oven to 350F. Have a 9x5 loaf pan ready.
If using oven-ready lasagna noodles, you don't need to cook them.

If using traditional lasagna noodles and not oven ready, bring a large pot of water to a boil. Add the lasagna noodles and a big handful of salt. Cook according to package directions, about 8 minutes. Drain and let cool.

In a large skillet, heat the oil. Add the chicken in a single layer and cook until brown, about 3-4 minutes then flip and cook until brown and no longer pink inside, another 3-4 minutes. Transfer to a bowl and keep warm.

If your skillet isn't large enough, you may need to do this in two batches. If you overcrowd the pan, they'll steam rather than brown.
In the same skillet, melt the butter. Add the carrot, onion, green pepper, and a big pinch of salt. Cook until softened, about 5 minutes.
Stir in the hot sauce and ranch. Remove from the heat then stir in the cooked chicken and cheese until melted. Set aside while you make the sauce.
For the sauce: In a large saucepan, melt the butter. Slowly whisk in the milk and salt. Bring to a simmer then stir in the cream cheese a few pieces at a time until melted.
Cook for another 3-5 minutes or until the sauce starts to boil and thickens (if the sauce thickens too much, add a little more milk). Stir in the lemon juice.
To assemble: Spoon some of the sauce onto the bottom of the loaf pan and spread into a thin layer. Add 1-2 noodles to cover the bottom. If the noodles are too long, break/cut then overlap the pieces.
Add half of the chicken mixture. Spoon 1/3 of the sauce on top then add 1/3 of the mozzarella cheese. Cover with 1-2 noodles.
Repeat the layering one more time. Top the final 1-2 noodles with the remaining sauce, and cheese (cheese should be the last layer on top).
Cover with aluminum foil and bake for 45 minutes or until the noodles are tender (if you boiled the noodles first, then it may need less time). Garnish with chopped parsley. Let cool 15 minutes before serving.
Notes
*Depending on the size of your loaf pan and your noodles, you may end up only using one noodle per layer or two noodles per layer and overlapping them a bit. If the noodles are longer than the pan, you can break/cut off the extra then layer that little piece on top of the long noodle. Use your best judgement with your pan and noodle size.
Recommended Products
As an Amazon Associate and member of other affiliate programs, I earn from qualifying purchases.
More Buffalo Chicken Recipes

Stovetop Buffalo Chicken Macaroni and Cheese
This post may contain affiliate links. As an Amazon Associate and member of other affiliate programs, I earn from qualifying purchase.