Cancel your dinner plans for today because it's National Hummus Day and you need to celebrate with these Barbecue Chicken and Corn Tostadas drizzled with a homemade jalapeno ranch dressing. Tostadas are oven baked, not fried.

Happy National Hummus Day! Are you familiar with hummus? It's becoming more and more popular, but there are still people out there who've never heard of it. It is a Middle Eastern spread made from ground chickpeas blended with tahini (sesame paste), olive oil, lemon juice, and a few other ingredients. Most people eat it as a dip with
pita chips
or vegetables, but hummus is a very versatile ingredient and can be used in everyday recipes, including a spread on some makeshift pizzas. As much as I enjoy cooking from scratch, pizza is the one meal I often cheat with and buy a frozen pizza or two to use as an "emergency dinner" for those days where I'm running behind on my work schedule and find myself still shooting my
banana cake
at 4:00 PM when I really should be prepping dinner or I'm out running errands all day on a Saturday and don't have the energy to do anything other than plop down on the couch and finish watching 30 Rock. Even if I do have the time and energy, homemade pizza dough takes about 1-2 hours to prep because it has to rest and rise before you can use it. That'd be fine to make on a relaxing Sunday afternoon, but that doesn't help me out during the week. Thank goodness the Mexicans invented tostadas.
Tostadas are toasted corn tortillas covered with a variety of toppings. I like to think of them as a lazy (wo)man's pizza because all you do is bake store-bought corn torillas in the oven for 8 minutes then add your favorite toppings, much like a traditional pizza but without waiting for dough to rise. Although tostadas are typically Mexican, you can top them with practically anything you want. Take these Barbecue Chicken and Corn Tostadas with jalapeno ranch dressing for example. They are probably more American than Mexican, but that doesn't make them any less delicious. I spooned some hummus onto a tortilla, topped it with chicken breast, red onion, corn, cilantro, and barbecue sauce then drizzled with a homemade jalapeno ranch dressing you can easily make in the blender (although mine was more spooned on than drizzled because my squeeze bottle exploded. Well, tostadas are meant to be messy, right?).
Tostadas are usually made with refried beans spread on top of the tortilla. However, I swapped that out for some classic hummus. Confession – I don't know how to properly eat a tostada. I think you're supposed to eat it with a knife and fork, but because the tortilla was nice and crispy, I picked it up with my hands and started eating it like a mini pizza.
Because it is indeed National Hummus Day, I teamed up with
Sabra
to celebrate. I've been eating Sabra for quite some time now, which all started two summers ago when I attended an event and won a year supply of hummus, and let me tell you – that is a lot of hummus for one girl to eat. My favorites are roasted garlic, basil pesto, and their new lemon twist. For my tostadas, I used their classic hummus as there is a lot of flavor going on. However, feel free to use your favorite hummus flavor.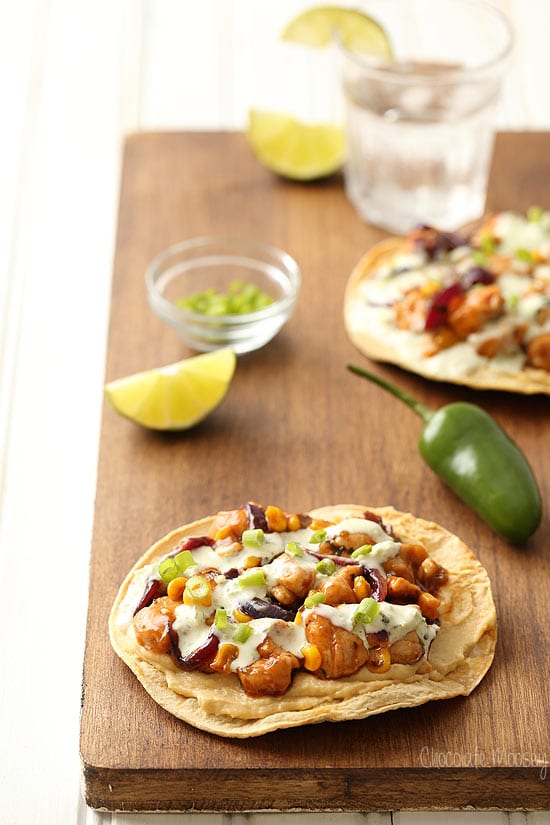 Ready to celebrate National Hummus Day? For one day only (May 21), Sabra is
offering coupons
for you to go buy some hummus. Which flavor will you choose?
Barbecue Chicken and Corn Tostadas
Cancel your dinner plans for today because it's National Hummus Day and you need to celebrate with these Barbecue Chicken and Corn Tostadas drizzled with a homemade jalapeno ranch dressing. Tostadas are oven baked, not fried.
Ingredients
Jalapeno Ranch Dressing
1/4 cup buttermilk
1/4 cup mayonnaise
1 jalapeno, chopped
1 clove garlic, minced
1 green onion, chopped
1 tablespoon lime juice
1 tablespoon cilantro paste or chopped cilantro
1/4 teaspoon salt
Tostadas
4 corn tortillas
1 tablespoon olive oil plus more for brushing
1 cup red onion slices
1 large boneless skinless chicken breast, patted dry and cut into 1/2 inch pieces
1/4 cup barbecue sauce
1/2 cup corn kernels
1 tablespoon cilantro paste or chopped cilantro
1/2 cup Sabra Classic Hummus
Chopped green onion, for garnish
Instructions
First make the dressing: In a blender, blend together the buttermilk, mayonnaise, jalapeno, garlic, green onion, lime juice, cilantro, and salt until smooth. Refrigerate for at least 15 minutes.
Preheat oven to 400F. Brush each tortilla with some olive oil and place on a baking sheet. Bake for 4 minutes then flip and bake for an additional 4 minutes or until crisp.
Meanwhile, in a large skillet over medium heat, heat the oil. Add the onion and cook for 3 minutes. Add the chicken and cook for 3 minutes then flip and cook for another 3 minutes or until the chicken is fully cooked. Add the barbecue sauce, corn, and cilantro and cook another 1-2 minutes or until everything is heated through.
Spread 2 tablespoons hummus on top of 1 tortilla. Top with some of the chicken mixture, dressing, and green onion. Repeat with remaining tortillas. Serve immediately.
Disclosure: This post is sponsored by Sabra. Thank you for supporting me and the companies I work with as sponsored posts help pay for the costs of running Chocolate Moosey, including website hosting and groceries for recipe development.