What's for dinner? When in doubt, go with chicken! Mediterranean Roasted Chicken Thighs with olives and tomatoes is a one pan meal with both a main and side dish cooked together as one recipe. Serve it as an easy chicken dinner for two.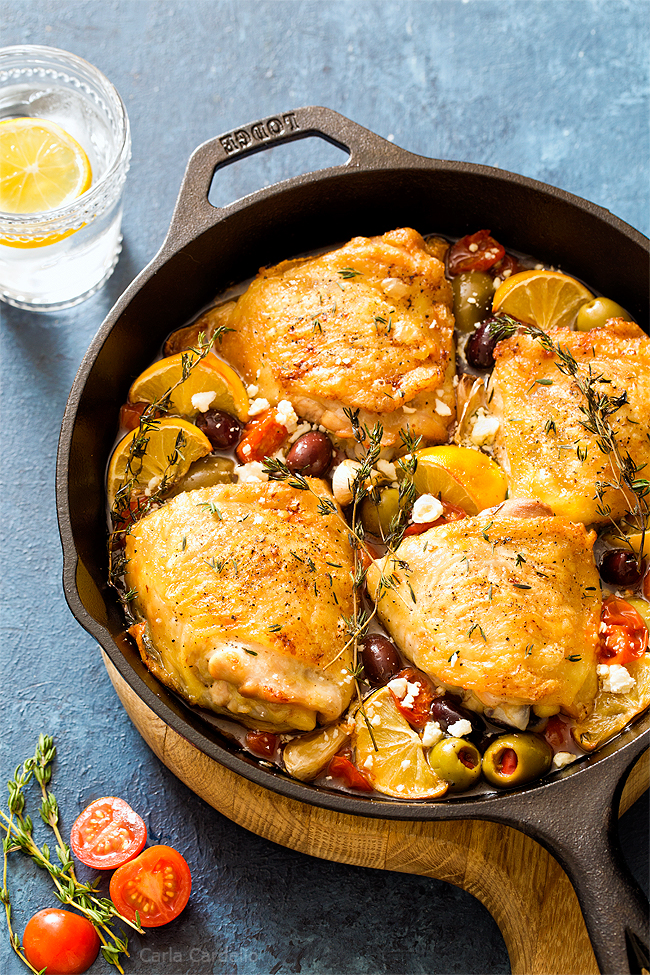 When you don't know what to make for dinner, what is your go to recipe? The one you can make without looking it up? The one where no matter how many times you make it, you will never stop loving it?
Mine is roasted chicken thighs or quarters with crispy chicken skin. Brown it on the stove, throw it in the oven, and (im)patiently wait for it to bake.
Usually I make maple chicken quarters or honey mustard chicken thighs, but I wanted to do something different.
Roasted chicken is a blank canvas for flavor, so after some brainstorming, I came up with Mediterranean Roasted Chicken Thighs with olives, tomatoes and garlic.
Why? Because I love olives, tomatoes, and garlic. Anything I can do to turn them into dinner, I will do.
When I was writing my Romantic Meals For Two At Home post, I realized I cook way too much chicken.
Which doesn't help when I posted stuffed chicken breast last week and chicken thighs today.
I can't help it; chicken is so versatile and affordable. Plus last year I learned how to butcher a whole chicken in culinary school, which makes it even cheaper.
It's no wonder I make it all the time.
To make this a complete dinner for two with a side dish, I baked the chicken on top of tomatoes, olives, garlic, thyme, and lemon. It's all roasted together in one pan, which means you don't have to make a separate side dish while the chicken bakes.
Less cooking, less dishes, more time for dinner.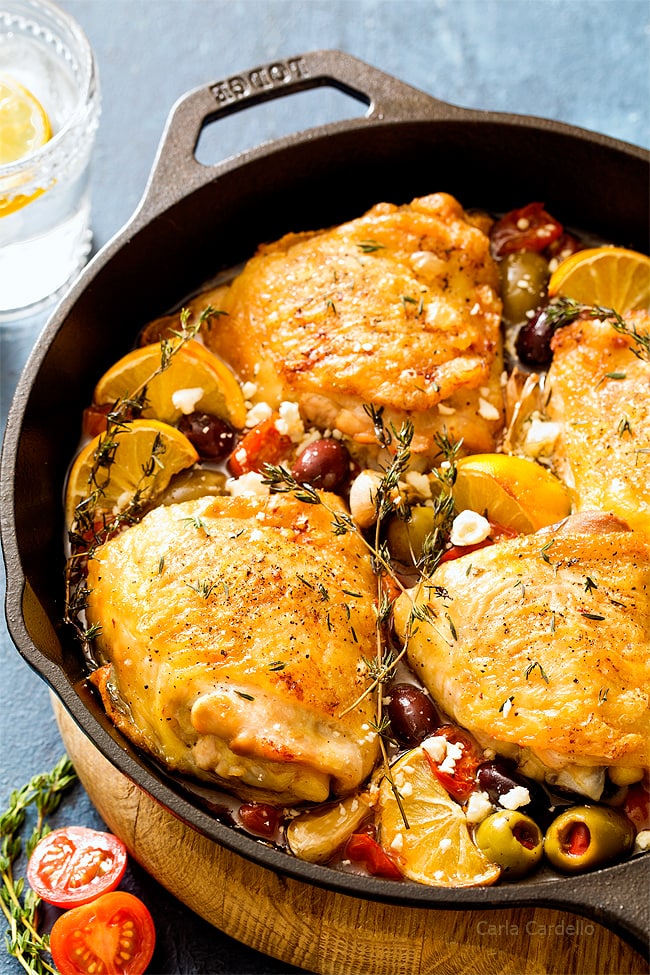 To get crispy chicken skin, first you brown the chicken thighs on the stove. You may be tempted to skip this step, but don't. Without it, the skin will be flabby.
After browning, you finish baking them in the oven because bone-in chicken takes longer to cook than boneless. If you were to finish cooking them on the stove, you'd also risk burning the outside before the inside is fully cooked.
Although I used a 12 inch cast iron skillet (affiliate link), you can use any oven-proof large skillet.
Just be careful of touching the handle. One time the hot skillet was resting after I pulled it from the oven. I instinctively touched the handle to move it and burned my fingers.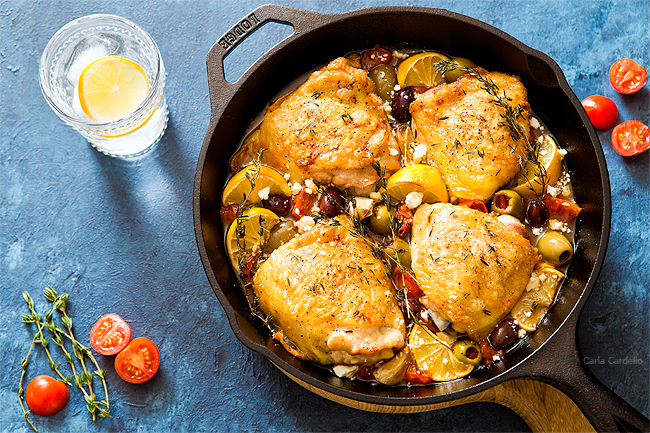 I rarely make a separate side dish (mainly because that's extra dishes to do), so any time I can make a main and side at the same time, I will.
Underneath the chicken is a medley of tomatoes, olives, garlic, and lemon wedges tossed with olive oil, balsamic vinegar, and sea salt.
I guess you can say a medley of roasted fruit since technically olives and tomatoes are fruit, but that sounds weird, doesn't it?
Olives are salty, briny, and meaty, making them a great pairing with chicken. I used both kalamata and green olives with whole pimento because I love the color contrast between the green and purple and how they have different flavor profiles.
Random trivia: Did you know a green olive is just an under-ripened black olive? I thought it was its own variety, like how there are different kinds of apples. Who knew!
Mediterranean Roasted Chicken Thighs (Dinner For Two)
Total Time:
1 hour
10 minutes
Mediterranean Roasted Chicken Thighs with olives and tomatoes is a one pan meal with both a main and side dish cooked together as one recipe.
Ingredients
Salt and ground black pepper
1 tablespoon + 1 teaspoon olive oil
4 boned-in chicken thighs with skin
8 whole unpeeled garlic cloves
2 cups halved cherry tomatoes
1/2 cup pitted kalamata olives
1/2 cup green olives with pimento
1 tablespoon balsamic vinegar
1/2 teaspoon sea salt
1 lemon, cut into wedges
4 sprigs fresh thyme
2 tablespoons crumbled feta cheese
Instructions
Preheat oven to 375F. Pat the chicken thighs dry and lightly season with salt and pepper.
In a large oven-proof skillet over medium heat, heat 1 teaspoon oil. Once hot, add the chicken thighs skin side down and cook for 5 minutes or until golden brown. Flip and brown the other side for 5 minutes. If your skillet isn't large enough, you may need to do this in two batches. Add more oil if necessary.
Meanwhile, in a large bowl mix together the garlic, tomatoes, both olives, remaining 1 tablespoon oil, balsamic vinegar, and sea salt.
Once the chicken has finished browning, transfer to a plate and keep warm. Drain any excess fat left in the pan. Wipe clean.
Add the tomato mixture to the bottom of the skillet. Place the chicken on top. Add the lemon wedges and thyme in between the chicken.
Bake for 30-40 minutes or until the internal temperature of the chicken reaches 165F. Crumble feta on top before serving.