General Tso's Chicken Rice Bowls
A cheaper and healthier alternative to Chinese takeout – homemade General Tso's Chicken Rice Bowls with sweet chili sauce, broccoli, red bell pepper, and mushrooms.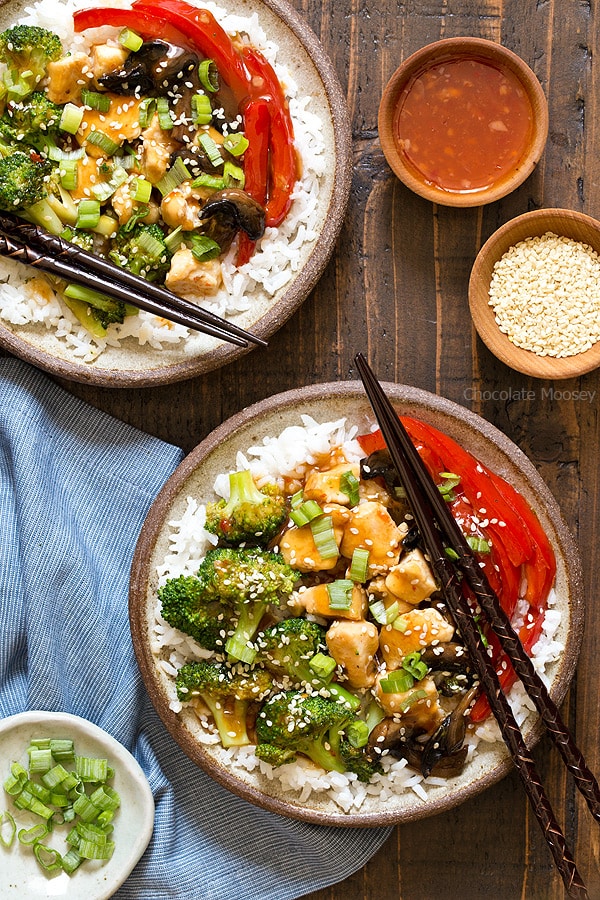 Adulting is hard. Very hard.
I found out in June that I need to buy a new car by July 2017, which means I need to start saving money.
As an adult, that's pretty hard to do because there are bills to pay and groceries to buy. I've never budgeted before, so for these past few months I've been reading up on it.
It's a little tougher for me because being self employed means my paycheck varies each month, but for now I picked a number and am tracking what I'm buying each month.
It's not perfect, but it's a start. If you have advice on budgeting especially if you freelance, I'd love to hear them.
One category I noticed I spend heavily in is eating out. I love coffee houses, but I also tend to buy Chinese food a lot.
And by Chinese food, I mean general tso's chicken because that's all I really order. Even when I try something different, I take one bite and go "this isn't general tso's."
As much as I love deep fried spicy chicken, I can't keep spending $14 a month on it, sometimes $28 if I buy it twice (yikes).
The next best way to get my general tso's fix? Making it homemade with General Tso's Chicken Rice Bowls.
It has all of your favorite elements – the sauce, the chicken, the rice – but is cheaper and healthier because the chicken isn't deep fried and there are plenty of vegetables.
I'm usually the odd one out saying this, but they never give you enough broccoli at the restaurants.
Sure, this isn't deep fried chicken, but let's face it – it's all about that sauce.
My sauce is a bit different than traditional because I added a secret ingredient – sweet chili sauce.
I also added plenty of vegetables – fresh broccoli, red bell pepper, and mushrooms (ok not a vegetable, but I love mushrooms so much).
In the mood for teriyaki? Make these rice bowls with my instead.
The hardest part about making homemade general tso's chicken is getting all the components ready at the same time.
It's just me in the kitchen, so by the time I finish making the chicken and sauce, the last thing I want to do is drag out another pan for the rice and wait 20 minutes for that to cook.
My kitchen is tiny, so to use up three burners takes up quite a bit of room for me (my stove doubles as counter space when the burners aren't in use).
That's where Veetee Rice comes in handy. It's microwavable rice that's ready in 2 minutes. Two minutes.
It's convenient and fast, making it ideal for when you're pressed for time, whether it's with back to school season coming up, running out to the door with evening plans, or you're simply tired from a long day of work.
Veetee has several varieties you can choose for these rice bowls – white long grain rice, whole grain brown rice, and even chicken flavored rice.
To find their products near you, check out their store locator.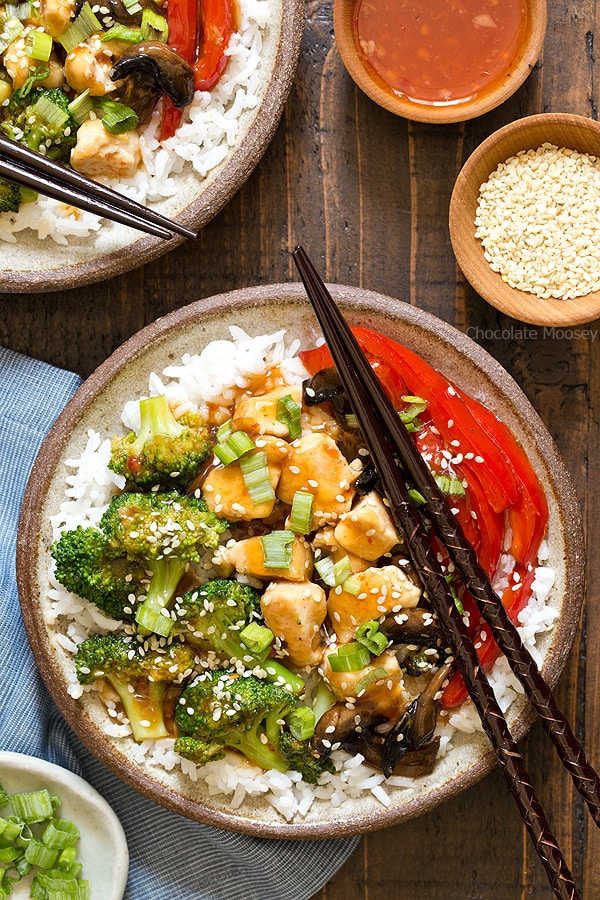 General Tso's Sweet Chili Chicken Rice Bowls
Yield: 4 servings
Prep Time: 20 minutes
Cook Time: 30 minutes
Total Time: 50 minutes
A cheaper and healthier alternative to Chinese takeout – homemade General Tso's Sweet Chili Chicken Rice Bowls with broccoli, red bell pepper, and mushrooms.
Ingredients
Sauce
1/4 cup chicken broth
3 tablespoons sweet chili sauce
1 tablespoon soy sauce
1 tablespoon vinegar
1 tablespoon granulated sugar
1 tablespoon cornstarch
Rice Bowls
1 tablespoon vegetable oil
1 large boneless skinless chicken breast, cut into 1/2-inch pieces and lightly salted
4-5 large white button or cremini mushrooms, sliced
2 cups chopped fresh broccoli
1 red bell pepper, sliced
2 trays Veetee Dine-In Long Grain White Rice
Green onion and sesame seeds, for garnish
Instructions
For the sauce: In a large saucepan, whisk together the chicken broth, sweet chili sauce, soy sauce, vinegar, sugar, and cornstarch to a boil. Cook for about 5 minutes or until it thickens. Remove from the heat and cool.
In a large skillet over medium heat, heat 1 teaspoon oil. Add the chicken and cook for 3 minutes then flip and cook for another 3 minutes or until the chicken is fully cooked. Transfer the chicken to a bowl and keep warm.
In the same skillet (no need to clean), add the remaining 2 teaspoons oil, scraping up any brown bits left from the chicken. Once hot, add the mushrooms, broccoli, and bell pepper. Cover with a lid and cook for 5-10 minutes or until the vegetables are soft, stirring often.
Remove the lid and add the cooked chicken and sauce.
Cook the rice in the microwave according to package directions. Place rice in the bottom of each serving bowl and serve with chicken mixture on top. Garnish with green onion and sesame seeds.
Notes
Meal Planning Tip: To save even more time during dinner, chop the vegetables and make the sauce ahead of time. Store the sauce in the refrigerator and reheat before using.
Disclosure: This post is sponsored by Veetee Rice. Thank you for supporting me and the companies I work with as sponsored posts help pay for the costs of running this blog, including website hosting and groceries for recipe development.
This post may contain affiliate links. As an Amazon Associate and member of other affiliate programs, I earn from qualifying purchase.