Chicken Broccoli Alfredo Mac And Cheese
Take a break from traditional fettuccine Alfredo and make this easy Chicken Broccoli Alfredo Mac and Cheese for dinner. Ready in 45 minutes with a homemade Alfredo sauce.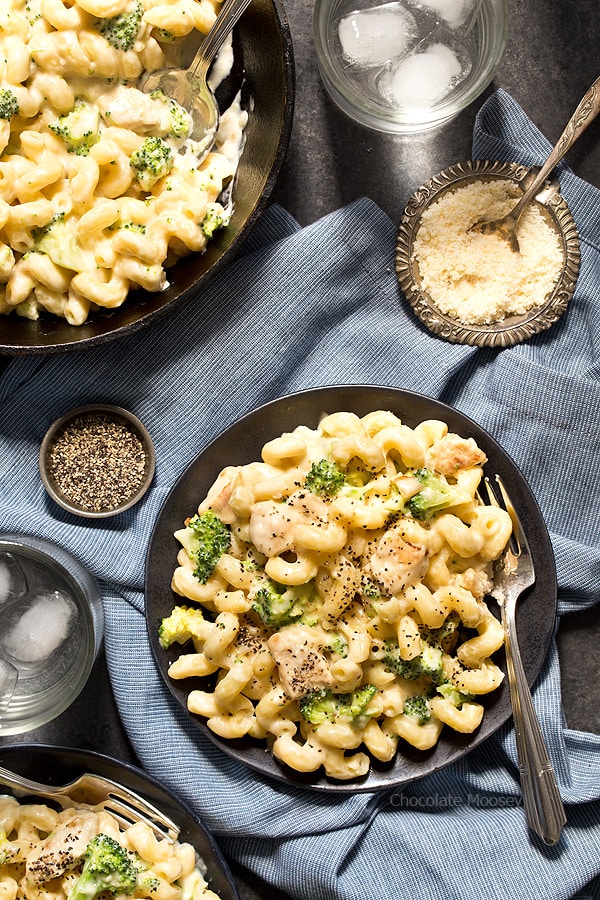 Being able to cook is both a blessing and a curse.
It's a blessing because I can eat good food whenever I want for much less than eating out.
It's a curse because when I do eat out, I expect the food to be better than I can cook myself.
That's one of the main reasons I avoid going to Italian restaurants because I cook so much pasta at home.
Sure, if a restaurant is serving homemade pasta, I can get on board because I cook pasta from a box.
However, most restaurants don't do this, so I often find the menu selection boring.
And although the restaurant dishes are good, if I'm going to spend money, it needs to be better than what I can make and/or a dish I rarely make myself.
It's why I buy doughnuts and BBQ ribs because those are two items I usually don't have time for unless it's the weekend.
Over the summer, my brother ordered chicken Alfredo from an amusement park cafeteria. I get we weren't at a nice restaurant, but they should still be able to cook decent food, right?
He didn't finish his plate, so I ate his leftovers. Except I didn't because it was terrible.
Canned chicken plus watered-down Alfredo sauce is not worth my calories for the sake of not throwing food away.
That incident left me craving real Alfredo, so I went home and a few days later made Chicken Broccoli Alfredo Mac and Cheese for dinner.
Normally it'd be with fettuccine, but I also wanted macaroni and cheese, so I tossed my homemade Alfredo sauce with cavatappi, added broccoli because it's one of my favorite vegetables, and chicken for protein.
You can also substitute shrimp or leave the meat out altogether; use peas instead of broccoli; or use another type of pasta.
After all, when you cook at home and not stuck with subpar cafeteria food, it's Alfredo done your way.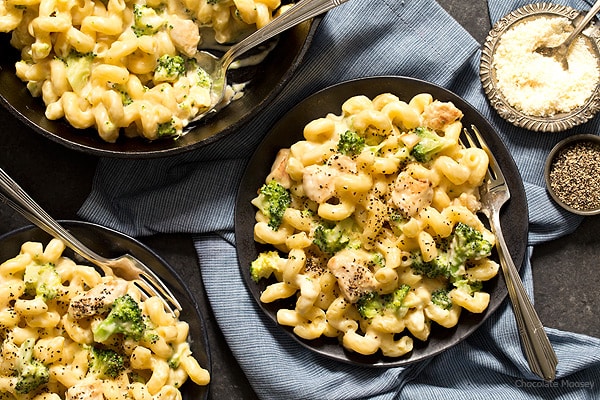 Homemade Alfredo sauce is made of only 3 ingredients – butter, heavy cream, and Parmesan cheese.
Most people freak out and try to make it healthier, but substituting whole milk for the cream isn't the same. Doable, but it'd be thinner.
My sauce is 5 ingredients because I fry garlic with the butter and add lemon juice to cut through some of the richness. Sometimes I'll also cook onion in the butter.
In this particular recipe, the onion is cooked with the chicken, so it wasn't necessary. If I were to make this recipe without chicken, then I would cook the onion with the sauce.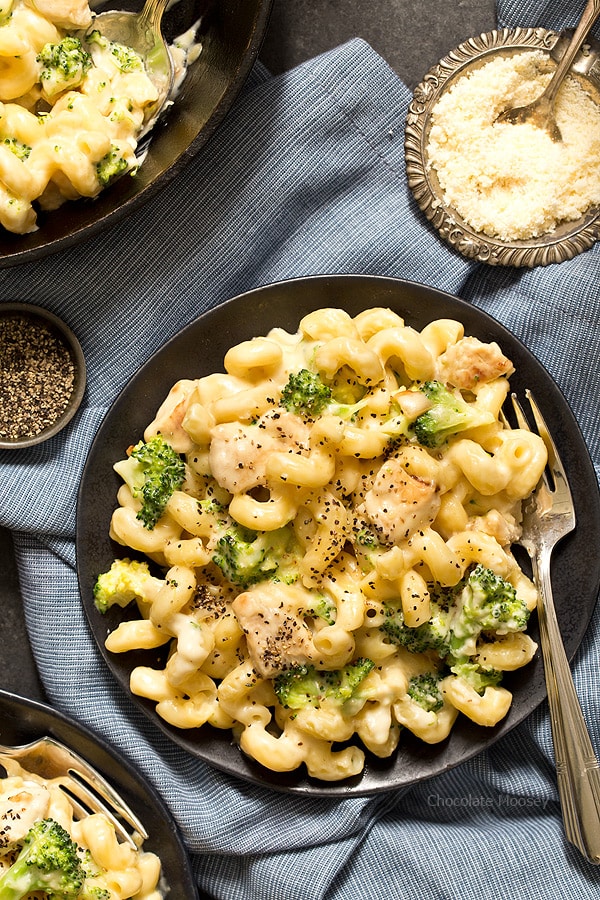 The pasta I used is cavatappi because I really love eating fun-shaped pasta. Except as I was reading the box to spell the name, I realized the brand called it cellentani.
Then I remembered as I was buying said pasta in the store, one brand even called it scoobi doo (what?). Whatever the name, look for the long corkscrew macaroni.
You can also use regular elbow macaroni, shells, or even penne. Or you can resort to traditional fettuccine but mac and cheese is more fun to eat.
Got a little extra time to cook dinner? My Chicken Broccoli Alfredo Stuffed Shells is also a big hit for dinner.
The prep time is longer, but it's an ideal family meal to make on the weekends with small batch dinner rolls and a fresh side salad.
More Easy Chicken Pasta Recipes
Chicken Broccoli Alfredo Mac And Cheese
Yield: 4 servings
Prep Time: 30 minutes
Cook Time: 15 minutes
Total Time: 45 minutes
Take a break from traditional fettuccine Alfredo and make this easy Chicken Broccoli Alfredo Mac and Cheese for dinner. Ready in 45 minutes with a homemade Alfredo sauce.
Ingredients
1/2 pound (8 ounces) uncooked cavatappi pasta or elbow macaroni
2 cups chopped fresh or frozen broccoli
1 teaspoon vegetable oil
1 large boneless skinless chicken breast, cut into 1 inch pieces and lightly salted
1/4 cup chopped onion
2 tablespoons unsalted butter
1 clove garlic, minced
1 cup heavy whipping cream
1 1/4 cup freshly grated Parmesan cheese (not from a green can)
1 tablespoon lemon juice
Black pepper, to taste
Instructions
Bring a large pot of water to a boil. Once boiling, add a big handful of salt then add the pasta. Cook as directed on the package until al dente, about 9-11 minutes. During the last 3-5 minutes of cooking, add the broccoli to the boiling water. Drain into a colander.
While the pasta is cooking, in a large skillet over medium heat, heat the oil. Add the chicken and onion and cook for 3 minutes. Flip and cook for another 3-4 minutes or until the chicken is fully cooked. Transfer the chicken to a bowl and keep warm.
In the same skillet (no need to clean), melt the butter, scraping up any brown bits left behind from the chicken. Add the garlic and cook 60 seconds.
Slowly whisk in the cream then whisk in the cheese. Bring to a boil. Cook for 3-5 minutes or until thickened, stirring often.
Stir in the lemon juice. Taste and adjust for seasoning. If it's not salty enough, add more cheese.
Toss together the pasta, chicken, and sauce then serve hot. Garnish with black pepper.
This post may contain affiliate links. As an Amazon Associate and member of other affiliate programs, I earn from qualifying purchase.