BBQ Chicken Skillet Pizza For Two
Buying pizza can add up, but luckily you can make it at home with BBQ Chicken Skillet Pizza for two! No need to worry about rolling homemade pizza dough into a perfect circle because you shape the dough inside a cast iron skillet.
Even though I pride myself on homemade recipes, I don't always cook like that off the blog.
Sometimes I need a break or a helping hand with getting dinner on the table since I don't have anyone to help me.
Or I just had a long day of errands and no energy to cook but don't want to spend $10+ on eating out.
One of my guilty kitchen pleasures is frozen pizza. I've eaten enough frozen pizzas over the years to know what's good and what's bad.
The problem with frozen pizza is that it's kinda expensive. My favorite ones are at least $5 (there's one that is SEVEN dollars, but I wait until it's on sale for half off).
As you can imagine, it's much cheaper to make your own at home. A little more work yes, but luckily you can make and freeze the pizza dough on your day off then have it ready to go for an easy weeknight dinner.
I started to think about which flavors were my favorite to recreate in my kitchen.
One pizza I buy a lot is Trader Joe's BBQ chicken pizza. However, I'm not at TJ's often because one – I need to be in that actual area and two – the parking lot.
Then there's usually a wait at the checkout, so I don't like to go in without a long list of TJ specific items.
That means I don't get to eat their BBQ chicken pizza often, so I set out to make my own BBQ Chicken Skillet Pizza for two.
It's chicken breast with sliced red onion, corn, cilantro, mozzarella, and gouda. Instead of a traditional tomato pizza sauce, it uses honey BBQ sauce that you either buy or make.
I won't call it a complete copycat but rather heavily inspired by it.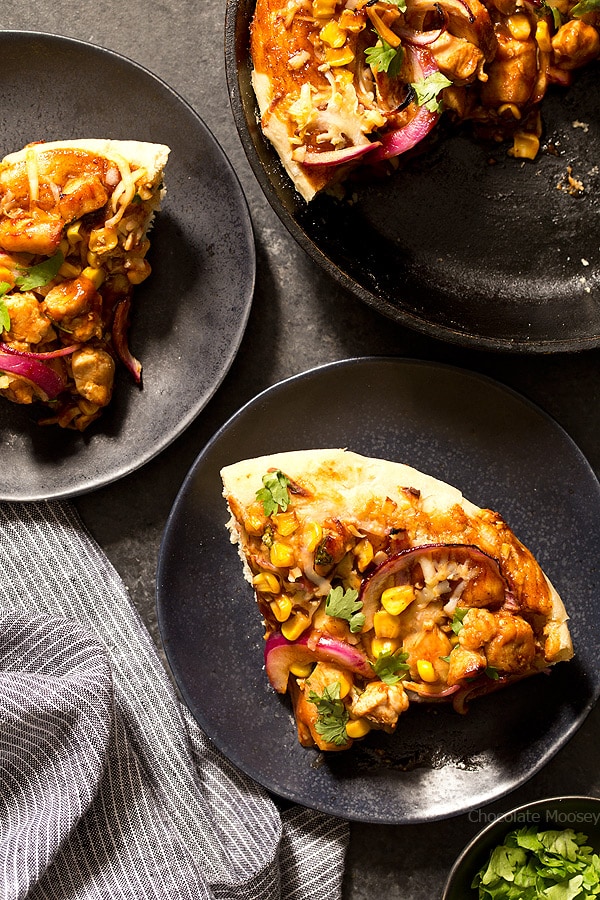 Confession – I'm not the best at rolling out pizza dough into a perfect circle. Usually it ends as either an oval or a blob.
When I saw this skillet margherita pizza, a light bulb went off.
I can shape my dough inside my skillet and have a round pizza!
Of course since I only have a smaller 8 inch cast iron skillet, it ended up being more of a deep dish pizza.
If you have a larger skillet, it'll look more like a regular pizza.
I'm a huge cilantro fan, which is one of the reasons this is one of my favorite pizzas. Pairing together BBQ sauce and cilantro makes it stand out over other pizzas.
And if you don't have time to make pizza dough (because it's 4 PM and you still don't know what's for dinner), check out my Barbecue Chicken and Corn Tostadas that use similar flavors served on crunchy corn tortillas.
Not in the mood for chicken? Check out my Shrimp Scampi Skillet Pizza and Prosciutto Arugula Pizza.
BBQ Chicken Skillet Pizza For Two
Yield: 4 slices
Prep Time: 1 hour 40 minutes
Cook Time: 20 minutes
Total Time: 2 hours
Ingredients
Pizza Dough (makes enough for 2 pizzas - can be refrigerated or frozen)
1 1/3 cup warm water (120F - 130F degrees)
2 tablespoons vegetable oil
1 package (1/4 ounce) active dry yeast
3 1/2 cups all-purpose flour
1 tablespoon granulated sugar
1 teaspoon salt
Barbecue Chicken
1 teaspoon vegetable oil
1 large boneless skinless chicken breast, patted dry, cut into 1/2 inch pieces, and lightly salted
1/2 cup sliced red onion
1/2 cup + 2 tablespoons barbecue sauce
1/2 cup corn kernels
1 tablespoon cilantro paste or chopped cilantro
1/4 cup shredded mozzarella cheese
1/4 cup shredded gouda cheese
Instructions
For the pizza dough
In a large mixing bowl, mix together the warm water, oil, and yeast. Let sit for 5 minutes.
After 5 minutes, add 1 cup flour, sugar, and salt. With the paddle attachment on a stand mixer or a regular hand mixer, beat until everything is combined (the dough will be wet and loose).
Gradually add the remaining 2 1/2 cups flour and beat until the dough is slightly sticky and elastic. If it's still too sticky (sometimes due to the weather), add up to an extra 1/4 cup flour.
If using a stand mixer, switch to a dough hook attachment and beat for 4-6 minutes or until the dough pulls away from the sides of the bowl. If not using a stand mixer, knead the dough on a floured surface for 4-6 minutes.
Place the dough in a lightly-oiled bowl and cover with a towel. Let the dough rise in a draft-free warm area until doubled in size, about 60-90 minutes.
Punch down the dough. With floured hands split the dough into 2 equal pieces. Refrigerate or freeze the second dough for future use. With the remaining dough, continue with the recipe or refrigerate until ready to use.
For the barbecue chicken
In a large skillet over medium heat, heat the oil. Add the chicken and cook for 3 minutes then flip and cook for another 3 minutes or until the chicken is fully cooked. Add the onion, 2 tablespoons barbecue sauce, corn, and cilantro and cook another 1-2 minutes.
Preheat oven to 450F. Place rested pizza dough in the center of an 8 inch cast iron skillet. Gently stretch the dough until it covers the bottom and sides of the pan.
Spread the remaining 1/2 cup barbecue sauce evenly over the dough, leaving a small border on the edge.
In a small bowl mix together both cheeses then sprinkle evenly over the sauce. Add the cooked chicken mixture on top.
Bake for 12-15 minutes or until crust is golden brown and cheese is melted.
Notes
This pizza dough recipe makes enough for 2 skillet pizzas. Since making the dough takes time, it's nice to have a spare dough in the freezer to use at a moment's notice. However, if you don't want extra dough, split the dough ingredients in half.
This post may contain affiliate links. As an Amazon Associate and member of other affiliate programs, I earn from qualifying purchase.