Thin Crust Buffalo Chicken Pizza (No Yeast Pizza Dough)
No time to make traditional pizza dough? Learn how to make homemade pizza dough without yeast then turn it into thin crust Buffalo Chicken Pizza.
What's that one item you stock in your kitchen that you are almost too embarrassed to share? I've talked about it before, but mine is frozen pizza.
It's somewhat embarrassing because I cook and bake from scratch for a living yet I tend to buy a ridiculous amount of frozen pizzas to eat for dinner.
I am picky about which pizzas I eat as I tend to gravitate towards ones with fresh ingredients, but the cost does add up.
Pizza is the one recipe I rarely make at home because I usually don't have time (or patience) to make the dough and wait for it to rise and rest. If I do make it, it's on Sundays.
That was until I saw a recipe for no yeast thin crust pizza from my friend Lauren at Healthy Delicious.
I didn't realize there was a such thing no yeast pizza dough, which means it IS possible to make homemade pizza during the week.
Lately I've been on a huge buffalo chicken kick and have been eating my fair share of chicken, hot sauce, and ranch for dinner, ranging from pizza to buffalo chicken mac and cheese to even lettuce wraps.
Buffalo chicken pizza and I go way back. A friend and I used to either order it if I was over for dinner or make it ourselves if we felt up to the task.
We were both obsessed with anything buffalo chicken and would always dip our slices into ranch before taking a bite.
Making buffalo chicken pizza at home is faster than most pizzas because you don't need to make a separate pizza sauce; the sauce is mixed right in with the chicken mixture.
Make the chicken, make the dough, assemble, and now you're ready for dinner.
I have made this pizza probably a half dozen times, testing various elements along the way. Here are
three tips for getting a crispy thin crust pizza
:
1. Use an oven thermometer. If there's ever a critical time for using an oven thermometer, this is it. According to various studies, different ovens set at the same temperature can differ as much as 90 degrees.
High heat is absolutely necessary when baking thin crust pizza; if you bake it too low, it won't crisp up. I have the OXO oven thermometer (affiliate link) and know that my oven is pretty accurate up to 425F.
However, it struggles to make it past 450F. I have to set my oven to 475F in order for my oven's true temperature to reach 450F.
Otherwise my crust will never reach crispiness. It's important to know exactly how hot your oven is before baking.
2. Don't assemble the pizza until your oven is ready. Going back to using an oven thermometer, it takes my oven a lot longer than 15 minutes to preheat to 450F.
Because my buffalo chicken mixture is saucy, if I assemble it before my oven is ready, it has to sit there, which means the pizza dough will get soggy from soaking up the sauce.
I wait until my oven reaches 450F before I start topping my pizza dough.
3. Evenly roll out the dough thin. When I roll out my dough, I tend to get the edges thin but the middle is still a little on the thick side. This results in crispy edges with a soft middle. Try your best to evenly roll out the dough.
Looking for something less spicy? Make my Prosciutto Arugula Pizza.
Thin Crust Buffalo Chicken Pizza (No Yeast Pizza Dough)
Yield: 2 servings (2 slices per serving)
Prep Time: 45 minutes
Cook Time: 15 minutes
Total Time: 1 hour
No time to make traditional pizza dough? Learn how to make homemade pizza dough without yeast then turn it into thin crust Buffalo Chicken Pizza
Ingredients
1 teaspoon vegetable oil
1 large boneless skinless chicken breast, cut into 1-inch pieces
Salt, to taste
1/2 cup sliced onion (roughly 1/2 small onion)
1 garlic clove, minced
2 tablespoons hot sauce
2 tablespoons ranch dressing
1/4 cup shredded mozzarella cheese
1/4 cup shredded cheddar cheese
Parsley, for garnish
Pizza Dough
1 cup all-purpose flour
1 tablespoon cornstarch
1 teaspoon granulated sugar
1/2 teaspoon baking powder
1/2 teaspoon salt
1/3 cup water
1 tablespoon olive oil plus more for brushing
Instructions
Preheat oven to 450F. Lightly grease a pizza pan with cooking spray. If using a pizza stone, place it in the oven to preheat.
In a large skillet over medium heat, heat the oil. Once hot, sprinkle the chicken with salt then add to the skillet and cook for 3 minutes. Flip and cook for another 3 minutes or until the chicken is fully cooked.
Add the onion and garlic. Cook 1 minute or until fragrant.
Stir in the hot sauce, ranch, and onion slices. Cook another 1-2 minutes or until everything is heated through. Let cool while you make the pizza dough.
For the dough: In a large bowl, mix together the flour, cornstarch, sugar, baking powder, and salt. Stir in the water and olive oil. Knead a few times directly in the bowl until the dough comes together.
On a lightly floured surface, roll out the dough into a 9-inch circle. Brush with olive oil. Top with half of both cheeses, add the chicken mixture, then top with remaining cheese.
Bake for 12-15 minutes or until the crust is golden brown. Wait a few minutes to cool before cutting. Top with parsley before serving.
Source: Crust adapted from
Healthy Delicious
More Chicken Recipes

Barbecue Chicken and Corn Tostadas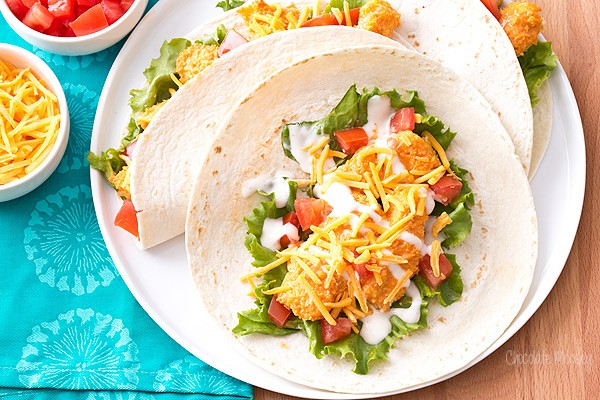 Buffalo Chicken Tacos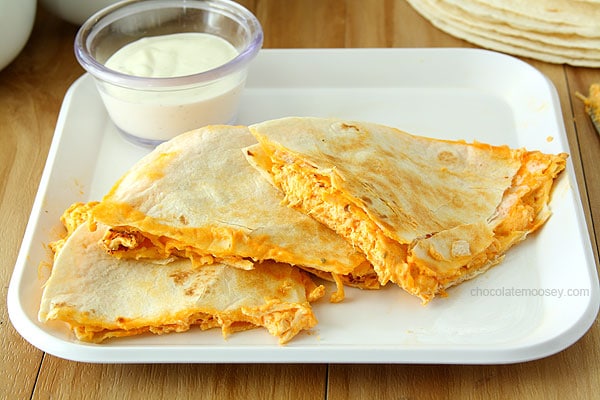 Buffalo Chicken Dip Quesadillas
This post may contain affiliate links. As an Amazon Associate and member of other affiliate programs, I earn from qualifying purchase.