Chicken Pot Pie Pasta
Looking for some quick comfort food? Chicken Pot Pie Pasta topped with toasted panko breadcrumbs means eating pot pie during the busy weekdays without having to make pie crust.

As much as I love everything about fall – pumpkins, apples, golden leaves on the ground, bundling up ever so slightly in a rust orange sweater – I hate what follows.
Darkness settling in as early as dinner time, which means no more evening walks at the park for awhile.
Blustery cold winds that chap your face and hands.
Once the cold weather sets in, I start craving chicken pot pie (which is funny because I hated it growing up).
As much as I love making it, it does become a little time consuming as you need to make the pie crust in addition to the filling.
That means I usually only make it on my day off, assuming I'm actually home to prep it. I can't even remember the last time I made it.
How can I turn pot pie into a fairly quick meal to enjoy even on the busiest days? By turning it into Chicken Pot Pie Pasta.
One of my shortcuts to making this pasta even easier is a bag of frozen vegetables.
Personally, I love using frozen vegetables as they are often more affordable than fresh with the prep work already done for you.
Since this is a pasta dish, I cook the vegetables right with the pasta during the last few minutes, which means one less pan to use (and clean).
Pasta, chicken, gravy, vegetables. I think that's the winning formula for quick comfort food.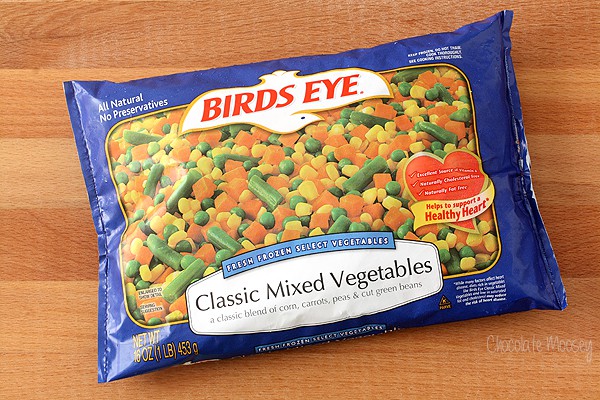 Cooking with frozen vegetables is nothing new. I started using frozen vegetables in college when I realized how much better they tasted than their canned counterparts I grew up eating.
Not to mention how much more affordable it was to buy a $1.00 bag of frozen broccoli than a fresh broccoli crown for $3.00 that had to be eaten that same week.
Buying frozen vegetables also allows me to enjoy out of season produce, like corn and green beans, more affordably. Have you tried eating fresh corn in March?
That's why I opted for frozen vegetables in my Guinness Shepherd's Pie and Corn Clam Chowder, just to name a few recipes.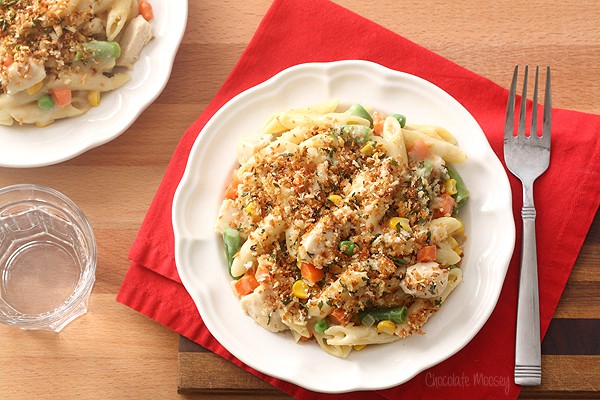 As soon as I picked up a bag of the classic mixed vegetables, I knew chicken pot pie was in my future.
I've already done a pot pie soup and pot pie casserole with biscuits using the vegetables.
Pot pie pasta has been on my to-make list for quite some time.
For the sauce, I made something similar to a béchamel sauce (which is butter, flour, and milk for a creamy white sauce) but used chicken broth for the milk, almost like a chicken gravy without the meat drippings.
At least the vegetables help make this dinner a bit nutritious, right? Right.

Since this is chicken pot PIE pasta, I needed something to resemble the pie part.
I wanted this to be a quick dinner recipe, so making a pie crust or biscuits was out. What was left?
I decided to top my pasta with some toasted panko breadcrumbs. It may be a far stretch calling this a pot pie recipe, but at least there was a golden bread topping for some texture.
More Easy Chicken Pasta Recipes
Chicken Pot Pie Pasta
Yield: 4 servings
Prep Time: 15 minutes
Cook Time: 25 minutes
Total Time: 40 minutes
Looking for some quick comfort food? Chicken Pot Pie Pasta topped with toasted panko breadcrumbs means eating pot pie during the busy weekdays without having to make pie crust.
Ingredients
1/2 pound uncooked penne pasta (roughly 2 cups)
2 cups frozen vegetable medley (carrots, peas, corn, and green beans)
1 tablespoon olive oil
1 boneless, skinless chicken breast, cut into 1-inch pieces
2 tablespoons unsalted butter
1 small onion, chopped
2 tablespoons all-purpose flour
1 cup chicken broth
1/4 teaspoon salt
1/2 cup panko breadcrumbs
1/4 teaspoon dried parsley
Instructions
Bring a large pot of salted water to a boil. Cook penne as directed on the package until al dente. During the last few minutes of cooking, add the frozen vegetables to the boiling water. Drain everything together in a colander.
Meanwhile, in a large skillet, heat up the oil. Add the chicken and cook until completely cooked through, flipping the pieces a few times, about 7-10 minutes. Remove the chicken to a bowl and keep warm.
Add 1 tablespoon butter to any meat drippings left in the skillet and melt. Add onion and cook until soft, about 5-8 minutes. Add the flour and stir to coat. Slowly whisk in the chicken broth. Bring to a boil and cook until thickened, about 3-5 minutes. Whisk in the salt.
In a small skillet, melt the remaining 1 tablespoon butter. Add the breadcrumbs and cook until brown, stirring often. Stir in parsley.
Mix together the penne, vegetables, chicken, and sauce. Serve on plates then top with toasted breadcrumbs.
This post may contain affiliate links. As an Amazon Associate and member of other affiliate programs, I earn from qualifying purchase.