Lemon Parmesan Chicken Rice Casserole
When you're looking for both comfort food and spring in one bite, bake this Lemon Parmesan Chicken Rice Casserole made from scratch with no canned soup!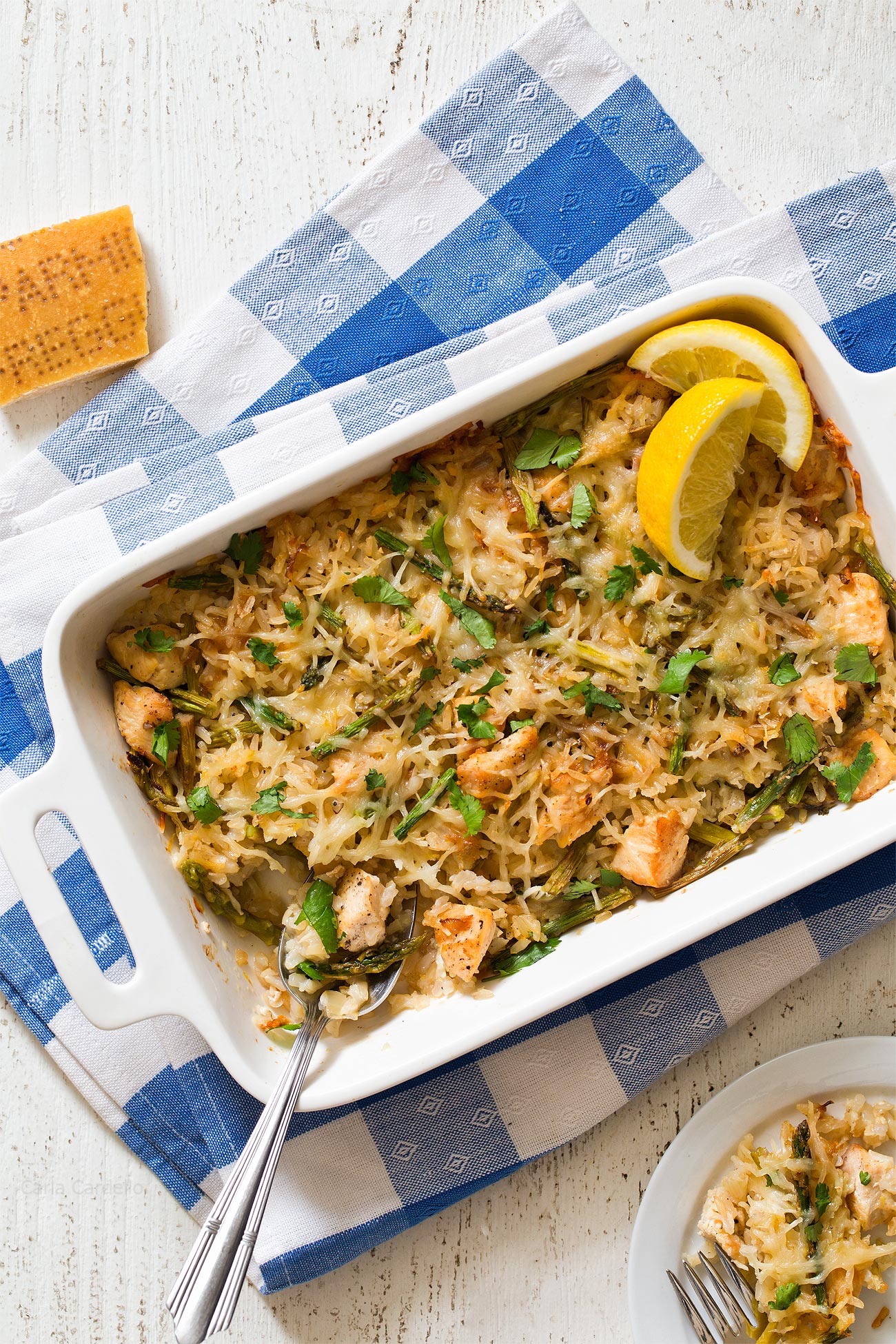 Have you seen the meme floating around where it talks about how there are more than four seasons, such as fool's spring, second winter, spring of deception, third winter, and mud season?
I'm pretty sure Pittsburgh is on its fourth winter.
I went a few days without my winter coat. Then I wore snow boots to the Pirates game. Then it was almost 90. Then last week, there was snow on my car. Twice.
And they say climate change doesn't exist.
With weather this crazy, it's hard to know what to make for dinner. Too hot for soup. No wait, this is the perfect soup weather. Ugh too hot to turn on the oven. Wait, bring back the comfort food.
Casseroles are often a winter comfort dish, but here we are mid April with snow in the air. Best way to handle this is to add springtime flavors, like I did with my Lemon Parmesan Chicken Rice Casserole. It's filled with chicken breast, brown rice, fresh asparagus, lemon, and Parmesan cheese.
Typically casseroles are tough to make for two people because they usually require a 13×9 pan. As much as I enjoy leftovers for lunch the next day, that's where it needs to stop. Nobody wants to still be eating casserole five days later.
That's why I scaled down my recipe to a 1 1/2 quart casserole dish (or an 8×8 pan if that's all you have). It makes a generous 4 servings and might almost help you forget there's snow in April.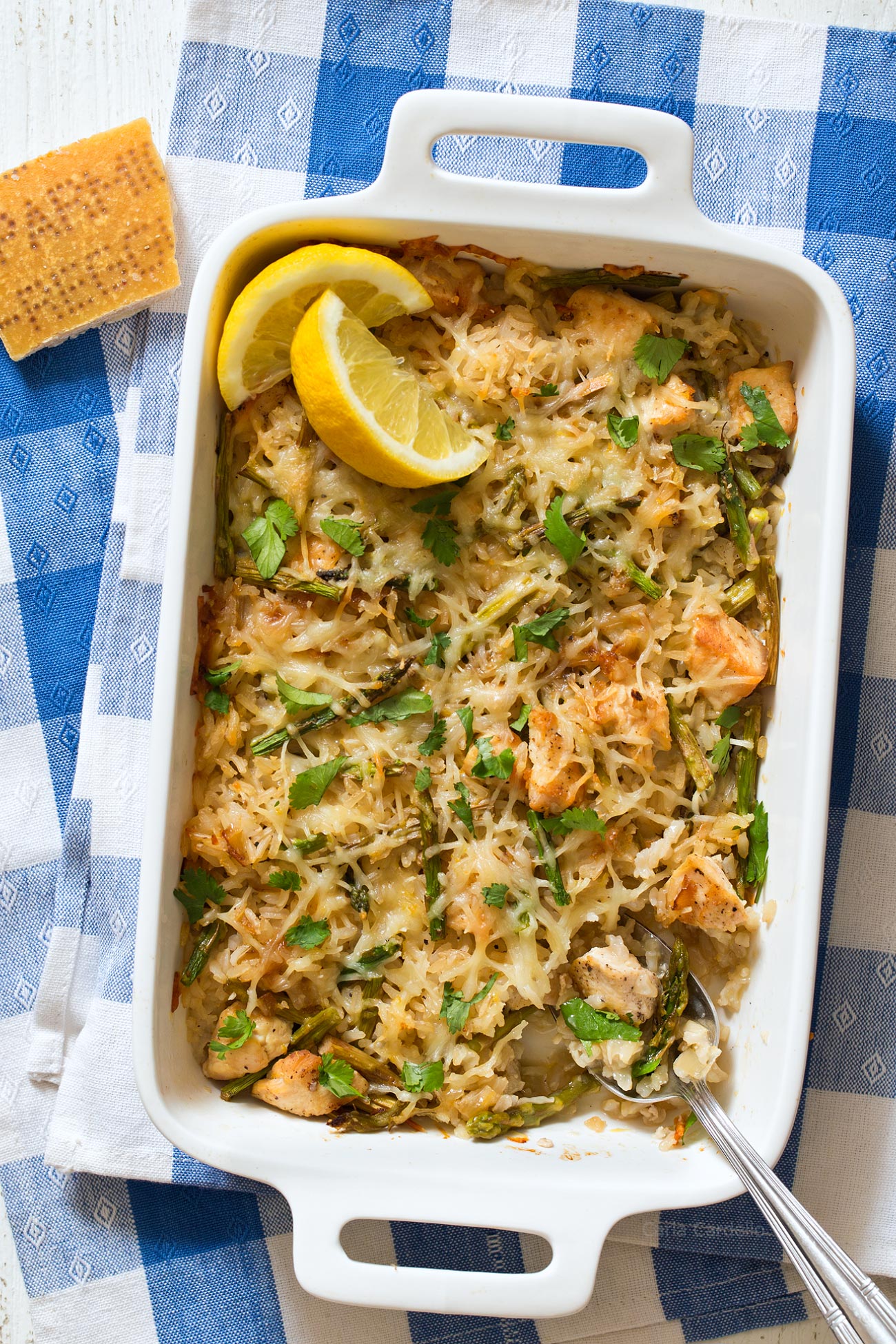 Casseroles get such a bad rap. They're usually made by dumping cans of creamed soup on top and calling it good.
Whatever happened to making casseroles from scratch? Does that method even exist anymore?
Also I want to lodge a formal complaint about how casserole dishes aren't labeled on the bottom. How am I supposed to know which one is 1 quart or 1 1/2 quarts? I ended up measuring water into each one then writing how much it holds on the bottom in permanent marker.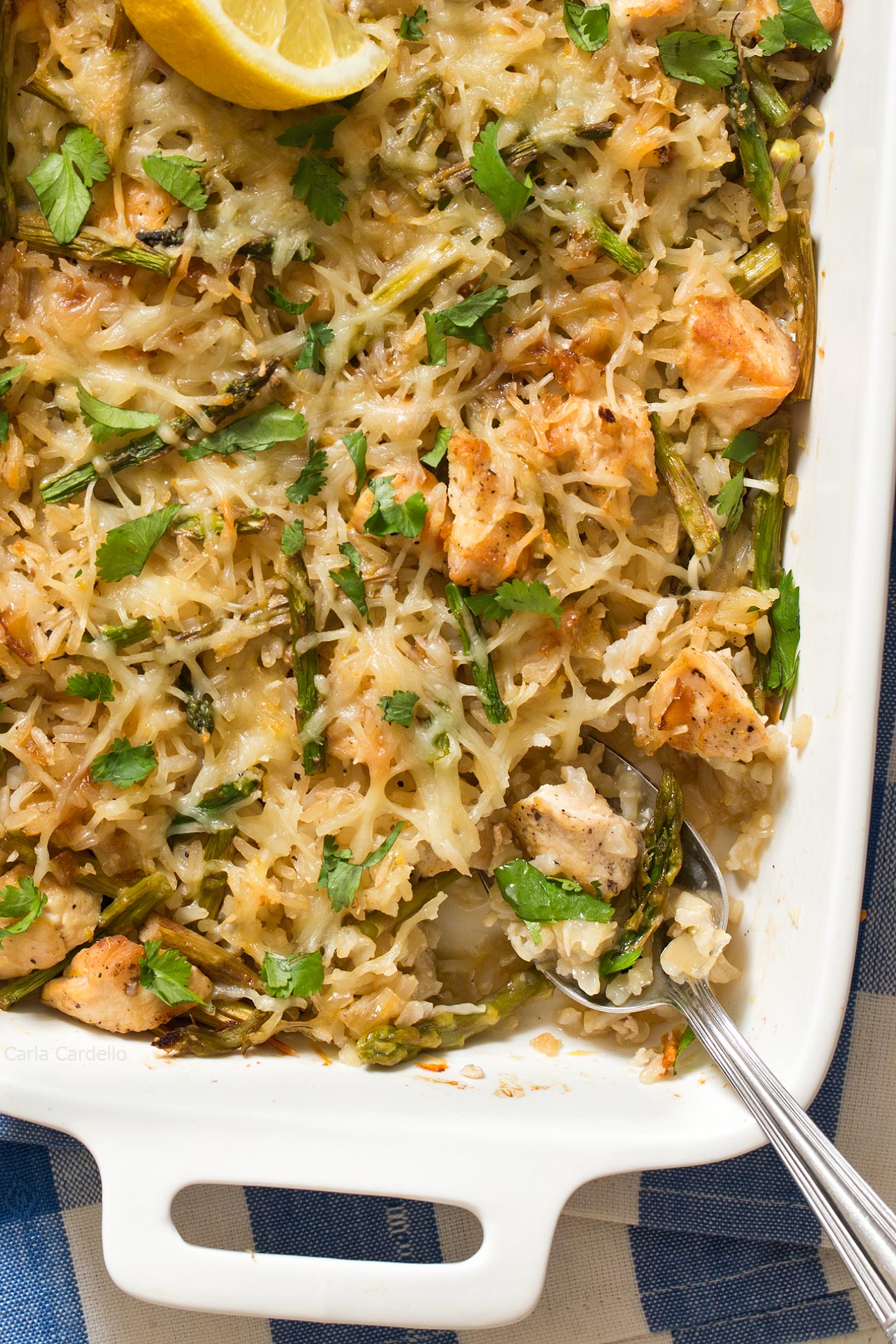 As I was researching recipes for chicken rice casserole, I noticed some of them mixed raw chicken breast with the ingredients. These recipes were missing one ingredient – flavor.
By browning the chicken first, you add another layer of flavor to an otherwise bland chicken casserole. It also helps ensure the chicken stays moist even after baking.
If you think chicken breast is bland and boring, chances are you haven't had it browned and properly seasoned.
It may seem like an extra step, but it's one you don't want to skip. When I made my mushroom rice stuffed chicken breast, I didn't brown it the first time. Trust me – there's a HUGE difference when you don't brown.
I wanted to make a springtime casserole, so I used lemon and asparagus. If it's not fresh asparagus season (February – June), you can easily use fresh broccoli.
The hardest part about rice casseroles is waiting for the rice to cook. That's why I used
Veetee Rice
, which cuts down the baking time. Typically rice casseroles take about 45 minutes to bake. This recipe takes about 30 minutes. It's convenient and fast, making it ideal for when you want dinner sooner rather than later. I used whole grain brown rice, but you can also use long grain white rice.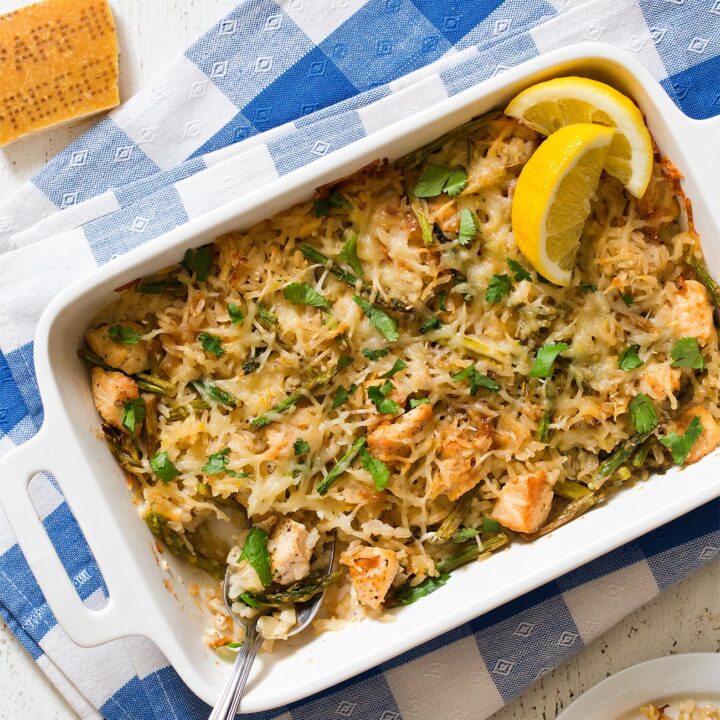 Lemon Parmesan Chicken Rice Casserole
Yield: 4 servings
Prep Time: 30 minutes
Cook Time: 45 minutes
Total Time: 1 hour 15 minutes
Ingredients
2 tablespoons vegetable or olive oil
1 small boneless skinless chicken breast, cut into 1-inch pieces
Salt and pepper, to taste
1/4 cup chopped onion
1/2 pound fresh asparagus, trimmed and cut into 2-inch pieces
1 garlic clove, minced
1 1/2 cups shredded Parmesan cheese
1 tray Veetee Dine-In Wholegrain Brown Rice, crumbled
1/2 cup chicken broth or stock
1 tablespoon lemon zest
2 tablespoons lemon juice
1/2 teaspoon ground black pepper
1/4 teaspoon salt
Chopped parsley, for garnish
Instructions
Preheat oven to 375F. Have a 1 1/2 quart casserole dish ready. Season chicken with salt and pepper.
In a large skillet over medium heat, heat 1 tablespoon oil. Once hot add the chicken. Cook for 3 minutes or until brown then flip and cook another 3 minutes or until brown and still a little pink in the middle. Transfer the chicken to a bowl and keep warm.
Heat the remaining 1 tablespoon oil. Once hot, add the onion and asparagus. Cook until softened and fork tender, about 5-8 minutes. Add the garlic and cook 60 seconds.
Remove from the heat and stir in cooked chicken, 1 cup Parmesan cheese, and rice. Transfer to the casserole dish.
Whisk together the broth, zest, juice, black pepper, and salt. Pour evenly over the rice mixture. Top with remaining 1/2 cup Parmesan cheese.
Bake for 30 minutes or until cheese has melted and broth has been mostly absorbed. Let sit 10 minutes, garnish with parsley, and serve warm.
Disclosure: This post is sponsored by Veetee Rice. As always, thank you for reading and supporting brands I work with, which helps keep this website running.
This post may contain affiliate links. As an Amazon Associate and member of other affiliate programs, I earn from qualifying purchase.