Chicken Fajita Pasta with onion, bell peppers, and a creamy cheese sauce is an easy weeknight dinner for two made from scratch or with leftover chicken.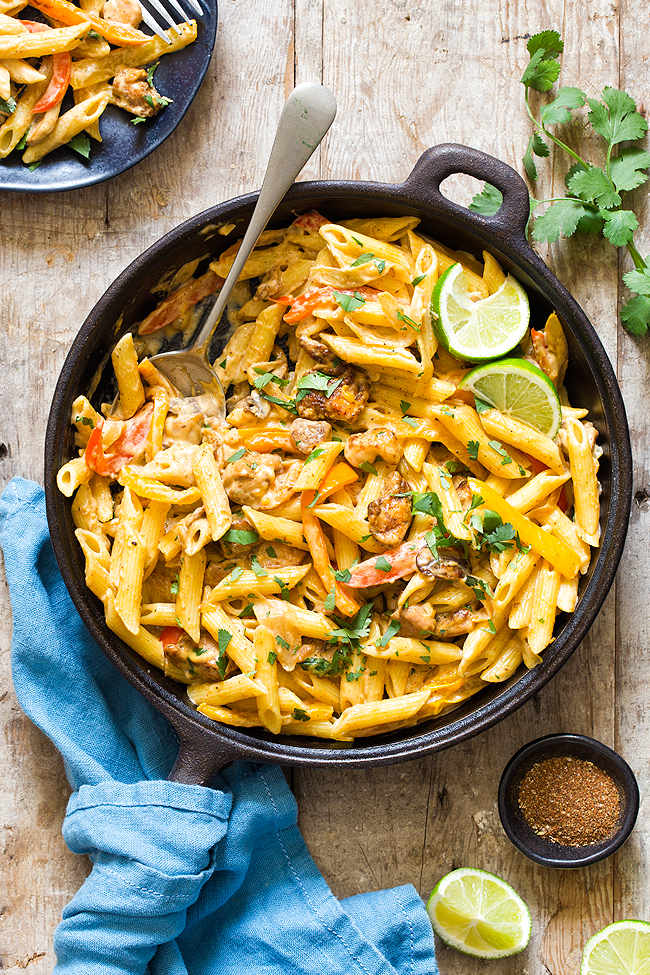 This Chicken Fajita Pasta is inspired by a long lost recipe from my recipe binders.
Growing up I had three thick binders plus a few skinny ones. As I cooked throughout college, I printed recipes and stored them in my binder along with magazine pages I tore out.
I made this chicken fajita pasta recipe a lot and remember my mom even requested it a few times when I would cook at home for them.
Soon after college graduation when I started my night shifts at Target, I lost a lot of my joy.
Finding a degree-worthy job while cleaning up after slobs and being yelled at because you don't know what color the filing cabinet is in the box or whether the wrinkle free sheets are truly wrinkle free doesn't exactly leave you inspired to do much.
However, those binders meant a lot to me and as I moved on to my big girl job in 2010, I packed those binders as is. They sat on my shelf as my cookbook collection grew. Then I got my iPhone and started digitizing my recipes.
Now in 2021, I condensed everything down to one binder. It's been used so much over the years, the cover is starting to fall off.
One day, I needed a recipe in my binder. As I turned the pages, I found all kinds of recipes I used to make, including my creamy Chicken Fajita Pasta made with heavy cream.
I was so excited I couldn't wait to share it with you. Chicken Fajita Pasta is an easy chicken pasta recipe with a Tex Mex twist.
You toss some penne with fajita spiced chicken, sweet bell peppers, onion, mushrooms, cilantro, lime juice, and a creamy cheese sauce.
It's the flavor of chicken fajitas with an Italian twist of pasta.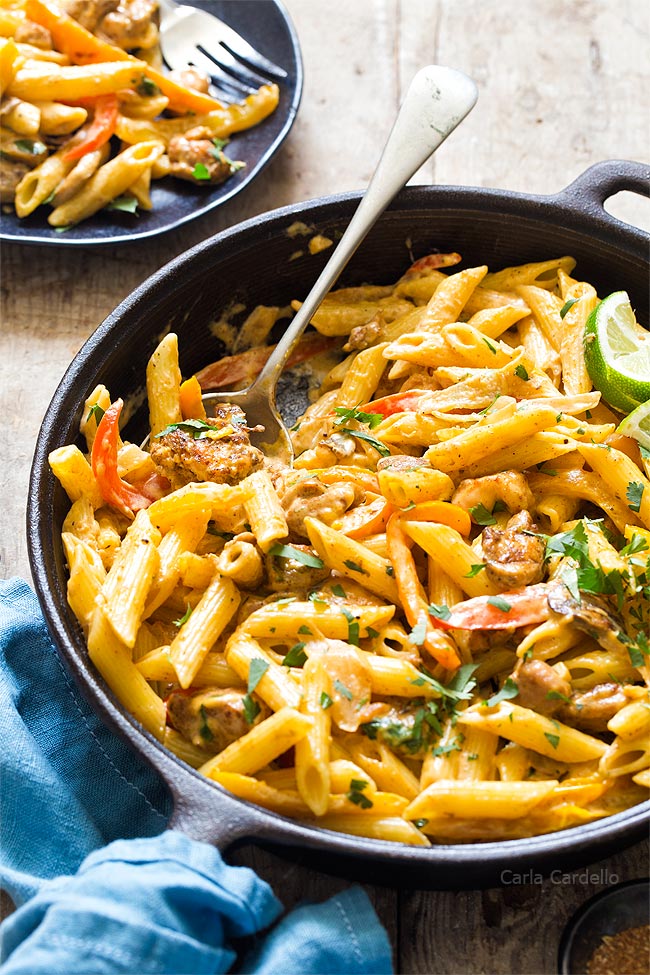 What are chicken fajitas?
Chicken fajitas are a Tex-Mex dish of grilled chicken with a fajita seasoning rub, colorful sweet bell peppers, and onions.
You can then serve them in tortillas or over lettuce like my Chicken Fajita Salad.
You can also make steak fajitas with beef instead of chicken.
Fajitas don't technically have mushrooms, but I love them so much I added them to my chicken fajita pasta recipe. I mean, it's not like pasta is traditional Tex Mex either.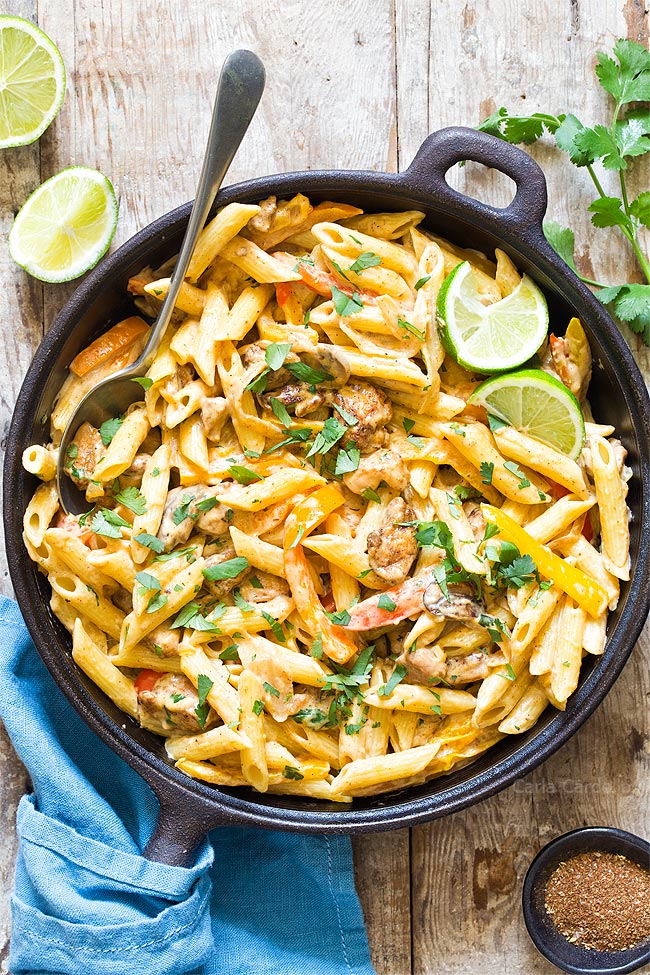 What are the ingredients in Chicken Fajita Pasta?
The ingredients for this Chicken Fajita Pasta recipe are:
Penne pasta: I like penne the best because the tubes hold the sauce, but you can use another similar shape, such as rigatoni, ziti, or even elbow.
Boneless skinless chicken: I love dark meat and prefer using 2 small chicken thighs. However, you can also use 1 large chicken breast. You can also use leftover chicken.
Fajita seasoning: This is where most of your flavor will come from! You can make your own mix (recipe included) or buy a store packet to help save time.
Oil: This is for frying the chicken and veggies. Flavor doesn't matter too much, so I recommend vegetable, canola, or olive oil.
Sliced onion: White or yellow onion work best.
Sliced mushrooms: I used white button mushrooms, which are the most common at grocery stores. Buy whole ones and slice them yourself. Sometimes the pre-sliced mushrooms are too thick.
Sweet bell pepper: You want either red, orange, or yellow bell pepper. Green isn't as sweet and therefore not recommended for fajitas. You only need one pepper, so you can pick one color or use a little of all three.
Minced garlic: I love garlic too much to not include it.
Milk: Whole milk is ideal because the more fat, the creamier the sauce will be. However, you can use what you have in the fridge.
Heavy cream: Also helps make the sauce extra creamy. You can also use half and half instead of both milk and heavy cream.
Salt: Salt helps bring out the flavors of each ingredient. I prefer using kosher, but you can also use table salt. Make sure you taste and adjust as you cook.
Shredded cheese: I used a Monterey jack cheese blend, but you can also use cheddar cheese.
Cilantro: Every Tex Mex dish needs cilantro! Of course as long as you don't find it tasting like soap.
Lime juice: Acidity is what makes the cream sauce go from flat to great.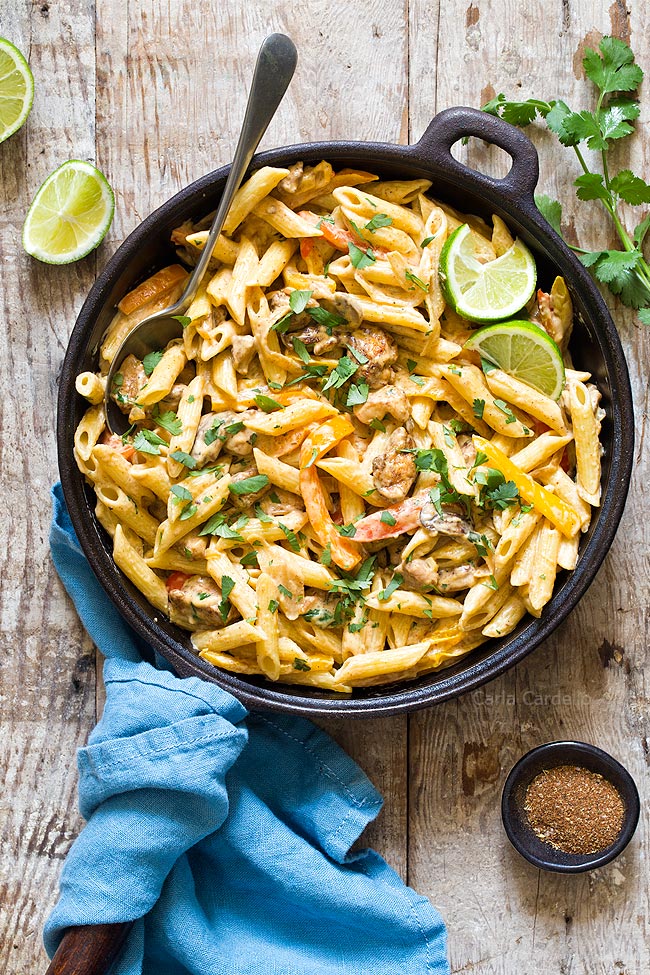 How To Make Chicken Fajita Pasta
First, bring a large pot of water to a boil for your pasta. Wait until it starts boiling to add a handful of salt.
If you salt it beforehand and the water boils away before you're ready, the water reduces and may become too salty.
This is especially useful if you have trouble timing your dishes and you're not ready to add the pasta.
Once it's boiling, add the pasta and cook until al dente, about 10 minutes.
While the water is heating, cook your chicken in a large 12 inch skillet. Trust me – you'll need the room to cook your vegetables.
When one side is brown (about 3-4 minutes), flip then cook the other side until brown and no longer pink in the middle (about another 3-4 minutes).
Transfer your chicken to a bowl and keep warm.
Next, add your onion, bell pepper, and mushrooms to your pan, scraping up the brown bits left behind from the chicken. This will add extra flavor!
Once softened, add your milk and heavy cream. Bring to a boil. It'll start to foam up, so don't leave your skillet unattended. Stir often.
After a few minutes it should start to thicken slightly. Turn down the heat then stir in your cheese until melted.
Stir in your chicken (plus any juices from the bowl), cilantro, and lime juice. Taste and adjust for salt if needed.
At this point, the sauce should be thick enough. If it's too thin, cook for a few more minutes. If it's too thick, stir in a little more milk.
By now your pasta should be done cooking, so toss it with your sauce. Your dinner is now ready!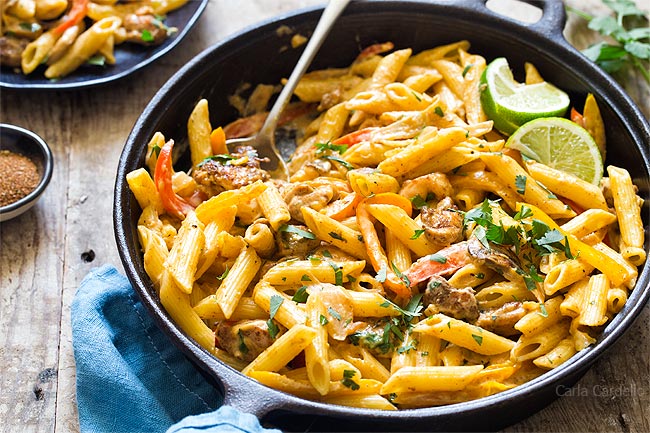 How To Make Chicken Fajita Pasta With Leftover Chicken
I included instructions on how to cook chicken, but what if you have leftover chicken ready to go?
Easy! Toss your chicken with fajita seasoning then skip the cooking. At the end, stir in your leftover chicken and heat until warm.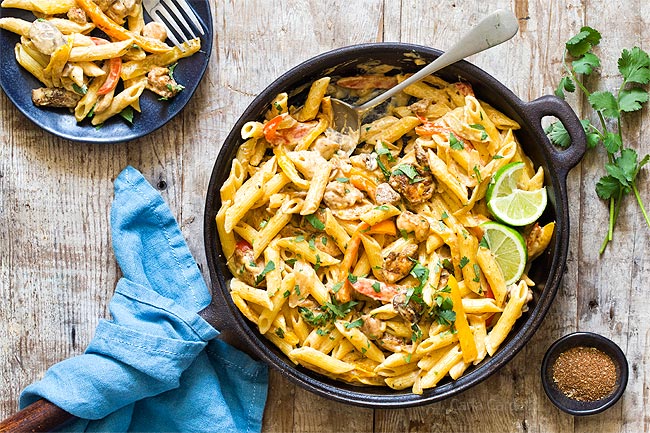 Are fajitas served for cinco de mayo?
I know chicken fajita pasta isn't a recipe you'd normally see for cinco de mayo given it's both pasta and Tex Mex, but the flavors are reminiscent of a fiesta.
More Easy Chicken Pasta Recipes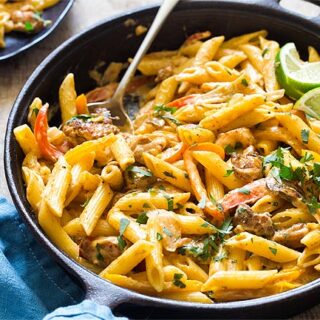 Chicken Fajita Pasta
Chicken Fajita Pasta with onion, bell peppers, and a creamy cheese sauce is an easy weeknight dinner made from scratch or with leftover chicken.
Ingredients
8 ounces (1/2 pound) uncooked penne pasta
1 large boneless skinless chicken breast or 2 small boneless skinless chicken thighs, cut into 1-inch pieces
1 tablespoon fajita seasoning (get recipe here)
2 tablespoons vegetable oil
Half of a small yellow or white onion, sliced
4 white button mushrooms, sliced
1 sweet bell pepper, sliced (red, orange, yellow, or a combination)
1 garlic clove, minced
1/2 cup whole milk, room temperature
1/2 cup heavy cream, room temperature
1/2 teaspoon salt (preferably kosher)
1/2 cup shredded Monterey jack or cheddar cheese
2 tablespoons fresh chopped cilantro
1 tablespoon freshly squeezed lime juice (roughly 1-2 limes)
Instructions
Bring a large pot of water to a boil. Once boiling, add a big handful of salt then add penne. Cook as directed on the package until al dente, about 10-13 minutes. Drain into a colander.
Meanwhile, toss together the chicken and fajita seasoning until coated. If your seasoning doesn't have salt, you may want to sprinkle a little bit of salt onto your chicken.
In a large 12 inch skillet, heat 1 tablespoon oil. Once hot, add the chicken in a single layer. Cook until brown, about 3-4 minutes. Flip then cook until brown and middle is no longer pink, about another 3-4 minutes. Transfer to a bowl and keep warm.
Add the remaining 1 tablespoon oil to the skillet, scraping up any brown bits left behind. Add the onion, mushrooms, bell pepper, and a big pinch of salt. Cook until softened and starts to brown, about 8-10 minutes.
Add the garlic and cook 1 minute.
Stir in the milk, heavy cream, and 1/2 teaspoon salt. Bring to a boil, stirring often so it doesn't bubble over. Cook until it starts to slightly thicken, about 2-3 minutes.
Turn the heat down to low and stir in the cheese until melted. Stir in the chicken along with any juices accumulated in the bowl, cilantro, and lime juice. Taste and adjust for salt and acid.

At this point your sauce should be done. However if it's too thin, cook for a few more minutes. If it's too thick, stir in more milk.
Add cooked pasta to your sauce mixture and serve.
Recommended Products
As an Amazon Associate and member of other affiliate programs, I earn from qualifying purchases.