Baked Buffalo Wings Recipe tossed in an easy sauce of hot sauce and melted butter will be finger lickin' good (and save you money on take out).
Buffalo wings and I go way back. So far back that I don't even remember when I had my first bite.
I documented my Buffalo Chicken Dip back in college, but I'm guessing my first taste of those spicy, crunchy, finger-lickin' good wings was back during high school, maybe even middle school.
Even my dad loves Buffalo wings (yet he whines when I add jalapenos to anything because of the heat – go figure!).
Since eating out and buying wings can be quite pricey, my parents often baked them at home using bottled sauce.
Eventually I learned how to make Buffalo wing sauce from scratch, which is nothing more than hot sauce and melted butter. Shocking, right?
Not only am I sharing this super easy Baked Buffalo Wings Recipe, my method for baking them instead of deep frying will ensure crispy wings every time.
How often do you eat chicken wings?
I probably eat them at least once a month, whether I'm baking them at home (usually) or eating out somewhere.
There's a bar and grill down the street from where I live now that was voted best wings in Pittsburgh. So far I've only tried their curry chicken wings.
I need to go back and try their other sauces (they have almost 40 flavors to choose from, including buffalo).
I learned how to bake crispy chicken wings from
Bon Appetit
.
First, you need to place them on a rack inside a pan, usually a roasting rack but a cooling rack works too.
By elevating them slightly, it allows the heat to circulate around the wings completely, not just the top and sides.
Tossing them in oil before baking helps them crisp up too.
Don't toss the wings in buffalo sauce until the very end to ensure they remain messy (although I have baked them with the sauce before. It just means the sauce will bake into the chicken and not be saucy. If you want the flavor of Buffalo sauce but without the mess, toss them with the sauce before baking).
More Crispy Baked Chicken Wings

Looking for more easy wing recipes? Check out these oven baked wing recipes:
Small Batch Baked Buffalo Chicken Wings
Total Time:
1 hour
5 minutes
Baked Buffalo Chicken Wings tossed in an easy sauce of hot sauce and melted butter will be finger lickin' good (and save you money on take out).
Ingredients
8 chicken wing pieces, thawed and patted dry
1 tablespoon vegetable oil
Salt, to taste
Buffalo Sauce
1 tablespoon melted butter
1/4 cup hot sauce
1/4 teaspoon salt
1/4 teaspoon black pepper
1/4 teaspoon cayenne pepper (optional)
Instructions
Preheat the oven to 400F. Line a roasting pan or rimmed baking sheet with foil and set a flat wire rack on top. Lightly grease with cooking spray.
In a large bowl, toss together the wings, oil, and a few big pinches of salt.
Spread into a single layer on the rack. Bake 50-60 minutes or until crispy and internal temperature reaches 165F on a digital thermometer.
While the wings are cooking, make the sauce: In a medium bowl, whisk together the butter, hot sauce, salt, pepper, and cayenne (if using).
Once the wings are done, toss the wings in the sauce and serve immediately.
Recommended Products
As an Amazon Associate and member of other affiliate programs, I earn from qualifying purchases.
Source: Adapted slightly from
Bon Appetit
Want more chicken recipes?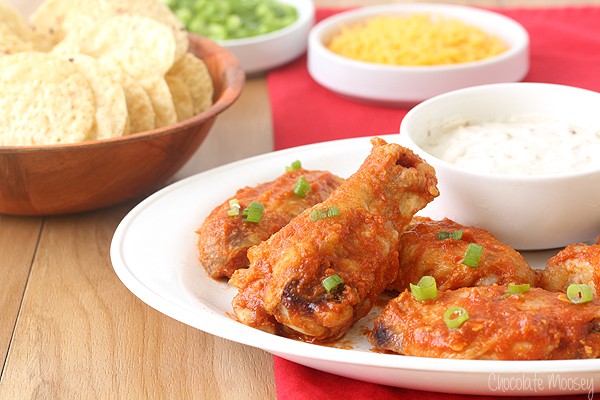 Saucy Taco Baked Chicken Wings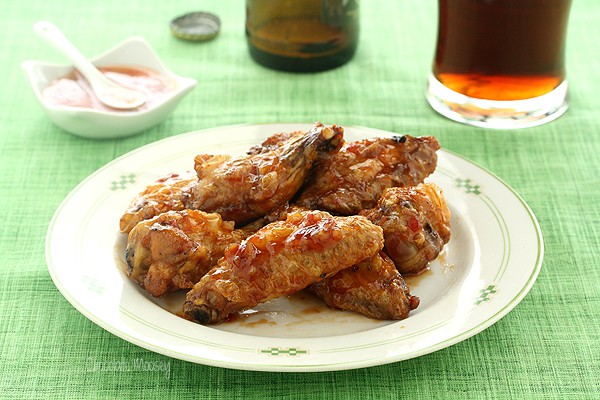 Baked Sweet Chili Chicken Wings

Jack Daniel's Honey Barbecue Baked Chicken Wings

Buffalo Chicken Dip Quesadillas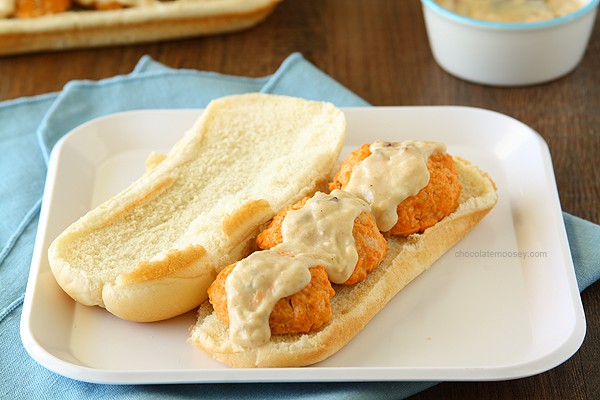 Buffalo Chicken Meatball Subs