Buffalo Chicken Mac and Cheese (Stovetop)
Turn your favorite buffalo chicken dip into dinner with Buffalo Chicken Mac and Cheese recipe cooked on the stovetop. Made from scratch with chicken, bell pepper, cheddar cheese, hot sauce, and ranch dressing.
I've been eating
buffalo chicken dip
and
buffalo chicken wings
since forever.
I'm not sure what it is, but something about combining hot sauce and ranch dressing with chicken works.
It's such a popular flavor combination that it's not surprising to see anything and everything with a buffalo chicken twist.
The idea for this Stovetop Buffalo Chicken Macaroni and Cheese came to me while working at Target.
Their store brand had several noodle and rice ready-to-go products, and as I was straightening the shelves before closing one evening, their box for Buffalo Macaroni and Cheese caught my eye (and my stomach).
Since I was still paying off student loans, I decided to save some money and recreate it at home from scratch.
The formula is very easy. While you're boiling the pasta, you cook the chicken in a skillet. Then you reuse that same skillet (less dishes!) and make the sauce using flour, milk, and cheese.
I personally added bell pepper because I'm not a fan of celery, an ingredient more commonly associated with buffalo chicken dip.
And since this is all cooked on the stovetop, you don't have to wait for it to bake.
Buffalo chicken is so popular, I ended up making a big batch of this for a coworker's birthday by request. I took the opportunity to update my photos and rewrite the recipe.
I made the mistake of using leftovers for the photos, but I promise it is saucy and cheesy like one would expect out of mac and cheese!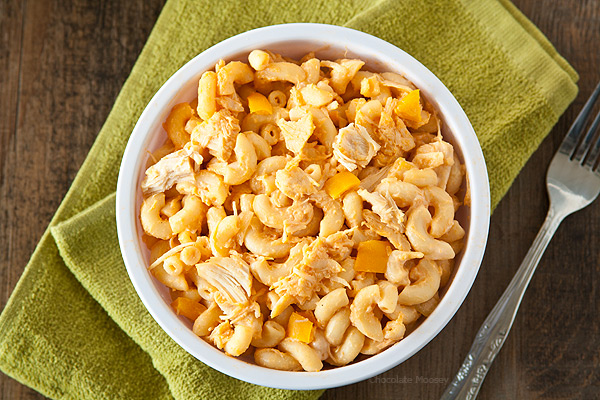 Looking for more buffalo chicken recipes? Check out
Buffalo Chicken Grilled Cheese
,
Buffalo Chicken Hummus Taco Cups
, and
Buffalo Chicken Chili
.
More Easy Pasta Recipes
Buffalo Chicken Mac and Cheese (Stovetop)
Yield: 4 servings
Prep Time: 20 minutes
Cook Time: 25 minutes
Total Time: 45 minutes
Turn your favorite buffalo chicken dip into dinner with Buffalo Chicken Mac and Cheese recipe cooked on the stovetop.
Ingredients
1/2 pound (8 ounces) uncooked elbow macaroni
1 teaspoon vegetable or olive oil
1 large boneless skinless chicken breast or 2 small boneless skinless chicken thighs, patted dry and cut into 1 inch pieces
1 tablespoon unsalted butter
1/2 cup diced yellow or white onion
1/2 cup diced green bell pepper
1 garlic clove, minced
2 tablespoons all-purpose flour
1/2 teaspoon salt (preferably kosher)
3/4 cup whole milk, room temperature
1 cup shredded cheddar cheese
1/4 cup - 1/2 cup hot sauce
1/4 cup ranch dressing
Instructions
Bring a large pot of water to a boil. Once boiling, add a big handful of salt then add macaroni. Cook as directed on the package until al dente, about 8-10 minutes. Drain into a colander.
Meanwhile, in a large skillet over medium heat, heat 1 teaspoon oil. Add the chicken and cook for 4 minutes then flip and cook for another 3-4 minutes or until the chicken is fully cooked. Transfer the chicken to a bowl and keep warm.
In the same skillet without cleaning, add the butter. Once melted, add the onion, bell pepper, and a big pinch of salt. Cook until softened, roughly 5 minutes. Add the garlic and cook 1 minute.
Stir in the flour and salt to coat and cook 1 minute. Slowly stir in the milk. Bring to a boil and cook until thickened, about 3-5 minutes.
Stir in 1/4 cup hot sauce and ranch dressing. Taste and adjust for seasoning. If it's not hot enough, add the remaining 1/4 cup hot sauce.
Remove from the heat then stir in the cheese until melted. If you didn't add the extra hot sauce, you may need to thin the sauce out with more milk.
Once everything is cooked, mix together the cooked macaroni, sauce, and chicken. Serve immediately.
This post may contain affiliate links. As an Amazon Associate and member of other affiliate programs, I earn from qualifying purchase.